While the cupcake trend has come and gone, donuts continue to rage on as the baked good of choice.
Donuts by the Numbers
14 percent of menus across the U.S. mention donuts
$2.64 — average price for a donut today
76 menu mentions of "vegan" in a description with donut
Source: Food Genius
Most Popular Donut Types at Chain Restaurants
Chocolate and vanilla iced
Old-fashioned glazed
Sugar or powdered-sugar coated
Source: Technomic
Designing for Donuts
Darren Sydorko, professional baker for 16 years, donut production trainer and independent sales rep for Bakery Equipment, Inc. says he gets at least a few phone calls every week from someone planning to open a new donut shop. Here are a few things to keep in mind when choosing a location, with regards to design and equipment:
Make sure you have three-phase electricity available at your panel. Many commercial machines require three-phase by default. If you only have standard single-phase power, it may restrict your selection of equipment.
Consider ground- or street-level access with at least a double-wide door to not only receive equipment but to receive regular shipments of ingredients without the need to climb stairs.
Look for an adequate natural gas supply to the space. Although electric fryers have gained some popularity over recent years, gas is still the utility of choice to heat a donut fryer.
Aim for at least 500 square feet for the production area.
Research local codes for venting and fire suppression in order to choose the correct exhaust hood for the fryer.
Concept Closeup: Glazed and Infused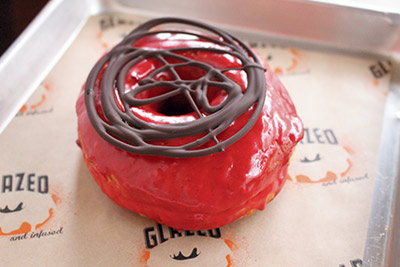 Prolific restaurateur Scott Harris opened this classic American artisan donut shop, now with six locations in Chicago. Head baker Chris White oversees a rotating lineup of 8,000 donuts with creative glazes and toppings baked fresh daily at the West Loop location that are then delivered to the other Glazed and Infused stores as well as to other local businesses. Signature donuts include the simple vanilla bean-glazed and maple bacon long john, as well as whimsical creations like key lime pie, a vanilla cake donut with key lime glaze and graham cracker cookie crumble, among others. The shop partners with local artisan coffee producer Sparrow Coffee to serve a proprietary single-origin coffee from a farm in Kenya. Glazed and Infused also offers a variety of catering options including mini donut trays, fondue party platters, donut holes and jumbo donuts for special occasions and events.
Q&A with Jonathan Fox, restaurateur and founder of Firecakes, a donut shop and food truck in Chicago
FE&S: Why did you decide to open up a donut shop?
JF: My wife and I loved eating donuts growing up, and when we found this tiny little space in River North we decided to open Firecakes.
FE&S: Did the shop or the truck come first?
JF: The shop came first. We added the truck to help market the brand and bring our donuts to different areas of the city.
FE&S: How does the truck help business?
JF: It helps by getting our name out and exposing it to more people in areas that we would never be able to reach with our amazing donuts.
FE&S: Why do you think donuts are still trending?
JF: I think people have a childhood emotional connection to donuts and everyone likes some form of sweets.