More chefs are taking the plunge — making their own artisan cheeses in-house, which, aside from saving on food costs, offers diners a special tasting experience and a cool story to boot. But there are food safety, space and equipment considerations to weigh when entering the cheese arena.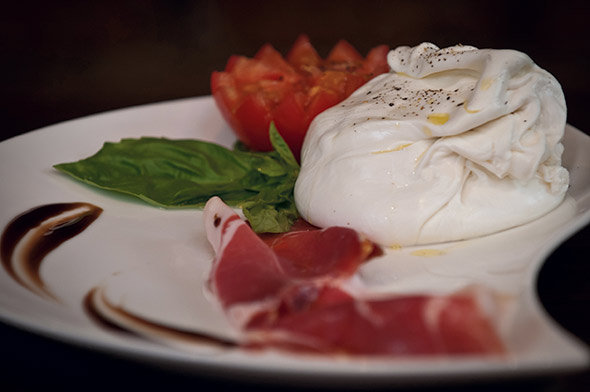 Artisan cheese ranked among the Top 20 Food Trends, according to the National Restaurant Association's 2015 What's Hot Chef Survey. Of the chefs surveyed, 65 percent believe it continues as a top trend.
Easy In-House Cheeses
Fresh mozzarella
Burrata — Using age-old Italian cheesemakinging techniques, Roberto Caporuscio, owner of Don Antonio and Keste Pizzeria in New York, makes his own burrata using fresh curd from BelGioioso Cheese Company for use atop pizza and salads. Caporuscio first makes mozzarella (80 pounds per week) by boiling the curds in water quickly; then he stretches and shapes the cheese, and wraps it around a creamy mixture of creszensa and mascarpone for the burrata.
Ricotta
Yogurt cheese
Homemade Ricotta: From Marjorie Meek-Bradley, Chef at Ripple and Roofers Union
2 parts whole milk
1 part heavy cream
1 part buttermilk
Heat the mixture to 180 degrees F. Let sit for 10 minutes. Skim curds off the top. Drain curds in cheesecloth for about 2 hours.
Cheese Making tools:
Stockpot
Thermometer
Cheesecloth
Fine mesh strainer
Slotted spoons and ladles
Cheese molds and presses
Pasteurizers and butter churners
Yogurt maker (optional)
Partnering Up
Q&A with Brian Scheehser, executive chef of Trellis Restaurant at The Heathman Hotel in Kirkland, Wash.
FE&S: How did you end up working with a dairy farm to make cheese?
BS: Cheesemaking can be a daunting endeavor for some. There are two paths: you can make simpler cheeses like ricotta, or partner with cheese makers to come up with a signature cheese to be used in the restaurant. There is time, effort, cost, amount needed and you must start with the best quality milk. I have been working for a few years with the head cheesemaker at Cherry Valley Dairy in Duvall, Wash. We're making chef-inspired cheeses using ingredients from my farm. We've done a carrot-nasturtium jack and a blueberry-basil jack that have won awards. We serve them simply on a cheese board with homemade quince paste and rosemary crostinis. We have also made a hop jack that we use to make caramels at the restaurant and serve at beer dinners. It tastes like you ate a piece of jack cheese and chased it with a beer.
FE&S: What are the food safety precautions associated with cheesemaking?
BS: You really need to have a sterile environment. It was a longtime goal to do cheese, but when we talked about what the cost would be to put in a separate processing kitchen I looked to cheese makers with whom I could partner instead. I was very fortunate to have sat on a chef advisory board and got to know Cherry Valley Dairy. They have all the equipment and aging rooms so it was a great fit. They also follow all the necessary health department rules and have a HACCP plan and take all the necessary precautions to prevent foodborne illness outbreaks. It's almost like a bakery; you have to work with the right cultures and in an environment that can be sterilized and highly cleaned so you don't produce bacteria.