New ownership looks to revive this steakhouse chain by leveraging a contemporary design and a menu built around the different regions of the Lone Star State.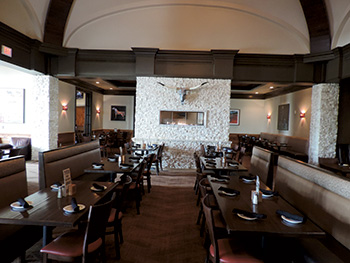 Where the chain has a more modern look, it integrates Texas elements through items like this pewter longhorn skull."Everything's bigger in Texas" may be a cliché, but there's truth behind the statement. Just look at the size of the place. The 13 smallest U.S. states could fit inside Texas, with a little room to spare.
The size means that, geographically and culturally, the state consists of many different landscapes: the gulf coast, the plains, the southern border, major metropolitan areas and so on. And these different places offer different cuisines — not all of them barbecue and steak.
That's the idea behind the new menu from Texas Land and Cattle, a 27-unit steakhouse chain based primarily in the Lone Star State. The chain's redesigned menu reflects these regional cuisines and cooking styles and, so too, does its decor and kitchen design. The final product, its new ownership hopes, will turn an operation facing declining customer counts and stale experiences into a thriving, relevant brand that will broaden national perceptions of Texas cuisine.
Reviving the Brand
The bar area at Texas Land and Cattle welcomes those who want to watch a game or just linger.Texas Land and Cattle is not a new concept. The chain was founded in the Dallas area in the early 1990s. After changing hands, it was owned by private equity firm Lone Star Funds until December 2013. That's when the men hired by the fund to run the operation, Scott Smith and Tim Dungan, bought it, along with sister operation Lone Star Steakhouse and Saloon, and began operating both concepts under the name Day Star Restaurant Group.
One of Day Star's first hires was vice president of culinary development John Imbriolo, who had worked with Smith and Dungan before.
"When we came on the brand, we were up against declining guest counts. That was the biggest [emergency], understanding what was causing the decline," recalls Imbriolo. "Our smoked sirloin was great, and everybody loved the wedge salad, but we didn't have a lot of other compelling items that would say, 'Come to us as opposed to one of our competitors.'"
As a Texas-themed steakhouse, the chain's leaders looked to the state itself for inspiration. There they found the variety and freshness that they believe will appeal to more and younger diners and revive the operation.
The chain's new prototype has an outdoor seating area and fireplace with comfortable furniture for lounging.The menu, which was rolled out system-wide just a few weeks ago, has four distinct entree sections, each inspired by a particular region:
Coastal features items like pecan-crusted trout; shrimp and grits; and grilled shrimp and jalapenos wrapped in bacon and served with red onions and Southwest rice. The Plains includes chicken-fried sirloin, baby back ribs and bacon-wrapped quail with a cornbread stuffing. Border Texas hits the Tex-Mex spot with offerings including tacos, brisket and chicken enchiladas and stuffed poblano peppers. Texas Grill features steaks, including porterhouse, bacon-wrapped filet mignon and the house specialty, smoked sirloin. The chain's culinary ambitions don't stop with this new menu, Imbriolo adds. Before the menu redesign, some poorly selling items remained on the menu for a decade. He's determined that won't happen again.
To help keep the menu fresh and drive innovation, Imbriolo encourages the chefs at each restaurant to experiment with ingredients and develop their own dishes. The chain, for example, continues to explore the use of hickory-smoked salt, which grew out of one such effort. Once the chain approves and prices an experimental dish, it goes on sale as a chef's special for a weekend. If it sells well and gets good customer feedback, the dish may earn a place on the chain's permanent menu, Imbriolo says.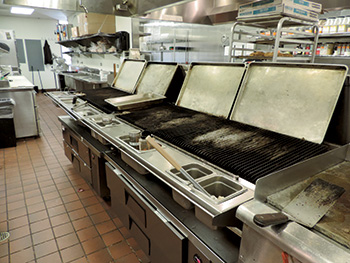 The chain uses two chargrills to cook burgers and steaks. Only one is used during slower periods, while both are up and running for peak hours.Texas Land and Cattle also hopes to drive business by having standing specials and theme nights during slower weekdays. Monday, for instance, is $5 burger day. On Texican Tuesday, the chain offers seven different, moderately priced tacos. Wine and Dine Wednesday features half-price bottles of wine.
"We want to make sure there's a draw and a reason to come here on every day," Imbriolo says. "We want to keep it fresh, which previously the brand had not done before."
Refreshing the Look
A true brand refresh, of course, requires more than just changing the menu. It also means updating the restaurant's appearance.
The old standard for Texas Land and Cattle, Imbriolo says, just felt a little dated: dark woods, dark browns and greens on the walls and booths, fake logs, low lighting and cowboy-themed art. "Close the shutters, and it could be 8 p.m. all day," jokes Imbriolo.
Texas Land and Cattle's production kitchen consists of three main stations with hot equipment on one side and cold tables on the other.The new prototype, located in Fairview, Texas, north of Dallas, features a much more contemporary appearance that has been described as "Texas chic." The woods and paints are much lighter and brighter than in older units, and with more glass and marble throughout.
A large, modern-looking fireplace made of light-colored stone becomes one of the unit's dominant features. The design uses the same stone in additional elements, including pillars and a large built-in wine rack. The Texas-themed wall art is much more modern than cowboy kitsch. A longhorn skull hangs above the fireplace, but instead of trying for a realistic look, it's made of pewter.
The new location features new spaces to accommodate different types of diners and events. These include two outdoor seating areas, an outdoor fireplace, rooms designed with private parties in mind and a round dining area, which gives the space a distinctive feel.
These changes mark a radical departure from Texas Land and Cattle's previous design. In fact, the chain's leadership, while supportive of the redesign, feared they might end up alienating existing customers, Imbriolo says. "Our biggest fear was that we were making it extremely modern, and what would our old consumer say," Imbriolo said. "I tell you, guests of all ages love that restaurant. It has such a bright, vibrant feel to it, and it's very hip."
No Big BOH Overhaul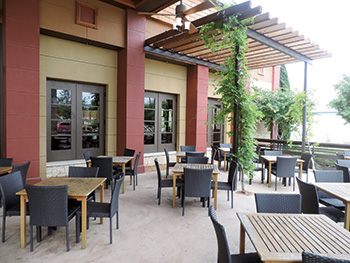 Two outdoor seating areas are included in the new design.In developing its new prototype, Texas Land and Cattle naturally tinkered with the kitchen a little bit. According to Imbriolo, however, the back-of-the-house changes weren't nearly as extensive as the changes to the front.
The operation's kitchen features three main stations, with the hot side pieces against the back wall and their corresponding cold units against the front wall, just below the expediting window.
At the first station, the chargrill, staff cook steaks (except for the house specialty, smoked sirloin), burgers, salmon and grilled vegetables. The chain employs two 4-foot units, using just one piece during slow periods and both units during high-volume times. Below the grill sit refrigerated drawers that hold raw proteins.
These drawers represent one of the few additions to the kitchen, says Imbriolo. Previously, proteins were kept in carts that sat in the walk-in freezer, which staff would access through glass doors next to the grill. This unusual setup caused problems, however. Chefs were forced to take extra steps every time they needed to get a raw steak, slowing down the whole operation. Even worse, during slow periods, the steaks, which had been stored in a cooler up till that point, would freeze. The change eliminated both issues.
After cooking a steak, kitchen staff turn 180 degrees to use a refrigerated table with wells holding everything from burger toppings to compound butter and asparagus for grilling. Refrigeration below holds backups for all of these dishes. Next to the table, a steam well holds mashed potatoes, grits and soups. Below the well, drawer warmers hold baked potatoes and sweet potatoes.
On its hot side, the second station has a 2-foot flattop grill for sautéing mushrooms and onions, as well as toasting burger buns. Next to it sits a double-stack convection oven that staff use to finish parbaked sourdough loaves, as well as to cook bacon, roast vegetables and handle other baking or prep work as necessary.
Opposite these hot units sits a worktable. Beneath this table sits a cook-and-hold oven used for holding Texas Land and Cattle's signature menu item, the smoked sirloin, which gets cooked to five temperatures, from rare to well. Given the station's physical location and the need to serve the smoked sirloin as soon as it is sliced, the staff member working this table essentially becomes the maestro of the kitchen.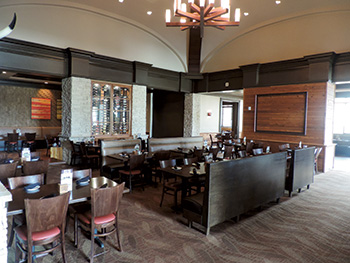 While the previous Texas Land and Cattle prototype had a classic Texas steakhouse look with dark woods, dark walls and cowboy art, the new design features lighter colors and a modern appearance."That is a pretty intense station right there," Imbriolo says. "That person is taking out the sirloin at temp, carving it, placing it on the plate, coordinating the sides either himself or in partnership with the fry station, plating and putting it in the window. That center person really controls the flow. Even though they have their specific dishes, they're coordinating the sides for the stuff on the grill, and the items he's doing as well as the items at the fry station."
The third main station is the salad and fry station. The cold side of the station has two tables. One holds sauces, garnishes and toppings like pico de gallo, shredded cheese, jalapeños and sliced tomatoes. Below are items like stuffed mushrooms and empanadas. The second table is for salads.
This table represents another change from older units. In the previous design, the salad table sat in the walkway connecting the front of the house to the kitchen, making it easy for servers to assemble salads. In the new design, the table has been moved entirely into the kitchen and is staffed by a kitchen team member. While this requires adding one more person to the back of the house, the shift was made with the guests in mind, Imbriolo says.
"Service is key. If the server has to make 200 salads in an evening, how much time does that equate to and how much time does that take away from guests," he says.
A bread warmer with two glass doors finishes off this station's cold side. Both waitstaff and kitchen staff working this station monitor the number of loaves it holds. When necessary, the kitchen team member puts more parbaked loaves in the convection oven, retrieves the finished loaves a few minutes later, butters them and places them in the warmer.
The hot side of the salad/fry station consists of a bank of three fryers, which staff use to make french fries, onion rings and other items. Next to the fryer sits a four-eye burner for preparing sauces, sautéing seafood for various dishes and even making grilled cheese.
The final pieces on the line are two large smokers. One unit is used primarily for smoked sirloin, the other for chicken, ribs and other items like vegetables. "I try to stretch that smoker to be more than just proteins," says Imbriolo.
Imbriolo is a fan of the smokers. Each can hold 25 to 30 full sirloins or 60 to 80 full racks of ribs. They have multiple time settings for cooking meats to different temperatures and temperature settings ranging from 100 degrees F to 245 degrees F. Kitchen staffers load the units by sliding racks in and out, fill the chip box — Texas Land and Cattle uses hickory chips — and then let the smokers do the rest.
Turning the corner from smokers, kitchen staffers can then enter the prep area. This section contains a 10- to 15-gallon steam-jacketed kettle for cooking mashed potatoes, a floor mixer for whipping butter and mixing other items, and various worktables.
For storage, the chain has dry shelving as well as a walk-in cooler for produce and meats and a small walk-in freezer for french fries, ice cream, parbaked sandwich rolls and a few other items. Notably, the parbaked sourdough loaves aren't refrigerated before baking. This allows the bread to be stored at room temperature before it goes into the oven.
Going Forward
With the new prototype up and running and the new menu recently rolled out, the next step, said Imbriolo, is retrofitting existing units. This has already been done in some stores in the Dallas area, he says, resulting in a noticeable increase in sales. The chain is now in the process of putting together requests for proposals for retrofitting its units in other areas. The chain is also planning improvements to its back office and point-of-sale technology. Each can be improved, Imbriolo says, to speed up service and enhance the guest experience.
In terms of growth, though, the next year will likely be very measured for Texas Land and Cattle. The next unit to open will be in Las Vegas in the first quarter of 2016. One of the challenges of opening such units outside the Lone Star State, says Imbriolo, will be getting diners to understand the breadth of Texas cooking. Many people from other regions don't understand that it's more than just steak and barbecue. The Texas Land and Cattle brand, he adds, could help get the word out that Texas cuisine is more than just barbecue and steak. FE&S
Key Players
President:
Tim Dungan
Chief Executive Officer:
Scott Smith
Fast Facts
Chain headquarters: Plano, Texas
Year founded: 1991
Signature menu items: House-smoked sirloin
Number of units: 26 (all company owned)
Average unit size: 6,200 square feet
Average seats per unit: 260