New foodservice equipment and supplies allow this center to provide more nutritious meals to more people in need.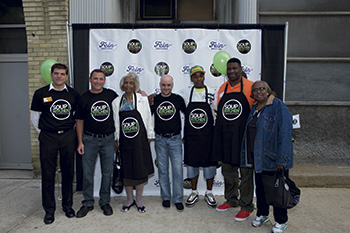 Crew from Fein Brothers and soup kitchen volunteers after the award winner was announced. Photography by 414 Photography, www.414photography.comIn May of 2014, Mother Annie Naomi Scott visited Fein Brothers, a foodservice equipment and supplies dealership in Milwaukee. The 88-year-old founder and executive director of Scott Christian Youth Fellowship and Recreational Center in Milwaukee was looking for foodservice equipment for the center's functional though visibly tired soup kitchen. She noticed a sign announcing that Fein Brothers, in celebration of its 85th anniversary, wanted to give back to the community that had supported the company since its inception and was sponsoring a contest for nonprofit meal providers in southeastern Wisconsin. The winner would receive thousands of dollars' worth of kitchen equipment and supplies for a makeover.
Mother Scott returned to the center and reported the news to Jerome Pitchford, the center's acting director, and Debra Christopher, business manager, who filled out the necessary paperwork. They knew their winning was a pipe dream but certainly worth the effort to enter the contest.
Jerome Pitchford (center) meets with Todd Minkin (left) and Ben Minkin before equipment was installed.Open since 1974, Scott Christian Youth Fellowship and Recreational Center in Milwaukee serves as a place where young people can have fun and build Christian values. The center also offers such community services as a hot meal program, an emergency food pantry, an emergency clothing bank, a nutrition-for-babies program, a crisis hot line for runaways, and a temporary shelter for runaways. The meal programs rely on volunteers, some of whom are church members and some of whom are part of SER (Service Employment Redevelopment) Jobs for Progress, an organization offering employment training services, upgrading job skills and increasing business and economic opportunities for minority communities and other disadvantaged people. SER Jobs for Progress participants come to the center to receive foodservice training and work there several hours per week. This includes picking up food from food banks, sorting and storing food, preparing and cooking food, cleaning and light maintenance.
Fein Brothers displays supplies that were part of the makeover package."The center does not receive government funding, so it counts on donations and assistance from the community and local professional organizations. We need about $65,000 to $75,000 a year to provide meals for persons in need," says Pitchford, the center's acting director for the past five years. "I came to help Mother Scott, who is now 88 years old."
Meanwhile, at Fein Brothers, co-owners Todd and Ben Minkin and their staff were reviewing 33 entries. "We visited the top five to determine the kitchen that was in most need," Todd Minkin says. The Minkins, their staff and industry sponsor partners selected Scott Christian Youth Fellowship and Recreational Center as the winner. Though the contest winner was not yet announced — that news would take place at an event in June — Fein Brothers sent invitations to all the people who had submitted nominations, suppliers, local community members and the media.
The old soup kitchen was visibly in need of a makeover."I received a call from Todd Minkin, who said he knew Mother Scott had a reservation and wanted me to be there also," Pitchford says. "I explained that I had RSVP'd my regrets because of another very important engagement and I didn't see how I could change plans. Todd had to let the cat out of the bag and told me I had to come because we won the makeover. I was so thrilled I couldn't even talk for a moment. I changed things around but didn't want Mother Scott to know the good news yet."
At the June event, held at Fein Brothers, Todd Minkin announced the Scott Center as the winner. "Choosing a winner was a very difficult task," he says. "There are so many deserving meals sites in southeastern Wisconsin that do so many wonderful things for our community. After visiting the top five vote recipients we quickly realized that there were some facilities that were in much greater need than others. We believed Mother Scott's kitchen would benefit greatly by receiving updated kitchen equipment and supplies, and we were honored to be able to supply that for her. She and her volunteers have given so much back to the Milwaukee community. We know now that we were correct."
The old range had seen better days before the makeover."Mother Scott was as overwhelmed with joy as we all were," Pitchford says. "I've been involved in many charitable scenarios, but this was overwhelming that they would help a food pantry in this way."
Later, when interviewed by local media, Scott said, "I had a call from God to do my work at this address. Nothing in our 40 years has been as great for us as this."
Following the announcement, Mother Scott and an advisory committee met with Fein Brothers to talk through the center's needs. Once an equipment package was selected, Fein Brothers and the center worked with the city to get permits so the new equipment would be in line with the health department's rules and regulations.
Two refrigerators and two freezers greatly increased the soup kitchen's storage capacity.Fein Brothers and a team of staff began working at the center in mid-November 2014. First, they tore apart the entire soup kitchen, digging up flooring and removing the old residential-grade equipment, which included two four-top ranges, broken food warmers, tables and other items.
The new commercial equipment delivery included a trio of 10-burner ranges, 2 reach-in freezers, 2 reach-in refrigerators, 2 hot-holding cabinets, pots, pans, utensils, countertop food warmers, toasters, a food processor, microwaves, blenders, rust-proof shelving and stainless steel worktables.
"We were very pleased with what we provided," Todd Minkin says. "Of course, there's always a few things we would have liked to do but couldn't. For instance, we had some restrictions with plumbing. We wanted to move a wall and a sink; but we were told that if we touched the plumbing we'd have to bring it all up to code, and that would be a huge job. We also couldn't put in an exhaust hood due to the cost and city's restrictions. So there are no fryers."
After the new kitchen installation, Fein Brothers' staff provided training for volunteers on how to use the new equipment. "We send our service company to the site to make sure the equipment is operating as it should," Todd Minkin says.
Though Mother Scott and Pitchford didn't make many changes to the menu, which always contains a protein, vegetable or fruit, starch and dessert, the new equipment allows them to process the food more efficiently and effectively.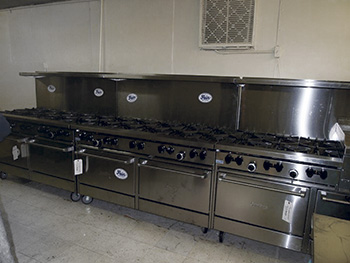 Three 10-burner ranges bring great fire power to the soup kitchen. The center's approach to providing food to visitors also remains the same. Diners do not go through a service line. "We believe people should be served with dignity and in high regard," Pitchford says. "We want to treat people the way we would want to be treated. We put ourselves in the shoes of another person and understand why they respond the way they respond. So, we plate the food at a steamtable that is visible to diners and serve each person at tables. This way, they have more time to talk with fellow diners and relax as they eat their meals."
The washing, rinsing and sanitizing of all dishes and utensils takes place in sinks. "We don't have a dishwasher at this time," Pitchford says.
"Our biggest eye opener as we went through this process was to realize how many deserving organizations that do so much good for the community exist in our little community," Todd Minkin says. "We were so pleased to be able to contribute resources to help. However, many more resources are required for the need that exists."
Mother Scott and the center volunteers are grateful everyday for the support they received. "Milwaukee's disadvantaged citizens are served better because of this makeover," Pitchford says.
Key Players
Founder, Executive Director and Pastor: Mother Annie Naomi Scott
Acting Director: Jerome Pitchford
Business Manager/Office Manager: Debra Christopher
Program Coordinator: Belinda Mills
Equipment Dealer: Fein Brothers, Milwaukee; Todd Minkin and Ben Minkin, co-owners; Amy Hagerty, administrative assistant
Facts of Note
Volunteers heat menu items in countertop ovens. Makeover Completed: November 2014
Scope of Project: Complete makeover of the soup kitchen, including addition of new equipment, flooring, paint and shelving
Size of Kitchen: 1,500 square feet
Seats: 50 regularly; more seats can be added for special meals and holidays
Average Meal Cost: 50 cents to 75 cents
Annual Cost to Run Meal Program: $65,000 to $75,000
Average Meals Served Daily: 125 (65 to 70 breakfasts and 45 to 50 dinners); 35 to 40 lunches; summer meals for children
Hours: Meals served for breakfast, 10 a.m. to 11:30 a.m.; lunch at 12 p.m. in the summer; dinner, 3:30 p.m. to 5:30 p.m.
Menu Specialties: Comfort food; each meal contains protein, vegetables, fruit, starch, a beverage and dessert
Staff: 25 to 50 part-time volunteers working as needed
Equipment Investment: More than $50,000
Website: www.outreachcogic.tripod.com/id7.html