Sugar Bust

With sugar getting a bad rap in health circles, some chefs and restaurants now incorporate more natural, less processed sweeteners to add extra flavor to their after-meal treats. Some trending examples include agave nectar, raw honey, molasses and maple syrup.
Retro Treats
Chefs are going retro with classic desserts, from traditional chocolate cake to chess pie to sno balls. Midwestern classics like fruit-filled cobblers, crisps and tarts are seeing a revival, too, along with hand pies in mini form, according to TheFoodChannel.com and CultureWaves's top dessert trends research. At Ted's Bulletin, pastry chef Todd Miller makes his 1940s-inspired sno balls in the form of a moist chocolate cake stuffed with marshmallow cream and topped with more marshmallow and pink-tinted coconut flakes for the homemade Hostess version.
Spoonable and Layered Desserts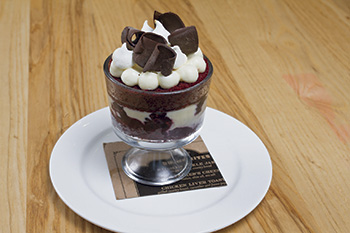 Listed as the No. 1 and No. 2 top dessert trends by TheFoodChannel.com, in conjunction with CultureWaves, a consumer insights and trends analysis consultancy, spoonable and layered desserts continue to make their way onto menus across the nation. Mason jars, retro milkshake glasses and other see-through vessels show off these layered treats. At Sapphire Laguna in Laguna Beach, Calif., Chef/Owner Azmin Ghahreman showcases his unique twist on bananas foster as a spoonable, layered dessert in a mason jar. Homemade brioche bread pudding gets topped with a brown sugar rum sauce, caramel gelato, fresh banana slices, candied pecans and an extra drizzling of sauce. The popularity of pudding, custard and tapioca will increase this year, according to CultureWaves. And chefs are layering just about anything, from trifles (seen here is Yardbird's red velvet trifle) to cheesecakes and muffins.
Fun with Hybrid Desserts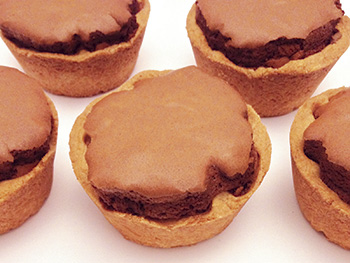 Whether they're called hybrid desserts or "mashups" — just know these fun fusions remain all the rage. Certain creations, though, have had their day while others are starting to gain notoriety.
Ice Cream Cupcake: ice cream + cupcake popularized by Cold Stone Creamery
Crogel: croissant + bagel invented by the Stew Leonard grocery chain
Townie: a tart + brownie invented by Bea Vo, Bea's of Bloomsbury in London
Duffin: muffin + donut
Sweet Times for Chocolate
The presence of chocolate desserts increased 12 percent on menus over the previous year, according to data from Technomic. Specifically, dark chocolate desserts increased by 5 percent.
Trending Dessert Types
58% Hybrid desserts (croissant donut, townie, ice cream cupcake)
59% Savory desserts
60% Bite size and mini desserts
Source: The National Restaurant Association's 2015 What's Hot survey