Fire roasting — using the live fire of wood- and charcoal-fired indoor grills and ovens — took the number-three spot for trending preparation methods on the National Restaurant Association's "What's Hot" list for 2015, an annual survey of American Culinary Federation member chefs that lists foodservice-related trends expected to shape the industry in the coming year.
Not only do these versatile systems produce smoky, tender results, they add drama and excitement to an open kitchen and dining room. Here we look at some intriguing examples of this trend in action.
Dual-Sided Grilling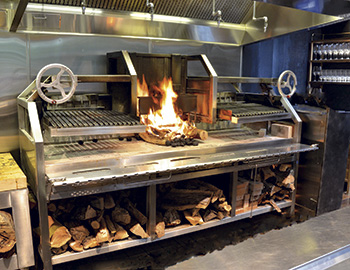 At Ox in Portland, Ore., chef-owner Greg Denton uses a 48-inch, oak wood–fired grill, similar to parrillas from Argentina and Uruguay, with dual sides that cooks can raise and lower independently for slower cooking. Set at a slight angle, the v-shaped grates with pans underneath help prevent flare-ups by capturing smoky, dripping fats that cooks often combine with herbs and lemon to use for basting or marinating. Both protein and vegetables go on the grill, including steaks, short ribs, pork chops, lamb chops, house-made chorizo, morcilla sausage, whole trout, artichokes, spaghetti squash and mushrooms. A signature seasonal dish is the wood-grilled lamb heart panzanella salad with grilled bread and butternut squash, charred leek puree, capers, and daikon radish.
Tom Colicchio's Heritage Steak naturally cooks steaks, chops, seafood and more over an open flame using a dual-sided Japanese-style charcoal grill and white oak wood-burning oven. Seen above. The grill also serves as a hearth, smoker and broiler to cook a variety of dishes, including a signature charred octopus, a variety of hormone- and antibiotic-free steaks, a grilled romaine salad, wood-warmed onion soup, ash-roasted bone marrow and more.
Indirect Fire Cooking
At José Andrés' Bazaar Meats at the SLS Las Vegas, executive chef David Thomas uses a charcoal-fired Spanish combination grill and oven to indirectly cook a rib eye two feet above the heat source for slow-roasted, melt-in-your mouth tenderness. The grill is also used to cook suckling pig.
Photograph courtesy of Jen OlsenChef-partner Steven Redzikowski of Acorn in Denver uses a wood-fired oven that burns white and red oak to slow roast a hearty 56-ounce, cumin-spiced bone-in pork shoulder (seen to the left) until it's caramelized and crispy on the outside and tender on the inside. Served family-style with a carving knife, the pork comes with a cumin-ancho vinaigrette and various sides like buttery corn and charred shishito peppers.
At Marc Vetri's newest restaurant, Lo Spiedo in Philadelphia, a custom-built, 72-inch rotisserie grill spit-roasts pork ribs with rosemary, octopus, lemon chicken and more.
Wood-Fired Sweetness
At Apeiro Kitchen & Bar in Delray Beach, Fla., just outside of Miami, co-owner and chef David Blonsky uses a wood-fired oven to roast apples until they are smoky and tender for a sweet and savory dish with burrata, spiced walnut tapenade and crispy basil inspired by the cuisine of the Mediterranean. He wood-roasts more apples for a crostata with salted caramel and house-made cinnamon gelato.