During the 10 years after a central kitchen was built in 1993 for Bozeman Public Schools District #7, the district added 4 elementary schools and a middle school, bringing the total number of schools to 11 and expanding enrollment from 4,800 to 6,200.
District administrators and Bob Burrows, CFBE, support services supervisor and foodservice director, recognized that, with the addition of the elementary schools, reassessing the central kitchen was imperative. "We recognized that the building was to last 20 years, which it did, and it had reached the threshold of how many students the kitchen could serve," Burrows says. "The facilities were worn, old and cramped. We expanded the facility to accommodate an additional 3 elementary, 1 middle and 1 high school over 15 years."
The kitchen sits in a stand-alone support services building housing the foodservice office, the district's print shop and the science center. Before the expansion, the kitchen occupied 7,000 square feet of the 20,000-square-foot building. Designers added 1,000 square feet of cold space on the basement level and 5,000 square feet on the main level to house a 12,000-square-foot renovated kitchen.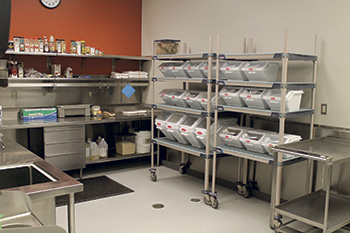 In the recipe-scaling room, used for menu development and specialty food research, staff portion ingredients so recipes remain consistent.The kitchen prepares 100 percent of the food served in the elementary schools and 2 middle schools and 60 percent for the high school, which prepares menu items (such as pizza and bread baked on site) in a scatter-system serving style. Most of the food ships out to schools in a cold or frozen state the day before service, requiring finishing at the schools. Staff ship salads and sandwiches the day of service.
"Our first priority is providing food for students," Burrows says. "The second is giving payback to consumers in the form of much
better-quality food than you'll find in most school districts and lower prices. For us, centralized production is efficient and helps us save labor costs because we can reduce multiple stages throughout the week to single duties and can streamline the process with packaging systems that reduce overall time allotments even though labor still comprises 48 percent of the budget. When the kitchen was built in 1993, we saw a 25 percent reduction in labor costs, and those economies have stayed level ever since." Employees work 40 hours, but their time is divided among various tasks. They may work at the central kitchen in the morning and then work at a school and return to the kitchen after 1:30 p.m.
The program is self-supporting, meaning it receives no general-fund tax money and pays all costs for labor, benefits, food, trucks and supplies. To support such a program, the district also serves as a licensed food manufacturer under the Central Food Products label and uses its kitchen to produce food products to sell to outside establishments. "Wholesale production has resulted in as much as $450,000 in sales," Burrows adds. "One client is a food distributor who sells the district's salad dressings to another large Montana school district. We've only been up and running again since September and expect our sales and number of clients to increase," Burrows says.
Packaging begins at left with the L-bar sealer and then moves through the heat-shrink tunnel onto a skate-wheel conveyor.Wholesale revenues remain crucial to the program's success not only because of higher labor, food and supplies costs, but also to help offset losses in the program's revenues. "These losses result from new federal guidelines, a problem experienced in varying degrees all over the country," Burrows says.
In addition, high school students can leave campus during their 50-minute lunch breaks. "We haven't suffered the amount of backlash many districts have faced because we started these changes long ago and gradually worked them into the menu," Burrows says. "We've won awards for our menus from USDA and the Healthier U.S. School Challenge, which we've participated in for the past eight years.
The Two-Phase Project
The two-phase project began with the extension of bulk freezer storage space in 2012. The 1,000-square-foot space contains 3-high pallet racking. "This is an extremely efficient storage system that allows long-term storage of products," says the project's foodservice design consultant, Michael Miles, FCSI, H-C Design & Consulting. The outlying area contains enough space so storage can be expanded by another 1,000 square feet when needed.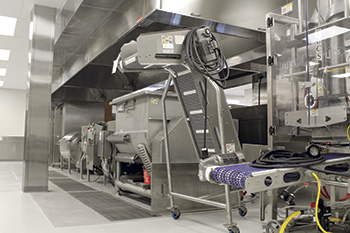 A cook-chill system brings consistency and efficiency to the district's production. Equipment from left includes a double roll-in proofer, rotating rack oven, 50-gallon tumble cook-chill tank, 50-gallon agitator kettle, 6-gallon steam kettle, 200-gallon cook tank, product conveyor and vertical form-fill machine.The second phase of the project, which began in 2013 and was completed in August 2014, included demolition and reconstitution of the central kitchen. The project added about $650,000 of new equipment while nearly $400,000 of existing equipment remains. One of the project team's largest challenges was to pair a new 200-gallon cook-chill system with the existing 50-gallon system's boiler, steam, hydraulic, chilled water, ice builder and compressed air. "This required intricate coordination of the existing equipment parameters and requirements to work in conjunction with the added load of the new system," Miles says. "The old system utilizes hydraulics for tilting and compresses air for portioning, and the new system does not. The new batch chiller was designed to utilize the existing chilled water system along with integrated refrigeration hookups for future refrigeration system redesign. A larger boiler, additional pumps and flow control manifolds were incorporated."
The design team also sought to optimize traffic flow throughout the facility and create open sight lines. "This building and style of delivering cold food was truly ahead of its time in 1993," Miles says. "At the time, each school's serving kitchen was modified to a retherm kitchen. But the old facility had developed congested flow and production patterns that crossed with the delivery path. In the renovated facility, distinct production flow pathways were implemented from delivery of palletized raw goods, storage, production, packaging, staging and delivery to schools."
After food arrives at a loading dock, staff transport it downstairs to the large pallet freezer. This lower-level storage area also contains a cooler for milk crates. "We receive milk deliveries here two times each week, and we distribute to the schools ourselves. In most other districts, the dairy delivers milk to the schools. We found that by doing it ourselves we save money." The downstairs area also contains several thousand square feet of dry food storage space that is shared with other district functions, such as storage of obsolete classroom equipment.
The utility distribution system includes the load and control center, which utilizes VFD fan drives for modulating ventilation-demand control. The system includes displays for precise real-time chilled water temperature readings.For production, staff bring food upstairs to a cooler set to 38 degrees F that thaws frozen items and holds delivered produce. They transport food to cold prep for making salads, sandwiches and vegetables. Staff use ingredient bins, prep tables and a slicer for production, as well as an 80-quart mixer and 30-quart mixer. For baking, staff also use a spiral mixer, a dough divider, dough rounder, double-roll-in proofer, mobile bun pan racks and a single-rack rotating oven.
A cook-chill system brings consistency and efficiency to the district's production. In the cook-chill production area, staff process ingredients into products such as soups, stews, taco filling, chili and ranch dressing using a 6-gallon tilt kettle and a 50-gallon or 200-gallon system.
In the 50-gallon cook tank, staff place ingredients into the 50-gallon agitator kettle, which cooks products and with a piston hydraulically portions products into 1- or 2-gallon pouches. Staff manually place the pouches into a 50-gallon tumble cook-chill tank until chilled to 39 degrees F. Staff then place products in a transport cart and transfer them into the walk-in cooler, also held at 30 degrees F.
For the 200-gallon system, ingredients are portioned, placed into the 200-gallon cook tank and cooked, and then product is transferred via cook tank and vertical-form fill machine into 1- or 2-gallon pouches, thermally labeled and mechanically transferred to the product conveyor, which transfers it to the 200-gallon batch chiller. The air-agitation pump in the batch chiller moves product within the vessel. The batch-chill control panel is normally found on the chiller, but the facility centralized the control centers for each system to have direct and clear views of the controls and HACCP charting. Temperature is precisely monitored and graphed during all phases of cooking and chilling.
The batch chiller has a deck that rises to keep product at working height, and staff transfer products hydraulically into a cart that is taken to the 30-degree F walk-in cooler.
"Our production capabilities have increased exponentially," Burrows says. "For instance, we used to produce 360 pounds of ground beef for a recipe in the 50-gallon-kettle cook-chill tank, and now we produce 1,100 pounds in the 200-gallon tank in the same amount of time or less."
Staff also utilize a dedicated recipe-scaling area for menu development and specialty food research that contains spice storage, an air operated can opener and scales where entire recipes are assembled onto carts prior to actual production.
On the hot prep line, from left is a wall with a UDS system that runs in between the hood systems, a smoker, steamer, 40-gallon tilt skillet, 4-burner range, 36-inch charbroiler and double-stacked convection oven.Across an aisle in a hot-prep area, staff work at a classic small production hotline to test recipes and prepare menu items such as small batches of soup, sauces, gravies and grilled meats using an automatic slicer and prep sinks, along with a table, double-stacked convection oven, 36-inch charbroiler, 4-burner range, 40-gallon tilt skillet, steamer and smoker.
Keeping the food quality high remains an imperative for Burrows and the culinary team. "We must buy high-quality food. We also grind spices and use fresh herbs," Burrows says. "We don't use imitation butter or sweeteners, but when we [typically] use these ingredients we use them in moderation. We are having a hard time finding a pasta that meets USDA's requirements for 50 percent whole grain, so we don't serve as much pasta as we'd like. We finally found a whole-grain hamburger bun that we do like."
At the central kitchen, designers designated specific areas for scullery, warewashing and cart washing, so there is no cross-contamination possible between these areas and production. The central cleaning system starts at a station in an auxiliary room and pipes chemicals and water to kitchen hubs that have a mobile hose reel and floor-cleaning machine. This allows staff to have quick access to the chemicals and sanitizing agents where they need them.
Packaging and Delivery
For delivery to schools, production
schedules are written to bring all the menu components together the day before shipment. Staff portion these components to each school's need and pack them into wheeled transport cabinets. These are labeled and loaded on trucks for delivery. The cook-chill food is delivered the day before service, while salads, sandwiches, cases of apples and other fruits are delivered the day of service. The district uses two trucks to deliver all products to the schools.
"Unlike systems in which food sits in warming carts for three or four hours, this system maintains the high quality of food from production through service," Miles says.
When food from the central kitchen arrives at the schools, staff store cold food in refrigerators. Before service, they heat cold food in a retherm oven and assemble other components for service on plastic compartmentalized trays. Soiled elementary school trays are sent to the middle schools and high schools for washing and sanitizing.
Sustainable and Energy-Saving Features and Following HACCP Protocols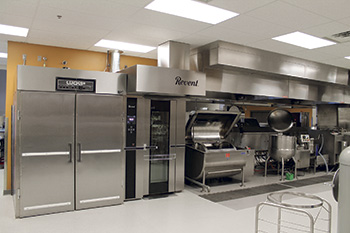 Equipment from left includes a double roll-in proofer, rotating rack oven, 50-gallon tumble cook-chill tank, 50-gallon agitator kettle, 6-gallon steam kettle, 200-gallon cook tank, product conveyor (not pictured) and vertical form-fill machine (not pictured).In order to maintain a sustainable and energy-saving production system, the central kitchen contains demand-control UDS hood systems with variable frequency drives, steam-powered equipment and an ice builder utilized for chilling. In addition, the system features refrigeration with temperature-monitoring controls, heat-reclaim piping, and reclaimed heated air from the compressor room.
This system also requires staff to implement controls and choke points. For example, the production manager forecasts what is needed for purchase and delivery and receives inventory orders daily from schools so she is always aware of what is in storage and how much is needed at each site.
Monitoring HACCP protocol is also crucial for the central kitchen. "The entire staff is well aware of what is needed for compliance," Burrows says. "Because of our manufacturing function we are inspected by the State of Montana Department of Livestock, which is a higher level of inspection and monitoring than most schools must go through."
This director and his team are using the right layout, design, production systems and quality control to support their production goals. This has led them to become a model for school foodservice.
Facts of Note
Renovated Facility Opened: August 2014
Scope of Project: Built in 1993, this facility was upgraded with a 1,000-sq.-ft. warehouse freezer expansion downstairs, a 5,000-sq.-ft. expansion to the kitchen and a total kitchen renovation. An additional 6,000 sq. ft. was built for auxiliary spaces.
School District Size: 6,200 students; 11 schools, including 8 elementary schools, 2 middle schools and 1 high school
Central Kitchen Size: 12,000 sq. ft. and 1,000 sq. ft. of freezer space downstairs
Meals Served Daily: 200 breakfasts in 4 schools (programs must break even, and only 4 schools meet that threshold); 2,300 lunches, including 20 percent free and reduced price; weekend backpacks at 2 schools in cooperation with the food bank
Average Check: $2.50 at elementary schools; $2.65 at middle schools; $2.95 at high school; adults pay $3.25.
Total Annual Sales: $1.2 million
Central Kitchen Hours: 7 a.m. to 3:30 p.m.
Schools' Meal-Serving Hours: Breakfast, elementary and middle schools, 8 a.m. to 8:30 a.m. and 7:25 a.m. to 8:35 a.m.; high school, 7:30 a.m. to 9:45 a.m. Lunch hours at elementary and middle schools varies; high school, open campus, one lunch period, 12:05 p.m. to 12:55 p.m.
Menu Specialties: House-made pulled pork; house-made pizza; pasta; soup and grilled cheese; casseroles; enchiladas; turkey and gravy; mac and cheese; salads; sandwiches
Staff: 45 employees total; in central kitchen, 5 employees including a supervisor and 4 at various levels, 2 drivers/warehouse employees, a dietitian and a bookkeeper
Total Project Cost: $4.5 million
Equipment Investment: $650,000, plus $400,000 in existing equipment
Website: www.bsd7.org
Key players
Owner: Bozeman Public School District #7
Deputy Superintendent of Operations: Steve Johnson
Support Services Supervisor and Foodservice Director: Bob Burrows, CFBE
Production Manager for Central Kitchen: Michelle Herzog
Dietitian: Brittany Bennett, RD
Bookkeeper/Buyer: Sue Domanski
Architect: Comma-Q Architecture, Bozeman, Mont.; Kim Everts, project manager
Interior Design: Comma-Q Architecture, Bozeman, Mont.; Kim Everts, project manager
Foodservice Design Consultants: H-C Design & Consulting, Bozeman, Mont.; Michael Miles, FCSI, principal and design manager
Equipment Dealer: Bargreen Ellingson, Missoula, Mont.
Construction: Markovich Construction, Butte, Mont.