Farm to table? How about ranch to table — but instead of simply sourcing directly from the ranch, you actually own and operate the ranch, which raises grass-fed beef as well as goats, sheep, pigs and ducks? You also own the animal-welfare-sensitive slaughterhouse right down the road, the butcher shops where all of your meats are hand cut, and every other step in the process of getting premium-quality meats from ranch to restaurant — to the point of even providing the leather for the banquettes in your dining room.

That's the hypersustainable, vertically integrated model that defines Belcampo Meat Co., a hybrid restaurant/retail concept launched by slow-food pioneer Anya Fernald in Oakland, Calif., in 2012.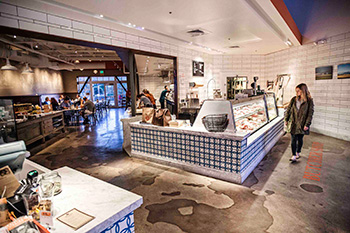 Belcampo Meat Co. is a combination restaurant/retail butcher shop. Photo Courtesy of Ed AndersonThe company is now expanding with two formats — small takeout shops that offer a limited menu of high-end, made-to-order sandwiches and salads as well as a retail butcher shop meat case, and full-service restaurants, which also include the on-site retail butcher shop component. To date, there are three takeout units operating and two full-service restaurants — the original, in Larkspur, Calif., and a second, which opened last summer in San Francisco's Russian Hill neighborhood. A third full-service location, with seating for 80 and the concept's first full bar, is slated to open in Santa Monica in February.
Bronwen Hanna-Korpi, who heads up the restaurant and retail ends of
Belcampo's business, says the company plans to expand to a dozen or so West Coast units by the end of 2018 and that, if sufficient agricultural land can be secured (it all starts with the ranch), it may take the concept to the East Coast as well. "We'll spend much of 2015 looking at what we've done to date, evaluating which of the formats work best where, and then we'll plan our 2016–2018
expansion strategy," she notes.
The combination of restaurant/retail butcher shop and small-store/full-service models is central to Belcampo's sustainable, whole-animal ethos. "All butcher shops, in order to get the biggest bang for the buck, require some sort of prepared-foods element," says Hanna-Korpi. "People aren't going to buy all of the cuts of raw meat that you need them to buy. If we're doing whole-animal butchery, we need to be able to use the whole animal. Because of that, a restaurant component was always part of the plan. We can use things in the restaurants that may not necessarily sell in the meat cases, and we can use things in the full-service restaurants that we can't in the takeout shops, and vice versa."
Conscious Carnivore's Delight
Belcampo's takeout shops, which range in size from 800 to 1,100 square feet, are sited in food-court settings within public markets that offer a broad, upscale retail experience. Butchering is done in front, in full view of customers. Small, efficient back kitchens turn out high volumes of what Hanna-Korpi describes as "fancy fast food."
Of the kitchen spaces, she says, "We need a big walk-in cooler for the whole meats that are butchered on site, and beyond that, it's a flattop for burgers and sandwiches, a four-burner and a couple of fryers."
A recent lunch menu at the Grand Central Market unit in Los Angeles featured nine buns/sandwiches that ranged from the signature Belcampo cheeseburger, made from the ranch's dry-aged, grass-fed beef and topped with cheddar and caramelized onions; to Marrakesh cheesesteak, featuring thinly sliced, seared goat leg with harissa aioli, feta and arugula; to poblano pork cemita, which consists of braised pork shoulder with chipotle, avocado salsa and queso. Other than the cheeseburger, which is always available at all locations, menu items can change daily depending on which meats come in and what needs to be used up from the butcher shop.
Belcampo Meat Co. operates two full-service locations, including one in San Francisco's Russian Hill neighborhood (seen here). The emerging restaurant chain plans to open a third full-service location, in Santa Monica, that will seat 80 and feature the concept's first full bar.Sides, such as spicy fried broccolini, beef tallow fries, chili con carne and bone broth, are available for an additional charge ($3.50), and the menu includes a selection of grab-and-go salads as well.
As in the takeout units, full-service menus vary by location and change daily depending on which proteins and which particular cuts of meat are available. The chefs have plenty of creative license, but in general, Hanna-Korpi says all of the outlets strive to offer dishes that celebrate American culinary traditions — classic burgers, hot dogs and steaks — while showcasing the ranch's organic, humanely raised meats and weaving in culinary influences from California's many ethnic groups.
A recent dinner menu at the San Francisco restaurant featured main dishes ranging from a lamb burger with feta, smoked paprika aioli, caraway red cabbage and lamb bacon to a half heritage chicken with fries and salad, as well as high-end, market-priced beef, lamb and pork dishes, and house-made sausages and meatballs.
"The full-service restaurants enable us to allocate the whole carcass by being able to have steaks, for instance, which wouldn't make sense to try to serve in the smaller locations," Hanna-Korpi says. "We do a fantastic, giant Belcampo chop, for instance. It's a two-pound cut that we can menu in the restaurants at $128 for two people. It's a great way to optimize the revenue from the whole beef."
As the company continues to grow and attract more fans to its sustainable, humane approach to animal production, its biggest challenge — beyond educating consumers about the health- and environment-driven value equation behind its products — is water scarcity. "The ability to produce enough cattle with the ongoing drought conditions in California to please our growing restaurant and retail base is pretty scary," says Hanna-Korpi. "If we continue on the trend of people really wanting to come to us just for beef, it will be tough for us to meet the demand. A big part of our growth strategy is to edge people toward the other species that we produce, which require far less water than does beef. We want to do that anyway because it's a more sustainable way to operate, but with the drought and our expansion plans, doing so soon becomes a lot more important."
For a complete list of our 2015 Chain Innovators, click here.
HQ: Oakland, Calif.
Ownership: Belcampo Inc.
Concept: Vertically integrated ranch-to-restaurant/retail butcher shop
Units: 5 (2 full-service, 3 takeout)
Expansion markets: East Bay (San Francisco), greater Los Angeles area and points south
Sales split: 60 percent restaurant, 40 percent butcher shop
Growth target: 10 to 12 units by 2018
Average unit size: 800 to 1,100 square feet takeout; 1,800 to 2,800 square feet full-serviceAverage check: $18 takeout; $55 full-service
Website: belcampomeatco.com