The Cava brand was launched in 2006 as Cava Mezze, a full-service, Greek-inspired restaurant in Washington, D.C. There are now three in operation in the D.C. area, as well as a Cava Foods division, which sells packaged dips and spreads from the restaurant's menu in Whole Foods stores in D.C. and New York City. But the brand's newest spinoff, and the one with which it is gaining traction in the chain restaurant arena, is Cava Grill. It's a fast-casual operation offering healthful, scratch-made Greek and Mediterranean specialties in a modern, design-forward setting.
Brett Schulman joined Cava founders Ike Grigoropoulos, Dimitri Moshovitis and Ted Xenohristos in 2009 to help the childhood friends grow the packaged-foods side of the business. He quickly saw an opportunity to take the Cava brand into the fast-casual arena and, working with the founders, spent a year or so formulating a menu and operating plan. The first unit — called Cava Mezze Grill — opened in January 2011, and the concept has grown to eight locations with several more set to open soon, including one in Reagan National Airport. Note: To avoid confusion with the full-service Cava Mezze restaurant, the company recently changed the fast-casual spinoff's name to simply Cava Grill.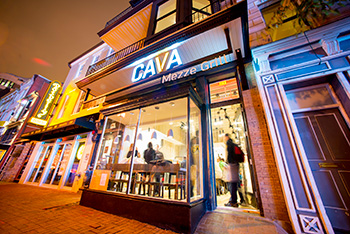 Cava Grill's Chinatown location is one of three units the Mediterranean fast-casual operator opened in the Washington, D.C., market last fall. Three more are slated to open in the first half of 2015."We spent a lot of time figuring out how our food at Cava Mezze restaurant could translate into a fast-casual format," says Schulman, now a partner and CEO of the company. "We always believed that the flavorful, healthy profile of Mediterranean food would be a great fit for where the world was going. We took the great, hand-crafted elements that we serve at the restaurant and at retail and brought them to a wider audience in a fast and healthful format. We like to say Cava Grill is targeted toward taste-, time-, budget- and health-conscious people."
The restaurants, which average 2,000 to 2,500 square feet, perform well in both urban and suburban environments. Schulman says a key consideration for site selection is a trade area's ability to support Cava Grill's seven-day lunch and dinner operating model. "We do a healthy dinner business, so we need to be in locations that are supportive of that, as well as of weekend business. Our real estate to date is diverse — we're in suburban malls, lifestyle centers, dense urban areas — but the common theme is that we're able to be open and busy every day from 11 a.m. to 10 p.m."
Strong Kitchen Focus Differentiates
Cava Grill's design is modern, open and inviting. Wall graphics provide visual interest and carry strong branding messages about local sourcing and ingredient quality.The brand's prototype has remained fairly consistent as it has grown and geared for expansion, but its newest openings sport some enhancements. New features include taps for craft beers and wines, one red and one white; upscale hearth-style ovens; and an overall stronger emphasis on design to create an ambiance that is modern and elegant yet comfortable.
Cava Grill also places a greater emphasis on culinary transparency. The kitchen, which comprises roughly 900 square feet, in older units is one-third exposed and two-thirds back of the house. In new units, it's mostly exposed.
"We've pushed hard in the direction of an open kitchen," Schulman says.
"It's a cook's kitchen, where we have everything on display. Two new stores opening soon are going to have island cook areas, with spices on display and prep of dishes like our falafel and meatballs in full view so everyone can see the quality of the ingredients and the scratch cooking. We also have a fresh lettuce wall, which is open-faced shelving filled with greens behind glass doors, and we use high-end enameled cast iron pots to hold our proteins on the serving line. Our concept was born out of a full-service restaurant, so we want that strong kitchen focus for Cava Grill also."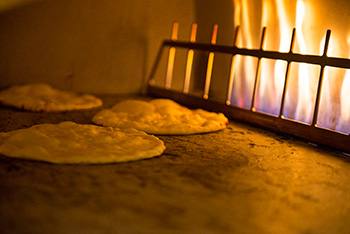 Upscale hearth-style ovens have been added to the newest prototype and will be incorporated into existing units as well.That strong kitchen focus shines through on the menu, as well as in the design. While its format is traditional fast-casual, Cava Grill offers greater depth and breadth than is typical of many in the sector. Guests first choose from the base options — mixed salad greens, rice bowl (saffron basmati or brown basmati), greens and grains (choice of rice mixed with salad greens), large pita, two mini pitas, or a mini pita and soup. Next, they select from six Mediterranean dips and spreads and six protein options. These include grilled beef meatballs, spicy lamb meatballs, vegetarian falafel, grilled chicken, braised beef or braised lamb. Fresh vegetable toppings come next, and guests finish their meals off with a drizzle of dressing, which might be lemon-herb tahini, sriracha Greek yogurt or spicy harissa.
The core cooking suite includes a flattop griddle, a fryer for the falafel and a four-burner range for stovetop preparation of sauces, grains and soups, along with a sous vide machine. "We sous vide our braised lamb and braised beef," he says. "We used to braise on the stovetop but we had issues with consistency," Schulman says. "Moving to sous vide really solved that problem."
Moving forward, Cava Grill plans to expand deeper into its home market. In addition to its first airport location, the chain plans two more units for the first half of 2015, one in Fairfax, Va., and one in Ashburn, Va. The company also plans to take the brand beyond the D.C. market, more than doubling the number of locations in the next year. As with existing locations, each one will team up with local community partners, including farms, food producers and neighborhood organizations.
Schulman emphasizes, however, that the team is being careful with its growth plans, focusing on getting the necessary human capital in place to meet its targets. "We always talk about not building our house on straw and making sure we have the people in place," he says. "We want to be sure that as we grow we're able to maintain the unique customer experience that we've created."
For a complete list of our 2015 Chain Innovators, click here.
HQ: Washington, D.C.
Owner: Cava Mezze Restaurant Group (Ike Grigoropoulos, Dimitri Moshovitis, Ted Xenohristos, Brett Schulman)
Segment: Fast-casual Mediterranean
Units: 8
Dayparts: Lunch and dinner daily
Average check: $12 to $13
Expansion markets: D.C. area and beyond
Average unit size: 2,000 to 2,500 square feet
Average unit cost: $500,000 to $800,000
Average equipment investment: $130,000 to $140,000
Website: cavagrill.com