What started as an idea for making a little money to supplement the family income has become a fast-growing franchise for Stacy Brown, a self-proclaimed chicken salad connoisseur. She, with her husband Kevin, who left a career in software sales to join her in the restaurant business, founded the sassy, Southern fast-casual Chicken Salad Chick concept as a drive-thru and takeout-only operation in Auburn, Ala., in 2008.
Today the couple, along with a growing corporate team, has a lot to cluck about. After developing two successful company-owned stores in Auburn, they began franchising in 2012. By the end of 2014, 29 units were open, with contracts signed for 114 restaurants. Revenues for 2014 were $22 million, and $50 million in sales is projected for 2015. By 2016, Kevin Brown, the company's CEO, anticipates hitting $80 million to $90 million in sales.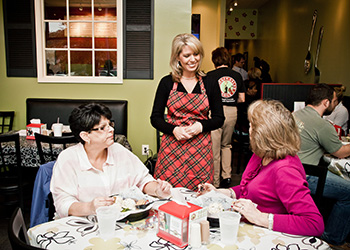 Self-proclaimed chicken salad connoisseur Stacy Brown (center) founded the Chicken Salad Chick concept as a drive-thru and takeout-only operation in Auburn, Ala., in 2008. Today the sassy, Southern fast-casual chain has 29 locations.All this from a concept that specializes in one thing — and that operates six days a week from 10 a.m. to 6 p.m., with lunch accounting for the vast majority of its $1.1 million average unit volumes.
To date, zero dollars have been spent to advertise that franchises are available. Rather, leads have come in almost exclusively from people who have personally experienced Chicken Salad Chick and asked to franchise the concept in their markets. "We had so much interest from day one that I started maintaining a database of prospects in the event that we decided to start franchising," Brown says. "Every time someone came in and said, 'I wish we had this in Dallas, or Atlanta' and 'Please call me if you ever decide to franchise,' I'd take their information so that, when we were ready, we could reach out to them. Within 30 days of selling our first franchise we sold a total of 18 locations. At that point, we really believed the concept had legs, and we've just continued to build on that."
Any Way You Like It
While chicken salad is the single star of the show at Chicken Salad Chick, the concept offers up 15 variations on the beloved Southern staple, from plain and simple to decidedly nontraditional. All are made daily on-site in each location.
The two runaway best-sellers in every store in the system, Brown says, are the Classic Carol, a simple, traditional blend of shredded chicken, mayonnaise, minced celery and house seasoning blend, and the Fancy Nancy, with diced apples, grapes and pecans.
The menu offers a little something for everyone. Jazzy Julie, for instance, features cayenne pepper, bacon and shredded cheddar; Luau Lydia has pineapple and macadamia nuts; Kickin' Kay Lynne features Buffalo sauce, ranch dressing, bacon, shredded cheddar and chopped jalapenos; Olivia's Old South has sweet pickle relish and eggs.
Guests can have their meals plated salad-style or as sandwiches with choice of side salads, a pickle spear and cookie of the day. Alternatively, the Chick Trio option lets them choose three scoops of any chicken salad or side items served on lettuce with wheat crackers. Fresh soups and a small selection of deli sandwiches are options for those who don't like or want chicken salad. In keeping with the sassy, humorous essence that the brand has cultivated, that section of the menu is marketed as being "for those of you who were dragged here by a chicken salad lover and are refusing to try something new."
The deli sandwiches include roast beef, ham, turkey and pimiento cheese. Those sandwiches represent a very small portion of the business, however. Fully 97 percent of sales come from chicken salad, which is also sold by the pound for $9.99.
The average Chicken Salad Chick location measures 2,600 square feet.The vast majority of sales are to women. The brand is unabashedly female-friendly, from its name, to its ambiance, menu, decor and graphics. "Upwards of 70 percent of our guests are women. We embrace that, and it's something that you feel when you walk into our restaurants. Everyone's welcome, but the brand caters especially to women in fun, whimsical ways. We poke fun at how Southern and chick-friendly we are," says Brown.
In addition to serving a quality product and operating in a clearly defined market niche, much of the appeal of Chicken Salad Chick is its simplicity. The equipment package is small and basic. Each unit has a steamer used to cook the chicken, food processors, refrigerated sandwich tables, a walk-in cooler, reach-in freezer, water filtration system and a small convection oven for baking cookies. The whole package, including all fixtures and furnishings, comes in at around $90,000.
"We're very well positioned on the cost side for franchisees, particularly in light of the average volume our units do, which are increasing thanks to the success of a couple of our newer stores," Brown says. All of that goes into the secret sauce as to why we've been able to sell and secure 114 locations through area development agreements, and why we have 200 people on the waiting list to franchise."
For a complete list of our 2015 Chain Innovators, click here.
HQ: Auburn, Ala.
Founders: Stacy and Kevin Brown
Units: 29, 2 company-owned, 27 franchised
Segment: Fast-casual sandwich
Hours: 10 a.m. to 6 p.m., Monday through Saturday
Average check: $10 to $12
Expansion markets: Alabama, Georgia, the Carolinas, Tennessee, Florida, Texas
Average unit size: 2,600 square feet
Ideal real estate: In-line shopping centers with upscale grocery anchors, lifestyle centers
Average unit cost: $300,000 to $350,000
Average equipment investment: $90,000, includes all FF&E
Website: chickensaladchick.com