One of New York City's first food trucks, Mexicue made its debut in 2010 on the corner of 52nd and Park. From day one, the lines extended around the block, reviewers raved, and founders David Schillace and Thomas Kelly knew they were on to something big with their tasty mashup of Mexican and barbecue-inspired street food.
While the very enthusiastic reception was a welcome surprise, the realities of operating in a city where the food truck scene became quickly saturated and highly regulated were not. Throw in parking hassles, a few too many tickets and seasonal business swings, and the pair soon realized they needed a plan B – as in brick and mortar.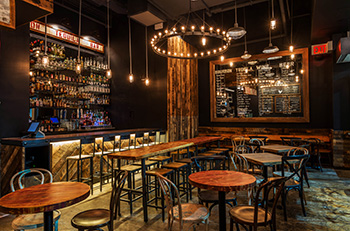 Mexicue Kitchen & Bar's first full-service location measures 1,250 square feet and offers a menu of Mexican and Southern fusion food and drink specialties. It's the prototype with which the team plans to grow to eight or 10 units in the New York City area before expanding into other geographic markets."In our first year, after four or five months and with winter coming, we launched a catering division to offset the seasonality of the truck," Schillace says. "But after another year and a half or so, the food truck scene got extremely crowded and much more difficult. We started to think about how we could change our business model. Ultimately, we took on some investors and launched a little 400-square-foot takeout spot, Mexicue to Go, on Seventh Avenue."
That, in turn, led to the company's most recent iteration, Mexicue Kitchen & Bar, the full-service prototype with which it is poised to grow. Located in Times Square, it's the fullest expression of the brand, which touts scratch-made specialties combining "Mexican heat and Southern smoke." The 1,250-square-foot space opened last summer and includes a full bar, partially exposed kitchen and seating for 70.
The menu, which has evolved from the initial food-truck-friendly slate of tacos and sliders, features starters, salads, bowls, burritos, buns (open-face jalapeno cheddar cornbread sandwiches), tacos, market plates and a variety of side dishes. Two desserts — scratch-made chocolate banana pudding and seasonal crumble — are available as well. Ingredients are sourced locally, when possible, and all meats are slow-smoked for 16 hours in a wood-fired smoker at Mexicue's Brooklyn-based catering facility.
The concept's namesake cuisines come together in specialties such as the Green Chili Brisket Burrito (hickory-smoked brisket, green chili sauce, pico de gallo, white cheddar cheese and lime crema); the Smoky Carnitas Burrito (smoked pulled pork, shredded lettuce, pickled tomatillo, chili bean spread and creamy chipotle sauce); and the BBQ Rice Bowl (Mexican brown rice, slow-simmered black beans, spicy slaw, crispy tortilla strips and cotija cheese, served plain or with a choice of smoked chicken, carnitas, burnt-ends brisket chili, chorizo or smoked brisket). Dishes like the Kale and Quinoa Bowl, with blackened brussels sprouts and fresh corn salsa, and the Southwest Chipotle Salad, with romaine, white cheddar, house-pickled jalapenos, tortilla strips, fresh corn salsa and barbecue-buttermilk ranch dressing further illustrate the concept's innovative approach to blending the two well-loved cuisines. Guests can also make a meal of sides — three for $9.50 — or order several for sharing. These range from house-made green chili mac and cheese to blackened brussels sprouts, spicy slaw, Mexican jambalaya and roasted green beans.
At the bar, the blending of Mexican and Southern flavors continues, with tequilas and bourbons playing starring roles. Signature cocktails such as the Smoky Margarita (mescal, tequila Blanco, Cointreau, mole bitters, lime juice, chili lime salt), the Mexicue Mule (Kings County bourbon, ginger beer, chili-ginger syrup, lime juice) and the Green Chili Bloody Maria (tequila, green chili bloody mix, pickled okra and tomatillo garnish) highlight the bar menu.
Quick, Casual, Poised for Growth
Roughly 25 percent of the full-service operation's total space is back of the house. The concept is full service, but its operations are designed to provide fast table turns and let guests get in and out in under a half hour if they desire.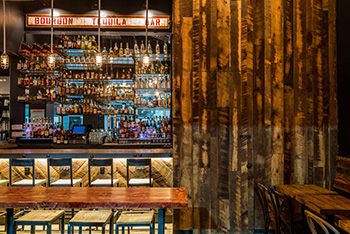 The fusion menu extends to the bar, where Mexican tequilas and Southern bourbons star in craft-made signature cocktails.With the exception of the meats, which are smoked and delivered daily from the Brooklyn catering kitchen, all sauces, salsas and other menu items are prepared from scratch in the stores. Schillace says that model works well, especially for stores in New York City, where it's tough to install and operate smokers at the unit level. As the concept grows beyond the city, he notes, meats may be smoked on site.
While evolving the concept and the menu into a full-service model, Schillace and Kelly also worked on securing investors to enable multiunit expansion. "We knew if we wanted to get big we needed to build very strong foundations for the concept and a strong investment team," Schillace says. "We did a lot of prospecting, networking, meeting with and pitching the concept to people who introduced us to other people."
One of those people was Sandy Beall, who founded and grew the Ruby Tuesday casual dining chain to more than 900 units. Beall, who now heads up Beall Investments, an advisor and investor in emerging restaurant brands, has a 25 percent stake in Mexicue and is one of several backers that Schillace calls a "dream team" of investors.
The group is now set to open its second full-service Mexicue Kitchen & Bar location, in New York City's NoMad neighborhood near Madison Square Park. An April 2015 opening date is targeted for that store, which will be significantly larger than the first, at 2,400 square feet. Schillace notes that, going forward, Mexicue will seek properties in the 1,800- to 2,400-square-foot range. He anticipates hitting eight to 10 stores in the New York metro market, growing at a rate of two stores per year. "Beyond that," he says, "we'll be looking at expanding the concept to other markets across the country."
For a complete list of our 2015 Chain Innovators, click here.
HQ: New York
Majority owners: David Schillace, Thomas Kelly
Menu signatures: Mexican-barbecue fusion
Segment: Full-service
Dayparts: Lunch, dinner, late night (depending on location)
Average check: $14 lunch, $18 dinner
Units: 2 open, 1 under construction
Target growth rate: 2 units per year
Target unit size: 1,800 to 2,400 square feet
No. of seats: 70
Average kitchen space: 25 percent of total
Equipment investment per unit: $150,000 to $200,000
Website: mexicue.com