The fast-casual pizza segment has gone from nowhere to seemingly everywhere with head-spinning speed. While the niche is the industry's new darling, operators within it are suddenly finding themselves hard-pressed to create real points of differentiation. Pizza Studio, which opened its first unit in Los Angeles in January of 2013, has done so with its menu as well as with its creative, art-centric concept.
The fast-growing chain is the brainchild of founder Samit Varma, a native New Yorker whose route to the pizza business passed through the Naval Academy in Annapolis, Md., along with Los Angeles, business school and a stint at a private-equity firm investing mainly in tech companies. He'd become a fan of the fast-casual business model and saw an opportunity to apply it to pizza. "It was really exciting to me. Pizza is such a customizable food product with mass appeal," Varma says.
The chain encourages customers to create their own pizza masterpieces, choosing from four different crust options, a variety of spice blends and 38 toppings, from premium, nitrite-free meats to fresh specialty vegetables.Partnering with friend Ron Biskin, a foodservice veteran who over a 30-year career worked in development for chains including Burger King, TGI Fridays, Wolfgang Puck and Wendy's, Varma set out to create a concept that would be both unique and scalable. The pair spent a year and a half in R&D. "We focused on everything about the concept — the food quality, operations, the design and look and the experience that we wanted to convey," Varma says. The crux of that experience is creativity, inspiring guests to create their own pizza masterpieces.
Pizza Studio's menu offers 38 different toppings, a variety of spices and multiple crust flavors that Varma says set it apart. Following a traditional fast-casual service model, guests start their order by selecting a crust and then proceed down the line, making additional choices for sauce, cheese and toppings. The crusts, in particular, are distinctive: Flavors include traditional, whole grain and flax, rosemary herb, "firecracker" and gluten-free. Sauces include tomato blend, olive oil, pesto, barbecue and spicy buffalo, and guests can choose from among freshly grated mozzarella, feta, goat and shaved parmesan cheeses. Toppings feature a variety of fresh and roasted vegetables, premium meats and finishing touches such as chipotle powder, garlic, jerk seasoning and truffle salt.
For guests who aren't feeling creative and don't want to build their own pies, Pizza Studio also offers a selection of "Starving Artist Originals": margherita, pepperoni and buffalo chicken. Salads, fountain beverages and fresh-baked cookies round out the menu. All pizzas are thin crust and 11 inches in diameter. Build-your-own versions are priced at $7.99, while Starving Artists Originals are $5.99.
Speed, Consistency Are Paramount
From a service-format standpoint, Pizza Studio falls in line with others in its segment in that its pizzas are cooked to order in high-temperature ovens in roughly two minutes. Guests can wait near the cash register for their pies, or grab beverages, find a table and have staff deliver their pizzas to them. Total average service time, Varma says, is six minutes from when guests choose their crusts at the start of the line until they receive their pizzas.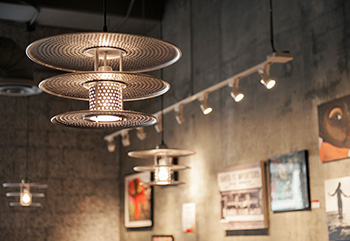 Every Pizza Studio unit includes a "Starving Artists Wall," which features the work of local amateur artists displayed for sale. The wall carries through the concept's focus on creativity in addition to localizing each unit, keeping interiors fresh and giving back to the community.Where the concept differs somewhat from others in the fast-casual pizza space is in the type of oven that Varma and Biskin chose. Rather than the large hearth-style showpieces that many concepts use, Pizza Studio employs smaller-footprint, conveyor-style
dual-convection ovens — two per unit.
The hoodless ovens feature a single belt that's wide enough to accommodate two pies, side by side. They're stacked, and together have the capacity to bake up to eight pizzas at a time. "They produce a great, incredibly consistent product," Varma says. "As we work to build a franchise system, that consistency was hugely important to us, as was the speed. Using a conveyor system, our throughput is much higher because we can cook the pizzas so quickly. The ovens are also cost-effective for our franchisees and help to keep unit opening costs down."
He adds that the only other specialized piece of equipment required to operate a Pizza Studio is the dough press. "We worked with the manufacturer to design it specifically for our dough," he says. "Other than that, it's a very, very simple setup with a very simple equipment package."
Pizza Studio was on track to hit 25 stores by the end of 2014, with agreements for more than 200 stores sold to franchisees throughout the country. The company intends to maintain an 80/20 ratio of franchised to corporate stores, according to Varma, and to rely primarily on area developers for its national expansion, or groups that can commit to opening a minimum of five to 10 stores in a territory.
"We're growing fast, and it's exciting, particularly because of the quality of the franchise partners and developers that we have," he notes. "We are signing up some very experienced restaurant operators with pretty amazing resources — franchise groups operating brands like Panera Bread, Buffalo Wild Wings, Applebee's and Red Robin, for instance. They're great operators, and it's helpful to have them behind our brand out in the marketplace."
For a complete list of our 2015 Chain Innovators, click here.
Ownership: Pizza Studio Holdings Company LLC (Samit Varma, Ron Biskin)
Founded: 2012
HQ: Los Angeles
Segment: Fast-casual pizza
Average check: $10 to $12
No. of units: 25 projected open by the end of 2014
Growth estimate: 95 to 100 units open by the end of 2015
Dayparts: Lunch, dinner (50/50 split)
Average unit size: 2,000 square feet, 70 seats
Average back of house: 15 percent of total
Average unit opening cost: $224,900 to $559,750 (per 2014 FDD)
Average equipment investment per unit: $80,000
Website: pizzastudio.com