You might call it eatertainment for the millennial age. Punch Bowl Social brings elevated casual comfort food, craft beverages and old-school, unplugged entertainment together in a single venue. Founded in 2012 by Denver-based Seasoned Development, the concept places equal emphasis on those three foundations — food, drink, entertainment — according to Robert Thompson, Seasoned Development's CEO and Punch Bowl founder.
"You put that together with a high attention to design detail, and that's what really differentiates us from other eatertainment concepts," he says. "On the food side, we're a gastro-diner, so it's elevated comfort food that leans toward the diner side. Our beverage program is craft oriented, both on the cocktail and beer sides. And the entertainment is mostly retro and boutique, from darts and ping-pong, to bowling and private karaoke, to marbles, board games and vintage arcade games."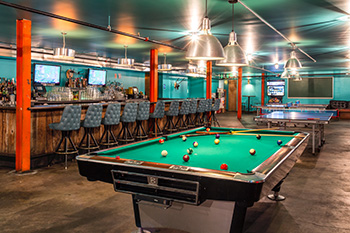 To accommodate its scope of games and F&B, each Punch Bowl Social measures 20,000 to 24,000 square feet. In addition to the first Denver unit, locations are now open in Portland, Ore., as well as Detroit and Austin, Texas. A Chicago unit is slated to open in 2015, as is a second Denver store. Thompson notes that growth has been and will continue to be opportunity driven, not geography driven.
"We're just looking at deals that make sense," he says. "A few of those happen to be in the Midwest, including Pittsburgh, Indianapolis and the Chicago unit that's already underway. But we're also working hard on deals in Los Angeles, and we're doing a second here in Denver. So we're growing wherever the right opportunities are. Developers are coming to us. We haven't had to go search for a site yet."
The concept's real estate requirements, although large in size and scope, are somewhat flexible. To date, it has gone into a variety of spaces, including an old Big Lots space in Denver, which was gutted and refurbished; a new lifestyle center in a tech-heavy suburb of Austin; and ground-level retail space of a new, 1,300-car parking structure in the midst of several old historic buildings in Detroit.
In each case, the layout is modular and designed to accommodate the concept's various revenue streams. Of total sales, Thompson says roughly 85 percent comes from food and drinks, with the balance from games, most of which are charged for on a per-person hourly basis. The games are a big draw for private parties, which helps to drive more food and drink sales. While the slate of games offered may vary slightly from unit to unit, all locations include bowling lanes and private karaoke rooms.
The concept incorporates Victorian, industrial, modern and mountain lodge design influences in its dining and gaming spaces. Of each unit's average 24,000 square feet, some 3,000 square feet is dedicated to the back of the house for scratch preparation of the broad, chef-developed gastro-diner menu.Food and drinks are served throughout each venue, but the main dining areas typically accommodate seating for up to 175 guests.
The Punch Bowl Social menu offers everything from fresh-pressed vegetable and fruit juice blends to sodas, fizzes and shakes, as well as full breakfast entrees, bar bites, small plates, salads, gastro diner specialties, "cast iron" burgers and craft sandwiches. Thompson says the burger program is especially popular. "We do our burgers a little differently. We griddle them instead of grill them to retain more flavor," he explains. "And we offer a choice of three different spice rubs for the hamburgers, as well as choice of cheese and protein — beef, turkey, buffalo or vegetarian."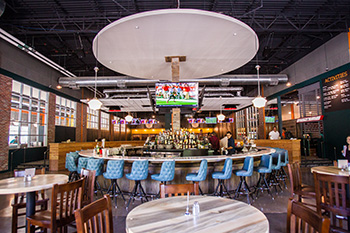 All Punch Bowl Social units incorporate bowling, as well as a wide variety of vintage parlor games, that together drive approximately 15 percent of total sales.Other best sellers include chicken and waffles (comprised of panko-breaded chicken breast and a malted waffle with chipotle pecan maple syrup, strawberries and candied walnuts) and quinoa-stuffed chile relleno — roasted poblano pepper with quinoa, queso Oaxaca, roasted garlic, cauliflower, golden raisins, cilantro, candied walnuts and chipotle mole. The menu also offers a variety of popular "clean food" items, such as poached shrimp and couscous salad and green bean and tomato salad. Many vegetarian and gluten-free options are flagged on the menu.
To support the broad, chef-developed menu on which the concept is built, Punch Bowl kitchens are large — 3,000 square feet on average. Workhorse equipment pieces include large, flattop griddles for the burger program and the many breakfast and gastro diner specialties. "Because we're a scratch kitchen, we're also doing a lot of cooking on gas burners," Thompson notes.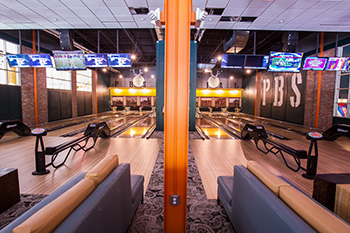 Each location employs roughly 140 and stays open until 2 a.m., 7 days a week. The new Chicago location, which is on track to open in the city's Wicker Park neighborhood in late 2015, will be the first to experiment with 24-hour operations and is expected to hit revenues of $10 million per year.
All units carry a similar, signature design ethos that Thompson describes as "dirty modern" — a strategic blend of Victorian, industrial, modern and mountain lodge. "It may not sound good on paper," he laughs, "but it works, and it creates just the right comfortable, eclectic look and feel for the Punch Bowl Social concept."
For a complete list of our 2015 Chain Innovators, click here.
HQ: Denver
Ownership: Seasoned Development
Menu signatures: Chef-driven, gastro-diner food; craft beverages
Segment: Full-service "eatertainment"
Units: 5
Average unit sales: $7 million
Dayparts: Breakfast, brunch, lunch, dinner, late night
Average build out: 12 months
Equipment investment per unit: $300,000 to $350,000 (not including draft systems or hoods)
Website: punchbowlsocial.com