Seeing an opportunity to infuse the breakfast daypart with a shot of youthful innovation, brothers Jon and Adam Schlegel whipped up the concept for Snooze in 2006 and opened their first unit in Denver's Ballpark neighborhood. Decidedly distinct from traditional breakfast chains or diners, Snooze was built on creative, farm-to-table culinary; comfortable, friendly service; an eclectic and energetic atmosphere; and a strong culture of sustainability.
A full bar with an extensive list of eye-opening craft cocktails, juices and specialty coffees kicks things off. The menu then takes guests down the breakfast rabbit hole to discover house specialties like the OMG! French Toast (brioche stuffed with mascarpone, griddled and topped with vanilla crème, salted caramel, fresh strawberries and toasted coconut); six variations on Eggs Benedict (including the Bella! Bella! Benny with thin slices of prosciutto, Taleggio cheese and poached eggs on toasted ciabatta topped with cream cheese hollandaise, balsamic glaze and arugula); and Breakfast Pot Pie (puff pastry smothered with house-made rosemary sausage gravy and an egg any style).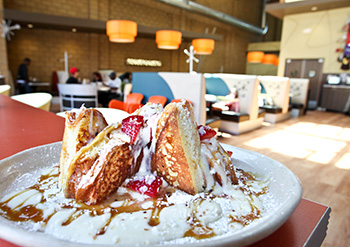 One of the breakfast specialties at Snooze is the OMG! French Toast, brioche stuffed with mascarpone, griddled and topped with vanilla crème, salted caramel, fresh strawberries and toasted coconut.Rounding out the menu are sweet sensations such as pineapple upside-down pancakes with vanilla crème anglaise, and cinnamon butter and blueberry Danish pancakes with almond streusel and lemony cream cheese filling — ordered individually or in flights of three; creative breakfast and lunch sandwiches ("sammies"); lighter options such as quinoa porridge, house-made granola, and a fall greens salad with goat cheese, roasted pear and walnuts. Each category also includes simpler, traditional riffs on breakfast favorites, and guests can customize their meals with Snooze's "Flavor Saveurs," a variety of vegetables, sauces, cheeses and proteins.
The concept hit the mark in Denver and by 2012 had grown to five units there, plus one in San Diego. Realizing Snooze had the potential to grow far bigger than they were prepared to take it, the brothers sold the company in November of 2012 to private-equity firm Weston Presidio and brought on a professional management team to shepherd its growth. "They saw that there's a difference between restaurant companies that grow and restaurant companies that are growth companies. Snooze was a restaurant company that was managing to grow, but they felt it deserved to be a growth company," says David Birzon, who joined Snooze as CEO in late 2012 as part of its ownership transition.
Birzon, who was formerly president of 80-unit Paradise Bakery, left that position in 2011, two years after Paradise was acquired by Panera Bread. He was attracted to the Snooze culture and vibe, as well as the fact that it represented a real departure from the breakfast-restaurant norm. "It was so clever. Nobody had done anything different for breakfast in this country for 30 years," he says. "There's IHOP, there's Denny's — and now there's Snooze, with a totally different look, a high-energy vibe, a creative, elevated approach to the menu and a full bar. It's not your grandparents' breakfast joint."
Enhancing Efficiencies, Maintaining the Culture
Since its acquisition by Weston Presidio, Snooze has grown to 10 units, including recent openings in Denver's refurbished Union Station, as well in Phoenix and Tempe, Ariz. Seven units are slated to open in 2015, including in Austin and Houston, Texas.
Snooze locations, which average 3,500 square feet, operate for 8 hours a day, closing at 2:30 p.m. They range from 100 to 110 seats inside, and all units except the original have outdoor patio seating for 30 to 40.
Snooze locations average 3,500 square feet and seat 100 to 110 people inside.Given the broad menu and commitment to scratch preparation, Snooze features relatively large kitchens, around 1,000 square feet. Birzon notes that the company is in the process of refining its prototype, particularly its "heart of the house," to improve efficiencies.
"We brought in a consulting firm to do extensive time management studies on every position in our kitchen," he says. "We've reworked every piece of equipment and every station with the idea of creating this prototypical Snooze kitchen that can drive our throughput and the quality of our food as we grow. Our average unit volumes are huge at breakfast; it's not unusual for us to have 45-minute waits during the week and twice that or more on weekends. We hope to have the new prototype ready to put into a unit that will open in May."
Examples of changes afoot include going from an old-fashioned printer system to a kitchen display system, he notes, and from conventional gas griddles to steam griddles. "We've been experimenting with a lot of technology and new equipment options. The change will be huge when we're done."
What he and the other "Snoozers" are committed to not changing, however, is the company's unique culture, which includes not just its innovative food focus and high-energy atmosphere, but its approach to sustainability and community involvement. The company recycles or composts 90 percent of "everything that comes in," which poses both kitchen-design and site-selection challenges. And Snooze directs 1 percent of sales at all locations back into the local community.
"What we're doing can't be mass produced," Birzon notes. "As restaurant companies grow, they typically become less special. Our challenge is to figure out how we can grow and use our size and scale to become more special, more relevant to the guest and maintain all of the pieces that brought us to the table. That includes the people. It's easy to hire designers and contractors, to build a restaurant, align yourself with equipment manufacturers and buy great products, but a beautiful Broadway set with lousy actors yields nothing but a lousy play. We have to hire the right people and make them feel as connected in unit number 40 as they do in units number 1 and 2. That's what we think about and talk about every day."
For a complete list of our 2015 Chain Innovators, click here.
HQ: Denver
Founded: 2006
Ownership: Weston Presidio, since 2012
Segment: Full-service, casual dining
Dayparts: Breakfast, brunch, lunch
Units: 10
Average check: $14
Expansion markets: Colorado, California, Arizona, Texas
Average unit volume: $2.65 million
Average unit size: 3,500 square feet
Average kitchen space: 1,000 square feet
Website: snoozeeatery.com