With two distinct restaurant styles, strong international demand and an operational model that is both simple and flexible, burger-and-fries joint Johnny Rockets is going through a major growth spurt.
The world's largest Johnny Rockets, measuring about 8,200 square feet, is located in Pakistan. International demand for classic Americana is driving much of the chain's growth.In the world of American restaurants, there's probably nothing more iconic than a classic burger place: a server in a white apron and cooks making hamburgers, fries and shakes behind a lunch counter. It's such a
classic scene that even Norman Rockwell painted it.
That scene lives on today in Johnny Rockets. The California-based chain serves up burgers, french fries and shakes in an Americana-themed environment that is reflected in everything from the menu to the music.
The concept is in demand. The chain has roughly 325 units, with franchisees running about 90 percent of them. Johnny Rockets is on pace to open a total of 50 stores worldwide this year and 100 next year when it plans to exceed the 400-store mark.
What's driving this growth? A national and international love for both modern and classic Americana, a fun atmosphere and an appealingly simple business model.
Roots
At Johnny Rockets, every aspect of the design reinforces the Americana concept, up to and including the concept's name.
The chain was founded in 1986 by Ron Teitelbaum, who, up until that point, had worked in the retail clothing space. His goal was to create a restaurant that mirrored the 1950s diner experience. In naming the concept he took the "Johnny" from Johnny Appleseed and "Rocket" from the classic Oldsmobile Rocket 88.
The chain has changed hands at least twice since its founding. Last year, in fact, it was purchased by private equity firm Sun Capital Partners, which allows the chain to operate as an independent entity. Despite these ownership transitions, Johnny Rockets remains true to its Americana roots. Those roots, however, are now split into two different directions: classic and modern.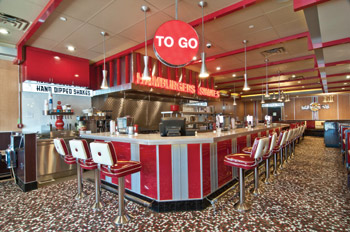 Johnny Rockets' new "modern Americana" concept makes use of wood laminate walls, a randomly-patterned tile floor and the high-end fixtures required by upscale malls.The Johnny Rockets most people know, the "classic Americana" design, is modeled on a 1950s diner. It features a lunch counter with red stools with white trim and booths with the same colors. White tile covers the floors, while a durable white plastic known as marlite covers the walls. While this material is typically used in back-of-the-house kitchens, its color and its easy cleanability make it work up front for Johnny Rockets, according to Dominic Talavera, the restaurant chain's director of development. Wall decorations include Johnny Rockets and Coca Cola memorabilia, as well as white Plexiglas signs with black lettering spelling out simple words and phrases like "Joe Eats Here," "Hamburgers" and "Chili."
In addition to the classic look, Johnny Rockets introduced a new "modern Americana" design just a couple of years ago. The addition, Talavera says, helps satisfy the requirements some higher-end malls have for upscale design elements. More than that, though, it also shows that Johnny Rockets wants to evolve with the times.
"We don't want to be pigeonholed as a '50s and '60s diner. We feel we're relevant now," Talavera says. "Americana started in the '50s and '60s, but there are things produced now that are classic. We want to be part of that kind of thinking."
In place of the white plastic wall covering of the classic design, the modern Americana units rely on wooden laminates on the walls, while a new tile finish features a random blend of one-inch tiles in red, white, brown and beige.
These new units use different art options too. Instead of the Johnny Rockets memorabilia on the walls, the modern Americana stores feature mosaics of the chain's logo, product pictures and optional region-specific images, such as palm trees at locations near a beach. These mosaics can be applied like wallpaper and are easy to clean.
Decor isn't the only way Johnny Rockets creates a thoroughly Americana experience. The chain builds entertainment and fun into its operation as well. When servers bring food to the table, for instance, each guest also gets a small plate with a smiley face squeezed onto it in ketchup, and straws are given out through special spinning dispensers. Getting even more interactive, team members perform choreographed dance routines twice an hour to classic rock-and-roll songs like "Johnny B. Goode" and "Rockin' Robin."
"Sometimes the manager will turn up the music and turn down the lights," says Talavera. "I've never been in a store when customers didn't get up and dance along."
Locations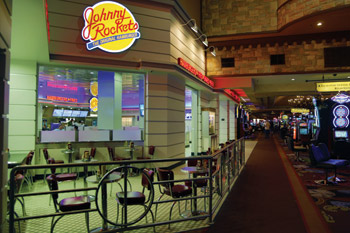 The chain locates its stores in places where people go to have fun, said director of development Dominic Talavera. This includes cruise ships, amusement parks and even casinos, as seen here.With Johnny Rockets striving to offer a fun and memorable experience, it's no surprise that many of its stores are in places where people go to have fun. In addition to strip mall and food court locations, the chain has stores in casinos, amusement parks, tourist districts, Major League Baseball parks and even on cruise ships.
The willingness to follow the fun means Johnny Rockets has to be flexible about the design of its units. Each store must have three key elements: a lunch counter with stools, an open kitchen cookline and an island for prepping sandwiches and making milkshakes. Other than those three features, everything is negotiable. As a result, Johnny Rockets units can vary greatly in size. Some stores measure just 700 square feet, while the largest unit comes in at a whopping 8,200 square feet.
While some concepts might hesitate to set up shop in such radically different spaces, Johnny Rockets does so without hesitation for the simple reason that it can. The development team has demonstrated that it can support restaurant openings in almost any location and physical space (including, notably, one oval space) says Talavera.
Beyond being flexible on store size and venue, Johnny Rockets has the ability to work on stores around the world. The 8,200-square-foot restaurant, for instance, resides in Karachi, Pakistan. In fact a significant amount of Johnny Rockets' growth over the past couple of years has taken place overseas, with multiple store openings in Latin America and the Middle East. The chain, says Talavera, seeks experienced multiunit operators for its overseas partners, knowing it can trust these groups to set up and manage stores properly. Johnny Rockets' franchise support team answers questions and helps source equipment, furnishings and other items.
A demand for classic Americana, something Johnny Rockets offers in spades, continues to drive much of this international growth. From a dollars-and-cents perspective, the chain's simple operational model makes it attractive to franchisees — both domestic and international. Its burgers, fries and shakes and the resulting kitchen layout all reflect that simplicity.
Cooking in the Open
In keeping with the Americana diner approach, culinary staff at Johnny Rockets prepare food in an open kitchen. The cookline, which consists of a 72-inch flattop grill, sits against the back wall of the front of the house. Here staff cook all the chain's proteins, including burger patties weighing in at a third of a pound, turkey burgers, chicken breasts, veggie burgers and sliced beef for Philly cheesesteak sandwiches. Refrigerated drawers beneath the grill hold these proteins at proper temperatures until it's time to cook them.
Next to the grill sit two fryers, which staff use to prepare french fries, onion rings, chicken strips and breaded chicken wings.
The grill and fryers make up Johnny Rockets' entire cookline. When kitchen staffers finish cooking on this line, they can turn around to work on the center island, a production/expediting line with eye-level shelving that holds plates, bowls and glasses for easy access. At one end of the island line sits a vertical toaster with a butter wheel that Johnny Rockets uses to caramelize the inner surface of their burger buns.
According to Talavera, the vertical toaster is a new addition for Johnny Rockets, having only been introduced about a year and a half ago. "We used to toast our buns on the griddle," he says. "But for consistency and throughput, we've introduced this vertical toaster, and it's working great. It's really freed up space on the griddle."
Next to the toaster sits a prep table with 16 wells that hold produce (lettuce, tomatoes, etc.) as well as condiments. In addition to finishing burgers and sandwiches here, Johnny Rockets utilizes the station to make salads, including a basic garden salad with romaine and iceberg lettuces, tomatoes and cheese, as well as an entrée version of the salad complete with grilled chicken or chicken tenders.
Beneath the prep table sits undercounter refrigeration that stores backup condiments and prepped produce, as well as milk for the next part of the middle island: the ice cream and shake station.
This station consists of a drop-in ice cream dipping cabinet that holds up to three three-gallon tubs of ice cream. Notably, all three tubs hold the same flavor: vanilla. The chain creates variety in its ice cream and shake offerings through a syrup rail, which holds containers of ice cream flavorings, including chocolate and strawberry, as well as name-brand cookie and candy toppings.
With just these few add-ins, Johnny Rockets' menu features more than 20 types of shakes, including Very Cherry, chocolate peanut butter and strawberry Oreo. The chain also offers Super Deluxe shakes that include dark chocolate and the Big Apple, made with a slice of apple pie.
While the key elements of the center island remain consistent, the way Johnny Rockets assembles the island continues to evolve. Historically the island has been one large table measuring about 14 feet long. Spaces were literally cut out of the table to drop in the sandwich prep table and the ice cream dipping station. But this setup posed some challenges.
Because of the size, says Talavera, "we've found it's very difficult to get it into some locations, like a second-story location or a mall location. So what we've done is work with our equipment manufacturer to separate it into pieces."
Instead of having a drop-in sandwich prep table, for example, the newer center islands have a large space notched out of them where a prep table can be rolled in and out as needed. Talavera says he is now working on a similar adjustment for the ice cream station, which will combine the dipping cabinet, the syrup rail and the actual shake mixer into a single modular unit. With pieces that can roll in and out easily, maintenance, cleaning and replacement are all made easier. Ultimately, Talavera envisions the center island consisting of distinct pieces joined together with a façade that gives it the appearance of a unified piece of equipment.
In contrast to the consistent cookline and center-island layouts, the back of house is much more flexible. Units typically have a walk-in freezer measuring six feet by six feet that holds ice cream, french fries and chicken tenders. They also have a slightly larger walk-in refrigerator for storing condiments and proteins.
The back also holds a single worktable for prepping vegetables, as well as a dishtable, complete with a built-in dishwasher for cleaning plates, glasses and utensils.
This basic setup is clearly one of the appeals of the Johnny Rockets business model, and helps account for the period of impressive growth it's currently in. Talavera, however, stresses that the chain's franchise partners and team members must fully buy into the Johnny Rockets brand. Since the concept strives to create such a strong, distinctive experience, it must work with those who are committed to that experience as well.
"We have a guest promise," Talavera says. "Say hello and offer a smile to every guest we see. Serve the freshest, highest-quality all-American fare. Cheerfully serve guests promptly in a sparkling clean restaurant. Dance, twirl straws, serve ketchup with a smile and handle guest needs right here and now."
Fast Facts
Company HQ: Aliso Viejo, Calif.
Founder: Ron Teitelbaum in 1986
Current owner: Sun Capital Partners
Signature menu items: Fresh, never frozen hamburgers, french fries and hand-spun shakes made with premium ice cream
Number of units: 327 (215 domestic, 112 international locations in 28 countries)
Average unit size: 2,000 square feet
Average seats per unit: 80
Sales: $300 million annually worldwide
Key Players
President, CEO: John Fuller
Chief Development Officer: James Walker
Sr. Vice President of Operations: Chris Carver
Vice President of Operations: Paul Nishiyama
Sr. Vice President of International: Scott Chorna
Director of International Operations: Marc Abenoja
Interior Designer: Mike Chico
Kitchen Design Consultant: Albert Yanez, Clay Enterprises
Foodservice Equipment Dealers: Domestic units — C&T Design and Equipment Co., Edward Don & Co., Grand Restaurant Equipment, Myers Restaurant Supply and Wasserstrom; international units — Edward Don & Co. and KaTom