When it comes to fashionable food terms, chicken is the new black.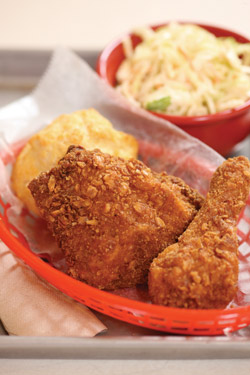 Hill Country ChickenWith beef prices soaring and comfort food still trending, chicken joints — in chef-driven but quirky and casual formats — keep popping up in major Metropolitan cities. Somewhere in between fast-casual and food truck, these spots make bank on volume and the occasional beer and cocktail, but they don't skimp on quality or kitsch.
UK Fried Chicken
Fried chicken has also seen a renaissance in the UK, according to Technomic. In fact, Technomic identified "honest chicken" (birds described on menus as free-range, locally sourced or hand-battered) as one of its top five UK restaurant trends for 2014.
Texas: Fried Chicken's New Growth Capital
College Station, Dallas, Austin and Houston rank among the top 10 cities with the biggest year-over-year growth in fried chicken orders, according to GrubHub.
Fried Chicken Order Growth by Market
Consumer orders for the brunch classic fried chicken and waffles have skyrocketed in certain cities. Check out these growth percentages from March to June 2013 compared to the same period this year:
Los Angeles: 150 percent
San Francisco: 100 percent
Philadelphia: 98 percent
Chicago: 96 percent
Source: GrubHub (29,000 online orders)
Regional Operators See Chicken Sales Fly the Coup
Here's a quick look at some regional restaurants that have consumers flocking to their establishments for chicken and more.
Charleston, S.C.
Husk: This operation features Southern-inspired comfort food and crispy chicken by James Beard-award-winning chef Sean Brock.
Chicago
Honey Butter Fried Chicken: Chefs Christine Cikowski and Josh Kulp, who started the underground dining club
Sunday Dinner eight years ago, opened this North Side indoor-outdoor eatery with boneless, Indiana Amish chicken that's double-battered in buttermilk and flash-fried for juicy crispness.

Parson's Chicken & Fish: This restaurant features old school diner flare and a picnic table filled patio with a menu of chicken, Texas toast, cold Mexican beer and fun cocktails from the Michelin-starredLongman and Eagle folks.

Pecking Order: Philippine chef and cookbook author Kristin Subido continues to dish out Asian-inspired, tamari-
marinated fried, grilled or roasted chicken.
New York City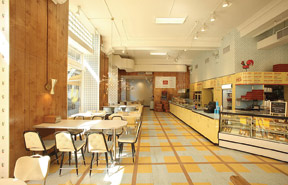 Hill-Country Kitchen UpstairsHill Country Chicken: Fresh fried, Texas-style chicken, fries and pies with a 1950s flare is the name of the game at this restaurant with Manhattan and Brooklyn locations.
Blue Ribbon Fried Chicken: This East Village restaurant features cooked from scratch, uniquely seasoned chicken.
Portland, Ore.
The Country Cat: Cast iron skillet-fried chicken and flaky biscuits by husband and wife team Adam and Jackie Sappington rule the roost here.