A collection of New York-area foodservice professionals come together to support the Taste of the NFL's Party with a Purpose, which raised enough money to provide 7 million meals to those in need.
The Taste of the NFL attracted 3,000 donors and participants who sampled food prepared by accomplished chefs at stations honoring 32 NFL teams. The event raised money to create more than 7 million new meals for those in need. Photograph by Tom Donoghue.
The hoopla for this year's Super Bowl couldn't have been more dramatic this year but that's no surprise given that the Rutherford, N.J., venue sits just minutes from New York City. On the eve of the Super Bowl, February 1, countless celebrities attended well-publicized parties in Manhattan. A few miles away at the Brooklyn Cruise Terminal, known as Pier 12, an entirely different type of event drew nearly 3,000 guests, foodies, foodservice professionals and professional football players to the 23rd anniversary of the Taste of the NFL's Party with a Purpose.
Carlo's Bakery, an Italian American family-owned business in Hoboken, N.Y., is featured on Cake Boss, a reality television series on TLC. This cake creation captured the cityscape welcoming the Broncos, Seahawks and fans. Photograph by Kal Dolgin.
Since its inception in 1992, the Taste of the NFL, a 501c3 organization based in Minneapolis, has raised and distributed more than $14 million in support of food banks throughout the United States. The organization's efforts, which include many national and local fundraising events to raise money to combat hunger issues facing an estimated 37 million Americans, culminate at the Party with a Purpose, held in or near the city hosting the Super Bowl. Each year, Taste of the NFL donates the first 30 percent of the net proceeds from Party with a Purpose to a food bank in the host city and the remainder goes to Feeding America-affiliated food banks in each of the NFL cities. This year's event raised enough money to provide more than 7 million meals.
A total of 32 chefs representing each NFL team prepared food items from their respective regions. Throughout the evening, guests walked through the 140,000-square-foot venue sampling delicious cuisine prepared at the stations, talking with NFL stars as they signed footballs, and participating in a silent and live auction of sports memorabilia and other items. The event also included a series of food industry stars, such as Ted Allen, host of the FoodNetwork's Chopped and Andrew Zimmerman, creator, host and co-executive producer of Travel Channel's Bizarre Foods.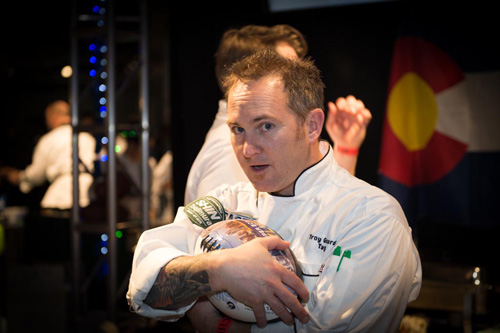 Troy Guard, chef-owner of TAG, TAG Raw, Sugarmill and Los Chingones in Denver. This station featured bison and pistachio sausage with house bacon mustard, apricot puree and slaw. Photo by Kal Dolgin.
"The person responsible for this is Wayne Kostroski, who founded Taste of the NFL," says Ira Kaplan, president, Irinox USA, and a Taste of the NFL board member. "Wayne has earned the respect of the board and all our supporting companies for his leadership and his passion to raise awareness about the issue of hunger in America."
Volunteers Score Big
Though the Taste of the NFL has a small staff, fundraising at this level is possible only with the contributions of volunteers, roughly 170 of whom donated their time for this year's event. "For the Super Bowl event, volunteers come from local businesses, culinary schools and the restaurants themselves," says Martha Altemose, who heads volunteer coordination for the Taste of the NFL.
Throughout the evening, Wayne Kostroski, founder of The Taste of the NFL, walked to every station, thanking participants and guests for supporting hunger relief. Photo by Kal Dolgin.
"This is the first year with most of the volunteers being foodservice professionals," says Scott Davis, president of Flik International Corp., headquartered in Ryebrook, N.Y., and a member of the Taste of the NFL board of directors. "We helped with everything from food procurement, competitive pricing, rentals and volunteer coordination. New York isn't an easy city to do business in."
Nearly 60 percent of the volunteers were employees of Flik International, a division of Compass-USA. "Our team members saw an opportunity to give back to their community and were willing to give many hours of their time to help with whatever needed to be done," Davis says. "This was a cause they wanted to contribute to and many said they wish the Super Bowl would be here again very soon."
In order to ensure top-level coordination, Davis brought in Sandy Smith, principal, SD Consulting and Sales, to assist. She worked on setting up a field kitchen, coordinating equipment delivery and set up with a rental company, and made sure water and propane were in plentiful supply. "We rented everything from grills and ovens to speed racks to hold food that chefs sent over before the event. We labeled the racks, and made sure all the food and supplies were easy for them to find and access," Smith says.
The Denver Broncos were featured with Roy Guard, chef-owner of TAG, TAG Raw, Sugarmill and Los Chingones in Denver. Photograph by Donna Boss.
Food for the event began arriving on the Wednesday before the Super Bowl. Chefs started preparation on Friday and Saturday. Local chefs prepared most of the food used at stations at their restaurants; out-of-town chefs sent in food and prepared it at a nearby Brooklyn Bridge Marriott hotel and finished prep at the Brooklyn Terminal. "The menus were extensive given the limited on-site preparation space," Davis says.
On the night of the event, Davis, Smith and their experienced volunteer coordinators walked distances equivalent of a full marathon to ensure that chefs and less experienced volunteers manning everything from coat check to the VIP dining areas had what they needed. As one might expect, crises arose and had to be handled without interrupting the experience of guests. For example, early on the even experienced an ice shortage. "You can never have enough ice for the front and back of the house," Smith says. Fortunately, ice was available on the yacht docked outside for the after party, as well as at nearby piers.
A large yacht with views of the NY skyline and Statue of Liberty provided a welcome environment for the lively after party. Photo by Donna Boss.
Throughout the event, a sanitarian from N.Y. Health and Sanitation Systems made sure professional and volunteer foodservice workers paid attention to sanitation standards despite the challenging conditions.
"I feel fortunate to be a part of this event, which is doing so much good for people in need," says Joe Ferri, principal, Pecinka Ferri Associates in Little Falls, N.J., and president of MAFSI. "It's just incredible how this event comes together and brings so many people together to call attention to the need for hunger relief."