Chicago-based Top Chef winner Stephanie Izard works with bread-baking guru Greg Wade to offer a wide selection of fresh baked goods for her second, diner-inspired restaurant Little Goat and its to-go and catering divisions.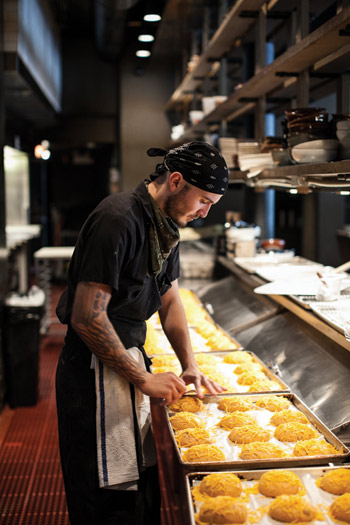 Wade works with local farms to source unbleached flours like plain wheat, milled and sifted, sprouted barley malt flour and heirloom white cornmeal for a series of no-knead, boiled, cast iron-baked and wood-fired oven-baked breads. Varieties include fennel, onion and blue cheese focaccia, chicken soup bread (made with onion puree, celery, carrots and chicken stock), New York-style boiled bagels, Montreal-style (honey water boiled) bagels, wood-oven-baked bagels, pretzel bread, broccoli cheese bread and miche made from a five-year-old sourdough starter.
FE&S: Why is baking your own breads important to the success of your business?
GW: In-house bread baking is another sign of our devotion to the craft of cooking, the recognition of quality and the importance of knowing where and how your food is prepared. For us, it brings a whole new dynamic to all of our restaurants. We are able to provide a huge variety of products because of the way our restaurants are set up. We can do traditional sourdoughs, baguettes, croissants and pastries in retail. We can do flatbreads, scallion pancakes, steam buns and sandwich breads for the diner. We can also showcase unique flavors and combinations at Girl & the Goat. And that's all in one day, with more things being put into rotation as seasons change and new ideas come into play.
FE&S: What are the key pieces of equipment you use in baking?
GW: The most important piece of equipment I use is my hands. Other tools in a baker's daily life are a lame (pronounced "lahm"), which is the scoring razor, a bench cutter, scales and a rolling pin. And you can't forget the really hot ovens.
FE&S: How do you work with local farms to produce your bread?
GW: We are lucky enough to have farmer friends that will grind to our specifications. Marty Travis of the Spence Farm Foundation grows us two types of wheat as well as rye, sorghum and a few varieties of corn. He is also looking into growing einkorn for us. Einkorn is an ancient variety of wheat that may be easier to digest for people with gluten intolerance.
FE&S: Tell us about your baking classes?
GW: I believe that bread baking is a fundamental skill in life that has been long lost on most of our culture. It is great to be able to get people to feel comfortable and interested enough to bake bread at home again. Since our first baking class, we've had a number of people ask for more.