Combining their passion and creativity with a small but effective equipment package, independent operators continue to make significant inroads in the coffee business.
Coffee giants take note: with increasing numbers of specialty coffee and local roasting camps popping up around the country, the cup of Joe business continues to percolate and, one by one, independent operators wired for success continue to drip into this segment of the restaurant industry.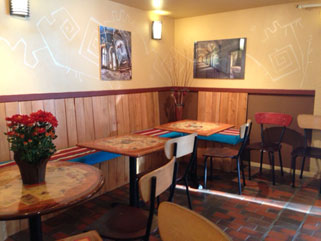 Seating at Santa Fe's Arroyo Coffee Bar can accommodate up to 12 people.A pair of foodservice veterans brewing momentum in the limited service restaurant segment are Chuck and Karen Malody. In addition to serving as principal of Culinary Options, Karen is a former food and beverage director for Starbucks. Chuck is a cocktail mixologist and bar veteran who also worked for Starbucks in sales. The couple opened Arroyo Coffee Bar in November last year in their new home territory of Santa Fe, N.M.
Given his bar background, the move was fitting for Chuck Malody because in some circles coffee is a new frontier for mixology, going beyond simply mixing milk and brews for lattes and cappuccinos. Roasting beans from around the world and a method referred to as cold brew coffee, also known as cold press, combine science with the art, taste and style of the master "brewer," not unlike beer, says Chuck Malody.
In fact, Arroyo Coffee Bar's house specialty is cold brew, a method of steeping beans in cold water overnight. The product quality is the same, if not better, than hot brewed coffee because it doesn't have that element of heat to break down the flavor.
From a design perspective, cold press coffee requires simple steeping containers, a reheating element and a hot water dispenser. Because the minimalist setup requires less space, the Malodys operate their shop in a 350-square foot space that backs up to an art gallery. The Malodys purchased the space from the owners, who sought an operator to open a sandwich or coffee shop to help keep potential art buyers onsite.
Multi-use, ventless equipment such as rapid-cook ovens and induction plates allow Karen Malody to design and execute a robust food menu for such a small space. "The goal was two-fold: we wanted to prove that we could do what Karen and I have been preaching all along, that you can do so much even in the simplest, smallest space possible," he says.
Cold Brewing
Chuck Malody uses just one blend of beans for Arroyo Coffee Bar's short list of coffee selections. Though Chuck Malody sources his beans from a local roaster, many progressive coffee shops around the country roast their own blends, he points out. His roast, specially prepared for Arroyo Coffee Bar, combines Ethiopian, Central American and robusta, a type of roast used by Italians for espresso that can be hard to find in the U.S.
At the shop, Chuck Malody makes a cold press concentrate by grinding and letting the beans steep in clean, filtered water overnight in a carafe fitted with a plastic round hopper and microfiber filter at the bottom. The next morning he drains the steeped coffee into glass bottles, seals them with rubber stoppers and then refrigerates the concentrate. It's similar to the method home brewers use.
The trick to successfully working with cold brew is to protect the delicious, natural coffee oils by refraining from under heating and overheating the concentrate before adding it to the hot water. Instead of a hot water dispenser, Chuck Malody uses a simple syrup holder or a carafe-shaped thermos warmed to 100 degrees F to hold the concentrate. When a customer orders a cup of coffee, he adds as little as two or three ounces of the concentrate to warm – not scalding – water for a full, eight ounce serving.
"What hot brewing often does to coffee is strip out a lot of oils and acids that make coffee unpalatable for a lot of people," Malody says. Cold pressed coffee tends to have a smoother, rounded and rich taste when done right. "You end up with a rich flavor you can mix with anything just as if it were Vermouth or Amaretto and you don't need any cream and sugar. Our goal has been to try and broaden the idea of coffee consumption so that it's not just a hot drink to wake up with in the morning or the afternoon." Modern mixology indeed.
Even better, cold press coffee requires little equipment. Operators can purchase commercial size and grade filtering equipment and containers with capacity for five pounds of ground coffee at a time. Cold press coffee steeps at room temperature and operators can safely reuse leftover, warmed concentrate as long as it has not been mixed with milk. "At the shop we'll put 5 pounds of coffee grounds in the filter and add about 12 quarts of water, which will get us about 10 quarts of concentrate – and that lasts about a week," he says. Additional equipment needs include an undercounter refrigerator for milk.
Coffee Shop Food
"Almost without exception, coffee shops seem to have either less than great coffee but great food or the coffee is great but the food is tired," says Chuck Malody. "That marriage between good food and good coffee is hard to find."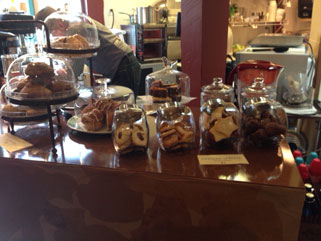 Arroyo Coffee Bar's menu uses combinations of a small number of ingredients to provide a diverse menu.Ironically, the Malodys' marriage is one of the same – a beverage guru with a food guru and master menu planner. "The reason we took a shot at this was because I thought I knew what I was doing with coffee and Karen knows what she is doing with the food," Chuck Malody says. In creating the menu, Karen Malody employed a cross-pollinizing technique which uses a small number of ingredients in numerous combinations to create a large number of food items.
Confronted with the challenge of such a tight space, the ventless equipment allows the Malodys to prepare a variety of morning and midday meals. At breakfast, customers can purchase eggs cooked in a microwave and served atop thick slices of bread from local, artisan bakeries toasted in a small commercial conveyor oven. An induction cooktop warms oatmeal in the morning. Arroyo supplements its morning meal offering with a selection of Danishes and other pastries from another local bakery. At midday, "toastinis" are topped with salads. A simple, double-door refrigerator along the back wall holds extra ingredients while a small, rollertop sandwich station holds all the fixings for the toastinis.
Seating is limited, with just four tables that can accommodate up to a dozen people; the antithesis of Starbucks. "Coffee shops seem to be getting smaller again," says Chuck Malody. "They figured out they can't make money if people end up sitting there forever."