A diverse menu executed in a vibrant display kitchen pairs nicely with a dynamic bar package and has kept this casual dining concept on the rise.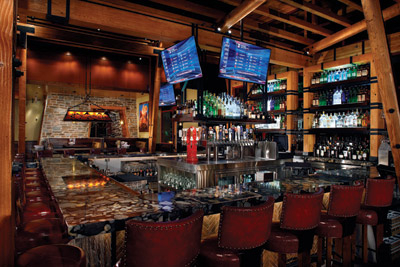 A key part of Lazy Dog's design, the large, horseshoe-shaped bar is surrounded by comfortable red leather stools and plenty of flat-screen TVs. Customers can choose from a variety of specialty, hand-crafted cocktails in addition to the nearly 30 locally brewed beers on tap. Photos courtesy of Lazy Dog Restaurant and BarA mortal sin for many in the mature casual-dining sector seems to be a lack of differentiation: me-too menus, me-too decor, me-too service styles and a general failure to innovate and remain relevant. Not so with Lazy Dog Restaurant and Bar, a next-gen casual-dining player launched in 2003. While legacy competitors in the segment struggled and value-engineered their way through the recession to survive, Lazy Dog stretched out and grew to 12 units in its Southern California marketplace. Last November, it took its first bite out of the Northern California market, opening unit number 13 in the San Francisco suburb of Concord.
And the chain promises to open more locations, says founder and CEO Chris Simms. He plans three to four new locations in California this year and is scouting opportunities for additional expansion into neighboring Southwestern states, likely including Colorado and/or Texas.
Simms, a Cornell School of Hotel Administration grad, went to work for P.F. Chang's China Bistro in 1997, when it had just seven units. "I learned so much there because they were at the stage that we're at now: defining who they were and what was important to their guests," he says. "I was fortunate to be a part of that and to learn a lot about what it took to be a premier restaurant concept."
Something for Everyone — Fido, Too
Priced and positioned between casual and polished casual, Lazy Dog Restaurant and Bar features a menu Simms describes as "comfortable, craveable classics with approachable innovation layered on top." Led by vice president of food and beverage Gabriel Caliendo, a veteran Ritz-Carlton chef whom Simms tapped to help found the concept, the broad and diverse menu showcases both American-style favorites and dishes with international flair. It spans starters, small plates, wok-fired dishes, brick-oven baked pizzas and flatbreads, pasta and noodle dishes, sandwiches, burgers and entrees that range from classics like chicken pot pie and pot roast to spicy Moroccan chicken with couscous, braised lamb shank and ginger-soy salmon with stir-fried vegetables. The "Nutritious & Delicious" section of the menu offers a variety of salads, sandwiches and entrees that weigh in at 650 calories or less, and several smaller-portion, lower-priced (less than $10) lunch specials are offered daily.
"We have a nice mixture of items that people of all ages and tastes can get excited about," Simms says. "And we constantly innovate and evolve our menu. When we first opened, our top-selling appetizer was our trio of hummus dips. Today, it's our togarashi edamame, which are whole soybeans wok-cooked with Japanese spices. It's exciting to take some culinary risks, which a lot of casual-dining chains just don't do, and to see our customers embrace new items."
Prices range from about $8 to $10 for sandwiches and burgers, served with fries, slaw or sweet corn salad, to $12 to $19 for full entrees.
Open for lunch and dinner daily, all Lazy Dog units also serve a brunch menu on weekends. Headlined by the chain's $5 Hair of the Dog Bloody Mary, the menu features specialties like Sunny Side Up Pizza with spinach, sundried tomatoes, bacon and cheeses topped with three fresh eggs and baked until golden; Hawaiian fried rice, with stir-fried steamed rice, hickory-smoked bacon, pork sausage, cabbage, veggies and eggs; and more traditional dishes like Wild Blueberry Pancakes with blueberry compote and house-made maple bacon butter.
Kids have it pretty good at the Lazy Dog too. The chain's dedicated children's menu features a variety of creatively merchandised choices — some interactive, like build-your-own pizzas and build-your-own sundaes served in pawprint-patterned bowls; some healthy and mom-friendly, such as tofu squares with low-sodium soy dipping sauce, steamed soy beans and fresh carrots with ranch dressing; and some sure-bet favorites like macaroni and cheese, burgers, and spaghetti with butter or marinara sauce. For brunch, kids can choose fun bone-shaped pancakes.
Even dogs have their day at Lazy Dog. The concept welcomes them to join their owners on the restaurants' outdoor patios, where they're offered bowls of ice water and a menu of brown rice, grilled chicken, tofu, hamburger patty or steak. Naturally, leftovers go home in customized doggy bags.
"Owners love being able to bring their dogs, and so far we've had good luck with inviting them into the patio spaces and with securing health department approvals to do so," Simms says. "We're very careful and have all of the proper measures in place to protect the health of our guests and employees, but the dogs have a great place in our restaurants. For a lot of people, their dogs are like their children. The first week we opened our restaurant in Orange, we had a Great Dane's first birthday party on the patio, complete with party hats. It was really fun."
In fact, dogs played a key role in the concept's development. Simms says his original goal was to create a comfortable, family-friendly neighborhood place where guests can enjoy creative, hand-crafted food and cocktails and locally brewed beers. In architecture and atmosphere, its inspiration came from the Jackson Hole, Wyo., ski lodges where he has long vacationed with friends and family — always with dogs in tow.
"The decor of the restaurant resembles those lodges," Simms says. "The architecture in Jackson Hole and the materials they use is this great combination of modern sophistication and the handcrafted, rustic feel of the Rocky Mountains. We tried to combine those elements to create an exciting yet warm and inviting atmosphere for our guests. We were actually sitting by a fire in a ski lodge working on the concept and a dog that was stretched out by the fire seemed to personify what we wanted the restaurant to feel like — welcoming, relaxed and warm. That's where the name came from. If you took the dog out, it would be a pretty serious concept, but the dog in the theme makes it more approachable."
And more fun from a marketing and decor standpoint. Dog-themed artwork and graphics appear tastefully throughout the restaurants, and the chain invites customers to upload photos of their dogs to the Lazy Dog Hall of Fame photo gallery on the company's website. Not only can customers view the gallery 24/7 online, but each restaurant showcases a rotating collection of the photos on a dedicated TV screen. When customers upload their pups' photos, they can designate which Lazy Dog locations they frequent and have the opportunity to visit and see their pets' photos on display in the restaurants.
"It started off as a photo wall in the original restaurant for guests to be able to post snapshots of their dogs, but it has moved to the digital world," Simms says. "It's pretty unique, and people really love it. We also select photos from the online gallery to feature on our Facebook and Twitter as the Hall of Fame Pick of the Day."
Expo Kitchen, Bar, Patio Contribute Excitement
Given its family- and dog-friendly vibe, Simms says the company gravitates toward suburban neighborhoods, with all locations to date in or near a mall — either freestanding or endcap sites. Units average 7,500 square feet; and while they share a common look and feel, each has its own personality.
"We've been careful not to create a cookie-cutter design, and we've evolved a bit as we've grown," he says. "But our look is best described as 'contemporary rustic.' The floor plan is wide open to create a very energetic environment. We have high ceilings and massive wood timber trellises above the dining room and bar. The patio backs up to the bar and has a big fire pit out there, which adds to the atmosphere as well."
The bar represents a key component of the Lazy Dog concept, which aims to promote a "serious beer culture," Simms points out. Large and horseshoe-shaped to facilitate easy interaction, it's surrounded by comfortable red leather stools and plenty of flat-screen TVs. Customers can choose from a variety of specialty, hand-crafted cocktails in addition to the nearly 30 locally brewed beers on tap, several dispensed from tappers built into a bright red fire hydrant, a smile-inducing nod to the dog culture.
Last fall, the company bolstered its beer selection, teaming up with Los Angeles-based craft-brew darling Golden Road Brewing to launch three new beers developed specifically for Lazy Dog. All 12 Lazy Dog locations now serve those brews, which also represent the brewery's first collaboration with a restaurant to produce signature beers on an ongoing basis.
In the back of the house, Lazy Dog features a large, exposed kitchen. Running along one wall, opposite the bar, the kitchen offers guests in the central dining area a view into the action and provides important messages of freshness and transparency. Built to accommodate efficient production of the chain's large and diverse menu, the kitchen includes several key stations. Among them are a fry station, pantry (salad) station, meat and sauté station, sandwich and burger station, pizza and flatbread area equipped with a gas-fired brick oven, and wok station for producing Asian specialties.
"We recently revamped that section of the menu," Simms says of the wok station. "When we started it was more Chinese, but we've rolled out a newer Asian section that has a wider variety, including things like barbecue pork fried rice, dim sum dumplings, beef and broccolini, and pad thai."
In fact, it's that type of menu innovation, willingness to change and to push the casual-dining culinary envelope that Simms feels has contributed to the chain's success, particularly in the past several years. "We were very well positioned right when the recession hit," he notes. "From the beginning we wanted to make sure that we were offering guests a huge value quotient. As such, when the recession hit, we really didn't have to retool anything. Guests just kept coming, our sales were strong, and we were able to continue to expand. I can understand how you might make the decision to go down the safe road, which many in the segment have done. Every time we put on a dish like the Moroccan chicken, we're taking a risk, but we firmly believe you have to take those risks on a regular basis to stay fresh and relevant."
For the near future, Simms says the company will focus on the basics of creating and preparing beautiful food, operational execution, taking exceptional care of associates and enabling them to take exceptional care of guests. To facilitate expansion it has also focused on strengthening its leadership infrastructure to handle corporate growth, something he says the concept's complexity dictates. In other words: no franchising.
The most recent addition to the team is Dewayne Mitchell, who joined as director of design and construction. "He was previously with Yard House and before that Cheesecake Factory, so he's someone who understands how to develop properly," Simms notes. "We also have veterans from Mimi's Café on our team, including our president and COO, Dan Dillon, and our VP of operations and talent development, Roshan Mendis. They have been a huge help in understanding what our infrastructure needs to look like and how to stay ahead of it as we grow."
Facts of Note
Year founded: 2003
Headquarters: Huntington Beach, Calif.
Segment: Polished, family-friendly casual dining
Services: Dine-in, takeout
Dayparts: Lunch and dinner daily, weekend brunch
Entree price range: $12 to $19
No. of units: 12, all company-owned
Typical location: Freestanding, endcap
Key expansion markets: California, Southwest U.S.
Average unit size: 7,500 square feet, 300 seats
Website: www.lazydogrestaurants.com
Key Players
Founder, CEO: Chris Simms
President, COO: Dan Dillon
Vice President, Food and Beverage: Gabriel Caliendo
Chief Financial Officer: Steve Price
Vice President, Operations and Talent Development: Roshan Mendis
Vice President, Human Resources: Matt Kimble
Director of Design and Construction: Dewayne Mitchell