The first time Andrea McGinty wandered into the original Native Foods Café in Palm Springs, Calif., she looked at the all-vegan menu and turned around to leave. She wasn't a vegan, and her perceptions of vegan food weren't exactly positive. Urged by the manager to give it a try, she did, choosing the Scorpion burger — a house-made blackened tempeh patty with chipotle sauce, lettuce, carrot, avocado and onion. She soon became a regular, and in 2009, with husband and partner Daniel Dolan, purchased the majority of the then three-unit business. The pair set about streamlining operations, refining the menu and positioning Native Foods Café to become the first nationwide chain of fast-casual vegan restaurants.
Customers at fast-casual Native Foods Café receive their meals in less than 10 minutes. While the menu is vegan, more than 80 percent of the chain's customers are not.Native Foods' menu includes a variety of creative starters, salads, bowls and sandwiches, many with international flavor profiles. Top sellers include Ensalata Azteca Salad, with avocado, jicama, cucumber, quinoa and mango lime vinaigrette; Rockin' Moroccan Bowl, with tofu or "Native Chicken" (made from soy, wheat and pea protein), Moroccan sauce, grilled veggies, quinoa, currants and toasted almonds; and Classic Deli Reuben, with thinly sliced Native Reuben Seitan on grilled marble rye with house-made sauerkraut, Native Horseradish Cheese (made from a blend of nuts and seeds) and Russian dressing. Native Foods Café updates the menu seasonally, and monthly LTOs such as the avocado crunch wrap and bistro steak sandwich are part of the mix. Beverages include craft beers, wines and signature drinks like lemonade with French lavender and watermelon juice with mint.
"Our niche is healthy fast casual. Everything's served in less than 10 minutes and priced at under $10," McGinty says. "We're not preaching to people; we're just giving them an alternative. As it turns out, more than 80 percent of our guests are neither vegan nor vegetarian."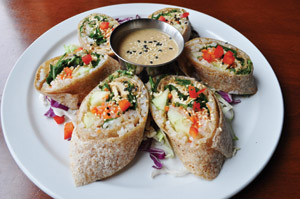 Native Foods Café features a menu of items priced at less than $10 each, including a variety of creative starters, salads, bowls and sandwiches, many with international flavor profiles.In 2011, McGinty and Dolan moved Native Foods Café headquarters from Southern California to Chicago, where three units now operate and two more are under construction. The company also has units in Denver and Portland, Ore., and by the third quarter of this year will open stores in Washington, D.C. All told, 16 leases have been signed for 2014, and McGinty anticipates growing to 200 units over the next 4 years. A strong focus over the past year on building infrastructure and adding senior leaders with experience in growing leading chains, she says, will help to make that happen.
Quick Look
HQ: Chicago
Co-owners: Daniel Dolan, Andrea McGinty
Menu signatures: Chef-crafted vegan sandwiches, salads, "Earth bowls"
Segment: Healthy fast casual
Units: 16, targeting 200 in 4 years
Growth strategy: Corporate development, no franchising
Website: nativefoodscafe.com