A dealership builds its own food truck as a mobile test kitchen, while a husband and wife team in Kansas City, Kan. carts around artisan sausage on a simple flatbed trailer.
Bargreen Ellison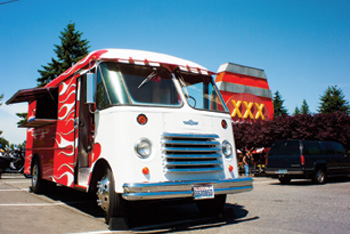 The Seattle-based dealership uses its vehicle as an extension of the company's on-site test kitchen, allowing clients to see a real-time view of how food trucks work. The dealership also swaps out equipment to test different menu items and demonstrate the flexibility of the platform, which includes a hand sink, three-compartment sink, refrigerated prep table, refrigerated drawers and freezers, a water tank and electricity generator as part of its standing equipment platform. When not parked outside Bargreen Ellingson's headquarters as a marketing tool, the dealership will use the truck for employee events, manufacturer gatherings, and other special events at least once a week. In fact, this particular mobile kitchen was the inspiration for Ezell's Express chicken truck, which was featured on Oprah and often parks outside the Amazon headquarters at lunch.
Weiner Wagon/Derr's Artisan Sausage
Husband and wife team Dave Derr and Jessica Rush built their homemade, innovative sausage wagon by hand in 2012 using an 8-foot-by-4-foot flatbread trailer made of wood and outfitted with a griddle, steam well, and plumbed sinks. The trailer is a licensed mobile unit through the Kansas health department, visiting the local Kansas City farmer's market once a month and at parties and other events for a catering piece.