Page 1 of 2
Restaurant concepts turn to a variety of equipment items and innovative designs to get creative with the adult beverage experience.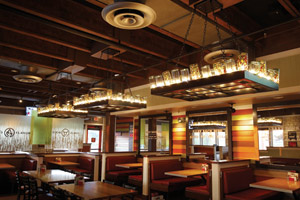 Chili's plan to upgrade its bars includes more open areas that feature warm finishes and colors as well as enhanced TV and sound systems. The plan also includes more flexible seating that can quickly accommodate large parties.The adult beverage business is booming in foodservice. Restaurant operators are getting creative with beer, wine and cocktails as a way to ring up extra revenue, either by enticing patrons to come in during off-peak hours with special promotions, by positioning themselves as a gathering place for family and friends, or by offering signature cocktails and beers, sometimes paired with special menu items.
"Several chains look at bar programs as a way to find an important point of differentiation in what is a very competitive marketplace," says Donna Hood Crecca, senior director of Technomic's Adult Beverage Resource Practice. She adds that the chains, especially those with strong branded concepts, are being more strategic about the adult beverages they offer and how they offer them.
One strategy is to have a full bar, separate from the dining area, where patrons can eat, drink and gather in an adult-only environment. Another is to locate the bar as a part of the restaurant area, creating a more integrated experience. Either solution allows operators to execute a bar program that adds to the dining-out experience and, as a result, drives revenue to the coffers.
We asked a few leading chain operators about the planning and execution of their increased bar business. While we found a few common denominators in terms of operational issues, the bar strategy should be an extension of the brand, its profile and customer expectations. Not only that, the bar menu itself is most successful when tailored to the consumer demand specific to a restaurant's location within a specific geographic region.
"There is no tried and true formula. You have to know your market in the trade area," says Paul Mangiamele, president and CEO of Bennigan's. "For example, in the Southwest you need a good array of local beers. In Chicago, it's craft beers. You have to be sensitive to local tastes."
Form Follows Function
"Bars help your seating and can reduce long waits. They also give you easy options for singles, couples and small groups who want to have a quick meal, watch a sporting event or just relax and talk," says David Miller, vice president of facilities for Quaker Steak & Lube. He adds that the ambience of wood bars, having a variety of beers both on tap and in bottles, and offering notable liquor options all generate trial and repeat business.
Miller says the design of the bar can create a friendly, comfortable and welcome place where guests become regulars and regulars become friends. "A well-designed and functional bar drives sales and profits by increasing speed of service, maintaining and serving quality products and giving bar guests a memorable experience," he says.
"For our concept, the bar is the second common denominator. It provides the 'fun' in our mantra that 'food/fun/friends' make our world go around," Miller says. He explains that Quaker Steak & Lube's new bar design creates a meeting and mixing point, encouraging guests to interact with each other, make new friends and have conversations with the bartenders.
Quaker Steak & Lube always has at least two bars, Miller says. They are in different rooms and, sometimes, in outdoor patio settings. "Our bars create a synergy of energy where patrons can watch sports, talk across the bar, make new friends and have a great meal," he says.
With its new prototype, Quaker Steak & Lube now offers between 16 and 36 beers on tap, which includes a greater number of local craft beers as well as popular national brands. The new prototype also features more and higher quality large-screen TVs.
"Today's bars are designed close to the entry points, both the main entry and to-go, to be overflow waiting areas and gathering points for friends wanting to unwind," says Terry Long, director of architecture for Brinker, parent company of Chili's. Speaking about Chili's program to upgrade its bars and create an exciting bar program, he says, "Our new bar areas are more open, with warm finishes and colors as well as enhanced TV and sound systems. This allows for more flexible seating that can quickly accommodate a large party."
Long adds, "Bar design can be driven by current local or national trends [adapted to] the allowable square footage within a space." He points out that an island or peninsula bar, with patrons facing each other, offers more interaction among guests, which can result in regular customers.
The Ground Round separates the bar and the restaurant. "We've always had a two-room concept — a sports bar and a family restaurant," says Jack Crawford, president and CEO of the Ground Round Independent Owners Cooperative. "We let the bar be the bar," he says. "The dining room is then comfortable for family dining."
Ground Round recently upgraded its bar profile to include tall tables with granite tops that provide a "gathering table" for seven or eight guests. The chain also offers happy hour drink specials, and patrons can order from the full menu. Since Ground Round positions the lounge area as a sports bar the new format has additional flat screen TVs for the multi-programming expected by fans. The bar also offers late night specials as a way to extend patronage. Crawford says that, in the past, the chain might change the drink menu every year, now it gets a refresh two or three times a year with new mixtures.
Renewing Bennigan's
The bar plays an integral role in Bennigan's plans to reinvent, redesign and reinvigorate its 37-year-old brand. "All my words start with 're-' lately," says Mangiamele. "We're rebuilding, revitalizing, reintroducing and reinvesting."
Close to three years ago, Mangiamele and his team took a comprehensive look at every aspect of the business. "We had had some brand drift," he explains, "so we looked at what we did right 37 years ago in menu, service, and training, every area."
Boomers represent the long time, so-called "bleeding green" customers — referring to the passion for Bennigan's trademark Irish-themed hospitality. Now, Mangiamele says, the Boomers come in motivated by nostalgia but the brand is also designed to appeal to Millennials who love the social energy. He says the bar definitely features a higher energy "vibe" and has a quieter atmosphere in the restaurant. He adds that the bar is "akin to the tack rooms of yore."
Mangiamele says the chain looks to capture three audiences: the nostalgic, the present young generation and future patrons. It's a combination of appealing to the emotional connection that exists and reinventing the brand to build new connections.
Bennigan's management team, suppliers, franchisees and general managers from the restaurants all participated in the review process. The result is a new prototype that, at 5,000 square feet, is half the size of the older units.
Bars in the redesign have been created both to be perceived as a separate area and still be partly integrated into the restaurant space. Each bar is a "shotgun" style, that is, one straight bar against the wall. There is also lounge seating that is separated from the dining area by a half wall.
Music plays a big part in the bar ambience, which uses a playlist of "Benniganized" music that goes back to the '70s. And Bennigan's tailors the playlist to each daypart. Late night, for instance, the music appeals more to the Millennials, with a higher energy than lunch music, which may be more Boomer oriented. "Music sets tone and atmosphere for the experience," Mangiamele says.