Page 1 of 2
This full-service concept brings Cajun cuisine served in a fun environment into previously untapped markets.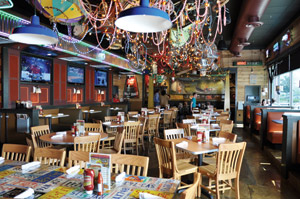 Razzoo's Cajun KitchenCajun cuisine aficionados usually gravitate to Southern Louisiana to find authentic flavors and culinary experience. Razzoo's Cajun Café brings a taste of this culture to Texas and North Carolina with its from-scratch menu and fun atmosphere.
As Razzoo's Cajun Café nears its 23rd anniversary in December 2013, Jeff Powell, owner and president, and his owner partners anticipate continued steady, cautious growth. Today the privately held restaurant company owns 15 units, including 11 in the Dallas/Fort Worth market, and others in Harker Heights (near Ft. Hood), Round Rock (Austin) and Stafford (Houston), Texas, as well as Concord (Charlotte), N.C.
One of the newest stores opened in February 2012 in the Firewheel Town Center in Garland, Texas. This unit represents the chain's new 6,500-square-foot template: a prominent endcap location in a town entertainment, dining and shopping center. In the next 12 months, Razzoo's will open similar units in the Texas cities of Tyler and Fort Worth (the latter in the Alliance Town Center).
The intention is to "never outgrow our cash, our culture or our people," says Powell. In addition to keeping the finances in check with cautious growth and careful purchasing, another priority is maintaining a culture in which "we dream big and believe we can accomplish anything we want to," he says. "We rally our people around a passion for excellence, to give every single guest a multitude of reasons to hurry back."
The company emphasizes this approach on its website: "We try not to take ourselves too seriously. What we do take seriously is our food and service. To us, nothing is more fun than treating our guests to great food and a great time in one of our restaurants. That's why we're here."
Though Powell wasn't born in Louisiana, he says he has "an affinity" for Cajun food. Also, he says, "there is less competition in this field than in concepts featuring steak, burgers and Mexican food. Outside of Louisiana, there aren't many players focusing on a Gulf Coast concept with Cajun roots. We can position ourselves to focus on a broad base of customers looking for a unique experience. We feel we have a lot of untapped opportunities." Powell emphasizes that the company will not franchise its concept.
Guests entering a Razzoo's Cajun Café find themselves transported into an environment generally found in Louisiana. Designed by Zero 3, a Dallas-based architecture and interior design firm, the decor focuses on authentic images and items related to zydeco music, Cajun-country food, Mardi Gras celebrations and other aspects of Southern Louisiana, including outdoor activities such as hunting and fishing.
"We're not using precious materials, but rather incorporating common materials in an unusual way," says Paul Brian Jankowski, architect and partner at Zero 3, who, along with his partner Jan Martin, interior designer, has worked with Razzoo's since selecting the color palette for the original restaurant's exterior paint. "Color's also an important element. Instead of sheet rock walls, we use natural cedar wood or pine boards set horizontally in a color palette of swamp green, terra-cotta and blues and greens and golds of Mardi Gras."
Guests at the Firewheel location, which has similar design elements as other units, dine in an environment displaying common materials such as corrugated tin and rough cedar planking. One wall features a large mural painted by local artist Dan Holzschuh; and a "bottle wall" made of stacked colorful bottles with a matching bottle chandelier adds to the vibrant design. Custom neon lighting, light fixtures in the shape of bait buckets, and signage brighten the space.
While guests sit in dining spaces featuring custom-made furniture, including linoleum tabletops, they can watch one of the 15 flat-screen televisions tuned to sporting events. "We started using the linoleum tops because we originally needed a surface to hold a hot skillet," Jankowski says. "With new equipment, we don't need that now, but everyone was pleased with the aesthetic quality. Linoleum comes in myriad colors."
One of the most striking elements is Razzoo's signature "Trailer Park Tornado" lighting feature — a large, floating collection of items and artifacts commonly found in the Southern Louisiana and Gulf Coast region. "This feature is a way to provide a focal point for the room," Jankowski says. "It didn't start out as a tornado per se. It was dubbed that because we hung items in a three-dimensional collage that looks as if they were picked up by a tornado and thrown into the air."
Jankowski says the lights in the tornado contain amber and clear Christmas lights. "The amber color is complementary, and when people feel good, they want to come back," he says.
The smaller footprint for the restaurant — the newer units measure about 6,000 square feet, and the kitchens are about 2,400 square feet, 40 percent of the total footprint, as with older units — requires an equipment package that supports efficiency. "We don't have any open kitchens, though I'd consider this approach," Powell says. "We've just not been able to lay out an open kitchen in the spaces we occupy."
Menu prep for Razzoo's begins after food deliveries arrive at the loading dock. Staff place food into a cooler or freezer. The equipment package is organized around three basic
stations in addition to the basic prep area where staff wash, sort and prepare food items for cooking.
Staff prepare cold items, such as fresh-shucked oysters and salads, on counters. A dicer at the station is used for vegetables.