Page 1 of 5
Updated décor and new operational efficiencies sweeten the growth prospects for this 25-year-old fast-casual chain.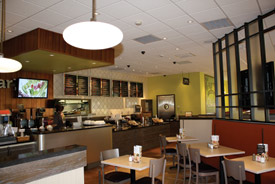 Like most chains, McAlister's Deli slowed its growth during the recession. But unlike many others, it didn't stagnate. Despite the financial crisis, limited access to credit and steep declines in retail and residential development, the Ridgeland, Miss.-based fast-casual veteran maintained positive unit and same-store sales growth. The chain is now making moves to take its signature deli sandwiches and trademarked Famous Sweet Tea to many more locales nationwide, announcing new multistore development agreements, filling in existing markets and expanding into new territories.
The refreshed look, menu upgrades and new operational efficiencies are designed to make McAlister's an even stronger competitor in the fast-casual sector, where it competes against concepts such as Panera Bread, Jason's Deli and Corner Bakery. Leading the charge is president and CEO Frank Paci. He took the helm in the fall of 2010 following the departure of Phil Friedman, who grew the company from 30 units to nearly 300. Paci had held leadership positions at The Pantry, a publicly traded c-store chain, Burger King, Pizza Hut and Blockbuster prior to joining McAlister's.
"McAlister's Deli was opening 30 to 40 units a year in the mid 2000s, but once the financial crisis hit, it became difficult to get lending, and that number dropped significantly," Paci says. "Last year we did 10 new units, and this year we'll do closer to 15. There are still some challenges to development, but I would expect that number to continue to ramp up as the recovery takes hold. We just announced signing three development deals: 10 stores in Tampa, 3 in Michigan and 5 in Nebraska. So we're getting new franchisees, new deals, and our existing franchisees are increasing their development. We have a lot of positive momentum."
Paci and his team are fueling that momentum by keeping a sharp focus on the chain's original strengths while at the same time giving the 23-year-old concept a few strategic nips and tucks. The menu, built on high-quality ingredients, a broad variety of highly customizeable items, and plenty of fresh and healthful options, remains largely the same, but select upgrades have been made as well.