A vibrant, refreshed look paired with a new, more efficient prototype has this chain poised to take a bigger bite out of the sandwich segment.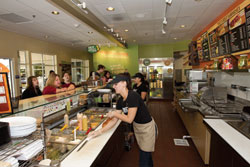 The new prototype features a lower counter and an 18-inch clear glass barrier that allows guests to watch the entire sandwich making process. "Seriously stacked."
"Maybe toasted, definitely loaded."
"Righteous portions never get old."
Such marketing messages hint at the laid-back California vibe and slightly irreverent culture that's carefully nurtured at Togo's, a 40-year-old sandwich chain with aggressive new growth plans. The chain, founded in 1971 by a San Jose, Calif., college student, operates 241 units. Chairman and CEO Tony Gioia, who acquired the Togo's brand in partnership with private equity firm Mainsail Partners in 2007, aims to grow it to 400 units during the next three years.
In some ways, Togo's has come full circle. Expanded to some 200 units by its original owner, the brand was purchased first by Allied Domecq Quick Service Restaurants, which later spun off from parent Allied Domecq to become Dunkin' Brands, owner of both Dunkin' Donuts and Baskin-Robbins brands. Under Dunkin's ownership, Togo's grew to some 400 units nationwide, a large percentage of which were co-branded with Dunkin' Donuts and Baskin-Robbins. Some units, called "trombos," featured all three. Many of those units have since closed, and Togo's once again concentrates on the West Coast, primarily California.
As a former brand president at Baskin-Robbins and officer at Dunkin' Donuts, Gioia had become familiar with the Togo's brand and felt its full potential could be better realized as a stand-alone brand, albeit one in need of some revitalization. Since leading its private-equity buyout, Gioia and his team have spent the past five years doing just that. Togo's now features a vibrant, refreshed look, a more efficient new prototype, a new franchising drive and has a handful of its first company-owned stores leading the way to new growth.
Fresh New "Brand Right" Prototype
Togo's revitalization effort plays off its heritage as a friendly, deli-style sandwich shop but brings its look and feel up to date. "When Tony came on, he wanted to look at a new prototype restaurant and new branding. He and Renae Scott, our vice president of branding and marketing, with help from consultants, worked hard to get to what we think is a very strong prototype," says Rand Ferris, vice president of operations. "It's truly brand right. We began rolling it out in July of 2010. In doing that, we found we can integrate the heritage of Togo's and make it relevant today. The emphasis is on freshness. There are different kinds of woods for warmth, the vibrant colors of orange and avocado green from our logo, beautiful new menu boards touting our top-selling sandwiches, and lots of visibility of the food and the prep areas."
While aesthetics have been dramatically improved, so too has efficiency. Whereas legacy units have salad stations separate from the sandwich stations, for example, new units utilize 72-inch refrigerated sandwich tables that include center drawers for salad ingredients. Each unit has 2 sandwich tables at its main service counter, which spans 20 to 25 feet. Two crew members work at each table, creating four sandwich-making stations. Larger units supplement these with an additional 40-inch sandwich table. Cashiers, typically two per unit, are positioned next to the sandwich tables, and guests have full view of a see-through reach-in cooler from which sandwich makers access fresh produce and prepped items.
A custom-designed 18-foot stainless steel table behind the main counter holds integrated scales, hot wells, a panini press, a sandwich toaster and microwaves. "It's a very simple back line," Ferris says. "It's designed to facilitate fast, efficient service and to maximize guest interaction."
Another benefit of the new equipment configuration, he adds, is that it is modular and flexible. As franchisees in older units need to replace equipment or make upgrades, they can easily integrate the new prototype's more efficient production systems.
Personalized Deli-Style Service
Guest interaction is a critical point of distinction for Togo's in the crowded, competitive sandwich segment. "What makes us different is our one-on-one deli style of service," Ferris notes. "It's not production style, where your sandwich is handed off down the line as it's assembled, and it's not traditional restaurant style where your order is prepared in the back of the house out of view. At Togo's, a single sandwich maker prepares your sandwich from start to finish, just how you want it. And in the new prototype we've lowered the counter and added an 18-inch clear glass barrier so that guests can look through and see him or her making your sandwich. While customer interaction at our competition might be 30 seconds, here it's more like two-and-a-half or three minutes, and our focus is on making that connection a very positive one. Not only do you get to see your sandwich made from fresh ingredients and know it's made the way you want, but you also have a connection with our team member."
Typically placed in in-line or endcap retail center locations, the average Togo's unit measures 1,200 to 1,500 square feet. Unit size increases to an average of 1,800 square feet outside of California. Of that space, roughly 70 percent is dedicated to front of the house, which features a combination of high- and low-top tables. A key design feature in all new units is what Ferris calls the brand wall. "It's usually the largest wall in the restaurant. It's painted bright orange and sports our logo and 'West Coast Original' tagline. It, along with our new menu boards, which are above the counter and really pop against white subway tiles, our barn-board counters and dark wood plank flooring, really give us a fresh, comfortable, inviting look."
Diners choosing to eat in receive their orders on white plates, but the chain is testing baskets, which Ferris says has gone well. "Guests really like them in the tests," he says. "They're easier to carry, you can see the food, and they seem to feel they're a little more brand right than plates."
The back of the house, like the serving line out front, is simple, Ferris says. "Our concept is very basic. We have no open flames, no fryers, no hoods. It's a very simple build-out. In back we have a prep station with slicers, storage, a dish-washing area and the walk-in cooler. That's it."
The only significant change Togo's made to its back-of-the-house equipment battery in the new prototype was to raise ceiling fans in the walk-in. "By raising them, we get significantly more storage space in the same size unit," he says. That's the type of change we've focused on — identifying both equipment and vendors that are cost competitive or lower cost and more efficient."
With the exception of the 18-foot stainless steel back counter, none of the equipment is customized. "We try to avoid customizing as much as possible," he notes. "We focus on staying efficient, low cost and on keeping build-out costs as low as we can for our franchisees. Our cost-to-sales ratio averages two-to-one: sales per unit run around $600,000, and the average unit costs about $300,000 to build — even lower if taking over an existing location. With some brands exiting recently, we're able to step into those locations and do it very economically."
Lunch comprises the bulk of Togo's sales, with takeout generating upwards of 65 percent of total revenues. The chain's most successful locations, however, tap three key dayparts, as described by Ferris: strong daytime/employee population for lunch business, strong retail attractions for weekend business, and a strong residential base nearby for evening business. As it gears up for growth, Togo's will focus on securing locations that can deliver on all three. It also plans to beef up its catering business, which currently accounts for anywhere from 4 percent to 20 percent of unit sales, depending on location. Benefits such as online ordering are being added to help grow catering business, particularly to businesses located near Togo's units.
Variety and Abundance Feed the Menu
While its look and feel have been refreshed and its operations made more efficient, Togo's primary point of difference comes through most powerfully on the menu. There, just as it's always been, it's all about the sandwiches. And the sandwiches continue to be all about freshness and abundance. Customers can choose from some 30 hot and cold sandwich variations, each known by regulars by its number.
Unless otherwise requested, all sandwiches come the "Togo's way," with lettuce, tomatoes, pickles, red onions, pepperoncini, salt and pepper. Consumers have many customization choices, beginning with bread. "We have two bakeries — one in the northern part of our market and one in the southern part — that bake for us daily," Ferris says. "We offer white, 100 percent whole wheat, sourdough and parmesan cheese breads that are cut to order from 24-inch loaves." Cheese choices include provolone, cheddar, pepper jack, Swiss and American, and dressings/condiments include the usual yellow mustard, mayo and vinaigrette, as well as Dijon and BBQ chipotle mayo.
Standard sandwich size is 6 inches, but 9-inch versions are available for heartier appetites as are 24-inch "family-style" sandwiches. Guests with smaller appetites can enjoy any of the chain's cold Sandwich Classics as $3 Minis. The trademarked Endless Combination lets customers choose any two options from among a half sandwich, regular soup and a half salad.
Togo's has worked to expand its sandwich offerings by adding a selection of warm sandwiches prepared on a panini press for a point of difference, and salad wraps, available with a choice of whole wheat, spinach or sundried tomato wrappers. Vegetarian sandwich fillings, including hummus, egg salad, avocados and cheese with the usual Togo's Way toppings and condiment selections, are promoted as well.
Checks for a sandwich, chips and drink average $8 to $9, but the chain features a daily special promotion that's proven very effective. "We do a $5.50 daily deal featuring a different six-inch sandwich off our regular menu every day of the week, plus chips and a 20-ounce drink," Ferris explains.
New Corporate Stores Put "Skin in the Game"
As Togo's new owners set out to position the chain for growth, part of their mission was to, for the first time, open corporately owned units. Since late last year, four company-owned stores have opened, three near Concord, Calif., and Pleasant Hill, Calif., and one below corporate headquarters in San Jose — all within 10 minutes of each other.
"We believe that as a franchisor we need skin in the game," Ferris says. "We need to be able to role model expectations and performance. It gives us a chance to thoroughly test new products, helps us understand the challenges that our franchisees face and how better to solve problems when we run our own stores. We built one from ground up for that same reason. In order for us to expect our franchisees to do it, we wanted to make sure we understood what it takes to build a store. It's been a great experience, and our franchisees are excited that we're now in the business of owning stores. They feel we can truly work as partners."
He adds that the corporate stores are also important as training stores and for "giving us a bench for succession planning and growth, where we can internally grow employees." While most of the chain's growth going forward will continue to be franchised stores, Togo's plans to develop a similar cluster of company-owned units in the southern part of its market to serve the same testing, training, development and franchisee support purposes as those in its northern region.
While the company's current franchisee base is largely single-unit owners — with 240 owners of the system's 245 stores — it is shifting that model toward multiunit developers, specifically, operators willing to run three to five units. "We think that will provide the scope of growth we're looking for," Ferris says, "and also the level of sophistication that comes in and helps us move the brand forward."
That forward motion is slated to happen in five Western states. The vast majority of stores are currently in California, but Togo's recently opened new markets in Arizona, Nevada, Washington and Oregon, as well. It's in those states that Gioia and his team plan to hit 400 units over the next three years.
Facts of Note:
Ownership: Tony Gioia and Mainsail Partners
Founded: 1971
Headquarters: San Jose, Calif.
Menu signatures: Fresh, abundant deli-style sandwiches, wraps, salads
Systemwide sales (2011): $135.6 million
No. of units: 241 (4 company owned, 237 franchised)
Service model: Fast casual
Services: Dine in, takeout, catering
Current locations: California, Arizona, Oregon, Nevada, Washington
Expansion markets: Same five Western states, plus Salt Lake City and Boise, Idaho
Typical location: Retail center endcap or in-line
Average transactions per day: 175
Average check: $9.50
Size: 1,200 to 1,500 square feet in California, 1,800 in other markets
Average kitchen space: 25 percent to 30 percent of total unit
Total unit cost: $264,000 to $414,500
Equipment investment per unit: $49,500 to $87,000 (all FF&E)
Key Players
Owners: Tony Gioia and Mainsail Partners
Chairman and CEO: Tony Gioia
Vice President of Branding and Marketing: Renae Scott
Vice President of Operations: Rand Ferris
Vice President of Franchise Sales: Todd Peterson
Vice President of Finance: Susan Koch
Food Distributor: Roma Foods
Smallwares and Equipment: East Bay Restaurant Supply, Myers Restaurant Equipment
Architect and Design: WD Partners