A marketplace-style dining concept in the renovated College Center building features cook-to-order and freshly prepared foods at stations that entice customers to interact with one another and dining staff more frequently than ever.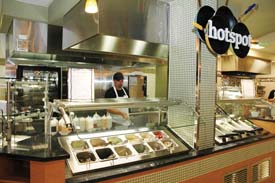 As part of its effort to bring students, faculty, staff and visitors together outside of the traditional classroom environment, Lorain County Community College initiated its College Center project, the centerpiece of which is the MarketPlace. This dining operation and the CC Commons, a 175-seat space for dining, meeting and lounging, opened their doors on September 1, 2010.
"The more time students spend on campus, the more engaged they are in education," says David Cummings, director of auxiliary services at LCCC, who came to the college in September 2008 with many years of experience in full-service restaurants and at Parkhurst Dining Services, a contract foodservice management company. "In addition, when part-time students like spending more time on campus, they are more inclined to go full time. Our next step will be to engage the community to take a more active part in campus activities."
More than two years in the making, College Center features the MarketPlace, which also includes a serving line and seating for the Early College High School lunch program, a licensed Starbucks, a bookstore that is more than four times the size of its predecessor, an Apple Authorized Campus Store, administrative and student club offices, and the campus radio station.
"Two modest additions were put onto the original building; a total demolition of the interior had to be done; and all the mechanical, electrical and other systems had to be reestablished," says Douglas Shuck, principal of WTW Architects, which provided architectural and interior design for the project.
A key architectural element in the center is a main walkway that connects College Center to the technology building, business school and library, which serves LCCC and is also a local branch of the city library. "While students, faculty, staff and visitors walk through this connector, we wanted to make their experience exciting," Shuck says. "And we wanted to create an open, translucent space. So, glass walls allow everyone in the center to see the MarketPlace and the two-story, 22-foot-high multipurpose CC Commons that serves as a room for lounging, dining, meeting and special functions." A circular staircase positioned between the walkway and the multipurpose room connects the main floor and second floor. The multipurpose room is visible from the second floor.
The hope for the MarketPlace, Cummings says, "is to serve students and customers in a way they deserve to be served, a way we were unable to serve them in the past." the MarketPlace embodies a radical change in the foodservice options offered on campus. Prior to this facility's debut, the center contained a food court housing concepts operated by contract management companies. Diners sat at long tables with connected seats. During the College Center's renovation, four foodservice kiosks were developed at four different locations, and they remain in operation today. Conference dining is available in Spitzer Café and at the Spitzer Conference Center, which also supports a full-service kitchen that produces baked goods, salad dressings and other bulk items such as potato, pasta and chicken salads for the MarketPlace.
"The Spitzer kitchen was available during the construction of the College Center and after its completion to support the MarketPlace," says the project's foodservice consultant, Ron Kooser, CEO of Cini-Little. "The MarketPlace is a more interactive facility with cooks preparing fresh food at many stations."
The MarketPlace staff also prepare lunches for the Early College High School program. A separate serving line and seating are provided for students enrolled in this program. In addition, staff provide catered meals for groups meeting in the center's dining/meeting room.
"The entire operation is designed to support our practice of featuring local and from-scratch ingredients," says Eric Petrus, LCCC's executive chef. Petrus arrived at LCCC in October 2009 and brings restaurant and contract management experience to his current position. In fact, he met Cummings while they were both working for Parkhurst Dining Services. "In the back and front of the MarketPlace, we produce about 850 meals daily in this operation now, which is about 50 percent of our capability," he adds.
The MarketPlace's back-of-house kitchen is situated in a small 1,775-square-foot space. Deliveries arrive at the loading dock and are placed in dry storage and walk-in coolers, one of which has a small freezer area. Staff use prep tables and knives to cut vegetables, and a hand-operated cutter for French fries. A 20-gallon steam-jacketed kettle cooks from-scratch soups and sauces.
A convection oven heats bread made in Spitzer as well as bacon, sausage and breakfast and lunch casseroles such as macaroni and cheese. Steamers cook vegetables, rice and eggs, and the cooks prepare dishes such as sautéed vegetables, gravies and grits with jalapeno and smoked Gouda on the ranges. A large upright mixer prepares pizza dough that staff make for the 60 18-inch pies sold daily.
Food and supplies move from the back of the house to the front of the house through an access hallway. "One hallway runs from the front of the house to the loading dock, which is helpful because then Jason Herman, the sous chef, and Rebecca Dale, coordinator, whose offices are adjacent to the loading dock, can quickly get to any location if they are needed," says Petrus. "Actually, any member of the staff can get from one side of the servery and into the kitchen and back quickly because of the hallways."
In the front of the house, "The MarketPlace's layout is a classic in/out traffic flow," says Kooser. The servery entrance sits off the main lobby of the College Center where the majority of traffic flows through the lobby. The exit is perpendicular to the entrance and leads to the main walkway that connects to the multipurpose dining/meeting room and other buildings.
"Customers can move freely in the space without much bottlenecking," Petrus adds.
The glass walls surrounding the servery create a wide-open feel that the open-grid ceiling further emphasizes. Each station is distinctive with various colored tiles and designed signage. Solid-surface countertops allow for easy cleaning.
When customers enter the MarketPlace, they see Croutons, the salad station that holds nearly 60 fresh ingredients, including four lettuce blends, various other vegetables, truffle three-bean and other salads and hummus. During breakfast hours, the station contains fresh fruit and yogurt. Bagels and toast are available at The Oven, which serves mainly as a pizza station.
As customers gravitate toward the right, they find the Courtyard Grill, which holds a char grill for beef and turkey burgers—hand-pressed from raw product daily—and will soon feature a fish of the day. The Grill also features a hot-top griddle for Philly cheese steaks, hot sandwiches such as Reubens, and fresh-cracked eggs for the breakfast menu; a deep-fat fryer for fries and pickles; and a rapid-speed oven that offers cooking support. Undercounter refrigeration keeps ingredients cold and accessible throughout the day. A three-by-five-foot hot plate allows for the display of comfort foods such as grits, casseroles, fried chicken, mashed potatoes, biscuits and gravy, and chicken parmesan — without overhead heat lamps.
The charbroiler is one of Petrus' favorite pieces of equipment in the MarketPlace. "It holds heat well and heats up in 20 minutes, which is preferable to slower heat-up time," he says. Petrus also appreciates the smart hoods that change air flow based on sensors that detect the amount of grease and smoke emission. This automatic feature contributes to the green facets of the kitchen and servery, he adds.
Next in the servery is The Oven, which contains a hearth-style deck oven for cooking four varieties of pizza daily. The pies may be topped with traditional ingredients such as pepperoni and cheese, or more unusual ingredients like blackened shrimp and barbeque beef. Pizzas that are made for customers to take home are baked on disposable oven-safe trays. "These pies can be held for 36 hours without baking," Petrus says.
The oven also heats stromboli, calzones and hoagies. During breakfast the oven cooks breakfast pizzas and warms cinnamon and sticky buns, as well as toast and other baked goods.
At the Hot Spot, chefs prepare stir-fry and pasta entrees. Customers pick their own ingredients, which are displayed in refrigerated bins. The current setup of displayed products was introduced by Petrus. "When I arrived, the ingredients were on the chef's side, but I wanted customers to select their own," he says. Customers can also ask chefs to add one or more of 27 sauces to their stir-fried dishes. This station is also supported by a rotisserie, convection steamer, six-burner range with oven base and support refrigeration from the adjacent walk-in and ingredient refrigerators.
At Stacks Deli, a panini grill, a rapid-speed oven, a bulk-ingredient refrigeration display and containers for bread allow staff to make New York-style deli sandwiches. The bread is baked in the convection oven in the back of the house. Petrus plans to add flatbread menu items soon, which will be heated in the rapid-speed oven.
Customers can also purchase luncheon meats and cheese by the pound, as well as salads and loaves of bread.
At Grab-n-Go, conveniently positioned next to the cashier for impulse purchases, menu items such as traditional tuna and egg salad sandwiches, house specialty sandwiches — such as one layered with turkey, lettuce, tomato, roast beef, Muenster cheese and cole slaw served on roasted-garlic sourdough bread — and dessert parfaits sit in the refrigerated unit. At least one vegetarian or vegan option is available here and at every station daily. "These cold items are directly supplied from the back-of-house kitchen, which eliminates the need for staff to interfere with the customers when loading product," Kooser says.
At the beverage station, cleverly named Fizz and Sips, the equipment lineup includes dispensing machines for fountain sodas, ice tea and coffee. This station also serves a soup of the week and soup of the day, and contains cereal dispensers and condiments.
Before customers leave the facility, they can stop at the Market station, a marketing element that establishes the MarketPlace's retail orientation. Display racks hold retail-packaged food ingredients such as olive and truffle oils, crackers, soba noodles, soy sauce and natural vegetable chips. Some products are gluten free.
For trash removal from this facility, a hallway similar but separate from the one for food transport mentioned earlier facilitates quick and nonintrusive disposal. Two compactors — one for noncompostable waste and the other for cardboard and recyclables — sit near the loading dock. A local, community-supported agriculture group hauls away the compostable material and uses it in growing fields. Fryer oil is picked up by a local company specializing in mobile filtration management and used as biofuel.
Though the College Center isn't LEED certified, Shuck says that many green elements were included in the design: a dozen skylights, which add natural daylight to the space and therefore contribute to energy savings; efficient fluorescent bulbs with just a few incandescent bulbs used as accent lighting; carpeting composed of postrecyclable materials such as plastic; low-VOC (volatile organic compound) paint; CO2 centers that sense the number of occupants in the space and determine how much fresh air must be brought in; and light sensors that turn lights off and on only as needed.
Bringing the community together in a new way at this community college is no longer just a hope; with the opening of College Center and the MarketPlace, it has become a reality. No doubt the level of interaction between the students, faculty, staff and visitors has just begun to evolve and reveal its potential. There's no doubt that foodservice equipment is essential to providing a focus for this interaction in addition to allowing staff to produce menu items efficiently and with effective consistency. FE&S
---
Design Capsule
Opened in September 2010, the MarketPlace in the $17 million College Center building features eight stations in its 3,127-square-foot servery. These include Stacks Deli, Hot Spot, Croutons, The Oven, Courtyard Grill, Fizz & Sips, Market and Grab-n-Go. A 1,775-square-foot back-of-house kitchen supports the servery. The CC Commons, a 175-seat room for dining, meeting and lounging is available for MarketPlace guests. A 600-square-foot area serves approximately 200 students enrolled in the Early College High School lunch program. Projected annual sales are $900,000, with 832 daily transactions and a $4.41 check average. Operating hours are 8 a.m. to 9 p.m. Monday through Thursday and 8 a.m. to 4 p.m. on Friday. The MarketPlace is closed on weekends. Twenty staff members work in the MarketPlace operation. Website: www.lorainccc.edu
Owner: Lorain County Community College
President: Dr. Roy Church
Director of Auxiliary Services: David Cummings
Food Service Coordinator: Rebecca Dale
Executive Chef: Eric Petrus
Sous Chef: Jason Herman
Architect of Record, Design Architect: WTW Architects, Pittsburgh, Penn.; Douglas L. Shuck, AIA, principal; Greg Smith, AIA, project manager
Associate Architect: Clark & Post Architects, Lorain, Ohio; Ron Cocco, principal
Interior Design: WTW Architects, Pittsburgh, Penn.; Carol Glorioso, senior interior designer
Environmental/Graphic Design: Eyethink, Powell, Ohio; Tom Webster, partner
Foodservice Consultants: Cini-Little, Chagrin Falls, Ohio; Ron Kooser, CEO; Laura Lentz, associate
Director, Physical Plant, LCCC: Robert Flyer
Equipment Dealer: Tri-Mark SS Kemp
{besps}2010-12/f1012_FacDesign|caps=1{/besps} {besps_c}0|Fes1012facility1.jpg|The back-of-house kitchen supports the servery stations with convection ovens, prep stables, storage racks and other prep equipment.|Photos by Steve Sefchik, Lorain County Community College.{/besps_c}
{besps_c}0|fes1012Facility2.jpg |Shelving, worktables, refrigerators and a large mixer contribute to kitchen staff's efficiency as they prepare ingredients for the front-of-house stations.|Photos by Steve Sefchik, Lorain County Community College.{/besps_c}
{besps_c}0|fes1012Facility3.jpg|In the back of the house, kettles cook soups served at the beverage station. Convection ovens heat bread and breakfast casseroles.|Photos by Steve Sefchik, Lorain County Community College.{/besps_c}
{besps_c}0|fes1012Facility4.jpg|The Oven features pizza prepared in a hearth oven at left and displayed on heated plates.|Photos by Steve Sefchik, Lorain County Community College.{/besps_c}
{besps_c}0|fes1012Facility5.jpg|The back of the pizza station features a hearth oven and a surrounding tile wall.|Photos by Steve Sefchik, Lorain County Community College.{/besps_c}
{besps_c}0|fes1012Facility6A.jpg|As customers approach The Marketplace, they can peer into the servery through floor-to-ceiling glass walls. The Marketplace signage is made of actual table knives that are adhered to brushed aluminum. The other stations' signage also incorporates repurposed materials: Stacks Deli, condiment bottles; Good to Go, plastic-coated paper carryout containers; Fizz and Sips, sipping straws; Hotspot, 12-inch skillets; Croutons, olive oil bottles with pour spouts; The Oven, small pizza peels; and Courtyard Grill, grill grates. Terrazzo flooring here is also used in the main street corridor connecting the building to the library, technology building and business school.|Photos by Steve Sefchik, Lorain County Community College.{/besps_c}
{besps_c}0|fes1012Facility8A.jpg|Courtyard Grill features a charbroiler that sizzles burgers, chicken and eggs. Hot holding shelves keep products warm during peak traffic periods.|Photos by Steve Sefchik, Lorain County Community College.{/besps_c}
{besps_c}0|fes1012Facility9.jpg|At Hotspot, customers select and place ingredients into bowls and pass them to a cook who stir-fries the ingredients and adds customers' favorite sauces.|Photos by Steve Sefchik, Lorain County Community College.{/besps_c}
{besps_c}0|fes1012Facility10.jpg|Cutting boards, panini grills, a countertop slicer, a quick-speed oven and a refrigerated display unit give Stacks Deli an authentic delicatessen ambiance and offer staff enough flexibility to prepare a wide variety of menu choices.|Photos by Steve Sefchik, Lorain County Community College.{/besps_c}
{besps_c}0|fes1012Facility11.jpg|At Courtyard Grill, refrigerated units hold ingredients at proper temperatures. A char grill sizzles burgers, chicken and eggs.|Photos by Steve Sefchik, Lorain County Community College.{/besps_c}
{besps_c}0|fes1012Facility13.jpg|Croutons features make-your-own salad ingredients, soups and cookies. The Oven and Courtyard Grill are visible from this station.|Photos by Steve Sefchik, Lorain County Community College.{/besps_c}
{besps_c}0|fes1012Facility14 (1).jpg|Stacks Deli contains panini grills, a rapid-speed oven, a slicer and refrigerated drawers so staff can quickly prepare sandwiches.|Photos by Steve Sefchik, Lorain County Community College.{/besps_c}
{besps_c}0|fes1012Facility15.jpg|The back of the pizza station contains a hot holding counter and pans, which allows for relatively short waiting times.|Photos by Steve Sefchik, Lorain County Community College.{/besps_c}