Attention to detail at this brasserie and bakery are reflected in every facet of the design and build-out of the dining areas, kitchen and bakery — from the zinc-top bar to the hand-painted tiles and exhaust hoods with ultraviolet grease control.
Twelve years after Philippe Berriot moved from Paris to St. Petersburg, Fla., he decided to venture into the restaurant business. He believed this urban waterfront community was missing a venue that offered the affordable, continental comfort cuisine traditionally found in European brasseries, served with the relaxed flair of American eateries.
"I wanted to open a comfortable, casual restaurant and bakery where people come from morning till night and meet one another," Berriot says. "Maybe they'll spend $5 or $50, but they'll always get consistently high-quality food and want to come back, not once a month, but two or three times a week."
Intending to create a distinctive identity, Berriot assembled a team including French-born Jeremy Duclut, executive chef, who trained in culinary arts in France and worked for highly rated restaurants in France and the United States; Lisa Wannemacher, president of Wannemacher Jensen Architects, Inc.; and Theodore (Ted) Barber, president of Theodore Barber & Co., Inc., a foodservice consulting firm. The team's insightful attention to detail resulted in an establishment unlike any other in St. Petersburg.
The first detail was finding the right location. Berriot and Wannemacher selected a space in downtown St. Petersburg on the ground floor of a newly constructed condominium tower adjacent to many other high-rise condominiums, office buildings and boutiques. The restaurant and bakery are located at a visible waterfront intersection, across the street from a park on the water and a municipal marina. "This is the perfect setting for a promenade, reminiscent of the glamorous French Riviera in the 1920s and 1930s where Europeans and Americans would spend leisure time on the terraces of bustling restaurants," Berriot says. He named the restaurant after a charming town on the French Riviera and a blood-red cherry used in cocktails. The bakery was completed this fall.
"Our architectural mission was simply to provide dining guests with a space where they feel comfortable lingering over a delicious, well-cooked meal," Wannemacher says. "We wanted guests to be surprised when they walk in and ask themselves if they are still in St. Pete." The bakery is even more casual than the restaurant and also invites guests to linger over specialty coffee, baked breads and pastries, and house-made ice cream.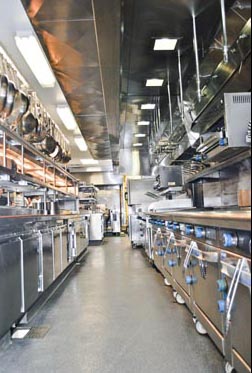 The design of the restaurant evolved from a reaction to the existing space, which was a cold, dark shell with no walls, floors, ceilings, electricity or air conditioning, Wannemacher says. Today, the transformed, warm, open space includes a bar with a vaulted back bar and wine storage that customers see when they enter. The bar features a zinc-top counter with the restaurant's crest embossed on the corner.
"The bar top was made in France and shipped to the U.S., accompanied by the craftsman who made it," Barber says. "The bar top was assembled in place, seamed and polished to appear as if the 26-foot-long bar top was built in one piece."
In addition to the bar, guests can see the entire indoor dining room when they enter the restaurant. Two existing columns and an arched exterior wall made of glass set up the interior symmetry that Wannemacher says helped to organize the space. "The warm tones of the dark-stained sepelle wood, golden yellow walls, coffered ceilings and drywall beams give the space its overall aesthetic," she says. "The clean lines and minimalistic décor align with the contemporary design of the existing condominium building shell. Extensive glass to the exterior creates an interior glow at night, which beckons guests to step inside."
The restaurant also contains oversize framed mirrors, hand-painted cement floor tiles, white subway tiles, chocolate brown leather banquettes and booths and handcrafted steel elements. In contrast, the private dining area is sleek and modern, softly lit by an 11-foot-tall back bar. The outdoor terrace resembles a Parisian café-style bistro with a touch of South Beach — courtesy of the colorful, offset umbrellas. "This restaurant is definitely the hottest place in town to see and be seen," Wannemacher says.
Menu selection is Duclut's domain. Though it is French-influenced, the menu is "90 percent American and 10 percent French," he says. He and Barber designed the kitchen to meet Duclut's need for efficiency and labor-cost control. He also insisted that stations, including the expediter's station, be positioned so he or the chef in charge can maintain vigilant oversight during food preparation and have final approval of each plate before it leaves the kitchen.
"The compartmental design of the kitchen allows necessary functions to remain separate, and they can be managed effectively with efficient labor-cost control during both busy and slower meal times," Barber says. "All the equipment and systems were selected by the chef and me for function, familiarity and flexibility."
When refrigerated goods arrive, staff place them directly in a three-compartment walk-in cooler-freezer. The freezer component holds restaurant-made items such as croutons and ice cream. A beer keg cooler and pump assembly sit adjacent to the main food product cooler.
In the bulk cooking area, the culinary staff use a 40-gallon skillet for preparing braised short ribs, lamb shanks and onion soup, and a 60-gallon kettle for preparing stocks. A rack oven/proofer bakes bread, croissants and pastries. For preparation of the all-from-scratch seasonal menus, staff also use two combi ovens to cook baked dishes such as lasagna, vegetables and lobster, and a smoker for salmon, poultry, barbecue pork and prime rib. An undercounter shock freezer allows staff to manage prepared products in bulk. The kitchen also includes an ice cream maker and freezer.
Cold prep takes place in pastry and salad stations. On the main cookline, chefs create sauces and heat house-made pasta and crispy sweetbread on the sauté ranges. At the end of the sauté station sits one of Duclut's favorite pieces of equipment, a plancha, which he uses for cooking fish only. "Its heat is higher than a flattop, and the incline allows fat to slowly slide off, and we can give fish a nice sear and keep the flavor inside."
Also on the line, chefs use fryers, a back-shelf-mounted broiler, cheese melters, and an open under-fired broiler for meats. All chefs' counters are built on mechanical curbs that are integral to the floor system. The blue-gray, silica-based flooring, which is applied by hand, is chemical- and acid-resistant with a controlled level of abrasiveness. The flooring composition "silica" comes from France. The floor is applied by trowel using a bonding agent to ensure the floor remains intact. The controlled level of abrasiveness results from adding quartz to the flooring compound.
House-baked breads are crucial to the restaurant menu's character and a big seller in the bakery. In the bakery, bench mixers as well as a floor mixer, water meter, sheeter, moulder and baker's table enable staff to produce baguettes, eight varieties of bread, croissants and pastries. Doors separate the bakery from the rest of the kitchen so staff can control the temperature and humidity of the space.
Because the building that houses Cassis American Brasserie was not designed for a restaurant, accommodations had to be made for exhausting heat, odor, gas and smoke, and to position the mechanical equipment necessary to support a full-service restaurant. "We installed state-of-the-art systems," Barber says. "The hood features include ultraviolet grease control, centrifugal-force extraction, building-sprinkler fire control, water-wash and multi-hood controls. The exhaust duct runs horizontally for 135 feet and is able to achieve this without a slope based on the level of grease extraction." A pollution control device features additional fire protection, the exhaust fan package and second-stage effluent filtration. This pollution-control device, along with electrical transformers and other air conditioning units, sits in a 400-square-foot sound-deadened mezzanine above the kitchen due to the limited back-of-house space.
The support and mechanical equipment (refrigeration, bulk CO2, and water softeners) are all remote from the kitchen area, allowing the kitchen space to remain relatively quiet and eliminating heat not related to cooking.
The scullery is directly adjacent to the return access to the kitchen. "The kitchen had to adapt to a narrow footprint, so the pot and dishrooms are separated from the food production and service area by a wall to isolate the soiled ware, wet waste, steam and chemicals," Barber says. "We wanted to contain noise and any seepage of smells into the kitchen drawn by the exhaust hoods."
As Cassis American Brasserie and its bakery mature, Berriot, Wannemacher, Duclut and Barber are convinced that the establishment will become an integral part of the St. Petersburg waterfront community. The restaurant's raison d'etré has resonated even more harmoniously than originally anticipated. Paying attention to detail in the front and back of the house is proving to be a wise strategy.
---
Design Capsule:
Cassis American Brasserie opened in early April 2010. The bakery opened in mid-September 2010. The 7,250-square-foot restaurant, designed to resemble traditional Parisian brasseries, offers contemporary American-French cuisine featuring seasonal ingredients. The menu, produced in the 2,900-square-foot kitchen, features steak tartare, steak frites, duck leg confit, braised short ribs, croque monsieur and croque madame, Cassis bouillabaisse, oysters on the half shell, mussels, bread, ice cream and sorbet — all prepared from scratch. The interior dining room seats 175 customers; the outdoor patio seats 125. The average dinner check is $40. The restaurant, which includes 3,197 square feet for seating, operates seven days a week: Monday through Thursday, 11 a.m. to 10 p.m.; Friday, 11 a.m. to 11 p.m.; Saturday, 10 a.m. to 11 p.m.; and Sunday, 10 a.m. to 10 p.m. The bar is open weekdays and Sunday until 12 a.m. and Friday and Saturday until 2 a.m. The 728-square-foot bakery is open weekdays from 7 a.m. to 10 p.m. and Friday and Saturday until 11 p.m. Estimated annual sales for the restaurant and bakery are $6.5 million. The restaurant employs 85 staff members, including 25 in the kitchen.
Owner: Philippe Berriot, St. Petersburg, Fla.
Executive Chef and Partner: Jeremy Duclut
Sous Chef: Jonathan Warfield
Pastry Chef: Bobby Mayo
Baker: Christian Fideliz de Goes
Architect and Interior Design: Wannemacher Jensen Architects, Inc., St. Petersburg, Fla.; Lisa Wannemacher, AIA, president
Foodservice Consultant: Theodore Barber & Co., Inc., Largo, Fla.; Theodore Barber, FCSI, president
Equipment Dealer: Baring Industries, Inc., Ft. Lauderdale, Fla.Construction: JMC Construction, St. Petersburg, Fla.
{besps}2010-11/f1010_FacDesign|caps=1{/besps} {besps_c}0|FES1011Facility1.jpg|Cassis American Brasserie's location is ideal to attract customer traffic. It sits on the ground floor of a high-rise condominium surrounded by many neighboring condos and is across the street from a waterfront park and marina. The sculpture shown at right is made of stainless steel and prism glass.|Photo courtesy of Theodor Barber & Company.{/besps_c} {besps_c}0|FES1011_facility2a.jpg|The full-service bar features an authentic zinc-top French bar assembled to look as if it were one seamless piece. The back bar can be seen in the private dining room behind the bar. The clock is typical of the timepieces found in brasseries, and the subway tile under the clock is also a traditional element. In front of the beer tower, on the perforated drip tray, is a cold-water glass flush to chill glasses and flush out steam in glasses that appears after washing. The bar sits on a modular bar die system that contains utilities.|Photo courtesy of Theodor Barber & Company.{/besps_c} {besps_c}0|FES1011Facility3.jpg|The dining room is well lit by natural, dimmable pendant ball lights and wall sconces. "We receive compliments from customers because they like being in a restaurant where you can read the menu and see the food," Berriot says. The floor tiles are made by hand from multi-toned graphic concrete. White linen tablecloths and napkins contrast with the brown leather banquettes and dark wenge, fan-backed bentwood chairs. Large wood-framed custom mirrors create the perception of a much larger room. The custom-made tables are mounted on cast-iron legs; other tables have dark wenge legs with zinc-covered kickplates. A ¾-inch-thick spray-on acoustical treatment in the raised portions of the coffered ceiling here and at the bar helps to control sound.|Photo courtesy of Theodor Barber & Company.{/besps_c} {besps_c}0|FES1011Facility4b.jpg|Italian-made traditional glass chandeliers contrast with the modern, sleek ambiance in the private dining room. On one wall, a graphic vinyl wall covering appears to be fabricated from glass mosaic. The wall at the right contains the glass-shelved back bar, through which diners can see the restaurant.|Photo courtesy of Theodor Barber & Company.{/besps_c} {besps_c}0|FES1011Facility6.jpg|The retail bakery uses the same concrete floor tile, pendant lights and glazed subway tile as the main dining room. Custom-made display cabinets from Italy showcase the homemade pastries and ice cream. The custom-made maple wood shelving displays a variety of fresh baked breads and other merchandise.|Photo courtesy of Theodor Barber & Company.{/besps_c} {besps_c}0|FES1011Facility7.jpg|In the bakery, staff use floor and bench mixers. A water volumetric meter manages the volume and temperature of the water going into the dough.|Photo courtesy of Theodor Barber & Company.{/besps_c} {besps_c}0|FES1011Facility8.jpg|Bulk prep contains convection ovens, a 40-gallon braiser and a 60-gallon kettle.|Photo courtesy of Theodor Barber & Company.{/besps_c} {besps_c}0|FES1011Facility9.jpg| All the equipment is modulated in this kitchen so there are no seams or gaps. All equipment sits on wheels for sanitation and flexibility of movement. The curbs are built into the floor; and the utilities are built into the curbs, which are built into the counters.|Photo courtesy of Theodor Barber & Company.{/besps_c} {besps_c}0|FES1011Facility11.jpg|Sitting across from the dessert/salad station at left, a combi oven allows staff to cook everything from baked dishes to vegetables. For kitchen finishes, Barber and Duclut selected wall tile from top to bottom and stainless steel behind the cooklines and scullery for aesthetic effect and ease of cleaning.|Photo courtesy of Theodor Barber & Company.{/besps_c}