With a growing number of student admissions and a subsequent increase in on-campus housing needs, the University of California San Diego created a new community to meet demand.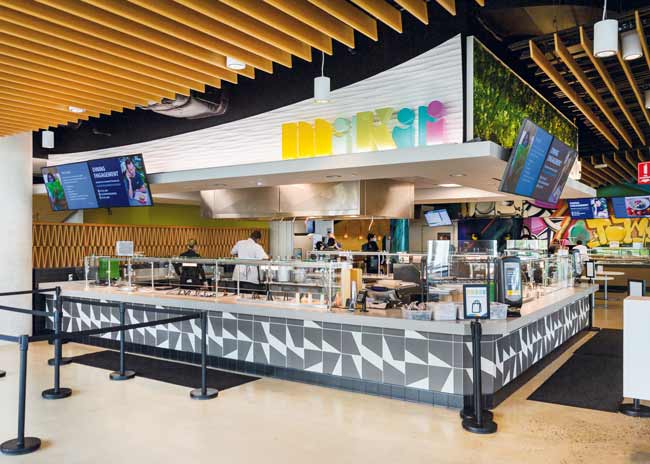 Photos by Matthew Hansen, UC San Diego Housing, Dining and HospitalityCentrally located on campus, the North Torrey Pines Living and Learning Neighborhood is the new home of Sixth College, formerly located on the east side of campus. The main goal of the North Torrey Pines Living and Learning Neighborhood project was to bring together the diverse campus community in an engaging environment to enjoy multifunctional physical spaces and experience various cuisines.
Spanning three floors, the building features a collection of amenities. The first level plays home to Sixth Market. The largest market on campus, Sixth Market includes a coffeehouse, groceries and essentials such as school supplies. Sixth Market shares the loading dock with the Restaurants at Sixth, a collection of five restaurant concepts spanning two levels with seating for more than 433 guests. The second level contains four restaurant platforms: Noodles, Crave, Makai and Wolftown. Finally, the third level features The Rooftop restaurant.
The living-learning neighborhood naturally integrates academic and non-academic spaces. "Restaurants at Sixth plays a vital part in this integration," says Jeffrey Palmer, senior director, Campus Dining. UC San Diego. Housing, Dining and Hospitality (HDH) wanted to develop a hub for students and to take advantage of the proximity to large lecture halls and residential housing."
Located beneath residential housing, the Restaurants at Sixth space directly connects to the parking structure via elevators. Restaurants at Sixth's exit leads to one of the largest lecture halls on campus. In addition, The Rooftop restaurant shares a patio with the UC San Diego Craft Center.
The fact that Restaurants at Sixth would span three floors in one building inspired some unique solutions associated with developing and maintaining an efficient foodservice workflow. "The functional areas, such as deliveries coming off the elevator from the loading dock beneath, were positioned in the same space on each floor," Palmer says. "The same went for the back of the house so the food would travel from storage through the cooking and production areas and out to the service platforms without creating any cross-trafficking issues. The design intent of the service platforms was to make them guest-forward, to really be part of the experience and not an afterthought."
The HDH team was determined to find a way for each restaurant to stand out from traditional college eateries and to create a destination dining location to which students and the campus community would want to visit regularly. "Listening to students in our other restaurants, focus groups and resident assistants/house advisors' meetings, they wanted authentic, fresh food, including vegetarian and vegan food, that reminded them of home," says Leo Acosta, associate director of operations, HDH Dining Services.
Adds Palmer, "This is a perfect example of how dining can incorporate diversity and inclusion."
HDH Dining Services created a welcoming space with ample room for studying and socializing, providing an opportunity to maintain a lively atmosphere throughout the day. "With this facility in the center of the campus, Restaurants at Sixth was expected to perform well," Palmer says. "On the flip side, peak times are extreme in a center campus location. The demand from the community, both in terms of daily patron count and check average, have blown expectations out of the water." Restaurants at Sixth supports more than 3,100 transactions daily, he says, and average weekly sales surpass $200,000.
In addition to gravitating toward the diverse menu that Restaurants at Sixth offers, students and other customers appreciate its design. It includes a place for residents to see and be seen, a second-floor outdoor bar-top terrace with seating that perches out over the neighborhood, while a large outdoor fireplace patio offers a diverse array of seating to enjoy the environs and eat and drink in a warm Pacific sunset.
"We blurred the lines between indoor and outdoor spaces," says Eric Lindebak, RA, partner, Safdie Rabines Architects, San Diego. "With its five distinctly branded food venues, the architecture and finishes capture an aesthetic distinctly rooted in its San Diego coastal setting."
Lindebak and his team incorporated a rich palette of materials and finishes. Finishes echo textures and materials of the beach, including woven pendant lighting and lounge furniture, bespoke terracotta breeze-block walls, a custom wave-formed wood-slat ceiling and live-edge hardwood tabletops. Strategically placed encaustic tiles form geometric rug-like formations, while a graduated polished concrete floor reveals pebble- to sand-sized stones that evoke the pull of beach sand at the water's edge.
Bringing in local artisans helped emphasize the design themes. For example, burritos are a key part of the San Diego culinary scene. To celebrate this cross-border fare, world-renowned muralist and art educator Maxx Moses painted a mural that adds "just the right amount of heat" to the burrito bar in the Wolftown restaurant, according to Lindebak.
Floor Plan
Download the floor plan equipment key here.
Main Kitchen Deliveries and Production
Located on street level, directly below Restaurants at Sixth, the loading dock serves primarily as a receiving site for dining and market deliveries, with light use by HDH Housing Services. After offloading, HDH Dining Services team members take deliveries up to the restaurants and The Rooftop, using a large elevator. The elevator is large enough for a pallet and exits directly into the prep kitchen on the second level.
"Shared elevator access with the residential space makes receiving and moving food and supplies to and from the second floor difficult," Palmer says. "The solution is implementing forward planning on delivery schedules and when menu items are moved to The Rooftop. We must pay close attention to students' schedules to plan around their movement."
In the main kitchen, team members place cold products into walk-in coolers, one dedicated to raw, unprocessed ingredients and the other to all prepped ingredients. Team members also place menu ingredients into a large walk-in freezer and dedicated dry storeroom. A smaller dry storage area also provides additional can rack storage.
The main kitchen supports the restaurants and catering. "We manage our kitchens as performance kitchens versus production kitchens that produce food efficiently in volume," says Vaughn Vargus, CEC, CCA, HDH senior executive chef." A performance kitchen focuses on the quality of food and the flavors produced by a greatly skilled culinary staff. Everything is well maintained with cleanliness and organization."
In addition to cold and dry storage, the main kitchen prep area contains two sets of large tables for mise en place production, a hot-holding box and a vegetable wash sink. The prep area also includes various appliances, such as an 80-quart floor mixer for sauces, large blenders and stick blenders for making salsas, dressings and sauces, and slicers with attachments for chopping large quantity of vegetables.
The cooking suite supports team members' production and adds a striking visual element to the space.
"The hot production line sits in a very small area but is very well organized and operates efficiently," Vargus says. The line contains two high-volume rice cookers and two double-stacked convection ovens for roasting whole muscle meats including chicken, pork for carnitas, and roasting vegetables for plant-forward platforms. The line also includes a six-burner range with a pot filler for high-volume production of eggs and small-batch production of sauces and sides such as refried beans. In addition, the line includes a charbroiler for proteins and other items; two deep oil fryers for potatoes, tortilla chips, tofu and shrimp; the flattop griddle for carne asada and pollo asada; two double-stacked steamers for vegetables, rice and other pasta; and a tilt skillet for sauces and searing and braising beef and chicken.
Due to the relatively small storage, culinary staff frequently rotate menu items and look for every opportunity for cross-utilization. For example, the in-house seasoned pork belly is prepared for ramen at the Noodles platform as well as in the pork belly breakfast burritos served at Wolftown. Likewise, the in-house smoked pork shoulders are used for carnitas at Wolftown and at The Rooftop for the pulled pork sandwiches. "The menu is designed to have components of each dish prepped in small batches," Vargus says.
Team members perform all basic food preparation in the back-of-the-house kitchen and place each menu component in metal hotel pans or plasticware. The food then goes into a walk-in cooler or directly to the restaurant platforms.
Cooks staffing the restaurant platforms use these food components to prepare customizable menu items in front of each guest. Each station has its own warmer and refrigerator, which results in each platform having the appropriate amount of backstock ready for use. "Most of our guests are students on a time-block class schedule, and we have clear and consistent patron data," Vargus says. "This data allows HDH Dining Services to accurately prep ahead of rushes and reduce overproduction."
Given the high volume of the concepts and the large student-employee ratio of staff, HDH Dining Services took some specific steps to ensure product consistency. "The solution was to create easy-to-read cheat sheets for every station with the expected ingredients, portion size and portion serving dishware to ensure accurate service portioning and consistent menu building," Vargus says.
Artist Maxx Moses created Wolftown's mural.
Dishwash Challenges and Solutions
Directly behind the hot line reside two prep counters separated by an opening to the middle of the dishwashing area. At the end of the hot production line sits a large ice machine next to the back entrance to the dishwashing area.
After construction started, the university made the decision to change from using all recyclable disposables to using reusable dishware, which led to other changes. "The university provides reusable to-go-type containers with a deposit/refund incentive to encourage the return and reuse of dishware," says Ken Relethford, DBIA, LEED AP, president and senior foodservice design consultant, Orness Design Group Inc., San Diego. "These vending-machine-type return systems were placed in the alcoves that had been planned for the soiled-dish carts. The goal of reducing landfill contributions was achieved while saving time and labor."
When ordering food for off-premises consumption via the app, guests must opt for a reusable takeout box, which requires a $5 deposit. The guest receives a deposit refund when they return the container. The deposit helps ensure that guests bring the containers back. Since the start of the program in 2021, the university reports more than 750,000 pieces of single-use plastic have been diverted from entering the landfill.
The switch to reusable dishware required designers to increase the dishwashing area without increasing the overall square footage already allocated for this function. "We added a high-performance soak sink to the project and relocated some prep areas to expand the dish area," says Relethford. "To solve the dish return issue, we created alcoves for portable speed rack carts so customers can drop off their soiled dishware near the restaurant venues and exits."
As the racks fill, staff use the carts to transport used dishes to the kitchen. Once in the kitchen, they drop off dishes at the dish room window directly on the left. Dish room staff scrap food waste into large, mobile compositing bins. Team members rinse all dishes with a high-pressure washer and load the wares into racks, which go into an automatic conveyor dishmachine. Once clean, team members roll dishes into the drying area and place them on drying racks that line the walls dividing the dish room and hot preparation area.
Directly beyond the dishmachine drying area sits the high-powered, three-compartment sink that washes various larger pots and pans used by both hot and cold prep stations. Team members roll the green food waste bins used in the dish room area and around the kitchen downstairs as necessary to the loading dock area to be composted at a local composting plant.
A customer makes poke selections at Makai.
Front of the House
"HDH Dining Services wanted each of its restaurant platforms to have a unique and bold identity, and to encapsulate the trendy Southern California food scene," Palmer says. "The food at each platform embodies the essence of San Diego's food culture."
Noodles, Crave and Makai share a cooking suite.Showcased in the center of the main dining room, a cooking suite made of heavy-gauge stainless steel supports Noodles, Crave and Makai. Team members use the suite's six-burner range, chargrill and flattop griddle to prepare menu items at each platform.
Noodles features many varieties of ramen including shrimp, spicy chicken, tofu, sriracha and roasted pork belly. Team members also use a noodle dipper here. "We added this hot water tank bain marie for this station to give the noodles more texture and consistency," Vargus says.
Crave offers plant-forward vegetarian and vegan specialties with lots of whole grains and fresh seasonal produce. "Crave follows the principles outlined in HDH Dining Service's Rooted in Flavor initiative and the broader move to plant-forward eating," Palmer says.
Guests visiting the Pacific-inspired Makai choose one of the chef-curated bowls or build their own custom meals. Each bowl highlights a range of fresh fish, toppings and sauces. "Makai is one of the most popular concepts on campus, at times producing more than 1,000 poke bowls daily," Palmer says.
Wolftown, located on the opposite side of the dining area, takes on a classic taqueria style with a weekly rotation of menus that infuse traditional flavors from around the world. "Wolftown produced 43,000 burritos and 22,000 burrito bowls during the fall quarter for a total sales volume of more than $670,000," Vargus says.
The Rooftop is HDH's take on a modern barbecue joint. Seating is all outdoors. Team members smoke all the meat in-house and make Kansas City barbecue sauce and Carolina mustard sauce. The hickory wood-burning smoker, with 40 feet of cooking surface to hold up to 32 briskets or 96 whole chickens, sits in the center of a bar-style seating counter. "The fresh, Southern California breeze carries the delicious smell of hickory-smoked meats across the patio and down to street level, enticing passersby to stop by for savory cuts and sides," Palmer says.
During design and programming, equipment using solid fuel was requested for the barbecue concept. Later, during the fire marshal review and in keeping with the university's goal of not burning wood, the project team decided to go in a different direction. "The team wanted to retain the outdoor smokehouse theme, so we selected a gas-fired chitwood smoke broiler that uses only a small amount of wood chips for the flavoring," Relethford says. "We also changed the smoker to a gas-fired smoker with wood chips for flavoring. These changes kept the look, feel and flavor the university was looking for, and removed the solid fuel aspect. We reduced labor and operating costs and provided a higher quality product."
Team members also use a six-burner range for sauces, a flattop for egg scrambles, vegetables and breakfast sandwiches, a charbroiler for egg scrambles, sausages, salmon and burgers and fryers for frickles (fried pickles), hush puppies, waffle fries and potatoes. A convection oven heats croissants and cornbread and non-smoked muscle proteins. The menu also features macaroni and cheese.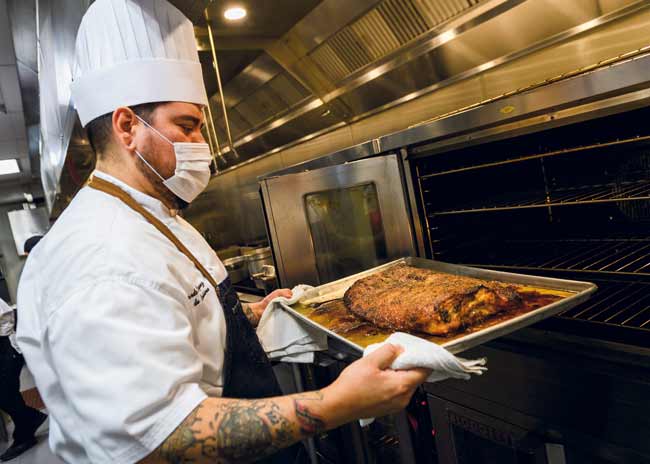 A chef checks on pork cooked in the smoker.
Food Waste and Sustainable Features
HDH Dining Services brought in University of California San Diego's first anerobic digester. It diverts more than 1,000 pounds of food waste per week from the landfill. "Reducing dependency on fossil fuels, it transforms waste into biogas," Palmer says. "As an added bonus, it also produces organic fertilizer for the campus and fuels the outdoor fireplace located at The Rooftop."
Other practices include a single-tank dishwasher that reduces water usage throughout operation. A compost program sends food scrap to a local composting plant with some compost sent directly to an anaerobic digestor on location that provides gas to the fireplace on The Rooftop patio.
A new digital program at Restaurants at Sixth allows the team to closely monitor all HDH dining locations' strict food safety and sanitation practices, Palmer says. Every two hours dining staff receive a prompt to complete sanitation checklists and use a Bluetooth probe thermometer to record temperatures of hot and cold items held on the line. The system allows team members to track each menu item over days, weeks and months.
Thankfully, the project team is finally in a position where it can look back and appreciate all it has accomplished. Guests' positive feedback and frequent attendance affirms the team's hopes for continued success.
About the Project
Opened: February 2021
Scope of project: A new campus dining facility that spans three floors of a mixed-use building. It includes a main kitchen space, a retail market and espresso bar, a large dining hall with multiple restaurant concepts, and an indoor/outdoor barbeque and smokehouse.
Equipment investment: $2.2 million
Website: hdhdining.ucsd.edu
Size:
Main dining: 4,911 sq. ft.
Patio dining 2,371 sq. ft.
Kitchen prep: 2,065 sq. ft.
Rooftop main area: 1,351 sq. ft.
Rooftop outdoor seating: 1,258 sq. ft.
Seats: 433 total
Average check: $11.19
Total annual sales: $6.1 million — 74% of orders come through an app
Daily transactions: 3,127
Daily revenue: $35,000
Hours: 10 a.m. to 11 p.m. daily
Menu concepts and specialties:
Crave: Plant-forward platform
Makai: Chef-curated poke bowls and build-your-own custom meals
Noodles: Ramen and soups
Wolftown: Classic taqueria, including burritos and burrito bowls
The Rooftop: A modern barbecue joint that becomes a brunch space on weekends with a rotating pancake menu, smokehouse hash and dalgona (whipped) coffee
Staff: 32 full-time employees; 120 student employees
Total project cost: $627.6 million for the full project, North Torrey Pines Living and Learning Neighborhood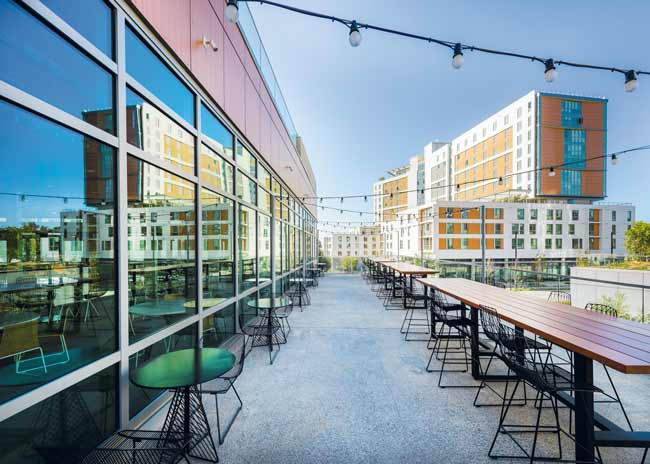 Seating at The Rooftop offers expansive views of campus.
Key Players
Owner: University of California San Diego; Housing, Dining and Hospitality (HDH)
Associate vice chancellor, UC San Diego HDH: Hemlata Jhaveri
Senior director, Campus Dining: Jeffrey Palmer
Associate director of Operations, HDH Dining Services: Leo Acosta
Associate director of Business Development and Planning, Dining Services: Ralph F. Dauphin
General manager, Restaurants at Sixth: Matthew Seiler
Senior dining project and purchasing manager: Tom E. Clarke
Senior executive chef, HDH: Vaughn Vargus, CEC, CCA
Chef de cuisine, Restaurants at Sixth: Stephen Clickner, CCC
Architects:
HKS, San Diego: Thom Greving, FAIA, retired principal; Niel Prunier, vice president, Venues, Sports and Entertainment; Alex Chinderle, associate; Dan Considine, senor construction administrator
Safdie Rabines Architects, San Diego: Eric Lindebak, RA, partner; Taal Safdie, AIA, founding partner; Ricardo Rabines, founding partner; Mark Mulhair, associate
Interior design: Safdie Rabines Architects
Foodservice consultants: Orness Design Group Inc., San Diego: Ken Relethford DBIA, LEED AP, president and senior foodservice design consultant; Paul DiFebbo, principal, senior designer; Bret Hartung, foodservice consultant; Simon Baer, construction project manager
Construction: Clark Construction, San Diego