The first new dining hall on campus in 49 years, Yahentamitsi Dining Hall at the University of Maryland completed an 11-year new-build project when it opened in 2022. The nearly 68,000-square-foot all-you-care-to-eat facility can serve up to 15,000 guests daily.
"During those 11 years from concept ideation to opening, the project team had ideation sessions, tours to other schools and food halls, and even a full day in Orlando going to every dining outlet at theme parks, resorts and Disney Springs in a single day," says Joe Mullineaux, FMP, interim director, Student Affairs division, Dining Services. "We also went to two NAFEM shows for this project. And COVID-19 hit just as we were breaking ground, so that was a new experience, as well."
The lobbies and parts of the dining area are dedicated to popular exhibits and education about campus heritage. Yahentamitsi's educational elements help to teach the University of Maryland community about the Piscataway people, utilizing maps, artwork, timelines, treaties and artifacts from precolonial times to present day.
Photo by Keith Isaacs, Keith Isaacs Photo. Photos courtesy of University of Maryland
In the first half of the fall semester, Yahentamitsi welcomed more than 2,000 additional visits each day compared to the former dining hall. Many of these guests live in the new adjacent resident halls, and others came from across campus to experience the new dining hall at the end of the fall semester. The extra guests settled to about 1,000, and that number held strong for the start of the spring semester.
"Yahentamitsi" translates to "the place where you go to eat" in the Algonquin language spoken by the Piscataway people. The University of Maryland and most of the surrounding land on the western shore of the Chesapeake Bay is the ancestral home of the Piscataway people. The university wanted to acknowledge their lands, history and culture by naming the new dining facility in their honor. Dining Services, the Division of Student Affairs, faculty, students and campus leaders collaborated with Piscataway elders currently living in Southern Maryland to select the name and identify ways to tell the story of the rich history of the Piscataway people.
"Our menu offerings and building design elements celebrate the culture and tell the story of the Piscataway tribal community," says Colleen Wright-Riva, interim assistant vice president for living and learning. "The new dining hall serves as an important reminder that our university is built on sacred land, and I can't think of a better way to foster our commitment to diversity, equity and inclusion than to begin with acknowledging our past."
A chef cooks noodles at the wok station. Photo by Joe MullineauxOne of the project's main goals was to build in flexibility to allow the Dining Services team to create diverse menus. "We want this new dining hall to have production capabilities to serve other dining halls as well," Mullineaux says.
In 2001, a tornado destroyed a University of Maryland dining hall. "While we never want to imagine anything like that happening again, we included a backup generator for all of the walk-in refrigeration, some of the exhaust hoods and the beverage bars so we could continue to operate with little disruption," Mullineaux says. In a situation with a long-term power outage, staff can also bring in a tractor-mounted generator and plug it into the building so 80% of the power would be restored with the two generators.
The neutral stance of the architecture itself, as a frame and enclosure for the functional purpose of sharing a meal, means that concepts could change over time without requiring as much change to the architecture and/or infrastructure, says Eric Zahn, AIA, LEED AP, associate principal at Ayers Saint Gross, Baltimore. "We didn't want to overdesign, but at the same time we needed to convey variety."
Ceilings, tilework, lighting and countertop materials are generally neutral and similar along the main meandering circulation. "Subtle differences in tile pattern, texture and graphic design features offer clues to the function of each microrestaurant in the front of the house," says Zahn, who adds that the building earned LEED Silver certification.
The themed platforms can function independently from the main kitchen. "Much activity behind the counter spaces is on view to the customer in these specialty platforms," Zahn says. "Even platforms that handle classic entrees have a lot of visibility through the main kitchen. The events taking place within become almost more important than the architecture of the space."
Creating destination platforms spread out throughout the dynamic all-you-care-to-eat servery presented challenges. "With such an elongated building, some of the platforms, like Joes Grill and Breakfast All Day, were forced to be further away from the main back-of-house kitchen than the other platforms," says Greg Boguniewicz, director, Ricca Design Studios, Greenwood Village, Colo. "This made it vital to get the size of the platforms correct so the staff can get through the various dayparts. Cooking, storage and staging all had to be right-sized so operations would not be hindered without quick access to the back of the house. However, we also maintained a large artery running north and south in the building so these remote platforms could easily access the back of the house when needed without crossing through seating areas."
Yahentamitsi Dining Hall Overview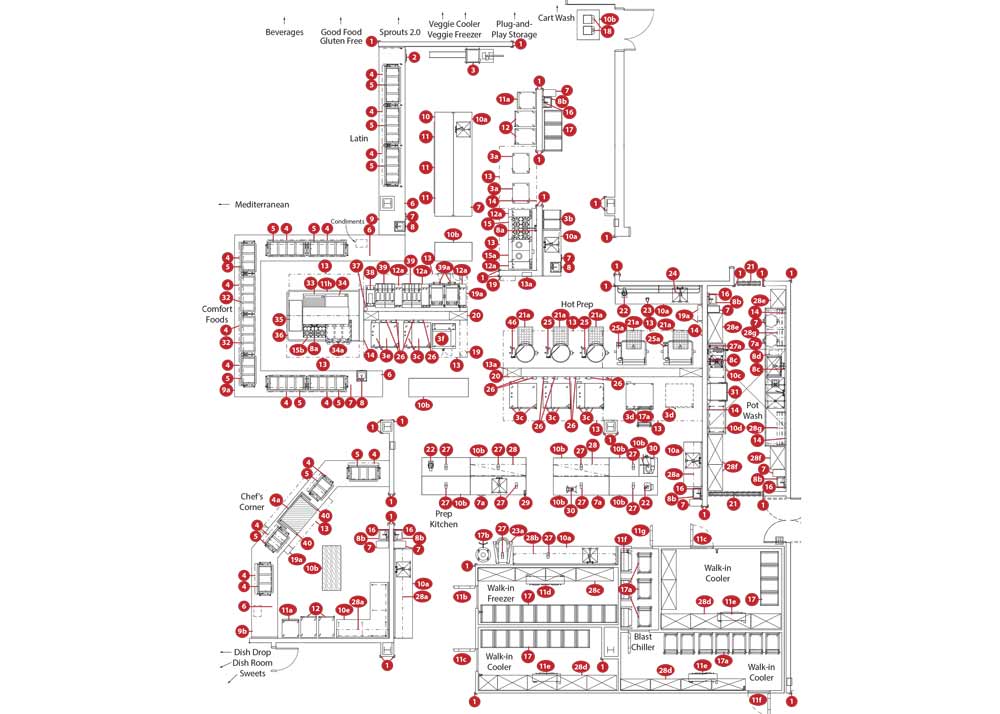 Download the Floor Plan Equipment Key here.
Operational Efficiency and Back-of-the-House Production
The visibility of the culinary team not only pleases dining guests but also Michael Norman, executive chef at Yahentamitsi. "This operation is built on community," he says. "Employees love coming to work. The managers like being part of the team. We make students very happy. Staff want to be better and better in pleasing students, and this drives me to be better."
Norman believes the operation's efficiency results from constant collaboration among the chefs and ongoing training for all team members, who have to learn about new menu concepts for the new platforms.
The building contains two loading docks. One, at the lower level, handles incoming food and supplies. Team members take menu ingredients to a walk-in cooler for meats, seafood and produce, a walk-in freezer and dry storage adjacent to this loading dock. Team members transport ingredients necessary for each day's production to the main level via freight elevator.
"We often view complex site conditions as a challenge for foodservice in terms of service elevators and back-of-house kitchen support," Zahn says. "In this case the sloped topography, the U shape of the building, and our adjacency to an existing parking lot worked to our advantage."
Clamshell grills in in Joes Grill give customers crisp chicken. Photo by Jason Gembicki"For the first time in our dining facilities, we have a cold room for preparing mise en place, including salads, and panning up meats," Mullineaux says. The temperature is set at 40 degrees F. Team members bundle up under white butcher's jackets to stay warm. The room, which contains prep tables, sinks, choppers, a hand mixer, an 80-quart mixer and a slicer, connects with a walk-in cooler.
"We have 20 to 30 composed salads that go to various stations, so we're able to keep everything crisp in this cold room," Norman says.
A secondary trash and recycling dock on the main level, which is
convenient to the kitchen, serves sanitation and waste-hauling needs only. "The advantage is that refuse does not travel back down the same elevator and through the service corridors as incoming provisions," Zahn says. "And it means the elevator and service corridor are free to handle incoming deliveries only."
"Complete composting and recycling are huge components of our sustainable practices," Mullineaux says. "About a decade ago, we launched our own farm, and in the dining hall we use produce from the farm in addition to other locally sourced produce. We have a farm manager on payroll and our own tractor. We enjoy a partnership with Maryland Certified Farms to buy organic shell eggs. They must make efforts to reduce runoff pollution into the Chesapeake Bay." Dining Services also partners with the College of Agriculture, which owns a cattle farm, to purchase its Angus beef.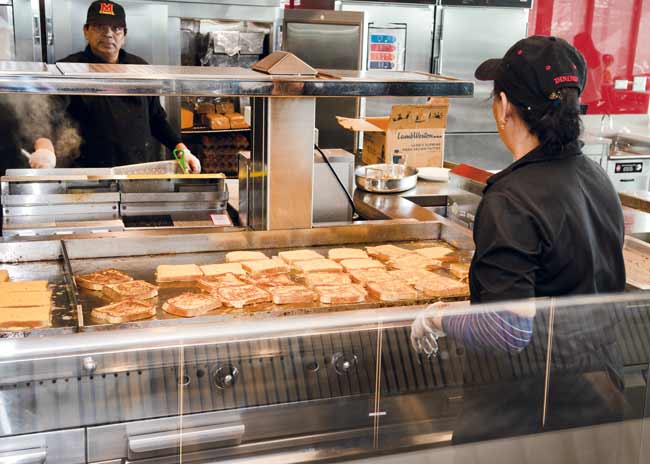 Team members use electric, ventless grills for grilled cheese sandwiches. Photo by Jason GembickiGuests in the front of the house can see all the equipment and production in the back of the house except dishwashing. "The dishwashing area is the most labor-efficient operation we have, with an energy-saving dish machine that we can take apart and clean easily," Norman says. "And gone are the days when we have to figure out why the machine isn't working. It tells us when something is wrong." The dishwash area connects to the dish-drop area in the front of the house.
Project designers faced a difficult challenge when deciding on a location for the dish room given the dining hall features two large seating blocks, one on the north end and one on the south end, with platforms in between.
Due to other program needs and limited square footage, fully centralizing the dish room or creating two distinct drop-off points was not feasible. "The dish return location is off the main public circulation and as close to the center of the plan as possible because the design team was asked to prioritize salad, hydratation and Sweets closer to the entrance/exit," Zahn says. The solution was placing the bakery [Sweets] across from the dish drop as a means of convenience and wayfinding so guests can drop off their plates and grab a treat before heading across campus. "This has proven to be successful," Boguniewicz says. "It doesn't seem as much an inconvenience for guests who choose to sit on the south side of the building."
The main kitchen's hot cooking equipment supports platforms: Comfort Foods, Latin, Chef's Corner and Mediterranean. The equipment includes two 60-gallon and three 40-gallon tilting kettles for cooking pasta and soups. Guests can see these from the serving lines of Comfort Foods and Latin. Comfort Foods guests can also see three double-stacked combi ovens and a smoker that cook proteins and vegetables.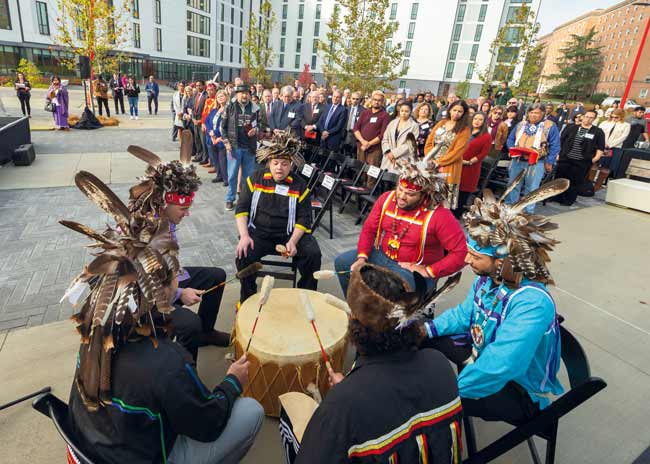 Piscataway drummers perform during the dedication of Yahentamitsi Dining Hall. Photo by John T. Consoli
FOH and Serving Platforms
Biometric readers scan guests' hands to verify they have meal plans, and then gates automatically open at the main entrance. "This speeds queuing over the traditional card swipe method, and the entrance sequence takes up less square footage than would otherwise be required," Zahn says. Even though the area contains five entrance lanes, it requires only one cashier. The sole cashier handles cash or credit card payments and the use of guest meals that are part of the dining plan.
A Piscataway land-blessing ceremony was held at the site of the new dining hall. Photo by Stephanie S. CordleDuring the initial stages of COVID-19 the dining team added handwashing stations to this location for guests in the dining room so they don't have to go to restrooms. The stations sit next to the infused water station and at locations in the dining space.
The platforms feature food shields that convert for self-service or staff service. Most platforms feature a plug-and-play area so they can easily switch out charbroilers, griddles and ranges to support daily menu items. "This was key to the university's goal to have flexible offerings at each platform," Boguniewicz says. "We set rules for the stations, so they all have consistent dimensions and utilities for the equipment. A challenge was ensuring, when certain items were not in use, that there was adequate storage space as well as a clear path of travel so the staff can easily roll equipment in and out."
Sprouts 2.0 features a vegan menu. In addition to hot and cold wells, this area contains a combi oven, fryer, food processor and rice cooker.
Good Food Gluten Free started out in the design process as an allergen-free station. "We moved the allergen-free station to another building and created a separate kitchen and serving area," Mullineaux says. This is a simple serving station serving only gluten-free menu items prepared here. It is separated by a glass wall and door from other areas to prevent contamination by products with gluten.
A sleek design stands out at Comfort Foods. Photo by Keith Isaacs, Keith Isaacs Photo
Comfort Foods contains a cooking island with a griddle, charbroiler, clamshell fryers and four rotisserie cavities. "We load rotisseries from the back and take out finished product from the front so raw and finished products don't mix," Mullineaux says.
The showpiece at Mediterranean, the wood-fired hearth oven installed in a feature wall of blue tile, produces pan pizzas and hearth-baked pizzas. In addition to at least six varieties of pizza daily, this platform features wood-fired Greek fish, baked chicken tetrazzini, pastas with at least three sauces daily, Middle Eastern vegetables, paella, roasted lamb and falafel. Cold wells display kale Caesar salad and other salads.
Customers make their own bowls as part of Comfort Foods platform. The main kitchen can be seen at the right. Photo by Keith Isaacs, Keith Issaccs PhotoWok platform includes three-door, upright glass-door refrigerators to hold vegetables that team members put in pans. Each customer selects items and places them on a plate before handing the plate to a cook. Customers also request a protein, which the cooks add to the mixture before stir-frying. The platform also contains large woks for cooks to make fried rice and stir-fries in larger quantities. Rice cookers heat sticky and brown rice. Customers can also order Korean noodles, pad thai and curries. Hot plates holding carbon steel pans display black pepper chicken, pork, and kimchi fried rice with egg.
Breakfast All Day features two electric, self-contained griddles that have fire suppression systems and don't require an exhaust hood. The center of the grill is hot and the sides allow warming. For create-your-own omelets, which are popular, customers select and place their ingredients in a paper cup/cone, and team members finish them off at two omelet lines. "We also use the grills to cook grilled cheese sandwiches, pancakes, French toast and sausages," Norman says. Team members also use the grills to make tofu and chicken for salads offered at other platforms. Customers also find yogurt, grits and an oatmeal bar at this platform, and the space features a cereal bar, a bagel station and, separated by glass, peanut butter and cereal with nuts.
Latin offers authentic cuisine from many countries, including Peru and Guatemala. Team members use a tortilla maker, loading the dough from the top before it flows down several layers. When finished, each tortilla drops to a conveyor and into a basket sitting in a warming drawer. "This is designed for holding tortillas with right temperature and humidity so they are fresh for eight hours," Mullineaux says. "We've never had to hold them that long, however." Latin also features sauces made on the six-burner range, fried plantains, Guatemalan rice, yuca gratin, "chupe de papa" (Colombian-style potatoes) and a taco bar with Peruvian "aji amarillo" (yellow chili pepper) chicken. Customers also find smoothies and soups at Latin.
Joes Grill serves sports bar menu items but no alcohol. The front displays food in hot and cold wells. The back line contains griddles, a charbroiler and a fry station. Photo by Keith Isaacs, Keith Isaacs PhotoJoes Grill was named to honor two Joes: Joe Mullineaux and Joe Pesce. Both worked tirelessly on this project and contributed greatly to the Dining Services program over the years. Sadly, Joe Pesce passed away in 2018 before the building was completed. This platform features create-your-own and specialty menus as well as a wall of seven 70-inch televisions and a lively color scheme and lighting design to emphasize the sports bar theme. No alcohol is served. At the end of the serving counter, guests can sit, eat and watch the cooking action.
Joes Grill contains a griddle for browning rolls and cooking vegan and plant-based menu items and grilled bone-in chicken. It also holds two clamshell griddles for standard burgers and chicken breasts; a charbroiler for gourmet burgers, sausages, buffalo chicken thighs served with cheddar cheese; and fryers for fresh-cut french fries, tater tots, onion rings and mushrooms.
Team members use the slicer for cutting beef brisket, corned beef, pastrami and roast beef for sandwiches. A conveyor toaster warms sandwiches.
The front line contains three cold wells for a mirror-reverse condiment bar. The front line also contains under- and overhead-heated shelves, which display pans of fried onions and sauteed mushrooms and where team members pick up menu items for delivery to tables.
Seating areas close to the platforms allow guests to be part of the culinary action. Photo by Keith Isaacs, Keith Isaacs Photo
More Platforms
Chef's Corner features team members' recipes from their homelands and Native American-inspired dishes from the Piscataway people. "We have staff who come from 72 different countries and talented chefs who interned in Europe and at Culinary Institute of America and Johnson and Wales," Mullineaux says. "They can show off at this station. One of the most popular cuisines is Indian prepared by a chef who trained in New Delhi." Here, culinary staff cook tandoori chicken thighs and sweet and tangy chicken on the charbroiler. "We use a lot of plug-and-play equipment that is on wheels and has quick disconnects," he adds.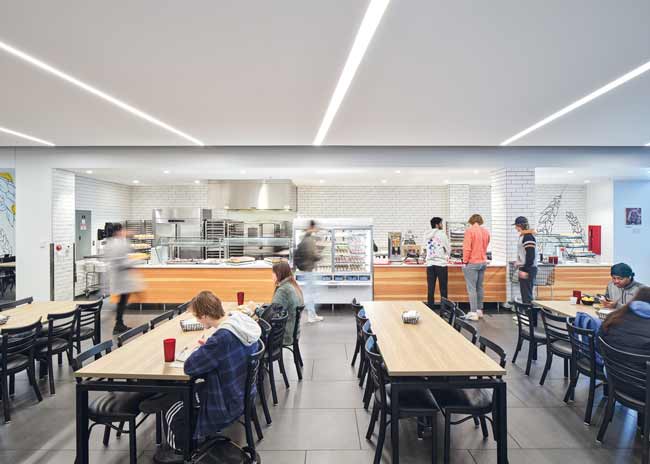 Sweets contains mixers and convection ovens, and offers customers a variety of cookies, pies, cakes and other delectable treats. Photo by Keith Isaacs, Keith Isaacs PhotoHealthy features greens in a salad bar setup. This station also features soups, smoothies and infused waters. "The salad bar is the first thing guests see when they come in the dining hall. And the last thing they see are cookies as they are leaving," Mullineaux says. This section also features dairy-free ice cream and sundaes, frozen yogurt and sorbet.
Sweets contains a convection oven where team members finish off cookies, cupcakes, pies, cakes and pastries prepared by staff in the central bakery. This platform also holds a mixer for staff to make cake batter and waffle mix for self-service, made-to-order waffles, cooked to display an image of the University of Maryland Diamondback Terrapin mascot. Guests also find soft serve ice cream here.
At the beverage station, in addition to coffee, espresso drinks and tea, guests find University of Maryland dairy milk, chocolate pea milk, soy and oat milk, hot chocolate and carbonated and still soft drinks.
As the culinary team settles into Yahentamitsi, Mullineaux admits they would like more seating, especially more than the 30 seats now available in the quiet room. But adding more seating would likely be cost prohibitive. Most important, the team is extremely pleased with the positive reception from guests and the opportunity to highlight international cuisines and those from the region's Piscataway people.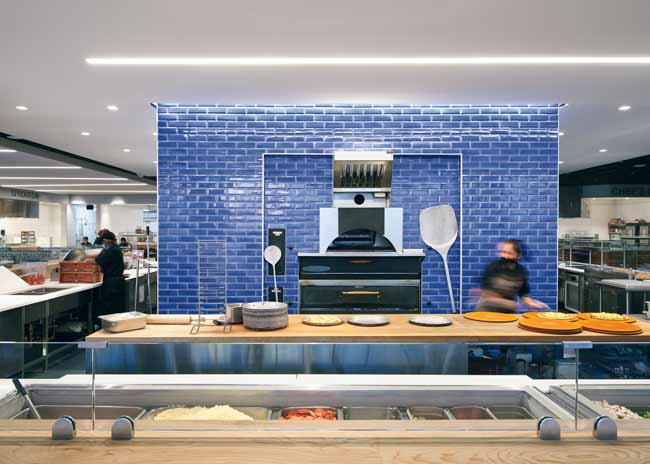 Blue tile calls attention to the hearth oven at Mediterranean. Photo by Keith Isaacs, Keith Isaacs Photo
About the Project
Opened: August 2022
Scope of project: Complete construction of first new resident dining hall at the University of Maryland in 49 years
Website: dining.umd.edu
Construction: September 2019 to July 2022
Total size of facility: 67,774 sq. ft.
Seating: 14,320 sq. ft.
Dish room/pot wash: 2,024 sq. ft.
Serving platforms: 7,505 sq. ft.
Back of the house, lower level: 3,467 sq. ft.
Back of the house, level 1: 8,900 sq. ft.
Total guest seats: 903
Serving platforms and menu concepts: Action platforms, including Sprouts 2.0, Comfort Foods, Mediterranean, Wok, Healthy, Sweets, Breakfast All Day, Good Food Gluten Free, Latin, Chef's Corner and Joes Grill. In addition, behind Breakfast All Day sit self-service stations for bagels, cereals, peanut butter and jelly, and doughnuts. Other stations offer make-your-own waffles, make-your-own grain bowls, ice cream, sundaes and beverages.
Daily transactions: 12,000 to 15,000 meals
Staff: 69 full-time; 261 part-time during academic semesters and 101 students
Hours of operation: 7 a.m. until 9 p.m., Monday through Friday; 10 a.m. until 9 p.m., weekends and holidays. On weekdays, some concepts do not open until 9:30 a.m.
Total design and construction costs: $45 million
Total foodservice equipment cost: $6 million
Funding: 100% Dining Services revenues
Sweets contains mixers and convection ovens, and offers customers a variety of cookies, pies, cakes and other delectable treats. Photo by Keith Isaacs, Keith Isaacs Photo
Key Players
President: Darryll Pines, Ph.D.
Vice president for student affairs: Patty Perillo, Ph.D.
Executive director of planning, design and construction: Bill Olen
Interim assistant vice president for living and learning: Colleen Wright-Riva
Interim director, division of Student Affairs/Dining Services: Joe Mullineaux, FMP
Senior associate director for Dining Operations: Mike Fry
Assistant director for Dining Facilities: Greg Thompson
Dining Services senior executive chef: John Gray
Assistant director at Yahentamitsi: Jason Comoglio
Executive chef at Yahentamitsi: Michael Norman
Quality coordinator, nutritionist and certified allergen trainer: Sister Maureen Schrimpe, IHM, FMP, CAT
Architects: Ayers Saint Gross, Baltimore: Alice Brooks, AIA, LEED AP BD+C, principal; Tim Smiroldo, AIA, senior associate; Eric Zahn, AIA, LEED AP, associate principal
Interior designers: Ayers Saint Gross: Silvia Hasty, AIA LEED AP BD+C, senior associate
Environmental graphics: Ayers Saint Gross: Lindsay Story, creative director; Mindy Dunn, art director; Angie Kwak, associate graphic designer
Foodservice consultants: Ricca Design Studios, Greenwood Village, Colo.: Lenny Condenzio, CEO; Greg Boguniewicz, director
Equipment dealer: TriMark USA