First-generation Italian American Ron Martignetti had the desire to open a high-end, unique Italian restaurant.
First-generation Italian American Ron Martignetti had a desire to open a high-end, unique Italian restaurant. The restaurant, Sogno, occupies the first floor of an office building in Woburn, Mass., just outside of Boston. His real estate investment firm, Martignetti Real Estate, owns the property. Martignetti also has a background in real estate, lodging and entertainment venues.
"I wanted Sogno [pronounced sō-n-yō], which translates to dream in Italian, to be the place to gather with family and friends over a delicious meal inspired by the culture, history and warmth of Italian hospitality," Martignetti says. "I wanted guests to feel welcome to come together around the table and return again and again. And, I wanted everyone working on the project to feel they were working on something unique and special."
Photography by John Janus
Two restaurant advisors, Santino Bordonaro and Tim Kirwan, helped formulate the vision for the restaurant. They toured restaurants and discussed the vision with father-son team Ron and Mark Martignetti. Overall, the goal was to create a warm and welcoming space, a restaurant where guests could feel as comfortable as possible.
"The design intent was to create an elegant, warm and inviting interior with full-height, stained-oak walls, brass-framed antique mirrors and well curated, soft lighting," says Robert Buckley, project designer for this project, Niemitz Design Group Inc., Boston.
"We had an 8,900-square-foot blank canvas to work with," says John Janus, project manager and sales, B&G Restaurant Equipment, Westwood, Mass. "Ron spared no expense with his design and vision. COVID did get in the way. We started this project in 2019 and were ready to break ground when COVID struck in 2020. We were delayed over a year and didn't open until September 2022."
The menu offers everything from Neapolitan-style pizza to an array of high-end cuisine featuring dishes from areas in northern Italy near the Swiss border. And the restaurant includes a large wine cellar with wines from all over Italy.
Upon entry, guests see a 30-seat bar featuring black marble with dramatic gold veining sourced from Italy. Unique, geometric tiles in black, gray and white highlight the bar. The tile transitions to a warm, complementary white oak plank flooring. The 10-foot-high coffered ceilings feature stained wood beams.
"Moving further into the space, mahogany-stained tabletops and sumptuously upholstered, diamond-tufted booths and banquettes of various configurations offer intimate dining experiences," Buckley says. The open kitchen, featuring imported Italian black-and-white marble counters, allows guests to enjoy the well-coordinated restaurant team's activity as well as the signature pizza oven and prominently featured charcuterie station.
Sogno also contains two private dining rooms. One is a centrally located, glass-enclosed space with 10 seats, nestled between the bar and the main dining room, that features an up-lit gold leaf cove ceiling. The other, a 48-seat private dining room, showcases a fireplace and tufted leather wall panels. "Ron said he wanted leather walls after seeing them in a 1960s James Bond movie," Janus says. The wine cellar, which holds 2,500 bottles, is also encased in glass.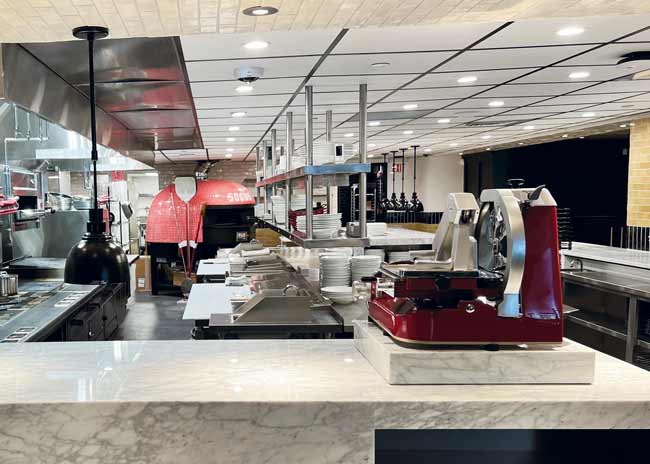 A manual-crank slicer attracts attention at the expo kitchen. The pizza oven is in view.
Floor Plan
Download the Floor Plan Equipment Key here
Back-of-the-House Production
Food arrives at a back-door loading area. Since the other tenants are mostly professional offices that house dentists, attorneys and real estate brokers, the loading area primarily serves the restaurant.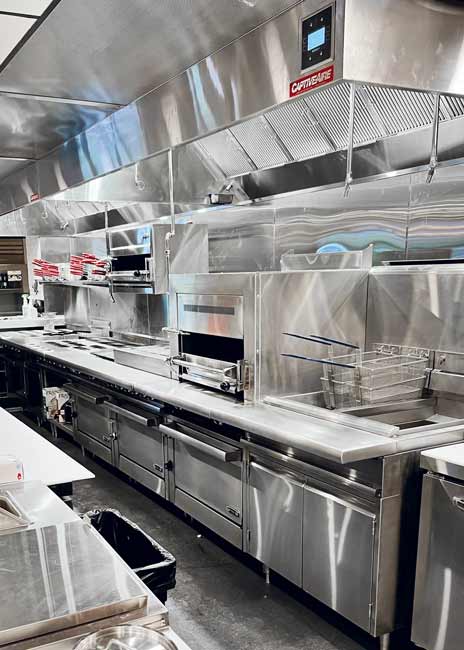 Staff members can work multiple stations on this expo line.
One walk-in cooler stores produce and other menu ingredients. The restaurant also includes another walk-in cooler for front-of-the-house beverages. With no basement space available for dry storage, a small room near the kitchen was designated for dry storage. "But half of this space was taken up by IT equipment, leaving little room for wire shelving," Janus says. "So we utilized stainless-steel wall shelves anywhere and everywhere we had space. We also utilized the manager/chef office to place wire shelving. Also, an outdoor storage shed was built near the kitchen receiving door."
The space did not have room for a walk-in freezer. "We found a few spots for a couple of single-door, upright freezers," Janus says.
"We use freezers to store gelatos and sorbets and not much else because we prepare menu items all from scratch," says Jason Maynard,
executive chef.
Staff prepare garde manger in a kitchen space with tables and sinks. Here they cut vegetables and proteins, including meats, poultry and fish. Pastry chef Emi Kozak and her team also use the cold prep area to make pizza dough and breads with a spiral mixer, as well as dough for biscotti and cakes using a planetary mixer. They also use a proofer for bread.
The kitchen also contains a 30-gallon tilt skillet that staff use to prepare bulk portions of sauces and stocks, a double-stacked combi oven for roasting vegetables and proteins and baking breads, and a four-burner range with a convection oven beneath for making risottos and baked menu items.
"The prep kitchen is in the room directly behind the main front-of-the-house cooking line," Janus says. "This helped us tie in the hoods, duct work and fire suppression systems."
Staff place garde manger and cooked menu items in containers and then into coolers so they are ready for use. They take some ingredients directly to the refrigerated rails and ambient storage in the front-of-the-house expo kitchen.
Front-of-the-House Expo Kitchen and Bar
Customers see the entire display kitchen, including the cookline, pizza prep and charcuterie prep. They don't see the back-of-the-house prep kitchen or warewashing. "The expo kitchen's equipment sits in one line so staff members don't have to take many steps," Maynard says. Six customers can sit at the counter and watch the kitchen action up close.
The initial design called for a chef's suite in the middle of the kitchen. "This proved to be problematic because it didn't have a good flow and was fragmented. It didn't allow for an open kitchen like Ron wanted," Janus says. "And it was cutting off the view to the pizza oven, so we redesigned the kitchen to have a straight cooking line with cold/plating stations across from the line."
The kitchen designers ceiling-mounted the double overshelf over the cold stations and plate cabinets behind them. "This gave it a better cooking and expo flow," Janus says. "It also enabled us to showcase the pizza oven much better."
A 2,500-bottle, glass-enclosed wine cellar creates an intriguing visual display.
The main cookline contains a double pasta cooker sandwiched between two 6-burner ranges for sauteing pasta dishes. A high-mass finishing oven sits beneath one range. An open base for storing saute pans sits beneath the other range, which staff also use for heating side dishes such as potatoes, Brussels sprouts and beans.
Next on the line is a plancha, which staff use to prepare meats for broiling. A salamander broiler sits overhead, and a finishing oven sits below, next to a charbroiler for fish, chicken and other proteins with a standard oven beneath, as well as a chop house infrared broiler for the thicker cuts of beef, with a high-mass oven base. On the end sits a double fryer station for calamari and the ricotta-based zeppole dessert.
The pizza station contains tables for culinary staff to roll out dough prepared in the back of the house, dress it with sauces and toppings and place it into the pizza oven. "The oven with a revolving deck can heat up to 900 degrees F, but we use it at about 720 degrees F depending on the day's temperature and humidity," Maynard says. Staff prepare 12-inch pies for adults and 10-inch pies for kids. The menu offers six varieties daily.
"How the equipment is placed, and the type of equipment, are all very important," Maynard says. "But how the staff works well together is what determines success. We're very fortunate to have a staff that is 100% committed, and they have a great attitude."
With an eye toward running a sustainable restaurant, the culinary staff tries to use all the ingredients in menu items; those that aren't eaten are sent home with staff. In the summer, staff source local ingredients from farmers as much as possible.
The dish room is accessible from both the prep and front kitchens as well as from the dining room. The room contains a ventless conveyor washer with a custom stainless soiled drop island with a double rinse sink and an undercounter glass washer for overflow glassware and stemware.
The full-service bar uses a wall bar die system. "This adds to the sleekness of the design by removing clusters of legs under the stations," Janus says. "The underbar equipment is duplicated on both sides, making the bar easily operated."
The design team agrees with Martignetti that this is a signature project for which they are very proud. "Ron and his son were such great people to collaborate with," Janus says. "They were helpful, accommodating and understanding when things didn't go exactly to plan. Whenever an issue would arise, we collectively came up with a solution that worked for everyone — owners, trades and the chef."
The expo line allows staff members to move efficiently.
About the Project
Opened: Sept. 21, 2022
Scope of project: A new-build restaurant in a five-story office building including front-of-the-house display kitchen and main bar, and back-of-the-house kitchen and warewash.
Equipment investment: $700,000
Website: sognoitalian.com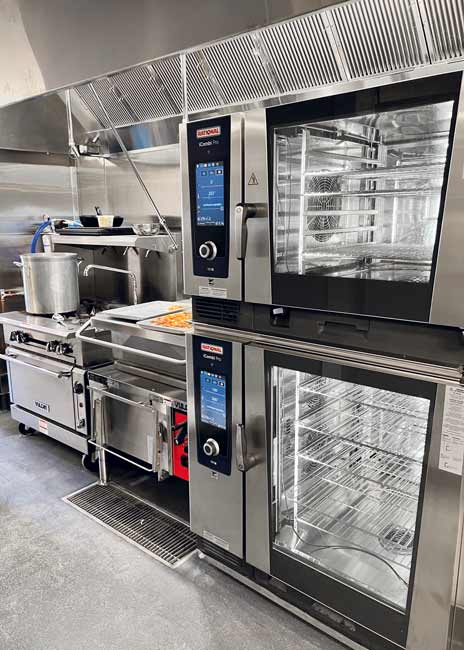 In the back of the house, a range, a tilt skillet and combi ovens support menu production.
Size: 8,900 sq. ft.
FOH: 1,672 sq. ft.; includes the expo area, cooking line and pizza station
BOH: 800 sq. ft.
Warewash: 576 sq. ft.
Custom wine cellar: 400 sq. ft.
Private event space: 528 sq. ft.
Bar: 561 sq. ft.
Seats: 300-plus inside and 45 outdoors
Hours:
Monday through Thursday: 5 p.m. until 9 p.m.
Friday and Saturday: 11:30 a.m. until 10 p.m.
Sunday: 11:30 a.m. until 9 p.m.
Menu concept: Authentic Italian cuisine and Neapolitan pizza
Staff: 60, including managers
Key Players
Owner: The Martignetti Group, Woburn, Mass.
President: Ron Martignetti
Project manager and part of family ownership: Mark Martignetti
General manager: Kelly Sundberg
Executive chef: Jason Maynard
Architect: Niemitz Design Group Inc., Boston: Peter Niemitz, president and lead designer for the project; Robert Buckley, project designer for this project
Interior design: Niemitz Design Group
Equipment dealer and design: B&G Restaurant Equipment, Westwood, Mass.; John Janus, project manager and sales
Construction: Martignetti Real Estate; Mark Martignetti, project manager