Ten food stations, two micromarkets and seating throughout the space create a food hall-style experience for employees.
Photos by Jeff YardisTravelers' new Plaza Café on its Hartford, Conn, campus is part of a broad sweep of renovations initiated by Travelers' chairman and CEO Alan Schnitzer. He set out on a multiyear journey in 2017 to enhance Travelers employees' overall work experience.
Travelers completely reimagined its dining facilities to provide employees healthy meal options and a high level of convenience in a communal and interactive environment. Construction on the Plaza Café began in 2019 and was complete in December 2020. Due to the COVID-19 pandemic, Travelers employees transitioned to working from home. "During this time, we repurposed the kitchen space to prepare meals for the community," says Ed Howard, assistant vice president of project management at Travelers. "This helped to not only feed families in need but also kept the company's third-party cafeteria team employed.
Since April 2020, 150,000 meals have been donated to local charities."
When some employees began returning to on-site work in June 2021, they found a renovated, expanded cafe in a food hall-style environment unlike anything they'd seen before. The space includes 10 food stations, along with 2 markets, grab-and-go prepared meals, touchless self-checkout areas, an in-house hydroponic garden, a teaching kitchen for hands-on cooking classes and more, plus seating sprinkled throughout the space.
"The goal for Plaza Café was to create a best-in-class experience for employees and set a new standard in corporate dining," Howard says. "People come in to dine and to relax, recharge and collaborate all day long. It's a warm and inviting space that provides a setting similar to what you would expect if you were having a nice meal with family and friends."
During the planning stages, Edward Arons, FCSI, principal with ColburnGuyette Foodservice Design, presented concept options to Howard and team members from FLIK Hospitality Group. "We landed on the food hall-style concept," he says. "Although this concept is popular in dining today, you may not see it driving the design in a corporate environment with this size population."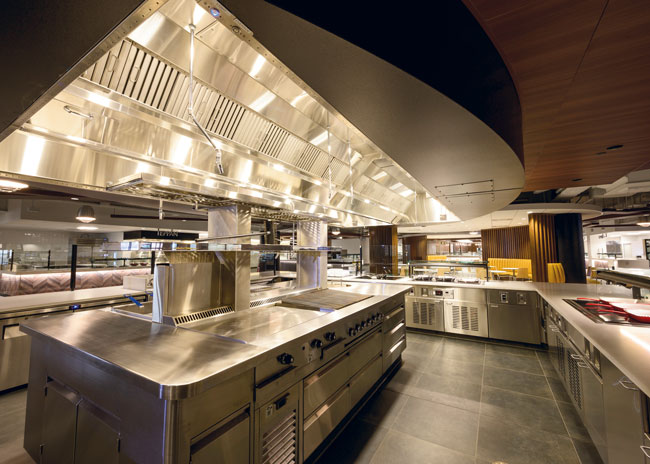 Chef's Table contains an equipment suite in the center of the space.
Project Challenges and Solutions
The project presented several challenges for the architects, including a very large floor plan with a low ceiling height due to the floor structure on the level above. "To foster a sense of space and comfort in such a large space, the plan was subdivided and themed to the spaces one would find in a typical New England home with an emphasis on natural finishes juxtaposed against pattern and color," says Jonathan Metz, AIA, LEED AP, senior associate, project design architect, Perkins Eastman, Stamford, Conn. "We found a balance of natural and industrial where the Machine Age meets a front porch on Walden Pond."
Employees access the cafe by descending two grand staircases and arrive at the foyer lounge area leading to the outdoor plaza. A new glass vestibule allows employees and culinary staff to see the indoor and outdoor dining areas. At the other side of the stairs, a bistro area with a juice/coffee bar provides seating along a wood-paneled wall with decorative mirrors and access to Plaza Market.
Hearth features Neapolitan- and New Haven-style pizzas as well as casseroles.Overhead, the architects visually increased the ceiling height by exposing the building structure and painting it white. Suspended from a structure high above the floor, an abstract pattern of faux wood beams leads the eye horizontally into and around the food hall serving area. The visual and physical centerpiece is Hearth with a wood-fired pizza oven clad in a chimney of hand-forged steel with a rusted patina. The other food stations arranged throughout the space feature similar finishes. Seating areas interspersed between serving stations feature patterned tile floors, while slatted screens partially enclosing these spaces create a sense of privacy.
At the south area of the cafe, a large, raised elliptical ceiling animates an area called the Library, where employees and guests meet. A mirrored tile wall reflects light in an area without an exterior view. To the north, the space opens to light and a view into the Great Room, a multifunctional space with TV monitors that accommodate large town hall meetings and other functions. Along the north- and east-facing windows at the perimeter of the Great Room, designers used lighting and exposed structural elements to create a lower-height trellis.
Despite being relatively low through much of the cafe, the ceiling rises to 14 feet at the center of the Great Room. A large platform rises 12 inches above the rest of the space to emphasize the height of this room. The platform contains both built-in and table seating, allowing diners here to see over people sitting at tables on the main floor area below and to the outdoors. The Study provides additional intimate seating, featuring lower ceilings than the Great Room, wood tables and lounge furniture grouped around a gas-lit fireplace.
"The materials and fabrics in Plaza Café provide a backdrop for spaces designed to be filled with people, animating the space as in a public plaza, imparting a sense of community and renewal," Metz says. Distinct lighting emphasizes various areas, while comfortable seating adds to a more lounge-like environment conducive to informal meetings.
Focusing on sustainability, the design team used energy-efficient features, including LED lighting and a modernized HVAC system. In addition, the facility features an indoor state-of-the-art hydroponic garden and a 100% biodegradable and compostable utensil/food container setup. A rendering company picks up all vegetable fat.
Seating is interspersed throughout Plaza Café.
Food Deliveries and Kitchen Preparation
"Everything in the foodservice operation was designed with accessibility in mind," Arons says. The entire ground floor of the building was demolished except for the existing kitchen. All office areas were removed. Open space adjacent to the kitchen was used mainly to expand into larger dry storage, larger walk-in refrigerators and freezers, and additional workspace.
The kitchen supports Plaza Café and serves as the hub for catering preparation for the Travelers campus. "We customize each catered event and pay attention to every detail," says Chris Rinaldi, resident district manager, FLIK Hospitality Group, Travelers' foodservice provider. "We make sure that we provide an experience that rivals any location outside the building."
Tossed features ingredients for salads. A hydroponic garden at right supports salad stations.After food deliveries arrive at a loading dock on street level, staff take them up an elevator to storage on the building level housing the kitchen and Plaza Café. Storage includes six walk-in coolers designated for raw and prepped menu ingredients and one walk-in freezer. "For holding cold prep, we pre-chill smallwares so there's not quite as big a shock between ambient and refrigerated temperatures, which allows us to keep food at safe temperatures," says Stephen Lopane, executive chef, FLIK Hospitality Group. "All of these coolers, as well as coolers throughout the operation, are electronically monitored for temperature control. If a cooler stops working, a monitor notifies the building service department so professionals working on-site can address the problem."
Staff prepares cold food in areas segregated for raw and prepared items. Cold prep areas contain food processors and slicers. The equipment package in this area also includes blast chillers. "These are now staples in the industry," Lopane says of the blast chillers. "Once you've used them, you can't live without them."
The kitchen's hot food line contains tilt skillets for searing and braising menu items such as Indian curries and sauces; five kettles for making soups and pasta; a charbroiler for roasting peppers, marking chicken breasts and steaks, and giving flavor to proteins; and a flattop for cooking eggs and fried rice and searing meats for roasting in ovens. Staff use eight open-burner ranges and a triple fryer with built-in filtration.
Staff also use two convection ovens and two convection steamers for baking breakfast pastries and roasting proteins and convection steamers for cooking vegetables and rice. A smoker turns out smoked salmon and pastrami and beef brisket.
"We run a classic kitchen operation, producing food in as small batches as possible and making sure that whether we cook for 5 or 5,000 people, the quality and taste of the food is identical," Lopane says. "This doesn't happen if we take shortcuts."
A conveyor dishwasher sits in the heart of the warewashing area.
The Plaza Café Stations
"All food stations were designed with enough storage and cooking capacity to operate independently from the main kitchen during service," Arons says. Each station contains upright or undercounter refrigerators, undercounter freezers, refrigerated rails and hot holding ovens where appropriate. Strategically positioned shelving assists staff in producing large quantities of food in an ergonomic environment. Equipment selection allows culinary staff flexibility in menu choices and presentation.
"The key to Plaza Café is fully equipped interactive stations capable of producing a la carte meals," Rinaldi says.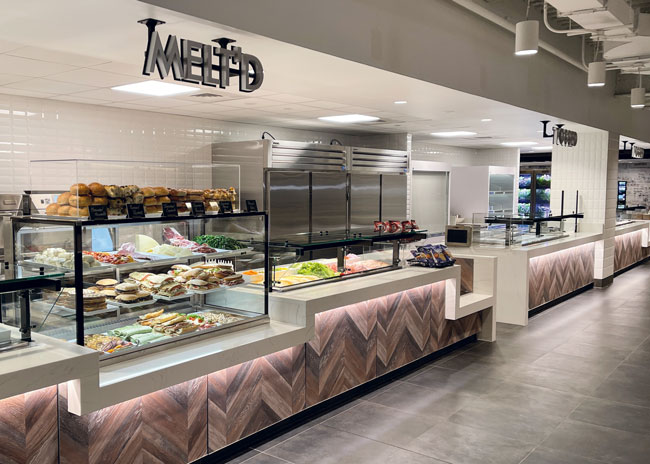 Culinary staff prepare paninis and other sandwiches and wraps at Melt'd deli.The distinct design of each station calls attention to its unique menu offerings. "Each station contains two separate serving lines on the left and right sides to help alleviate lines during peak periods," Rinaldi says. "We can also scale down stations on slower days without the cafe looking empty. We do this with equipment that can serve hot and cold food with the flip of a switch." During peak hours, stations have two setups with duplicate offerings to help control lines and wait times. During off-peak hours, staff can collapse two sides without losing the integrity of the station.
Chef's Table, an exhibition cooking and demonstration station, offers culinary staff an environment to show off their talents. An action serving counter with work sinks and hand sinks supports their culinary presentations. A cooking suite includes a deep fat fryer, a six-burner range, a griddle, a charbroiler and a tandoori oven. "The tandoori oven allows us to produce authentic Indian fare," Lopane says.
Teppan features Tai Pan Asian cuisine such as General Tso's chicken and salt and pepper shrimp that culinary staff cook in three commercial woks. "The wok suite gives chefs the ability to produce authentic stir-fry," Arons says. The platform also contains a rice cooker, a fryer, a two-door reach-in refrigerator and a drop-in heated shelf.
A sushi and sashimi station features a chef who prepares this cuisine while customers watch. The station also contains two undercounter rice warmers, drop-in hot/cold shelves, a drop-in heated shelf and drop-in induction cookers. Menu items include everything from Japanese ramen and Vietnamese pho to Indian broths and tabbouleh.
At Hearth, customers watch staff stretch pizza dough made in the back-of-the-house kitchen. This station features Neapolitan and New Haven-style pies with thin, charred crust and other Italian specialties made in its brick oven, reaching in excess of 700 degrees F. "This oven gives us the ability to produce artisan-style pizzas with great efficiency," Rinaldi says. "New Haven, Connecticut, is the pizza capital of America. So we have to serve pizza that rivals any locations in this state."
In a 3-hour service period, culinary staff can make 120 pizzas. After staff prepare the pies, they place them on heated counters covered by heated shelving. A remote refrigeration rack system supports production.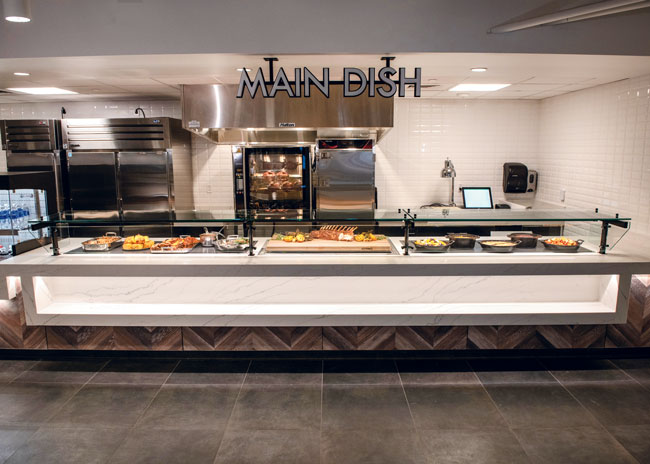 Staff present entrees and other menu items on heated spaces and a wood block at Main Dish. Guests watch the rotisserie fire up chickens and other proteins.Tossed, a made-to-order salad station, displays lettuce and herbs grown in three adjacent hydroponic garden units. Customers also see a display of other ingredients, toppings and dressings and give their orders to a staff member, who assembles the customized salads.
Across an aisle, culinary staff stand inside the double-sided self-service Salad Bar to refresh a display of fresh ingredients held in cold food wells. The soup station connected to Salad Bar contains two induction drop-in soup wells and a countertop ambient display case for several varieties of bread. A hot/cold shelf holds proteins and vegetables.
Melt'd deli contains a slicer, a cutting board and a drop-in frost top for staff to prepare paninis and other sandwiches warmed in a rapid-cook oven. A refrigerated display case allows customers to see the fresh ingredients, and an ambient display case holds bread. A two-door roll-in refrigerator holds ingredients within easy reach.
Customers frequent Mad Char for burgers, grilled chicken sandwiches, house-made salt-brined potato wedges, fries, beer-battered onion rings and a spicy, crispy Korean chicken sandwich. Staff cook menu items on a countertop charbroiler and countertop griddle. A reach-in freezer and fryer complete the equipment lineup here.
Main Dish contains a rotisserie oven and a double-stacked cook-and-hold smoker, in addition to drop-in hot/cold shelves and a hot serving counter. The area also holds a refrigerated display case, drop-in heated shelves, drop-in hot/cold shelves, a two-door reach-in refrigerator and a heated cabinet, all of which give staff easy access to ingredients. Staff carve proteins to order on a carving board. Menu items include rotisserie-style chicken, flank steak, house-smoked barbecue brisket, roast turkey, ham and seasonal roasted vegetables.
For beverages, Mighty Brew contains two espresso/coffee machines, a coffee brewer and a coffee dispenser. The adjacent Juiced displays fresh ingredients that staff use to make smoothies in blenders and juices
in a juicer.
Plaza Market, one of two micromarkets open 24/7, offers hot and cold meal choices, grab-and-go selections, snacks and a large selection of beverages. The other market, The Grove, resides on the other side of the building complex. Mobile ordering and checkout areas support customers throughout the Plaza Café and markets.
"We also introduced a beverage machine that allows customers to order many choices of beverages on their phones," Rinaldi says. "The choice they select directs the beverage machine to automatically dispense the beverage into a cup size of the customer's choosing. This is another example of key technology that will push Travelers forward in the new post-COVID Age."
As customers become accustomed to their new dining experience, they're taking more opportunities to experiment with trying different menu selections and use the facility to meet with others and relax. This supports Travelers' commitment to its culture and recognition of the importance of its employees.
Floor Plan Equipment Key
About the Project
Opened: June 2021
Scope of project: Renovation and addition to Travelers' Hartford, Conn., campus food venue in the Plaza Building
Website: travelers.com
Size: 50,000 sq. ft. of renovated space in the Plaza Building that includes six training rooms and five conference rooms and 16,000 sq. ft. for dining and seating
Seats: 700
Daily transactions/covers: Up to 5,000 during lunch
Menu concepts: Chef's Table action station; Teppan with Asian cuisine and sushi; Hearth with pizza and casseroles; Tossed with salads and grain bowls; Salad Bar featuring greens, soups, breads and rolls; Melt'd for deli menu items; Mad Char with burgers, grilled sandwiches, chicken sandwiches, fries and onion rings; Main Dish; Juiced; and Mighty Brew. Two micromarkets: Plaza Market and The Grove, located on the other side of the building complex.
Hours:
Plaza Café: breakfast, 7 a.m. to 9:30 a.m. and lunch, 11 a.m. to 1:30 p.m.
Mighty Brew and Juiced: 7 a.m. to 4 p.m.
Plaza Market: 24/7
Staff: 60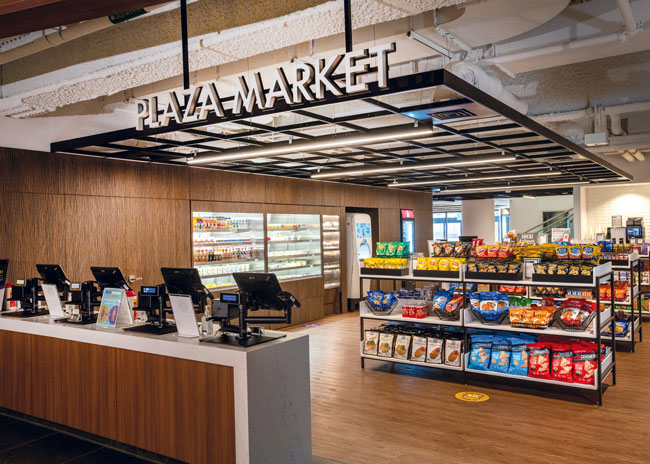 Plaza Market stays open 24/7 and offers snacks, beverages and hot and cold menu items. Guests easily place orders on screens.
Key Players
Owner: Travelers, Hartford, Conn.
Chairman and CEO: Alan Schnitzer
Executive vice president and chief administrative officer: Andy Bessette
Assistant vice president of project management: Ed Howard FLIK Hospitality Group: Scott Davis, CEO; Andy Mazzella, regional vice president of operations; Bill Chodan, senior vice president of culinary operations; Chris Rinaldi, resident district manager; Stephen Lopane, executive chef
Architect and interior design: Perkins Eastman, Stamford, Conn.: Mark Van Summern, principal in charge; Shannon Cole, associate principal, project manager; Jonathan Metz, AIA, LEED AP, senior associate, project design architect; Helene O'Dwyer-Garcia, senior associate, project interior designer; Elizabeth (Tina) H. Greco, senior associate; and Hisaharu "Hisa" Murashima and Laura Kochan, both no longer with Perkins Eastman
Foodservice consultants: ColburnGuyette Foodservice Design, Rockland, Mass.: Ed Arons, FCSI, partner/design principal; Peter McGillicuddy, senior associate; Joshua Labrecque, technical project manager
Equipment dealer: Singer M. Tucker, Paterson, N.J.
Structural engineer: Szewczak Associates Consulting Engineers, North Avon, Conn.: Richard Szewczak, principal and partner
MEP engineer: Acorn Consulting Engineers Inc., West Simsbury, Conn.: W. Mark Gendron, PE, LEED AP, president
Construction: Bartlett Brainard Eacott Inc. (BB&E), Bloomfield, Conn.
Senior construction project manager: CBRE, Hartford, Conn.: Joe Lagana
Ed Arons, FCSI, partner/design principal, ColburnGuyette Foodservice Design. Arons joined this firm in 1997 as a CAD technician. He progressed from project manager, senior project manager and senior associate to principal and partner in 2018.
Ed Howard, assistant vice president of project management, Travelers. Before rejoining Travelers in 2018, Howard oversaw major renovations from concept through implementation at the headquarters of companies such as Goldman Sachs, JP Morgan, Fidelity and Citi.
Stephen Lopane, executive chef, FLIK Hospitality Group. Lopane joined FLIK in 2011. Prior to Travelers, he worked at Aetna, another FLIK account.
Jonathan Metz, AIA, LEED AP, senior associate, Perkins Eastman. Metz joined the firm 15 years ago. He brings 45 years of technical and design expertise to projects including workplace and office, retail, mixed-use facilities, clubs, restaurants and residences. He is a member of Perkins Eastman's Green Committee.
Chris Rinaldi, resident district manager, FLIK Hospitality Group. Since joining FLIK in 2011, Rinaldi's positions have included foodservice manager, catering director, general manager and his current position. In addition to Travelers, Rinaldi also worked at Aetna and now supervises foodservice at both and other businesses.