Guests dining in The Penthouse at The Summit Club of Tulsa, Okla., enjoy a 300-degree view of downtown Tulsa and its spectacular sunsets. Located on the 32nd floor of the Bank of America building in the downtown area, The Penthouse is the third part of this three-floor club's major renovation. Part One and Part Two took place on the club's 30th and 31st floors.
Photos by Christina Winkle, Capture the Moment."In operation since the 1960s, the three-story club is a private member-only dining club," says R. Jared Jordan, CEO and general manager, The Summit Club, also called The Summit. "The Penthouse is one of Tulsa's oldest surviving fine-dining destinations and a true culinary gem in our growing cityscape."
The mission of The Summit Club's renovation project was to update the club, bringing it into the 21st century by focusing on both the design and functionality of all three floors. The owners wanted to reach a younger generation of professionals and new members while also elevating the club's look and feel to match the high standards of service and food that have long been cornerstones of The Summit Club experience.
The Summit Club owners also wanted to provide a foodservice experience that isn't available elsewhere in the area. "The Penthouse is the jewel of the project, with everything from a raw bar to a flambé station," Jordan says. The previous renovation took place from 2008 to 2009.
Guests find a ballroom on the 30th floor, casual dining on the 31st floor and a more forward-thinking a la carte dining operation at The Penthouse. Renovation planning for The Penthouse began in 2018, and work began in 2021. The opening was delayed until August 2021, however, because of the COVID-19 pandemic restrictions and supply chain issues such as shipping.
"The project as a whole was extremely challenging primarily due to its location 30-plus stories up on top of a high-rise building," says the project's foodservice consultant Eli Huff, FCSI, principal and owner, SFG Consulting. "Coordinating delivery and installation of the new equipment and especially the new walk-in cooler and walk-in freezer was a challenge. Plumbing and electrical design coordination for all the kitchens, bars, bathrooms and beverage stations took hundreds of hours of coordination. The age of the building also provided some challenges because many of the past remodel's contractors in the 1990s and 2000s had just left 20- to 30-year-old electrical wiring and plumbing chases in the walls." Running the new beer, wine and nonalcoholic draft system and trunk lines up three floors was a daunting challenge, Huff adds.
The cookline and counters allow staff to easily pass menu items through to servers.
Restaurant Features
One of the features elevating the guests' experience is a four-sided, modular island bar that serves as a focal point for guests as they come out of the elevators. With 18 seats surrounding the bar in addition to soft seating, the bar occupies double the size it did before the renovation. "The bar and beverage service are located strategically to ensure servers can get to a refill station for guests and not have to cross the entire dining room for a beverage," Huff says. "The POS stations are located for ease of access."
The main bar features a six-tap draft bar system and a nonalcoholic branded soda draft system.Bar highlights here include a six-tap bronze powder-coated draft bar system and a nonalcoholic branded soda draft system. The draft systems serve all three of the club's floors. Prior to the remodel, staff stood behind the bar and poured all beverages out of bottles or cans. "The draft systems will have a tremendous impact in reducing waste, as the operation will use fewer cans and bottles and that means fewer staff trips to haul that trash down 32 floors," says Huff. "Over time, the draft systems will pay for themselves multiple times over." In addition, Huff says, the systems will provide an increased profit margin per unit sold compared to the cost of a bottle of soda, tonic mixer or beer.
The bar also contains two underbar cocktail stations, a glass bottle cooler, mug froster, glass rinsers, a pass-through wine cooler, an undercounter bar dishmachine, a two-tier liquor shelving lit with LED lights, an espresso machine and an ice machine that produces cubed ice.
Adjacent to the bar sits another standout feature of the restaurant: the bourbon/speakeasy room. Guests access this space via a hidden bookcase door. The menu in this area features high-end and rare bourbons, which sit locked behind glass. An ice ball freezer holds bubbleless, clear ice that has been vacuum packaged by a manufacturer. Bartenders stamp The Summit logo into the ice before serving. "The ice program is used throughout the club," Jordan says. In addition to liquor, guests can order food and dine in this room.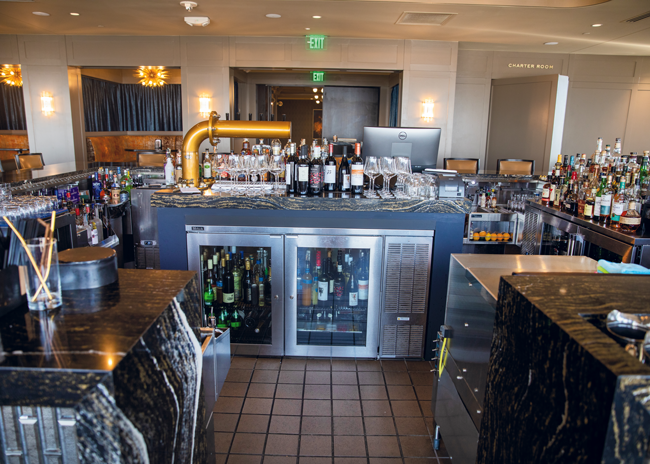 The bar's draft systems and undercounter refrigeration add to the efficiency of the operation.Also adjacent to the bar and the bourbon/speakeasy room, a raw bar fronted with rare marble provides four guests seats at the counter to watch staff members trained as professional oyster shuckers prepare the fresh oysters they take from a cold well that holds crushed ice and sits about two feet above the countertop. Custom cutting boards and a dipper well also support the shucker's tasks. An undercounter refrigerated drawer holds garnishes.
The shuckers also serve air-tight Portuguese-style tins with smoked oysters and others holding 20 fish varieties such as smoked mussels, anchovies, codfish, cockles, octopus and razor shell clams. Two shelves display the tins before the staff member places them in the cold well holding crushed ice that holds the caviar. The fish is served European-style with accoutrements such as house lavash, hand-churned sea salt butter, piquillo pepper relish, pickled shallots, a trio of salts and guindilla pepper.
The raw bar menu also features five types of caviar served with Russian blini, crème fraiche, capers, chives and a farm egg. The staffer also shakes up martinis and serves champagne and sparkling wine. A bottle cooler holds the bubbly beverages.
"All the food and beverage options are done with the vision of how we like to dine at modern restaurants, having fun, interactive experiences with the chefs and having different styles of dining on one floor," says William Lyle, executive chef for The Summit Club. "This is definitely my dream restaurant, with food flowing out to the dining room and action stations where chefs can interact with guests."
A wine bar, which primarily serves as a private dining room, sits at the opposite end of the restaurant. A table seating 12 guests provides a private sampling and dining experience with city views. The wine-tasting room features glass sommelier cases displaying wines. A red wine cooler stands to the left, while the white wine stands to the right. The bourbon and wine rooms came about as a result of input from Jordan, a certified sommelier, and Lyle.
Sitting in the center of the restaurant, a quartz slab fireplace featuring shades of gold, black and white decorates the area. In cool weather, the fireplace helps warm the space. In the dining areas, seating options include square and round tables as well as banquettes and window seating. Intimate dining cabanas sitting higher up on a platform are separated by drapery panels.
"Due to the freight elevator size restrictions, we had the custom banquettes, booths and communal dining tables made in several pieces," says Kendall H. Kalldin, RID, senior designer and project manager, ClubDesign Associates. "The furniture manufacturers made everything look seamless upon installation."
The project also renovated patio dining, which seats up to 10 guests.
Food Deliveries, Storage, Preparation and Entertainment
A well for crushed ice sits in the counter at the caviar and champagne bar. Food and beverages for all the stations at The Penthouse as well as operations on the 30th and 31st levels arrive on the ground floor of the building. Staff place deliveries in multiple walk-in coolers on the 30th floor, one walk-in freezer and dry storage. Staff at each restaurant operation come to the storage area to take what they need for the day. "With a 60-year-old building that rises all the way up to the 32nd floor, the restaurants' flow works from the 30th-floor main kitchen up through the back stairwell and/or freight elevator to the other back-of-the-house locations on the 31st and 32nd floors," Huff says. All back-of-the-house storage is located near the back stairwell which provides the primary transportation for the workflow between floors.
"The flow from loading dock to the multiple-level kitchens is more complicated than a typical restaurant operation and runs through a service elevator," Huff says.
Storage in The Penthouse's kitchen includes a two-sided cooler and a two-door bottle cooler and shelving for condiments such as vinegars, oils, spices, sugar, flour and salt. Storage also includes several undercounter coolers and one undercounter freezer. A large ice machine also sits nearby in the kitchen.
Staff in the back of the house at The Penthouse prepare garde manger for entrees, as well as soups, salads and desserts. Staff working in the 30th- floor kitchen provide backup for The Penthouse with garde manger and sauces. Support for The Penthouse production includes a prep table with a sink, an undercounter refrigerated prep table and a slicer. In this area, staff prepare entrees for Flambé, an interactive display cooking station in the dining area, also using a convection oven, a steamer, two-basket fryer, two six-burner ranges with conventional ovens beneath, a salamander above, a flattop griddle and a chargrill. Entree menu items include dry-aged beef, branzino, half duck, eggplant shakshuka, sablefish, rack of lamb, half chicken and arctic char.
Guests watch the action at the station branded Flambé.
A server worktable, heat lamps and a POS station also support the kitchen and the marble-fronted flambé station. A chef pass allows staff to send menu items easily from the kitchen to the station. Staff use a plancha for searing Wagyu steak and other menu items.
Flambé brings display cooking and interactive experiences to The Penthouse.Adjacent to Flambé, a charcuterie station features cheeses from around the world and housemade charcuterie from two dry-aging curing chambers. Cured menu items include prosciutto di parma aged for 500 days and hand salted twice, in addition to 10-day-cured capicola slow roasted with fennel, coriander, anise and black pepper. The dry-aging chamber also prepares prime black Angus, which is served as an entree.
Another interactive feature of The Penthouse, the chef's table offers guests an opportunity to dine and watch the culinary action in the kitchen. In addition, a waitstaff beverage service pantry adds to staff efficiency and contributes to the dining operation's functionality.
For cleanup, staff drop off dirty plates and service ware at a bus tub dish-drop window. The dishwashing area contains a low-temperature dish machine, a dish rack system, a clean table with an overshelf and a soiled dish table with a scrap sink.
Since its opening, The Penthouse continues to draw The Summit Club members, some of whom have experienced haute cuisine in restaurants around the world and some who are discovering this culinary experience for the first time. "Demand has been great, especially on weekends," says Jordan. "It's tough to get a reservation." Jordan and Lyle couldn't be more pleased with the response.
Floorplan
Click here for The Summit floor plan and key
About the Project
Opened: August 2021
Scope of project: A remodel of a penthouse-level space that is part of a three-story private club. Renovation included a remodeled kitchen, the addition of a caviar and champagne bar, a bourbon tasting room with private member lockers, a wine room, a live action flambé station, dry-aging meat lockers and a chef's table.
Equipment investment: $750,000
Website: summittulsa.com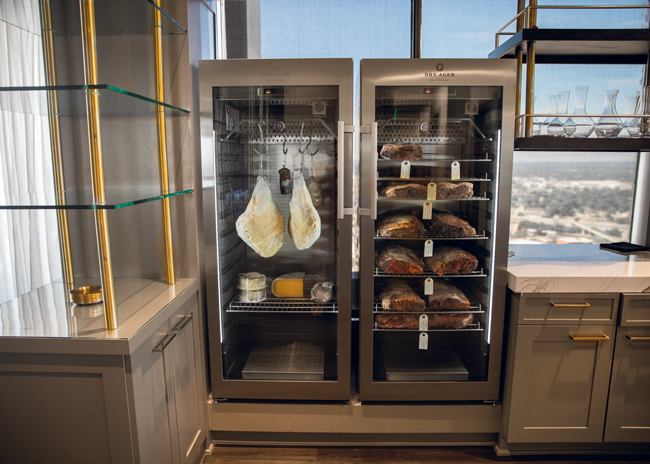 A dry-aging curing chamber allows the staff to offer high-end charcuterie.Location: Tulsa, Okla.
Size: 9,000 sq. ft.
Seats: 120
Average check: $100 to $150
Total annual sales: $1.4 million
Daily transactions/covers: 40 to 70 weekdays; 60 to 100, weekends
Hours: 4 p.m. to 11 p.m., Monday through Saturday
Menu concepts and menu specialties: Raw bar with oysters, caviar and champagne; full haute cuisine menu; hot appetizers and entrees from the flambé station
Staff: 20 to 25 employees depending on time of year
Total project cost: $8.3 million
Key Players
Owner: The Summit Club of Tulsa
CEO and general manager: R. Jared Jordan
Assistant general manager: Derrick Shanklin
Penthouse manager: Kristen Villareal
Executive chef: William Lyle
Executive sous chef: Michael Wilson
Bar à huîtres chef: Michael McGovern
Beverage director: Ashley Sutton
Architect: PHX Architecture, Scottsdale, Ariz.: Erik B. Peterson, AIA, NCARB, president; Andrea Lucarelli, AIA, LEED-GA, NCARB, architect II and project manager
Interior design: ClubDesign Associates, Fort Worth, Texas, and three other cities: John. R. Cochran, owner; Kendall H. Kalldin, RID, senior designer and project manager
Foodservice consultants: SFG Consulting, Tulsa: Eli Huff, FCSI, principal and owner
Equipment dealer: Shepherd Food Equipment, Dallas
Construction: Flintco, Tulsa, Okla.
John R. Cochran, founder, ClubDesign Associates. Cochran founded ClubDesign Associates in 1990 and CDA Global Management in 2018. In 2019, he acquired his first country club, Five Oaks Country Club, outside of Nashville, Tenn., and founded CDA Realty LLC, which develops extra acreage around country clubs for real estate or commercial development.
Eli Huff, FCSI, principal and owner, SFG Consulting. Huff founded SFG, which specializes in hospitality management and design, in 2011. He also owns Salt Food Group. Previously, he held positions including district executive chef/culinary operations coordinator at Union Public Schools in Tulsa and owner/executive chef at Oscar's Gastropub in Tulsa.
R. Jared Jordan, CEO and general manager, The Summit Club of Tulsa. Jordan took this position in June 2017. Previously, he held several positions with and assisted with expansions of Tulsa's Ambassador Hotel. In 2008, he joined Premium Brands Wine and Spirits, and in 2014, he returned to the bar and restaurant business, opening MixCo, a cocktail bar in downtown Tulsa's Deco District.
Kendall Kalldin, RID, senior designer and project manager, ClubDesign Associates. Before joining this company in 2006, Kalldin worked at a large hotel design firm in Dallas. A wine enthusiast, she and her family are starting a vineyard.
Andrea Lucarelli, AIA, PHX Architecture. LEED-GA, NCARB, architect II and project manager. She guides many commercial projects from early design concepts through construction documents, city approval and into construction.
William Lyle, executive chef, The Summit Club. Joining The Summit Club in 2017, Lyle leads the three restaurants and oversaw the renovation of all three floors and kitchens. Previously he held the position of executive chef at Crystal Bridges Museum of American Art in Bentonville, Ark.
Erik B. Peterson, AIA, NCARB, president, PHX Architecture. Starting this firm 20 years ago, Peterson has worked on such clubs as Desert Mountain, PGA West and Pebble Beach Lodge. He is currently working on his third club for Phil Mickelson at Mickelson National Gold Club in Calgary, Alberta.