Eagle Landing is the first free-standing dining hall at the University of North Texas (UNT). With seating for 700 guests, it boasts 16% more seating capacity than the next largest dining hall. "We now have a $25-million building on campus based on food and the food experience," says Peter Balabuch, executive director of Dining Services.
Photos by Joe AkerThe Eagle Landing project team set out to provide the students and community with a dining facility that enhances its made-in-house, fresh food model, which has been evolving since 2009. "Dining used to serve processed foods from the freezer to the oven," says Balabuch. "We've gone to the other extreme: buying the best ingredients, hiring top-level chefs who get to create chef-driven menu items from scratch and
preparing nearly all the food we serve here on campus."
Eagle Landing, named after the university's mascot, replaces the 365-seat Kerr Dining Hall. "Kerr had become outdated in concept and operational efficiency, convenience of staffing the kitchen and serving stations, maintenance of equipment and energy consumption — costing more to continue operation versus a noticeable return on investment of a new facility for the next 50 years," says foodservice consultant Rodney A. Worrell, president of Worrell Design Group Inc. in Houston.
The new dining center, which sits directly across the street from the campus welcome center, contains a kitchen, seven restaurant-style food concepts, three beverage stations and seating on two levels. Staff in the kitchen and serving areas produce up to 4,788 meals per day.
"This dining center helps sell UNT as a campus of choice," Worrell says. "It is planned to be a strong recruitment tool for students determining where they want to go to school," he says. "Parents also are pleased to see the attention given to healthy eating and a wide selection of menu ingredients."
Interdisciplinary collaboration allowed the team to establish sustainability objectives and ensure they were carried out throughout construction.
Careful consideration was given to indoor air quality, which played a major role in material selection. A whole building flush-out was conducted prior to occupancy to reduce exposure to possible pollutants. Strict procedures during construction helped minimize landfill waste and avoid pollution of local storm sewers and waterways. More than 90% of construction waste was diverted from landfills. Water-efficient plumbing fixtures and Energy Star-rated appliances contributed to more than 30% reduction in indoor water use. The project also prioritized local materials with high percentages of recycled content. As a culmination of these efforts the project team is pursuing LEED certification.
"Occupant experience played an important role in the design," Worrell says. "Orientation, ample daylight, access to quality views and window-shading solutions enhance occupant comfort within the built environment but also aid in 10% energy savings." Glass windows provide views inside and out while providing natural light and connections to the exterior.
The kitchen equipment lineup includes skillets, a flattop griddle and fryers.Eagle Landing's entry point provides a wow factor with a monumental staircase connecting a double-height space. "The idea of the stair element was to make it a destination, with integrated seating areas, while visually connecting students to the second level, where a majority of the seating space is located," says Steve Durham, principal in charge at Kirksey Architecture in Houston. At the top of the stair element sits a dramatic cantilevered seating area called the Eagle's Nest as well as other unique seating areas.
Seating areas provide options for dining, socializing and studying. The second floor features a 24-foot-long community table, a quiet zone, seating overlooking the first floor and a table shaped like the UNT diving eagle symbol.
Another key design feature provides acoustics in seating areas that enable students to gather and talk without excessive noise distraction. "It is difficult to control acoustics in large open spaces with a lot of hard surfaces," Camacho says. "We analyzed each of the dining spaces and central gathering areas individually to apply efficient acoustic treatments at the ceiling and mechanical system rather than applying one general catch-all solution for the entire building.
Also on full display in this space are the food concepts. "We're providing as much culinary transparency as we can, as well as allowing guests to customize their menu items by showing more preparation in front of the guests," Balabuch says.
The food concepts use custom branding and unique finishes to give each concept a unique character, similar to the ambience at a food hall. "Key highlights include creating a show around the food concepts that the audience experiences and engages while enhancing the learning component of the food program," Balabuch says.
The material palette features natural hues to accentuate the food concepts. In addition, "a key design feature maximizes lighting at the serving stations to present the food at its fullest potential," says Linda Camacho, senior project coordinator at Kirksey Architecture.
"For instance, the project budget was constantly reiterated in the programming and design phases, which influenced the selection of materials and complexity of building," Worrell says. In addition, the project site was smaller than the project's square footage needs, which influenced a two-story solution.
Avenue A attracts customers who enjoy homestyle food and breakfast all day.
All kitchen and serving stations had to be on one floor to avoid confusion about the location of each of the services. "Clarity from the moment you enter the building was of key importance," says Durham. "Additionally, a separation of services vertically would have created budget issues in terms of duplication of services." Staff had to have direct access at any point in the kitchen to all food serving stations. No dead end or customer backtracking situations were allowed in the physical layout of serving stations. Also, at ground level and adjacent to the kitchen, the fully screened, off-street loading dock area had to be sized for two full-sized tractor trailer delivery vehicles, four trash and recycle dumpsters, as well as an area to place the firewood racks and holders used for the wood-burning grill and smoker in the servery.
Food Deliveries and Production
After taking delivery of ingredients, staff place items into walk-in coolers specified for meat, dairy and produce, a freezer that holds proteins and dry storage.
Customers looking for Latin fusion cuisine frequent La Mesa."The flow of operation is very linear, so staff members don't have to backtrack from the receiving dock to storage to prep to cooking to serving to warewashing to the dock," says Worrell. With the exception of storage and cold rooms, staff do not need to negotiate doors in the open kitchen.
Staff work in a garde manger room to prepare vegetables and fruit. A separate refrigerated meat prep room allows staff to handle meat and use the automated patty maker at safe temperatures. The placement of these rooms gives staff direct access to their respective bulk food coolers as well as separate but direct access to finished prep coolers. Two walk-in-size blast chillers also contribute to safe production of menu items including meat, soups, sauces and other ingredients.
"Certain finished or prepped foods might be completed at this kitchen as specialty categories that can be transported to other campus dining locations; thus, freeing up those locations from duplicate work and saving labor costs and space," Worrell says.
The warewashing area contains a soak sink for pots, a flight-type dishwasher and conveyor-less dish return. "All warewash functions are centralized and placed at one end of the servery for student dish return — this is a trayless operation — that is adjacent to the service dock for trash removal and also linked to kitchen for pot/pan-washing aspects," Worrell says.
Front-of-the-House Stations
"Each concept is a separate restaurant with a wide variety of menu offerings for a diverse student population," says Balabuch. "Each concept has all the support equipment it needs for the staff to do frontline cooking."
Staff can access all seven food serving stations from the open kitchen. Each station contains appropriate refrigerated rails, undercounter refrigerators and food warmers, heated cabinets and hot/cold surfaces as needed. Each station contains an equipment showpiece that further creates an experiential wow factor for guests. Staff serve all items except soup and salad. For other items, staff portion the food, but customers can request as many portions as they like. Portion control for each serving contributes to keeping food waste in check.
Tilting kettles help staff to produce soups, sauces and other menu items.Wood Grill features house-formed burgers, plant-based burgers and french fries. Staff cook the items on an Argentinian gaucho grill that uses hardwood lump charcoal and real wood. The grill can produce up to 280 burgers per hour. The firewood is on display at the counter. The station also features shoestring fries and house-made chips. Staff at Clark Bakery, a centralized bakery on campus, make the burger buns.
Avenue A offers homestyle foods such as macaroni and cheese, in-house smoked barbecue meats, grilled cheese sandwiches and breakfast all day. Staff use a smoker to barbecue the meats and cook black beans, pulled pork and chicken. The station also contains a bread oven and proofing cabinet. Fryers produce chicken tenders, old-fashioned fried chicken, okra and steak fries. The station also offers breakfast all day with biscuits, scrambled eggs, sausage links and crispy potatoes.
La Mesa offers Latin fusion nachos and street tacos on house-made tortillas pressed on-site in an automated, free-standing tortilla press and cooked in a spiral tortilla grill. The station also offers fresh fried tortilla chips, refried beans and fresh toppings.
Leaf, a vegetarian concept, features fresh vegetables, build-your-own salads, composed salads, daily soups and hearty, 100% plant-based vegan entrees such as chana masala and green curry tofu. Leafy greens and herbs at this concept grow at Mean Green Acres, UNT's non-GMO hydroponic campus garden. A 24-foot-long refrigerated cold counter offers ingredients for self-serve.
Bamboo Basil features an Asian-inspired menu including stir-fried chicken, rice and noodle dishes, as well as sesame tofu and vegetable lo mein. A 13-foot-long counter contains 6 front-facing woks so guests can see culinary staff preparing menu items.
Clark Bakery at Eagle Landing, a dessert and baked goods station, offers cookies, fresh pastries, cakes, cobblers, milkshakes, pies and campus-made hand-dipped ice cream. All menu items are made at Clark Bakery.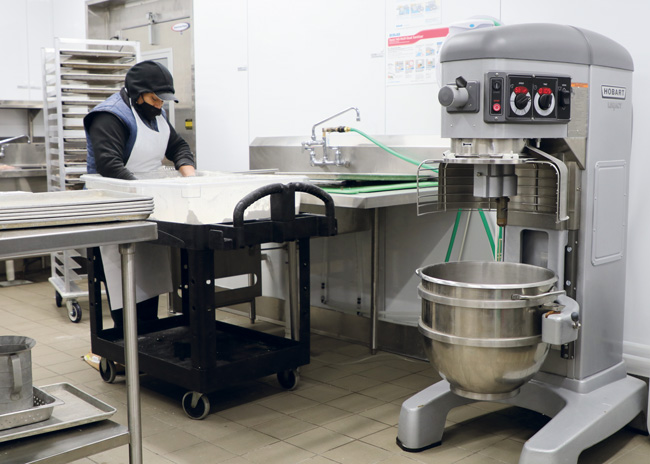 A staff member mixes flour in the back of the house. Photo courtesy of UNT Dining ServicesCibo Fresco features Mediterranean-style, quick-baked pizzas and pasta such as penne Alfredo, primavera, and spaghetti and marinara. A large capacity four-deck pizza oven features sliding glass doors, a lighted interior, dual gas system and rotating decks. The oven can serve 200 pizzas per hour. Staff use basil grown at the hydroponic garden.
Beverage stations on the first and second levels of the dining hall offer soda, juice, milk, cold and sparkling water, coffee and tea.
The future looks bright for Eagle Landing as customers discover a new landscape of diverse flavors and intriguing design. Balabuch and his team are well on their way to realizing the goal they set for continuing to enhance the positive food experience on this campus. It's little wonder why Balabuch's colleagues are coming from all over the country to see this new operation.
Floor Plan Equipment Key
Click here for the Eagle Landing Floor Plan and Key
About the Project
Opened: Spring 2021
Scope of project: A new, free-standing, all-you-care-to-eat dining center for University of North Texas students, faculty, staff and community members. The center includes seven restaurant-style concepts and a kitchen with two cold rooms.
Bamboo Basil features Asian-inspired cuisine prepared in woks.Size: 26,165 sq. ft.: kitchen, 6,049 sq. ft.; serving area, 5,776 sq. ft.; two dining levels, 14,340 sq. ft. total; remaining space for
restrooms and an office
Equipment investment: $3 million
Website: dining.unt.edu/eagle-landing
UNT Dining Services: One of the largest self-supported foodservice departments in North Texas. Contains 20-plus retail food shops, five dining halls, an upscale dining restaurant, an in-house bakery and full-service catering. It serves nearly 5 million meals annually.
Seats: 700 on two levels, including seating types ranging from banquet tables to bar seating and four-top table arrangements
Average check: Accepts UNT's dining residential plan (which is accepted at all dining halls). The plan serves most resident students, plus commuter students, faculty and staff. The price for those who are not meal plan members is $8.45 plus tax.
Total annual sales: $25 million for residential dining throughout campus
Daily transactions/covers: Up to 5,500 on busiest day since opening
Hours: 10 a.m. to 2:30 p.m. and 4:30 p.m. to 9 p.m., daily
Menu concepts and specialties:
Wood Grill offers burgers and plant-based cuisine cooked over a wood grill.
Avenue A provides homestyle, traditional foods like fried chicken, macaroni and cheese, in-house smoked barbecue meats, and breakfast all day.
La Mesa offers a Latin fusion menu including street tacos, chips and house-made flour tortillas.
Leaf features greens grown at Mean Green Acres, an on-campus, organic hydroponic garden that the UNT Dining Services team operates. Menu items at Leaf include salads, soups, vegetables and 100% plant-based menu items.
Bamboo Basil offers Asian-inspired stir-fried rice and noodle dishes.
Clark Bakery is a dessert and baked goods station featuring cookies, cakes, cobblers and campus-made hand-dipped ice cream.
Cibo Fresco features pizza, calzones, stromboli and a daily pasta toss.
Beverage stations on the first and second levels of the dining hall offer soda, juice, milk, cold and sparkling water, coffee and tea.
Staff: 36 full-time equivalents; 250 students
Total project cost: $25.47 million
A student ponders which pizza to order at Cibo Fresco. Photo by Michael Clements, UNT
Key Players
Owner: University of North Texas
Associate vice president, Auxiliary Services: Daniel Armitage
Executive director, Dining Services: Peter Balabuch
Senior director of operations, dining services: Derrick Cripps
Executive chef, residential dining, operations: Rudy Vasquez
Assistant director, culinary operations, Eagle Landing: Klaus Meier
Architects: Kirksey Architecture, Houston: Steve Durham, AIA, LEED AP, executive vice president and director of collegiate projects; Darrell Whatley, AIA, LEED AP, NCARB, vice president, senior project manager; R. Linda Camacho, senior project coordinator; John Wilkinson, project designer; Frances Oguntuga, LEED AP, SITES AP, WELL AP, sustainability coordinator
Interior design: Kirksey Architecture, Houston
Consultants: Worrell Design Group Inc., Houston: Rodney A. Worrell, president; May Boitel, space programmer; Johnny De La Rosa, project manager
Equipment dealer: Pasco Foodservice Equipment, Plano, Texas: Joey Eaves, project manager
Construction: Rogers O'Brien Construction, Dallas
Peter Balabuch, executive director, Dining Services, UNT. Balabuch joined UNT 23 years ago. He has held numerous positions ranging from production supervisor to culinary trainer and director of residential dining services.
May Boitel, space programmer, Worrell Design Group. Boitel worked for the firm from 1981 until 2001 and joined again in 2005.
Linda Camacho, senior project coordinator, Kirksey Architecture. Practicing architecture for 22 years, Camacho joined the firm in 2004 and developed expertise in K-12, collegiate and community projects.
Steve Durham, executive vice president and director of collegiate projects, Kirksey Architecture. Durham's professional experience spans 29 years. He joined the firm in 1997. He also founded and spearheads Kirksey's Outreach Committee, which focuses on giving back to the community.
Johnny De La Rosa, project manager, Worrell Design Group. De La Rosa worked for the firm from 2009 until 2013 and joined again in 2016.
Rudy Vasquez, executive chef, Culinary Operations, residential dining, operations. Prior to joining UNT, Vasquez held positions with Aramark, Hilton DFW Conference Center and Gaylord Texas Resort and Convention Center.
Rodney A. Worrell, president, Worrell Design Group. After 16 years with Mulhauser/McCleary Associates, Worrell reestablished the practice as Worrell Design Group Inc. in 1994. Other projects include Texas Children's Hospital Pavilion for Women in Houston and Hilton Granite Park in Plano, Texas.