California Polytechnic State University (more commonly known as Cal Poly) in San Luis Obispo, Calif., welcomes the new 3-story, 35,400-square-foot Vista Grande Dining Complex. The first level contains two retail concepts, along with a registered dietitian's office. The facility's second level, Vista Grande Dining Pavilion, houses a campus dining hall offering six microrestaurant concepts, each with its own identity, and a production kitchen. Administrative offices and a large meeting room occupy the third level.
Photo by Alex NyeThe complex features a grand staircase connecting the first and second levels, and the new building includes expansive indoor and outdoor seating, lounge space and game tables. The Vista Grande Dining Complex earned LEED Gold certification for sustainable and resource-efficient design in July 2020 and opened in September 2020.
The previous Vista Grande dining hall was an aging facility past its prime. The facility provided the basics of convenience and proximity but had footprint challenges requiring more than a renovation could deliver. "The initial design team recognized Vista Grande needed a reimagination, a story, a sense of place, a draw and a compelling reason to dine," says Jess Dozier, Cal Poly dining director with Chartwells Higher Education. "There was a university community appetite to create something special from an experiential standpoint."
When Keith Humphrey joined the Cal Poly team in February 2013 as vice president of Student Affairs, he expressed enthusiasm about taking a fresh look at the potential for Vista Grande. In 2014, Cal Poly retained Webb Foodservice Design, Anaheim, Calif., to develop a strategic plan for dining services to replace the dining facility, which was deemed essential following an increase of 1,500 students.
The Webb team engaged the student community and key stakeholders, such as faculty and staff, for joint visioning work to gauge interest and broader insights on what the Vista Grande Dining Complex could be holistically, strategically and, ultimately, culturally. The Webb team included Costel Coca, principal; Mike Browne, senior project manager; Daniel Roberts, associate principal; Marion Edwards, vice president, concept ideation and development; and Susan Wilkie, vice president, strategic planning.
The "REIMAGINE Vista Grande" vision — the initial name that came from the project's ideation — created a multifaceted destination place that cultivates health, wellness and sustainability, all of which at its heart builds community. The details included nine elements:
a modern facility with state-of-the-art equipment
a welcoming sense of home
a gathering place
transparency, with display cooking
mindful and wellness messaging to enhance performance
a global kitchen to celebrate diversity
flex spaces in the back of the house and front of the house built in to allow staff to accommodate changing trends
feature on-trend experiences
build a strong sense of community
Photos courtesy of Cal Poly Campus Dining
Planning for the Near and Far Future
During Vista Grande's construction, the campus' main dining hall, Building 19, which housed an all-you-care-to-eat facility as well as a four-venue food court, provided meal service. Once construction on Vista Grande was complete, a renovation project started on Building 19, which will be complete in 2022. That renovation will contain an 80,000-square-foot culinary support center with a commissary and production kitchen that will support multiple dining platforms, both in Building 19 and in other facilities.
The entire facility now operates using a retail model. The second level holds the majority of the microrestaurants and the kitchen. If student preferences change, the university can opt to adapt the facility to offer different service types. For example, the second level can switch to an AYCTE model while the first-floor market can remain a retail destination. Also, the first floor is on grade with the loading dock for deliveries, which supports the overall flow no matter which style is selected.
Sustainability and energy-saving practices play a crucial role in Vista Grande's earning LEED Gold certification. Cal Poly hopes to become a net zero campus by 2050 with the help of Vista Grande's innovative architectural concepts and designs. For instance, the main staircase prominently features a 9-foot-by-14-foot living wall, a live art display that brings the benefits of greenery into the interior space. Vista Grande also connects to the existing campus solar farm system, providing 35% in energy savings. On-site solar panels provide 25% of the building's demand for electricity. Occupied spaces have access to natural daylight and views through low-emissivity glass window units.
The structural support system features a reliance on post-and-beam systems versus the use of bulky and opaque bearing walls. DLR Group gives a nod to more current architectural stylings in places such as the roof, which turns into a vertical plane to create one side of the entry tower elements along Grand Avenue, the major north-south campus entrance on the university's eastern perimeter.
Production and ServiceThe 4,200-square-foot back-of-the-house kitchen has limited production capabilities for two main reasons. First, each front-of-the-house platform provides its own finished cooking capabilities and does not depend on production from the kitchen. Second, in the future, Building 19 will provide culinary support for the campus, so only flexible areas for storage and stage were required at Vista Grande.
The cold prep area contains a slicer, a food processor and a 60-quart mixer for emergency assistance. Staff use a vacuum-sealing packaging machine to wrap menu items such as proteins and sauces in order to extend these items' shelf life for use in the platforms. "This is a great way to store products that we'll be small-batch cooking at the platforms," says Chris Dunham, campus executive chef, Chartwells Higher Education.
Staff use a blast chiller/freezer to quickly chill many cooked menu items to 40 degrees F before storing them until they are needed at the platforms.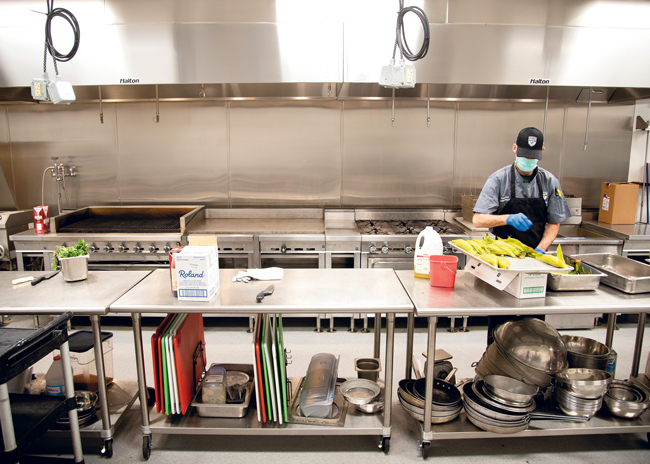 The back-of-the-house kitchen contains a tilting skillet, a charbroiler, a flattop griddle, a 6-burner range and other equipment.
Front-of-the-House Platforms and Production
"Each platform is well equipped," Dunham says. "They are laid out so staff take minimal steps and don't have to make many motions."
"Customers are watching culinary staff prepare menu items, but they aren't necessarily watching their own dishes being prepared because orders are processed as they are received," Dunham says. "Staff are cross-trained to work in any platform, though staff must be trained to work at Balance Café," which is allergen-free-certified by Kitchens with Confidence, an independent accreditation/certification entity.
Balance Café offers menu items free of the top eight allergens.Staff use a range with four open burners, a countertop griddle, a countertop radiant broiler, a double convection oven and fryers to prepare menu items. Customers can order grilled potato pancakes with roasted vegetables, avocado toast, kale and citrus smoothies, and other sweet and savory breakfast options. Later in the day, customers find menu items such as chicken with Indian curry sauce, bowls such as kale and beet salad, grilled vegan cheese on allergen-free bread, and chili verde over brown rice and black beans. Staff carve meats such as roasted turkey breasts and pork loin.
The platform branded Brunch features breakfast all day with breakfast burritos, eggs with Boursin cheese and wild mushrooms, scrambled tofu, Nashville-style chicken and waffles, and breakfast bowls. "Many customers want breakfast for dinner," Abrigo says. The platform also offers avocado toast, salmon toast, a smoked salmon BLT with citrus aioli, wings tossed with customers' choices of sauces, and chilaquiles and homemade sauces. The platform contains two double fryers, a flattop, a charbroiler, a six-burner range with an undercounter conventional oven, a double-deck convection oven and a hot holding oven."I love watching customers watching chefs stretch dough and sauce pizzas at this platform," Abrigo says.
Streats features globally inspired street foods such as Korean BBQ, al pastor street taco bowls, banh mi, charred cauliflower tacos with beans and rice, and short rib macaroni and cheese sandwiches. Menu inspirations come from food trucks, legacy recipes and local hole-in-the-wall dining spots."We feature menu items that rotate every four weeks, while tried-and-true favorites appear daily," Abrigo says.
Market Grand Ave. and Jamba sit on level one, which is street level. Market Grand Ave., a full-service deli, contains floor-to-ceiling refrigerated display cases offering to-go foods including breakfast sandwiches, burritos, vegetarian sandwiches and heat-and-eat meals such as chicken or vegetarian teriyaki bowls that students can easily prepare in their residence halls.
Jamba, which started as a Cal Poly senior project in 1990 and turned into franchise, offers fresh-squeezed juices, smoothies, wraps, sandwiches and wellness bowls.
Staff cook items such as Asian green beans, sesame broccoli, vegetable lo mein and fried rice on the three woks at the Noodles platform.
When students return to campus, they'll find Vista Grande in full-service operation, allowing culinary staff and students to interact and enjoy the full food production experience. They're sure to discover why the design team put so much emphasis into what a dining hall can be holistically, strategically, and ultimately culturally.
The registered dietitian's office sits near Vista Grande's main entrance. Supporting students with nutritional health as well as providing help in managing specific dietary considerations is paramount for the dining program.
The high-end, premium deli features a variety of kosher-certified offerings that campus dining managers worked with a local rabbi to bring to campus. "We have a Subway on campus, so to give customers a higher-end experience, we added this deli at Vista Grande," Dunham says. "We don't serve bagels here because customers can find these at Einstein's Bagels on campus. We do offer artisan breads from a local company."
Sweet Bar features a rapid-cook oven for baking salted caramel cookies and many other varieties. This platform also offers gluten-free vegan brownies, acai bowls, tiramisu, chocolate cupcakes and cinnamon crumble apple crisp. Staff use a gelato machine to make this creamy favorite. This platform also features Cal Poly ice cream, red velvet cake, molten lava turtle cake, kettlecorn, packaged snacks and cereal. Staff also prepare many varieties of coffee and tea drinks.
A vertical spit at Streats allows culinary staff to cook proteins for al pastor, gyros and shawarma. Staff use the charbroiler to prepare charred poblano burgers, charred peppers and quarter-pound hamburgers, bacon and toasted charcoal buns with sesame seeds. Staff use a salamander to brown breadcrumbs on macaroni and cheese and melt cheese on a sizzle platter.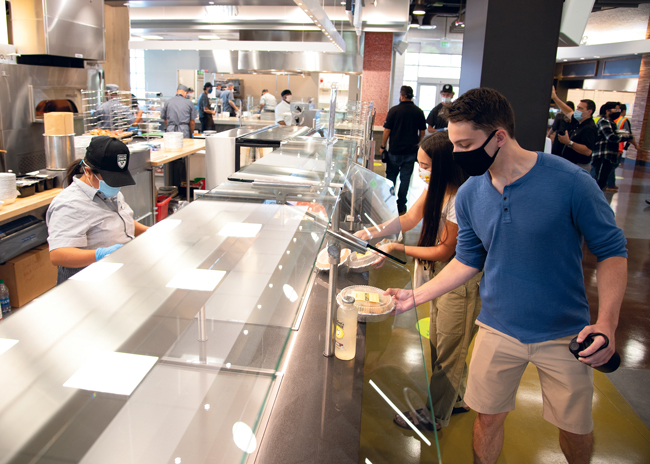 Hearth features comfort foods prepared in an undermount conventional oven and two stone-fired pizza ovens. Noodles offers local and global stir-fries, ramen and noodle bowls prepared from authentic recipes. "We want to pay homage to Asian cuisine, so we use a three-wok station to prepare menu items such as soba noodles cooked with teriyaki chicken or tofu into a noodle stir-fry, pork belly ramen bowl and udon noodle bowl," Abrigo says. This platform also contains a six-burner range with undermount oven, a double fryer, a chargrill and a French top range for jambalaya. Staff prepare pasta in the back kitchen and bring it to this station for cook-to-order service.
Hearth contains a six-burner range with an undermount conventional oven and two stone-fired pizza ovens that can cook pizza in 90 seconds. The temperature can go as high as 900 degrees F. Twenty pizzas can cook simultaneously in these ovens. Artisan pizza varieties range from margherita Roma-style to prosciutto and fig jam. The ovens also bake items such as butternut squash pasta, calzones and ravioli, as well as entrees such as chicken Parmesan and sandwiches.
"Customers who aren't avoiding the top eight allergens also come here for menu items so they can bolster their vegetable intake as well as their protein intake," says Rensford Abrigo, CEC, executive chef, Cal Poly.
The certification requirement at Balance Café stems from the concept's allergen-free commitment. Meals here do not use any of the top eight common allergens — milk, eggs, fish, crustacean shellfish, tree nuts, peanuts, wheat and soy. The concept promotes itself as food "to fuel a healthy lifestyle." Guests can also order vegan and vegetarian items here. The cafe operates independently of other dining platforms with its own dedicated kitchen, cold storage, cookware and serviceware, and a dishwasher.
Platforms all have ample refrigeration to hold ingredients until culinary staff prepare them à la minute and in small batches. Customers can order on-site at registers or online via a third-party app.
Staff cook pasta for the Noodles platform in the back kitchen, then add ingredients at the platform to finish dishes.
The front of the house on the second level contains six restaurant-style platforms. Each concept was designed with specialty equipment that highlights and brings a high degree of chef interaction to each space.
The dish room contains a flight-type dishmachine, a three-compartment power-soak sink and a pulper. A rotary accumulator allows staff to take dirty dishes off the racks and easily transport them to the dirty-dish tables and into the dishmachine.
The hot prep area includes a 40-gallon tilt skillet for cooking broths, sauces and pasta. Staff cook vegetables in a steamer and cook bacon, teriyaki chicken, flank steak and other proteins on flattop grills and a 60-inch chargrill.
"We knew we'd be building a large commissary and support kitchen in Building 19, so there was no need to build this facility any bigger than what is needed to support the concepts at Vista Grande," Dozier says.
Deliveries arrive on the first level. Staff deliver menu ingredients to a walk-in cooler, a walk-in freezer and a dry storage area. Deliveries arrive on pallets that staff members bring to the storage areas and then place onto shelves designated for individual platforms. "Each platform is run independently with separate ordering, menu development and marketing," Dozier says. "We run each venue as its own business, which allows us to monitor customer counts and product usage, as well as offer staff incentives to succeed in their specific operations."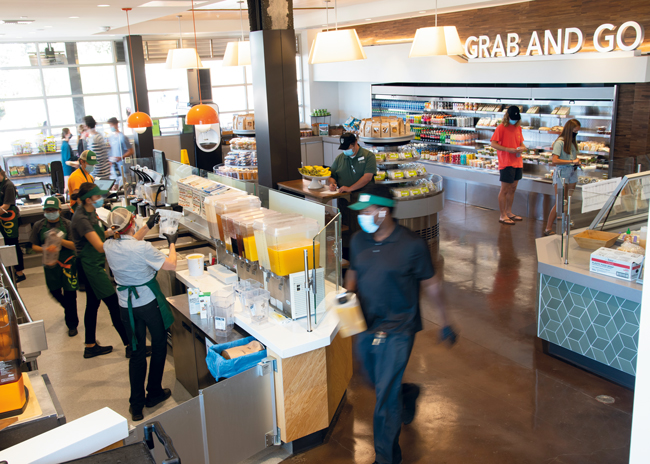 Customers who want grab-and-go menu items find them at Market Grand Ave. retail concept, which includes a Jamba outlet.The designers specified flexible seating throughout Vista Grande's front of the house and limited built-in furniture to support changes in food areas and concepts over time. "Natural light where possible was key for this three-story facility," Coca says. "We designed food concepts with maximum visibility into production with everything on display and with flexible infrastructure to allow concepts and menus to change over time."
"Our design for the new Vista Grande Dining Complex respects the past of the nearby midcentury modern buildings on campus built in the 1950s and 1960s and embraces the future for generations of students," says Chris McGiff-Brown, principal, DLR Group in Sacramento, Calif. "The architectural language of the building is a contemporary representation of conditions found on campus, such as strong horizontal white planes, brick massing and repetitive storefront glass."
Nothing was off the table when considering the framework for Vista Grande's concept and design, which allowed bold thinking about the potential footprint, challenges and experiences. "We set up design guideposts to help craft the future of this former dining space into an experiential dining destination," says Edwards. "These design principles informed the concept design and design direction and carried through value engineering phases so that the communal DNA would remain intact."
"The design team was challenged to develop flexible dining options that would allow Vista Grande to serve in a retail-type format, especially during the Building 19 renovation, while being able to switch back to an all-you-care-to-eat [AYCTE] operation in the future," Coca says. "This required careful planning and egress to allow for the facility to be as open as possible with multiple entry points, but also securing various portions of the facility during the switch to AYCTE."
The vision was to open the new facility, The Vista Grande Dining Complex, in September 2020. Funding and oversight came through Cal Poly Corporation, a nonprofit university auxiliary that works in partnership to support Cal Poly.
About the Project
Opened: September 2020
Scope of project: A new dining hall and kitchen plus a new deli concept and Jamba store on the street level
Size: 35,400 sq. ft.
Website: vistagrande.calpoly corporation.org
California Polytechnic State University: Pre-COVID-19: 23,000 students.

Current situation: 4,800 students on campus, including 3,250 freshmen in
residence halls with mandatory dining plans. All dining operations open at 25% of maximum capacity or up to 100 people in indoor dining areas.

Vista Grande Dining Complex opened: September 2020
Scope of project: A new dining hall and kitchen, plus a new deli concept and Jamba store on the street level
Size: 35,400 sq. ft. on three stories
Seats: 750, including 400 indoors and 350 outdoors
Average check: $9.85
Total annual sales: $9.1 million
Daily transactions/covers: 4,200
Hours: 7 a.m. to 10 p.m. daily
Menu concepts: Noodles, Brunch, Balance Café, Streats, Hearth, Sweet Bar
Retail concepts: Market Grand Ave. and Jamba
Staff: 281 employees
Total project cost: $39 million
Equipment investment: $3.5 million
Key Players
Owner: The Cal Poly Corp., the commercial services arm of the campus
Vice president, Student Affairs: Keith Humphrey
Vice president of operations, Chartwells Higher Education, and director of Campus Dining at Cal Poly: Jess Dozier
Executive chefs: Rensford Abrigo, CEC, Cal Poly; Chris Dunham, Chartwells Higher Education
Architect: DLR Group, Sacramento, Calif.: Christopher McGiff-Brown, design leader/principal
Interior design: DLR Group, Los Angeles
Foodservice consultants: Webb Foodservice Design, Anaheim, Calif.: Costel Coca, principal; Daniel Roberts, associate principal; Mike Browne, senior project manager; Marion Edwards, vice president of concept and ideation; Susan Wilkie, vice president, strategic planning
Equipment dealer: TriMark, Orange County, Calif.
Construction: ProWest Constructors, Wildomar and Santa Barbara, Calif.
A six-burner range, salamander and fryers support staff production of street food at the Streats platform.Rensford Abrigo, CEC, executive chef, Cal Poly. Abrigo joined the Campus Dining team in April 2019, bringing his experience as the culinary manager at venues throughout the country. Previously he was general manager of foodservices at Vandenberg Air Force Base in Lompoc, Calif., and one of the youngest chefs to work for Caesars Entertainment Corporation.
Costel Coca, principal, Webb Foodservice Design. Coca joined this firm 21 years ago as project manager. He became principal in 2012 and is the lead planner for the firm.
Jess Dozier, vice president of operations, Chartwells Higher Education. Dozier has served as director of Campus Dining at Cal Poly since April 2020. During his 20 years of experience in higher education food management, he was director of culinary and brand management and district manager for Sodexo, overseeing the operation of 11 campus dining programs.
Chris Dunham, campus executive chef, Chartwells Higher Education. Dunham joined the Cal Poly Campus Dining team in 2010 and became an executive chef in less than a year. In 2018 he joined Chartwells Higher Education as a campus executive chef.
Marion Edwards, vice president of concept and ideation, Webb Foodservice Design. Edwards is a concept and product development, menu engineering and visual merchandising specialist. She has extensive experience working with Disney, Starbucks and Great Wolf Resorts.
Christopher McGiff-Brown, principal, DLR Group. McGiff-Brown joined DLR Group 25 years ago, focusing his career on education design. Other projects include the American River College Culinary Arts expansion, Rio Americano High School Center for the Arts and Westlake Charter K-8 campus, all in Sacramento, and West Park High School in Roseville, Calif.
Floor Plan Equipment Key
1. Bumper rail
2. Corner guards and wall caps
2a. Electrical busbar
3. Dry storage shelving units
3a. Wall shelf
3b. Mobile pot shelving unit
3c. Refrigerator shelving units
3d. Drop-in heated shelf
3e. Slanted rack shelf
3f. Overshelf
4. Mobile can rack
4a. Dunnage rack
4b. Utensil rack
5. Blast chiller/freezer
5a. Walk-in refrigerator
5b. Evaporator coil
5c. Three-door reach-in refrigerator
5d. One-door reach-in freezer
5e. Refrigerated stand
5f. Undercounter refrigerator
5g. Undercounter freezer
5h. Refrigerated self-service case
5i. Refrigerated base
5j. Two-door reach-in refrigerator
5k. Freezer w/worktop
5l. Two-door reach-in freezer
5m. Batch freezer
5n. Refrigerated display case
6. Food slicer
7. Mobile worktable
7a. Worktable w/two-compartment prep sink assembly
7b. Worktable w/prep sink
7c. Worktable
7d. Island worktable
7e. Sandwich prep
7f. Clean dish table
7g. Soiled dish table
7h. Worktable w/hand sink
7i. Worktable w/wood top
8. Food processor
9. 20-qt. mixer
9a. Mixer stand
9b. 12-qt. mixer
10. Trash receptacle
11. Fire pull box
11a. Class K fire extinguisher
11b. Fire protection system
12. Sink and faucet
12a. Janitor's sink faucet w/vacuum breaker
12b. Power-soak sink
12c. Splash-mounted faucet
12d. Hand sink
12e. Hand sink faucet
12f. Pot filler faucet
12g. Hand sink w/faucet
12h. Three-compartment sink assembly
12i. Splash-mounted faucets
13. Prerinse assembly w/10-inch swing spout faucet
14. Soap and towel dispenser
14a. Beverage dispenser
14b. Tea tower
15. Dish cart
15a. Ice carts
16. Rotary accumulator
16a. Dishmachine w/booster heater
16b. Food collector
17. Water filter assembly
18. Ice bin
18a. Ice cuber
18b. Ice flaker
18c. In-counter ice bin
19. Floor trough
20. Spreader cabinet
20a. Gelato display cabinets
21. Exhaust hood
21a. Hood trim and closure panels
21b. Exhaust hood island
22. Fryer assembly
22a. Fryer dump station w/heat lamp
23. Six-open-burner range w/oven
23a. Chinese range
23b. Countertop six-open-burner range
23c. Countertop four-open-burner range
24. 4-ft. griddle with cabinet base
24a. Teppanyaki griddle
24b. Countertop griddle
24c. Cooking equipment stand
25. Broiler w/cabinet base
25a. Countertop radiant broiler
25b. Salamander
25c. Vertical broiler
26. 30-gal. tilt skillet
27. Convection steamer
28. Wall flashing
29. Pasta cooker
30. Service counter
30a. Service counter w/swing gage
30b. Beverage counter
30c. Display counter and shelving
31. Cash register
32. Food shield, convertible
32a. Food shield, vertical
32b. Food shield w/pass shelf
33. Heat lamp
34. Drop-in hot/cold unit, 2 pan
34a. Drop-in hot/cold well
34b. Drop-in cold well, 3 pan
34c. Drop-in hot well, 4 pan
34d. Drop-in cold well
34e. Dipper well w/faucet
35. Stainless-steel trim panel
36. Double convection oven
36a. Cook-and-hold oven
36b. Deck oven
36c. Rapid-cook oven
37. Filler panel
38. Vertical dough sheeter
39. Deli case
40. Coffee maker
40a. Coffee screen
40b. Coffee airpot