A new dining hall opens new vistas for students, faculty and staff at The Thacher School.
A new dining hall revitalizes the heart of The Thacher School, a highly selective, co-educational, private boarding school located on 427 acres of hillside overlooking the Ojai Valley in California. On track to achieve LEED Silver certification, The Thacher Café anchors the new Mulligan Hall, named after Michael Kent Mulligan and Joy Sawyer Mulligan, who both served the school in many capacities for decades.
Prior to this project, students, faculty, staff and visitors dined in the 100-year-old Hills Dining Hall. "The vision that gave rise to this [new] building was rooted in Thacher's commitment to creating metaphorical and physical spaces of connection and belonging," said Blossom Beatty Pidduck, head of school and a 1992 Thacher graduate, in a dedication ceremony. "We dedicate this dining hall to the power of living, working, learning, playing and breaking bread together."
Mulligan Hall includes an 11,600-square-foot dining hall named The Thacher Café. The new facility endorses and advances the school's commitment to community, as well as its commitment to creating a more sustainable campus. Mulligan Hall provides space for students, faculty, staff and visitors to gather, eat and converse over daily meals, formal dinners and family weekend brunches. It also serves as an educational platform for helping students learn about the food they eat, where it comes from and its preparation methods. Roof lines echo the surrounding mountains, and expanses of glass bring in natural light.
The project began in February 2018 with demolition work to remove two tennis courts and other features within the construction zone to make room for the new building. Several materials, including some stones from the wall above the tennis courts, were repurposed to build the fireplace and hearth in the new dining room.
In the middle of June 2019, Thacher School Bon Appetit contract management staff were able to partially occupy the prep kitchen. This is when they moved out of the Hills Building and into the new kitchen. A temporary dining room was set up in the commons, and the kitchen crew provided meals for the summer camps from the new kitchen. Grading and concrete crews continued to work on earthwork and hardscape surrounding the new dining hall and connecting it to adjacent structures, roads and walkways.
Before The Thacher Café opened for regular meal service in August 2019, cleaning crews washed away layers of construction dirt and dust. Staff brought in dining tables with olive green lazy Susans and chairs and served the first dinner on Sunday, Aug. 25.
The project's architects maintained a sense of history in the new building by hanging iconic wooden award plaques from the old dining hall on either side of the new hall's stone fireplace. The honorees listed on these plaques reach as far back as 1917. Along with the plaques, a trophy case at the building's main entrance contains several of the school's awards for students, faculty and alumni.
In addition, on the wall across from the office of Richard Maxwell, foodservice director with Bon Appetit, stands a battered section of a sturdy wooden door with an ax attached. This is one of the doors from the old walk-in cooler in the Hills Building. The ax was there to break down the heavy self-closing door in case a worker became trapped inside. "Thankfully, it was never used," Maxwell says. "Now, the memento hangs right outside the up-to-date kitchen to remind us of less technological times."
The design team built The Thacher Café to provide an all-you-care-to-eat dining experience. A scramble-type system allows customers to serve themselves breakfast and lunch. For formal Monday, Tuesday, Thursday and Sunday night meals, one or more of the platforms serve as restaurant-style chef's counters where students pick up platters of food and place them at every table for family-style service. The Herbert Dining Room, named after donors Cecilia and Jim Herbert and their daughters, accommodates up to 344 people for regular service and formal dinners as well as large events such as fall family weekend, reunions and graduations. Eight-person dining tables offer a more intimate dining experience than the 10-tops at the old facility. The new acoustically engineered space also enables better conversations between guests.
"The dining solution is focused on blending culinary-focused aesthetics with operational systems and processes that support Bon Appetit's core service attributes: community minded, environmentally conscious, health conscious, restaurant quality, flexibility/customization, global tastes and student experience," says Costel Coca, principal, Webb Foodservice Design in Anaheim, Calif.
Outdoor dining at The Thacher Café allows customers to enjoy the fresh air.
Food Delivery and BOH Production
Deliveries of food and other products, such as paper goods and bottled and canned soda, arrive at the basement level. This level contains a dry storage area and an ice machine for catering. Staff transport food deliveries upstairs via elevator to the back-of-the-house production kitchen's dry storage and two walk-in coolers, one of which contains a walk-in freezer behind it.
"A freight elevator and loading area allow drivers to make their deliveries without the assistance of kitchen personnel and without the need to drive through the center of campus," says Mike Browne, senior project manager, Webb Foodservice Design. "This arrangement eliminates the sounds of delivery trucks' air brakes and backup horns that regularly interrupted the school's assembly announcements or students sleeping in their dorms."
The back-of-the-house production kitchen supports staff preparation of bulk food products. Staff handle final cooking and finishing at the exhibition cooking platforms in the servery. It also offers sufficient space to operate a catering program that shares equipment and prep space with the student dining production kitchen.
In addition to slip-resistant, durable concrete flooring, the production kitchen contains prep sinks that are strategically placed with worktables. "Many of the worktables are on wheels so they can be moved around, which has helped us a lot during this COVID time because we can make sure there's as much distance between staff members as possible," Maxwell says. Utensils hang from center racks attached to the prep tables.
"All the functions work left to right," says Browne. "The flow is direct to the front-of-the-house servery and its exhibition platforms."
Production kitchen staff take what they need from storage areas for the day's menu item preparation. The baker's corner contains a proofer, a 60-quart mixer, a 30-quart mixer and a double-stacked combi oven. The bakery prepares everything from burger buns to focaccia. "We've always had great French bread, but with the combi oven, the bread has a perfect crust," Maxwell says.
The back-of-the-house production area also holds two double-stacked convection ovens, a steam kettle, a tilt skillet, a six-burner range with an oven beneath and a double fryer. A blast chiller sits under one table. "The blast chiller is perfect for food safety, food preservability and sustainability," Maxwell says.
The back of the house also contains a three-compartment sink; storage for pots and pans; a middle island table with a utility rack for spoons, ladles, and pots and pans; and an ice machine. A dishwasher resides around the corner. "This is a full dish room, which we've never had before," Maxwell says.
A double-door roll-in refrigerator contains much of the mise en place for the day's production in the front-of-the-house servery. Guests see most of the production, which supports the dining program's emphasis on transparency and accessibility to staff members.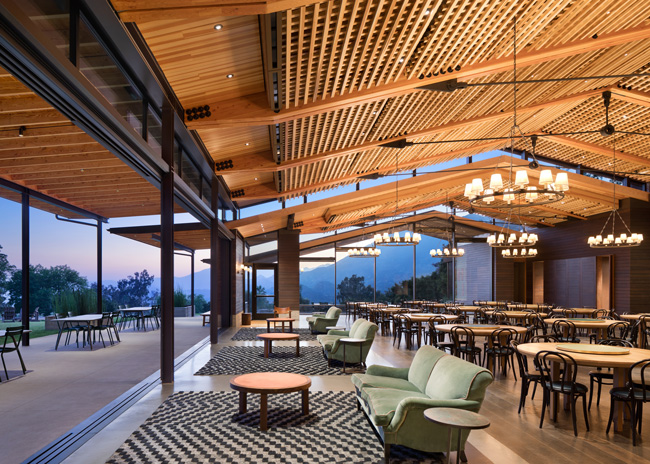 Roof lines echo the surrounding mountains; expanses of glass offer breathtaking views.
The Servery and Exhibition Platforms
Natural daylight/skylight flows into the front-of-the-house servery — named the Tobin Kitchen in honor of Edith Andres Tobin, mother of two Thacher students — above the food platforms. Front counters feature highly decorative and durable stone tops with millwork die fronts and glass food shields.
Several food and beverage platforms sit in and around the perimeter of the servery for self-service access. Adequate circulation space allows students and other customers to roam about while accessing the food and beverage options. "Separation of these food centers helps distribute the queuing load throughout the servery, eliminating congestion," Browne says. Each foodservice platform contains digital menus. An online menu provides caloric and nutritional information.
The servery offers select food choices between the three major meal periods, including snacks and beverages. "Culinary staff provide after-hours snack options for seniors who have the privilege of wandering after the lower classmen are checked in and sequestered in their dorms," Maxwell says. "The privilege includes access to the dining hall for late-night snacking. We also offer food 'pack-outs' for prefect groups to share in their dorms."
Three exhibition kitchen platforms offer the appearance of a home kitchen. "Decorative materials that meet health department requirements, such as engineered stone slab countertops and Forest Stewardship Council (FSC)-grade solid white oak with polyurethane finish at the counter-face, express the noninstitutional look of the kitchens," Coca says. "Front counters display freshly made hot and cold food options for just-in-time self-service by students or made-to-order items prepared by the cooking staff."
Exposition platforms encourage customers to interact with dining staff and learn about the food served here. The equipment and layout at each station enable flexibility to present alternative types of cooking and preparation. An integral part of the everyday programs, these platforms are also used by guest chefs during special events and to educate students interested in culinary training.
The Grill features a charbroiler, a salamander, a fryer and a flattop griddle that staff use for menu items such as hamburgers, hot dogs, roast turkey and fried chicken. This platform also features build-your-own bowls, which receive rave customer reviews. Customers fill their bowls with ingredients sitting in a refrigerated rail or on a counter and hand them to a culinary staff member, who cooks them in the wok and adds other fresh and dried ingredients. In addition to lunch and dinner selections, The Grill also offers breakfast menu items such as scrambled eggs, fried eggs, breakfast burritos, pancakes and hash browns.
The Expo station contains a four-burner range with a refrigerator beneath and a refrigerated rail above and at the back of the burners that hold ingredients for omelets, crepes and pasta to order. "The range is moveable so we can replace it with a double-burner wok," Maxwell says. "We use the woks to produce stir-fries to order and saute vegetables for the Expo station or take them to The Grill or to Classics station." A reach-in freezer and a reach-in refrigerator support production in this area as well as the work island with a sink.
At Classics, a double-door roll-in warmer and a double-door roll-in refrigerator support staff's preparation of comfort foods for a baked potato bar, macaroni and cheese bar, and homemade bread bowls filled with a variety of soups and stews. This area also serves nachos or pasta with the chef's eclectic recipe variations. "The double-door warmer is integral to supporting our formal dinners that hold platters with food served family style at dining tables," Maxwell says.
A 15-foot-long two-sided Deli Bar displays ingredients for customers to build their own sandwiches and heat them in one of two panini grills.
The Kettle offers hot cereal at breakfast and two soups, including one vegan option, at lunch. A toaster station contains a conveyor toaster and spreads such as peanut butter and jelly, almond butter, cream cheese and campus-produced honey.
A 20-foot-long help-yourself, two-sided salad bar contains four greens; locally sourced tomatoes; raw and cooked vegetables; proteins such as chicken, fried tofu, hard-boiled eggs and legumes; grains such as quinoa; cheeses; and composed salads and house-made salad dressings.
A small dessert station offers cookies, cakes, pies and fresh fruit. A self-serve ice cream machine attracts many customers as well. "The soft-serve machine at the old dining hall was a beloved element," Maxwell says. "It was replaced by a newer model for The Thacher Café and has improved capacity and dependability and an expanded variety of flavors."
Dining services provides 45-minute formal dinners four nights a week, an event that has a long tradition at Thacher. Students attend in formal wear and are required to participate unless they have an official excuse. They wait outside the dining area until 6:15 p.m. and do not enter until the Walker Bell, Thacher's dinner bell dating back more than a century, rings five times. Two warning bells prior to that alert students that the time is near; all can hear the rings throughout campus.
Students sit in assigned seats and rotate to another table every few weeks. This creates interaction between students who don't normally talk to each other. Faculty sit at the same assigned tables all year and present remarks or a prayer before the meal. After that, everyone sits down, and one student walks to a service area and picks up platters and places them at their table on a lazy Susan. Students help themselves family style. "Students learn table manners and have a special meal while they talk to others about what's going on at school or in the world beyond campus," Maxwell says.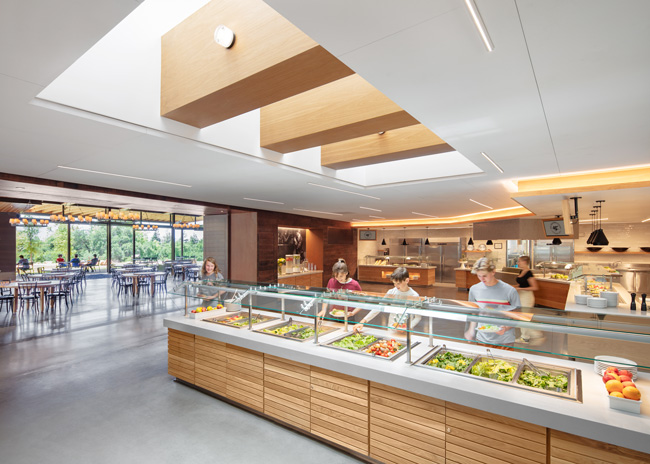 The salad bar is the first platform customers see as they enter the servery.
Pandemic Foodservice Changes
Since the COVID-19 outbreak, no family-style formal dinners have been held.
Also, since the pandemic, the dining services team has reduced menu offerings for regular meal service. "We went from a great deal of self service to staff service," Maxwell says. Two service lines that mirror one another contain each daypart's menu items. Walking through the line, for example, customers might select mahi-mahi tacos that staff prepare and top with marinated cabbage or a vegetarian dish with marinated vegetables and beans on a tortilla with quinoa.
"We also have only 20 minutes to serve 60 students at a time versus the two-hour period we had in which students could come and go as their schedules allowed," Maxwell says. Seating also is limited now because of social distance requirements. Tables that used to seat 8 to 12 people now only seat 3. Hard plastic dividers sit in between each table.
The salad bar offers to-order menu items prepared by staff. The beverage station now sits in the dining room to improve the flow of students walking through the lines. Staff serve all the beverages, including coffee, tea, lemonade and fresh-squeezed orange juice. One station offers house-made aguas frescas and spa waters as well as carbonated water.
Staff prepare fruits and vegetables at a prep station in the servery.
Sustainable Practices
Shades and skylight louvres ensure that light and temperature remain at comfortable levels. Natural lighting is augmented by low-energy LED lights that automatically adjust to sunlight, dimming midafternoon and brightening as the sun sets. Walk-in cooler/freezers and exhaust hoods also have LED lighting.
Looking through the expanses of glass at the surrounding mountains, one might expect exorbitant heating and cooling costs. But those walls of windows are double-paned, insulated, tinted glass.
A roof-mounted solar system preheats fresh water before it enters the traditional gas-powered hot water heaters, which reduces water heating costs by 25% annually, according to Ed Bennett, director of facilities, The Thatcher School.
The 5,000-square-foot living roof above the back-of-the-house and front-of-the-house servery acts as an insulator, absorbing sunshine and keeping indoor temperatures stable. All exhaust hoods are supplied with a demand-control ventilation system to reduce the exhaust fan use requirements when hoods are idle. The dish machine is a fully insulated and low-water use model provided to meet energy efficiency goals.
The dish accumulator at the dish room accommodates the trayless operational model to further reduce food waste. Reusable dishes contribute to Thacher's sustainability solutions. Students are encouraged to buss their own dishes to a trash separation counter hidden from the dining room by a screen wall. Canisters separate trash, recyclables, hog scraps and compost, which reduces 80% of the volume of waste that ends up in landfill, according to Bennett. "We gathered this information from various studies and our experience as we competed in the K-12 contests, which we won, in the state of California," he says.
The soiled dish drop window is backed by a multitiered rotating soiled dish accumulation system that acts as a sight and sound barrier from the dish room itself. This dish accumulation system accomodates the dish room staff with the volume of soiled dishes being returned to the dish drop-off area after meals are served.
Dining services spends 20% of food dollars on local products. Food scraps and food waste are composted along with the manure from the on-campus horse stables Other waste goes to hogs and chickens raised on campus..
Since its opening, The Thacher Café continues to receive rave reviews from students, faculty, staff and visitors. The striking decor, vistas of the Ojai Valley and food platforms revitalized the dining program. Even during these difficult COVID-19 times, the new facility offers an uplifting environment that nourishes the mind, body and spirit.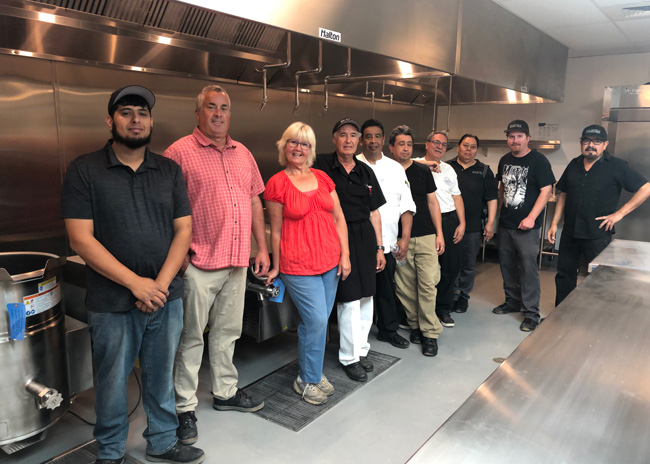 The Thatcher School Opening Crew
About the Project
Total foodservice area: 11,600 sq. ft.
Size breakdown:

back of the house represents 25% (2,900 sq. ft.)
front of the house represents 25% (2,900 sq. ft.)
dining and miscellaneous represents 50% (5,800 sq. ft.)

Seats: 256, comprised of 32 8-tops, plus outdoor seating for 60 people. Only outdoor seating is currently available. The dining room can expand to 344 seats (8 seats at 43 tables) for larger events.
Average check: meals are included in tuition; all-you-care-to-eat for students and faculty
Total annual dining services revenue: $1.8 million
Daily transactions: 825 meals per day, which includes 3 meals on weekdays and 2 on weekends
Hours since COVID-19:

weekday breakfast: 6:40 a.m. to 8:25 a.m.
Saturday breakfast: 7:30 a.m. to 9:45 a.m.
Sunday brunch: 7:45 a.m. to 1 p.m.
lunch: 11:15 a.m. to 1:20 p.m.
dinner: 5:30 p.m. to 7 p.m.

Food stations: Breakfast; Grab and Go; Kettle Station; Expo; Grill; Classics; Deli Bar; Salad Bar; Desserts
Staff: 25, including 3 salaried managers and 22 hourly employees
Total cost: $15 million
Equipment investment: $1.1 million
Opened: August 2019
The Thacher School: A private boarding school in Ojai, Calif., for grades 9 through 12; enrollment 260. Most of the 55-person staff also reside on campus.
Scope of project: New build of Mulligan Hall, including The Thacher Café dining hall. The project included a back-of-the-house kitchen and server, plus dining space for regular meal service, formal dinners and special events.
Website: thacher.org
Key Players
Head of school: Blossom Beatty Pidduck
Director of finance and operations: Jim Poulsen
Director of facilities: Ed Bennett
Foodservice director, Bon Appetit: Richard Maxwell
Assistant general manager, Bon Appetit: Robert Robles
Executive chef, Bon Appetit: Ismael Martin
Architects: Blackbird Architects Inc., Santa Barbara, Calif.: Ken Radkey, Adam Sharkey
Interior design: Studio Shamshiri, Los Angeles
Foodservice consultants: Webb Foodservice Design, Anaheim, Calif.: Gina M. Brinegar, FCSI, CFSP, managing principal; Daniel Roberts, associate principal; Costel Coca, principal; Mike Browne, senior project manager and lead designer on this project
Equipment dealer: TriMark, Irvine, Calif.
General contractor: The Penta Building Group, Las Vegas
Mike Browne, senior project manager, Webb Foodservice Design. Browne joined the firm in 1994. Previously, he was a designer at Hatch Design Group.
Costel Coca, principal, Webb Foodservice Design. Coca joined this firm 21 years ago as project manager. He became a principal in 2012.
Ismael Martin, executive chef, Bon Appetit. Martin arrived at The Thacher School in 1997. Previously, he worked for Holiday Inn Corp. for 20 years.
Richard Maxwell, foodservice director, Bon Appetit. Maxwell joined The Thacher School Dining Services team in 1997. After spending six months as assistant manager for catering, he took on his current position.
Floorplan Equipment Key
1. Dessert service counter
1a. Grain, beverage and soup counter
1b. Island deli bar counter
1c. Island salad bar counter
1d. Island work counter w/prep sink
1e. Service counter
1f. Work counter
1g. Beverage counter
2. Food shield
3. Soft-serve machine
4. Water filtration system
5. Coffee maker and airpots
5a. Coffee airpots
6. Tea dispenser
6a. Hot chocolate dispenser
6b. Cereal dispenser
6c. Milk dispenser
6d. Juice dispenser
6e. Countertop ice dispenser
6f. Beverage dispenser
7. Trash receptacle
7a. Trash receptacle w/dolly
8. Dry toppings pan
9. Panini grills
10. Drip tray
11. Deli case
12. Drop-in cold unit
12a. 3-pan drop-in cold unit
12b. 2-pan drop-in cold unit
12c. 2-pan drop-in hot/cold unit
12d. 3-pan drop-in hot/cold unit
13. Conveyor toaster
13a. Cheese melter
13b. Rapid-cook oven
13c. Double convection oven
13d. 7-pan combi oven w/stacking kit
13e. 7-pan combi oven w/mobile base for stacking
14. Bread display
15. Soup well w/lids
16. Rice cooker
17. Spreader cabinet
17a. 2-door roll-in heated cabinet
18. Countertop griddle
19. Refrigerated base w/drawers
19a. 1-door reach-in freezer
19b. 2-door reach-in refrigerator
19c. 2-door roll-in refrigerator
19d. Blast chiller
19e. Refrigerated sandwich prep table
20. Countertop broiler
21. Fryer dump w/heat lamp station
21a. Fryer assembly
22. Exhaust hood
22a. Hood trim and closure panels
23. Fire protection system
23a. Fire pull box
24. Wok range (switches with a 4-burner range)
24a. Range with refrigeration
24b. 6-open-burner range w/oven
25. Hand sink faucet, 4-inch ctr, deck-mount
25a. Splash-mounted prep sink
25b. 10″ deck-mounted faucet
25c. Janitor's sink faucet w/vacuum breaker
25d. Janitor's mop sink and combination cabinet
25e. Pot filler faucet
25f. Deck-mounted prep sink faucet
25g. Hand sink
25h. Splash-mounted hi-flow utensil sink faucets
25i. 3-compartment pot sink assembly
26. Soap and towel dispenser
27. Wall shelf
27a. Drop-in heated shelf
27b. Overshelf
27c. Pot storage shelving
28. Work counter w/prep and hand sink
29. Trim panel
30. Heat lamp
31. Mobile roll-in rack
31a. Utensil rack
32. Drip trough
32a. Floor trough
33. 3-tap dispensing tower w/remote chiller and water purification system
34. Ice machine
35. Ice bin w/cart
35a. Mobile ingredient bin
36. Work table w/hand sink
36a. Mobile worktable
36b. Island worktable w/prep sink
36c. Island worktable w/2-compartment prep sink
36d. Mobile dish table
36e. Worktable w/prep sink
37. Wall flashing
38. 40-gallon tilting skillet
39. 25-gallon tilt kettle
40. Proofer/retarder w/roll-in rack and filler
41. Bumper rail
42. Corner guard
42a. Wall caps
43. 25-quart mixer
44. Cutting board
45. Dish dolly
46. Scrap collector
47. Conveyor accumulator
48. Rock conveyor dish machine
48a. Vent cowl