Hong Bao Kitchen at San Manuel Casino
An upscale Asian restaurant and bar offers guests at San Manuel Casino a dining and beverage experience never before available at this 30-year-old property that sits 60 miles from downtown Los Angeles. Hong Bao Kitchen, which features cuisine found throughout China and surrounding regions such as Vietnam, Korea and Japan, operates from between two new gaming spaces: high-limit tables and a high-limit slots room. The restaurant, which sits on the first level of the casino, replaces a sports bar and grill.
Photo courtesy of San Manuel Casino
"We selected an Asian concept to provide a memorable experience for our loyal guests, who have wanted an Asian restaurant for some time, and to attract new guests who are interested in Asian cuisine," says David Kopasz, San Manuel's chief operating officer for Hospitality. "We made a conscious decision to invest the time and money to create an upscale, authentic, Asian-inspired concept absolutely right. To do that, we had to remove everything from the old grill space and rebuild from the ground up."
A very tight time schedule — four months for design and documentation — challenged the project team.
The restaurant's name comes from the Mandarin word "hongbao," which means "red envelope" and is synonymous with happiness, luck, goodwill and good fortune. The mission for the architects and interior designers at Klai Juba Wald in Las Vegas was to create a playful environment with pops of bold color and true Asian references. "We wanted to bring the liveliness of the bar and casino into the space and have the restaurant act as a hub for the new gaming area," says Ann Fleming, principal of interiors for Klai Juba Wald.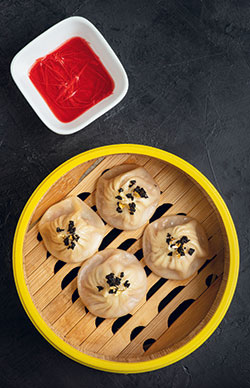 Chefs at the dim sum station cook savory specialties such as shrimp dumplings, lobster dumplings, steamed pork dumplings and black truffle xiao long bao. The intimate and welcoming destination also pays tribute to the San Manuel Band of Mission Indians, one of several clans of Serrano Indians. "We paid homage to the tribe with a ceramic obsidian sculpture in the front entry, a nonnative material often used by the tribe to make arrowheads and found on Serrano land," says Kelly Scherbenski, associate and senior interior designer at Klai Juba Wald. The entrance also features two laser-cut screens in the shape of clouds, which represent good luck and bring positive energy into the space.
"The existing footprint of the restaurant had a significantly large column in the center," Scherbenski says. "Our solution was to feature the column in our design and use it to create zones for different dining areas." Chinese coins decorate the center column, symbolizing money, good luck and abundance. Plain sliced, red oak-stained wood creates divider walls at semiprivate dining booths. Repurposed vintage teapots sit on the shelves as artwork.
Layers of luxurious materials create the design of the interior dining area and bar. These include hand-embroidered silk wall panels, handcrafted wood wall coverings, ornate wood dividers, lush velvet fabrics and custom woodworks. A rich red, black and gold color palette brings together the design elements.
The restaurant and bar menus also contribute to the authentic experience. "We have carefully crafted the Hong Bao Kitchen menu to highlight regional Asian specialties," says Bob Zhang, executive Asian sous chef of San Manuel Casino, who trained in China. Under his direction and that of Jun Tao, Hong Bao chef de cuisine, the culinary staff prepare everything from Kong Bao chicken to Peking duck carved tableside, seafood ball with crab and matsutake lion head, dim sum, Shanghai braised pork and sushi. Bar specialties include cocktails, Japanese whiskys, rare wines and spirits.
Storage and Preparation
The layout of the chef's counter allows staff to produce large quantities of menu items throughout the day and evening.After food arrives at a loading dock on the casino's lower level, culinary staff place ingredients on carts and bring them up in a dedicated elevator to the next level. They walk the carts down a corridor, through swinging doors, and place the menu ingredients in a walk-in cooler, walk-in freezer and dry storage. "We installed roll-up doors rather than walk-in doors to make the space more efficient and cost-effective," says John Egnor, principal, JME Hospitality, based in The Woodlands, Texas. "Space is money."
The entire kitchen's design follows classic flow principles so staff can move food easily from storage to stations to guests. Because the space is relatively small for the size and complexity of the menu, Egnor worked closely with the chefs to position stations and equipment for easy access.
Reach-in refrigerators give staff continuous access to ingredients. Photos by John Egnor
Junior chefs take food from storage as needed and bring it to the various preparation stations. The entire kitchen is enclosed and not visible to guests. "We were given a particular area for the renovation and did not have the space for an open kitchen," Egnor says. "Even if we would have moved the kitchen, we couldn't have placed it anywhere that would interfere with cellular raceways that run beneath the gaming areas to power them."
The heavy production area contains a tilting braiser, tilting steam-jacketed kettle and two stockpot burners for making soups such as hot and sour with seafood, wonton, and chicken ginseng, as well as broths and sauces.
Peking duck ranks as the restaurant's main specialty item. Culinary staff wash the ducks and allow them to soak in a brine solution for three to four hours. They then pump air under the skin through the neck cavity to separate the skin from the fat. Staff plunge the ducks into boiling water for one to five minutes, and then hang them to dry in cabinets for up to four days. The cabinets, which can hold 60 ducks, must maintain a temperature of less than 40 degrees F and 40 percent to 50 percent humidity. This process tightens the skin and helps the duck achieve its traditional crispy texture.
A custom duck drying cabinet holds 60 ducks and allows staff to prepare authentic cuisine. Photos by John Egno
"We cook up to six ducks in each of two roasting ovens for about 45 minutes at 400 degrees F," Zhang says. "This process allows the skin to get crispy while the duck meat stays juicy on the inside." Staff place the cooked ducks on a cart and wheel them to guests' tables, where they carve the birds.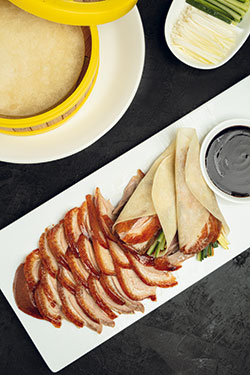 Peking duck, one of the restaurant's specialties, receives an artful presentation.Photos courtesy of San Manuel CasinoThe culinary staff prepare 35 to 40 ducks per day. Staff alert customers that the wait is approximately 45 minutes for Peking duck orders. "During busy periods, we are cooking ducks continuously, so guests don't have to wait as long to get their orders," says Jerold Brooks, executive chef, San Manuel Casino. Staff also use the ovens to cook Shanghai braised pork.
A station with cutting boards, knives and rice cookers support staff as they prepare sushi and cold apps such as hamachi with jalapeño ponzu sauce and soft-shell crab rolls. A nearby 32-quart mixer allows staff to make batter for dim sum.
The dim sum station contains eight steaming bases that can hold five bamboo steamers to cook savory specialties such as shrimp dumplings, lobster dumplings, steamed pork dumplings and black truffle xiao long bao. Staff here also prepare dessert dim sum such as sago dumplings with tapioca pearls and red bean paste, and mango pudding. This station's crew also steams menu items such as lobster ginger scallion, scallops with vermicelli noodles and a daily fish/seafood catch with ginger scallion sauce.
The dim sum chef's counter features a mobile cart holding the containers.
Preparation carts sit in this area and near other stations, and serve as prep tables that hold knives, cutting boards and hotel pans. "The carts can be moved wherever they are needed," Egnor says. "The casters on these carts lock and don't allow the carts to move, which is essential for carts that aren't always positioned against walls. Because we were working within a relatively small space, these carts give staff the prep space they need."
One of the essential components of the kitchen, a steamer, supports dim sum preparation.
The wok station contains four woks that support staff's preparation of braised abalone with abalone sauce, sea cucumber abalone sauce, braised bird's nest in coconut milk, Shanghai braised pork, a seafood ball with crab and matsutake lion head (mushrooms), and salt and pepper soft-shell crab. "The key to authentic, great Asian food is fresh fish such as lobster and crab — and woks that can get extremely hot," says Brooks.
The metal woks, imported from China, contain a clay lining. "Wok is 'turbo power' using forced air injection mixed with the natural gas that creates a heat temperature that far exceeds normal atmospheric gas combustion," Egnor says. "Think of using a jet engine versus an open burner. It brings to a rolling boil a quart of water in less than 5 seconds or heats oil to 375 degrees F in less than 12 seconds. The hotter the oil, the better the result."
The wok area also contains smaller burners that hold stocks and salsas. Nearby tables hold ingredients such as spices, salts and sugar.
The chefs and design team agree that this restaurant concept works only with the right equipment. "The only way we can produce authentic menu items is to have equipment that allows us to cook at the proper temperatures," Brooks says.
Expo station staff plate and garnish food, and ensure consistent appearance, before items route to guests.
In the dishroom, the food waste scrapping system contains scrapping nozzles on the trough. "This system is more efficient for employees because employees don't need to constantly reach for the handheld spray nozzles and water isn't spraying all over the area," Egnor says.
Full-Service Bar
The bar contains many undercounter and upstanding refrigerators and ingredient rails to allow in-house mixologists to practice their craft. This mirrors the setup in the casino's high-end gaming areas nearby. The highest-end cocktail, Rare and Fine, features rare and expensive American whiskeys and a 100-point Bordeaux served in a keepsake Lalique crystal glass along with a diamond and 14k gold cocktail pick — for a cost of $10,000.
Bar equipment sits on a sanitary curb. Photo by John Egnor
Other cocktails featuring exotic fruits and spices from the Orient include Blossoms and Spice, comprised of tequila and elderflower liqueur, bound in house-made fresh hibiscus lime sour, shaken and served on the rocks with a spicy togarashi chile pepper rim, and Matcha Matcha with green tea-infused soju, double shaken with craft matcha green tea, lemon sour and served icy cold with matcha foam and dust. The bar also offers sake, Japanese whiskys, beer and wine.
The project team recognized from day one of their planning that Hong Bao had to provide guests with an authentic Asian experience they would long remember and couldn't find elsewhere nearby. The equipment contributes as much as the decor and carefully sourced ingredients.
About the Project
Opened: Dec. 19, 2019
Seats: 88
Total size: 5,500 sq. ft.
Kitchen: 2,600 sq. ft.
Bar: 480 sq. ft.
Equipment cost: $850,000
Website: sanmanuel.com
San Manuel Casino: The casino opened as a bingo hall in 1986. The San Manuel Band of Mission Indians owns and operates the casino. San Manuel is one of several clans of Serrano Indians, who are the indigenous people of the San Bernardino highlands, passes, valleys, mountains and high deserts who share a common language and culture.
Scope of project: Complete gutting of a sports grill to create an Asian-inspired restaurant with a kitchen and dining area featuring cuisine from China and surrounding regions; a full-service bar
Hours: 11 a.m. to 3:58 a.m. (Chinese culture considers the number four to be very unlucky, which explains the unusual closing time.)
Menu specialties: Authentic Asian dishes and regional Asian favorites. Asian cuisine is drawn from China's eight major cuisine regions in addition to Vietnam, Korea and Japan. These include Kong Bao chicken, Peking duck carved tableside, seafood ball with crab and matsutake lion head, dim sum, Shanghai braised pork and sushi.
Bar specialties: Cocktails such as Blossoms and Spice and the Matcha Matcha cocktail, Japanese whiskys, rare wines and spirits
Staff: 45 full time
Key Players
CEO San Manuel Casino: Loren Gill
General manager, San Manuel Casino: Peter Arceo
Chief operating officer of hospitality, San Manuel Casino: David Kopasz
Vice president/culinary: Oliver Wolf
Hong Bao restaurant manager: Yongfeng (Tony) Wang
Executive chef, San Manuel Casino: Jerold Brooks
Executive Asian sous chef: Bob Zhang
Hong Bao chef de cuisine: Jun Tao
Mixologists: Chris Rosano and Joey Gottesman
Marketing: Brad Egnor, vice president; Jenna Brady, public relations manager, marketing
Architects: Klai Juba Wald: John B. Wald, AIA, managing principal; Marco Davis, project manager
Interior design: Klai Juba Wald Interiors, Las Vegas: Ann Fleming, NCIDQ, IIDA, ASID, LEED green associate, principal of interior design; Kelly Scherbenski, NCIDQ, associate and senior interior designer; Daria Real, director of interior design; Jen Strasner Lee, interior design project manager
Foodservice design consultants: JME Hospitality, The Woodlands, Texas: John Egnor, president; Louisa Stangel, lead project manager and design support, Long Island, N.Y.; Mark Stone, project manager and design support, Columbus, Ohio; Amy Russel, design support, formerly with JME Hospitality
Equipment dealer: Chefs Toys, Riverside, Calif.: Reid Kaufman
Meet the Players
Jerold Brooks, executive chef, San Manuel Casino. Brooks joined San Manuel Casino in March 2016. Previous positions include executive chef at Ameristar in Kansas City, Mo. He received a culinary degree from Heinz Community College in Jackson, Miss.
Marco Davis, project manager, Klai Juba Wald. Davis joined KJW in 2019. An experienced project manager and designer with a history of working on hospitality projects for more than 16 years, he is a native of Los Angeles and now lives in Las Vegas.
John Egnor, president, JME Hospitality. Egnor began working in hospitality design more than 45 years ago. In addition to The Woodlands, Texas, office, JME Hospitality also maintains offices in Columbus, Ohio; New York; and New Jersey, and does work in the virtual realm internationally.
Ann Fleming, NCIDQ, IIDA, ASID, LEED green associate, principal of interior design, Klai Juba Wald. Fleming joined the firm in 2018 and was the co-founder of Cleo Design. She has worked on projects at MGM Resorts, Wynn Las Vegas, Seminole Hard Rock Hotel & Casino, Cordish Development and Rush Street Gaming.
David Kopasz, chief operating officer of hospitality, San Manuel Casino. Since joining the San Manuel Casino team in 2015, Kopasz served as vice president of Food and Beverage and was promoted to COO in April 2019. Previously, he was vice president of Food and Beverage at Seneca Resorts & Casino in Niagara Falls, N.Y.
Kelly Scherbenski, NCIDQ, associate and senior interior designer, Klai Juba Wald Interiors. Scherbenski joined the firm in 2007. She has worked on projects at The Palms Hotel, Pala Resorts and Seminole Hard Rock.
Jun Tao, Hong Bao chef de cuisine. A Shanghai, China, native, Tao joined the San Manuel team in 2019. Previously, he worked as a chef at high-end hotels and restaurants in Shanghai.
Bob Zhang, executive Asian sous chef of San Manuel Casino. Born in Qin Dao, China, Zhang arrived at San Manuel Casino in October 2016. In addition to holding culinary positions in China, he worked at the Seminole Hard Rock Hotel & Casino and The Ritz-Carlton in Naples, Fla.
1. Mop sink
1a. Floor sink
1b. Hand sink
1c. Underbar hand sink
1d. Underbar sink
2. Soda conduit
2a. Beer conduit
3. Walk-in combination box
3a. Evaporator coil, cooler
3b. Condensing unit, cooler
3c. Evaporator coil, freezer
3d. Condensing unit, freezer
3e. Compact undercounter refrigerator
3f. Reach-in refrigerator
3g. Sandwich/
salad pre-refrigerator
4. Wire shelving
4a. High-density
shelving top track
4b. Wall-mounted shelf
5. Ansul panel
6. Steamtable rack
6a. Mobile ingredient rack
6b. Wall-mounted pot rack
6c. Wall-mounted slanted tubular
glass rack
7. Area drain
7a. Floor trough
8. Worktable w/sink
8a. Worktable
8b. Spacer table
8c. Clean dish table
8d. Soiled dish table
8e. Steam table
8f. Expediter's table
w/tray storage
9. Duck drying cabinet
9a. Heated reach-in cabinet
9b. Underbar cabinet
9c. Bain-marie heater
10. Tilt skillet
11. Beverage dispenser
11a. Iced tea dispenser
12. Kettle
13. Stockpot stove
13a. Wok range
14. Smokehouse
15. Exhaust hood
16. Prep cart
17. POS
17a. POS station w/double cash drawer
17b. Ticket/receipt printer
18. Ice maker w/out bin
18a. Ice maker filter system
18b. Ice maker
18c. Ice bin
18d. Floor pan
19. Work counter
19a. S/s sledge, shelves & surround
20. Heat lamp
21. S/s wall covering
22. Ingredient bin
23. Rice cooker
23a. Rice warmer
24. Vegetable cutter
25. Floor mixer
26. Fryer battery w/filter
27. Chef's counter
28. Drop-in cold pan
28a. Top-mounted drop-in pan
29. Dishwasher
29a. Glass washer
30. Vent stack
31. Food waste collector
32. Noodle steamer
32a. Dim sum steamer
33. Coffee/tea brewer
33a. Tea maker
33b. Coffee filter system
34. Towel hot/cold unit
35. Casino bar corner filler
36. Underbar blender station
36a. Underbar fillers & drainboards
38. Soda gun
38a. Underbar soda gun filler
39. Underbar cocktail station
40. Curb support
41. Trash container
42. Backbar equipment
43. Draft beer dispensing head, decorative
44. Underbar dry storage