Café 655 at Principal Financial Group, Des Moines, Iowa.
Principal Financial Group opened Café 655 and a micromarket as part of a $400 million renovation project. The company revamped four buildings on its corporate headquarters campus in Des Moines, Iowa.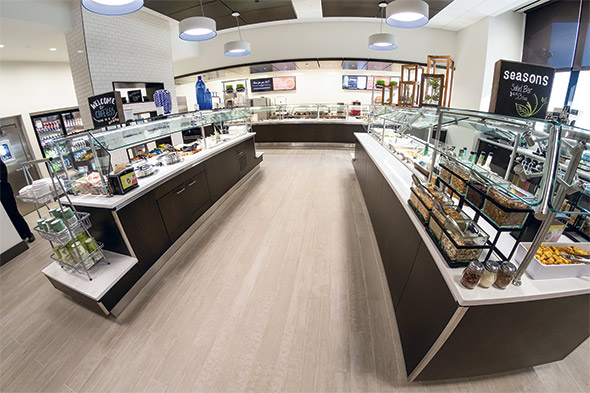 The design team's goal was to relocate the cafe to the building's first floor from the third floor to make the cafe more accessible and attractive to employees. "The third-floor foodservice had been operating since 1984," says Carissa Schmidt, assistant director of corporate real estate at Principal. "It had 350 seats and was heavily used during lunch but rarely used in off hours."
With less square footage in the new space — about one-quarter the size of the original cafe — the design had to be extremely effective. "We rearranged the workflow and used multipurpose equipment such as hot/cold food wells to be more efficient with the limited space," says Rick Seely, AIA, LEED AP, principal, OPN Architects in Des Moines, Iowa.
Renovation Perspective
Café 655's main floor location, near the main building entrance and building elevator banks, provides a central access point. The building's redesigned 6,175-square-foot lobby provides a warm and welcoming space for Principal employees to meet and dine. The lobby features natural light, a ceiling 2 stories tall and seating for 150 in a variety of environments, including a cozy nook with sofas and a fireplace.
Café 655 offers quick-serve menu options, including two entree stations and a build-your-own salad bar. The offerings are unique compared to other campus dining options, yet they complement what's available across the other Principal food offerings. Sodexo provides foodservice for Principal.
"We have three buildings with foodservice. Café 655 was the third building renovated," says Michele Fritz, real estate asset manager, corporate real estate at Principal. "We wanted each dining operation to offer different types of food to eliminate redundancy. All the locations are within a short walking distance so employees can dine wherever they like." She notes that renovation planning drew views from an assortment of individuals and teams at Principal, including human resource benefits.
"Each foodservice has its own personality," Schmidt adds. "The others feature a grill station, coffee bar and nationally branded fast-casual Au Bon Pain. The whole program was well organized, and communication was strong because of the partnerships with all of the players. We had many, many meetings and a lot of collaboration."
Staff prepare about 90 percent of the menu offerings from scratch at each of the three Principal foodservice locations, which function as self-contained entities instead of relying on a commissary kitchen approach. "A few menu items, such as soups and grab-and-go sandwiches and salads, are made at Café 655 and delivered to another cafe through a tunnel that connects the buildings," says Jon Broughton, Sodexo Corporate Services general manager and executive chef at Principal.
Café 655 offers breakfast and lunch Monday through Friday.
"The final design reduced the overall footprint without jeopardizing the quality or quantity of food," says Luke Green, contract and design specialist for Advance Foodservice Consulting in Marion, Iowa. The back of the house sits just 20 feet from the loading dock. That location "provides optimal positioning for efficient logistics and labor savings," he says.
"This is a loading dock for the entire campus," Broughton say. "We receive everything here and deliver all goods through an underground tunnel system." Staff transport all perishables for Café 655 to a walk-in cooler and walk-in freezer and other menu items to dry storage. Team members at each food prep station then walk to the storage areas to collect the food they need for the day's production and take it to the cold production area, single- and double-door roll-in and reach-in refrigerators, and freezers at servery stations.
"The design of the kitchen layout gives the culinary team the perfect balance of work space and nearby storage," Green says.
For example, the back-loaded glass door coolers use one wall in the walk-in cooler, eliminating the need for bulky stand-alone beverage coolers and separate storage space. Staff can easily reload the cooler during peak business periods and implement first-in-first-out procedures by filling slides from behind. In addition, mobile inline rolling-track dry storage shelving triples the storage space by eliminating the need for separate pathways between each shelf unit.
Other space-saving features include an eyewash station with an integrated wall-mount design that does not take up valuable kitchen space and a hose reel with a table leg bracket that allows the hose to mount in an out-of-the-way location. Employees can access both quickly and easily.
"I also love the blast chiller we've brought in," Broughton says. "We're chilling down menu items such as chicken and beef to 40 degrees F very quickly, and it doesn't take up much space."
In cold production staff use a slicer, food processors and two mixers to prepare deli meats and mise en place. Staff use a large, double-sided chef's counter for prep for the cafe and catering. The hot line contains two double-stacked convection ovens and a double-stacked combi oven that has a smoker element. The hot line also includes a pair of tilt skillets, two 30-gallon steam jacketed kettles and a 6-burner range.
Because the kitchen was downsized considerably, the baking operation, catering service and staging area and pantry were relocated to the basement of another Principal building.
"We don't have any fryers, a griddle or broiler here," Broughton says. "So we must be very creative with our menus." For example, staff use an accessory package for combis to put grill marks on chicken breasts. They also use a tilt skillet as a griddle to cook hamburgers, saute fish and steam vegetables in perforated pans.
"We selected equipment that is big and has a lot of firepower and is flexible, Broughton says. "But it doesn't have a lot of computer controls. We're relying on the chefs' talent to use great ingredients and use the equipment for multiple purposes."
In the front of the house, staff prepare made-to-order menu items while customers watch the action. A tortilla press with two tortilla griddles and a high-speed microwave/convection/impingement oven also sit in this area. The cafe offers three main cooking stations at both breakfast and lunch. Breakfast stations include Farmhouse Continental and Hot Breakfast Bar, Farmhouse Omelet and Breakfast B'RITO Bar. At lunch, stations include the build-your-own Seasons Salad Bar and My Dish, featuring a rotating cook-to-order themed action station and traditional entrees; Peking Plate, which features stir-fry cuisine; and B'RITO, which features fresh-pressed, hand-rolled burritos, rice bowls, salads, quesadillas, tacos and nachos. "The burritos are prepared in an assembly line process," Broughton says. Customers select from five house-made salsas, including pico, roasted corn and salsa verde. Simmer offers three house-made soups.
"Convertible hot and cold drop-in food wells allow for expanded menu offerings and the ability to quickly change service style within the same space," Broughton says.
The salad bar, branded Seasons Salad Bar, contains cold pans that hold rotating seasonal ingredients such as four types of greens, lean proteins and other vegetables including roasted Brussels sprouts and Iowa sweet corn. Customers choose among many toppings and salad dressings. In addition to salads, customers can help themselves to half-wraps and deli sliders. "This is a solution for a deli component," Broughton says. "A by-the-ounce pricing approach enables customer to "easily mix and match a little salad with a half wrap," he says.
The beverage line features brand-name coffee and tea, a fountain machine and packaged beverage options.
Designed for maximum convenience, Café 655 also offers customers flexible payment methods and loyalty rewards. A phone app may be implemented in the fall.
Placement of warewashing provides easy access to the drop-off area for the servery's dirty wares. The warewash area includes a 66-inch conveyor dishwasher and utilizes a recirculating trough with a collector for compost.
A 24-7 option, microMARKET Solutions by Sodexo features two air-screen display coolers that hold salads, sandwiches, yogurt, snacks and desserts in 100 percent compostable packaging. Another glass-front display cooler holds beverages, which is back-fed from the walk-in cooler in the kitchen. Customers check out from this offering by themselves with a barcode scanner or scrolling through touch-screen listing to select the correct items.
Connecting Sustainable Elements
"We are very proud of our sustainability elements and keeping food waste out of landfills," says Fritz. "Sodexo handles all back-of-the-house campus composting elements, such as food scrap collection and measurement. Principal coordinates all recycling efforts for the campus.
A member of the Food Recovery Network, Sodexo collects leftover food twice a week from all three on-site Principal cafes and the catering operation and donates it to local Des Moines agencies. By June 2019, Principal and Sodexo rescued or composted 77,403 pounds of food from their cafeterias. Principal also introduced a new program for composting restroom towels.
"When we talk about composting, this includes food such as pineapple tops and onion skins," Broughton says. "We evaluate our food preparation practices and review what staff and customers are throwing away. We then train staff to improve knife skills and use leftovers. By doing this, we've shaved two to three percent of our food cost just by increasing awareness."
In addition, food containers are compostable and/or recyclable.
Principal continues to receive positive feedback and increased employee participation in the newest food offering. The different menu items at the three cafes also encourage employees to take the short walk to the other buildings. "We've worked hard to give employees a good experience throughout
campus," Fritz says.
(Want more? Check out this story on Café 750, another Principal dining venue.
About the Project
Opened: February 2019
Seats: 150 inside; 50 outside
Average check: $3.50 breakfast, $5.60 lunch, $4.40 micromarket
Total annual sales: $900,000-plus projected
Daily meals/transactions: 800 at cafe, 15 after hours at micromarket
Principal Financial Group: A global financial services company that employs 6,000 people in the four buildings on its Des Moines, Iowa, headquarters campus and more than 17,000 people worldwide.
Scope of project: Kitchen, cafe and micromarket in Principal's 655 9th St. building
Total size: 3,900 sq. ft.
BOH: 1,290 sq. ft.
FOH: 1,750 sq. ft., including micromarket
Storage: 860 sq. ft.
Hours: Café 655, 7 a.m. to 9:30 a.m., breakfast; 11 a.m. to 1:30 p.m., lunch;
Staff: 11 full-time employees
Total project cost: $400 million for multiyear renovation of four buildings
Website: principal.com
Key Players
Owner: Principal Financial Group, Des Moines, Iowa
Chairman, president and CEO at Principal: Dan Houston
Real estate asset manager, corporate real estate at Principal: Michele Fritz
Assistant director of corporate real estate at Principal: Carissa Schmidt
General manager and executive chef, Sodexo Corporate Services: Jon Broughton
Architect: OPN Architects, Des Moines, Iowa; Rick Seely, AIA, LEED AP, principal; Dave Hill, AIA, project manager
Interior design: OPN Architects
Foodservice consultants: Advance Foodservice Consulting, Marion, Iowa; Luke Green, contract and design specialist
Equipment dealer: Rapids Foodservice Contract and Design, Marion, Iowa
Construction: Graham Construction, Des Moines, Iowa; Michael Weaver
Jon Broughton, general manager and executive chef, Sodexo Corporate Services. Broughton came to Principal in 2008. He has worked for Sodexo for 23 years.
Michele Fritz, real estate asset manager, corporate real estate for Principal Financial Group. Fritz is the relationship manager with Sodexo and has oversight of the three on-site cafeterias and Principal's catering business. She joined the company in 1998.
Luke Green, contract and design specialist, Advance Foodservice Consulting. Green joined the firm 14 years ago. He received FE&S' DSR of the Year award in 2017.
Carissa Schmidt, assistant director of corporate real estate at Principal. Schmidt joined Principal 12 years ago and oversees assets for the corporate campus in Des Moines, Iowa. She oversaw the multiyear campus renovation project and is involved in campus design strategies, including campus dining projects.
Rick Seely, AIA, LEED AP, principal, OPN Architects. A partner at OPN, Seely's projects include the campus masterplan for Principal and subsequent renovations, the Iowa State Capitol masterplan and dome restoration and the Iowa State University Memorial Union master plan, renovation and south addition.
Floorplan and Equipment Key
1. Recycling/microwave counter
1a. Beverage counter
1b. Checkout counter
1c. Salad bar counter
1d. Soup/salad counter
1e. Made-to-order counter
1f. Pickup counter
1g. Back-line counter, hand and dump sinks
1h. Back-line counter
1i. Work counter w/sinks and faucets
1j. Beverage counter w/hand and dump sinks
2. Microwave oven
2a. Conveyor toaster
2b. Microwave convection/impingement oven
2c. Convection oven
2d. Double-stack combi oven
2e. Double-stack convection ovens
3. Refrigerated self-service case
4. Cup dispenser
4a. Lid dispenser
4b. Fountain dispenser
4c. Water dispenser
4d. Chilled waterdispenser
4e. Hot water dispenser
4f. Juice dispenser
5. Water filter
6. Carbonation chiller
7. Waste container
8. Heated display merchandiser
9. Coffee satellites
10. POS terminal
11. Scale
12. Food shield
13. Drop-in cold pan
13a. Drop-in soup wells
13b. Drop-in hot/cold wells
14. Printer
15. Order screen
16. Heated pass-thru cabinet
16a. Mobile heated cabinet
17. Reach-in refrigerator
17a. Roll-in refrigerator
17b. Blast chiller
17c. Reach-in freezer
17d. Walk-in cooler
17e. Evaporator for cooler
17f. Condenser for cooler
17g. Walk-in freezer
17h. Evaporator for freezer
17i. Condenser for freezer
18. Faucet
18a. Electronic faucet
18b. Prerinse w/add-on faucet
19. Dish cart
19a. Transport utility cart
19b. Pan cart
20. Dough press
21. Hand sink
21a. Eyewash station
22. Six-burner range
23. Mobile utility rack
23a. Mobile can rack
24. Floor trough
25. 40-gal. kettle
25a. Kettle filler stanchion
26. Exhaust hood
26a. Exhaust hood controls
26b. Exhaust duct riser
27. Tilting skillet
28. Smoker
29. Fire suppression system
30. Proofer
31. Ingredient bin
32. Worktable w/bakers' top
32a. Prep table w/sink and faucet
33. Mixer
33a. Mixer w/stand
33b. Soiled dish table
33c. Clean dish table
33d. Dish table w/sorting shelf
34. Wall-mount shelf
34a. Shelving
34b. Pan shelving
34c. Merchandise shelving
34d. Track shelving
35. Slicer
36. Ice cuber w/bin
37. Food waste collector
38. Hose reel w/spray
39. Dishwasher
40. Lockers
41. Filter system
42. Coffee brewer
42a. Tea brewer