Chickadee, Boston, Mass.
After driving several miles past Boston Seaport District's new residential towers one finds Boston's Innovation and Design Building (IDB). Owned and managed by Jamestown L.P., a real estate investment and management company headquartered in Atlanta, the structure anchors the eastern portion of the Seaport District.
Photo by Kristen Teig Photography IDB features open, flexible floorplans, high ceilings and light-filled spaces. It houses tenants in a broad range of businesses that produce physical, digital and engineered products. Tenants include Reebok, Toys for Tots, Neoscape, America's Test Kitchen and the Boston Beer Company. The roster of retail operations and restaurants include Fare Well, The Farmacy Cafe, Flour Bakery & Cafe, Yankee Lobster Co. and the 88-seat Chickadee, IDB's first full-service restaurant and the only establishment that operates in the evenings as well as throughout the days.
"We wanted to find an operator whose food was so good he or she would help us draw foot traffic and we would bring traffic to them," says Evan Fuller, vice president and food and beverage director, creative and marketing, Jamestown L.P. "I reached out to chef John daSilva, whose career I had watched for years. He and Ted Kilpatrick had worked together at Barbara Lynch's No. 9 Park in Boston, and they make a perfect fit. We feel like we've hit a grand slam with these two."
DaSilva and Kilpatrick refer to their restaurant as "New England born and Mediterranean inspired." The seasonal menu features ingredients from local farms, markets and producers. "We write a menu that is about approachable food and still loaded with surprises like the grilled carrot salad with avocado hummus, hazelnuts and citrus vinaigrette," daSilva says. Chickadee also features a carefully curated wine list, a selection of local craft beers and ciders, as well as a creative cocktail menu.
"We named the restaurant after the state bird of Massachusetts," says daSilva. "These birds are innately industrious, curious and social creatures. They are creative opportunity seekers and are able to rise to any occasion, no matter where their adventures take them. They are communal and eat with other birds. They are a mascot for what we wanted to do here at Chickadee."
When daSilva and Kilpatrick agreed to develop Chickadee at this location, they found a space that had been designed for a prospective tenant who had not yet been selected. Fuller and the Jamestown team worked with architects and interior designers from IA Interior Architects and with foodservice designers at Boston Showcase Company to develop the restaurant space.
The concrete floors and large round columns with all their imperfections are original to the building; the designers brought them back to life. Lighting in the open area features salvaged pendants that were painted and rewired. Photo by Kristin Teig Photography
"We were asked to create a space that would work for whomever came in to run the restaurant, and then we tweaked when John and Ted came in," says Jessica Odenwaelder, project design specialist at Boston Showcase Company. "The owners wanted a restaurant that was fresh and offered a partially open kitchen with a cookline visible to diners that creates a more connected dining experience."
"They also wanted a strong bar program," adds Gary Strickland, vice president of engineering, Boston Showcase Company. "Our challenges included working within a small footprint and adjusting to current building conditions. Our solution was to design a space focused on flow within the building's parameters."
While not historical, the building has an interesting background. The structure was originally constructed by the U.S. Department of Defense in 1918 and served as a waterside storehouse for the South Boston Army Base, says Charlotte Nakhoul, NCIDQ, IIDA, interior designer, IA Interior Architects in Boston. "The concrete floors and large round columns with all their imperfections are original to the building, and so we wanted to bring them back to life and celebrate them. The floors were ground and sealed, and the columns were given a custom metal surround. Getting the metal surround to neatly and properly hug the imperfect large columns was a task for our millworker and our general contractor."
The architects and interior designers selected comfortable and modern design elements such as metal wrapped columns and a modern palette of grays, blues and white, as well as blond wood. They also gave a nod to the building's location, adding several high-style design elements, such as custom drapery to soften the seated dining area, custom shelving that shields the high-top bench seating. A customized shelving unit sits behind the hostess stand.
"We faced some coordination challenges as you most often do with custom built millwork and finishes," Nakhoul says. "Getting a lighter-weight wood baffle ceiling that matches the custom design of the oak backbar took a few rounds of trial and error before we arrived at a solution."
The restaurant boasts custom banquette seating and shelving, which holds touches of fresh-cut flowers and thoughtfully curated artwork and knickknacks so the guests feel comfortable and cozy, Nakhoul adds.
Though the designers did not attempt LEED accreditation, they specified as many locally sourced products as possible and Energy Star-rated equipment for the dishwasher, combi ovens, ice maker and fryer battery. "Another challenge was building a structural vault beneath the floor slab that was engineered to accept the grease trap below the floor in this old building," Nakhoul says.
For the kitchen areas, "Our goal was to create a restaurant aimed at providing a fun and approachable food and beverage offering in a casual environment that would reflect The Innovation and Design Building's creative atmosphere," Strickland says.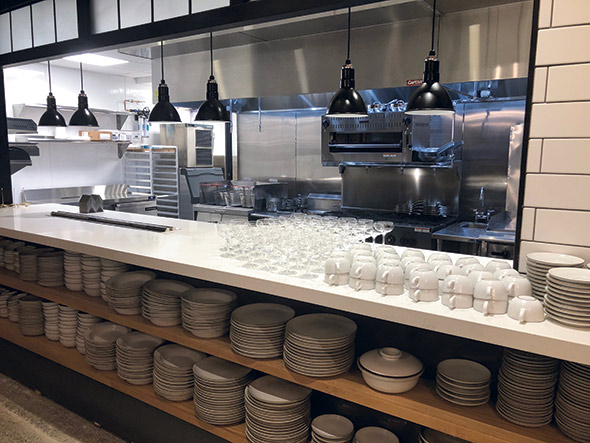 Plate storage enables staff to easily access the serviceware. Clean sight lines into the expo kitchen enhance the dining experience.
After arriving as tenants, daSilva and Kilpatrick requested a few changes. For example, the bar's positioning was changed so it interfaces with the rest of the room. And some of the high-top tables have bench seating. A wall was built so customers can watch the culinary action in the partially open kitchen. A kitchen wall was extended to include more firepower for garde manger and dessert stations. A pasta cooker was placed in the front areas. And doors were placed so the chef can easily join the line and expedite.
"Designing bar seating to meet American Disabilities Act (ADA) requirements can be challenging due to underbar equipment dimensions, so we placed wide seating near the expo station," Fuller says. "It's wide enough so guests don't feel cramped and they are part of the action.
Food Deliveries and Menu Production
After food arrives at the loading dock, staff members deliver the ingredients to an energy-efficient, combination walk-in cooler and freezer that features a relatively quiet condenser system and a pair of two-door reach-in refrigerators. Dry storage sits in a hall outside the kitchen. "Given the space allotment, we wanted to reduce the amount of steps cooks take in the kitchen so they can be the most efficient possible," Odenwaelder says.
Before reaching the storage units, staff walk through a corridor and pass by the dish room, which contains a disposer, prerinse sink and door-type, ventless dishwasher. "An L-shaped island table allows a dishwasher to work on one side, and waitstaff can approach it from the other side and deliver dirty dishes," Strickland says. "Overhead dishracks allow staff to easily sort glassware and flatware and place them into racks that go into the dishmachine. This whole project is about economization of space, and this is one example of how it works here."
The dishwashing area provides ample landing space for dirty and clean dishes.
"This is the most luxurious dish room I've ever worked with," daSilva adds. "It's larger than most and contains shiny new equipment that we work very hard to maintain in its original state." The commercial vinyl, seamless flooring and fiberglass wall coverings contribute to the clean-looking environment.
The prep kitchen contains large stainless-steel tables for butchering and vegetable preparation, as well as a high-powered food processor, blender and meat slicer.
"The kitchen is arranged so staff can prepare lunch and dinner menus that are similar but different enough to attract guests at each time," daSilva says.
Staff use an extruder to make most of the pasta, but some is made by hand. Each morning before lunch, staff use this area also to make pita dough, which is baked in one of two combi ovens. Chickadee serves pitas with dips such as black bean hummus and pimento feta and with fillings such as spicy cauliflower with fried hake. "Warm and pillowy house-made pita bread is a restaurant specialty that is the foundation for the lunch menu," daSilva says. "During the day, the menu revolves around the pitas, but at dinner and at night we highlight bar snacks, house-made pastas and thoughtful vegetable dishes for the after-work guests and guests who come from afar."
The staff also bake pastries in one combi oven and flash the apple galettes with heat before serving them with cheddar cheese, thyme and maple ice cream.
Staff use the other combi oven for steaming vegetables and lobsters and smoking menu ingredients such as sea trout, which is served with pita chips. Staff also smoke rabbit in the combis. "The combi ovens make life so easy because of their versatility and ease to clean," daSilva says. "We can use them all day long and keep them sparkling clean every day."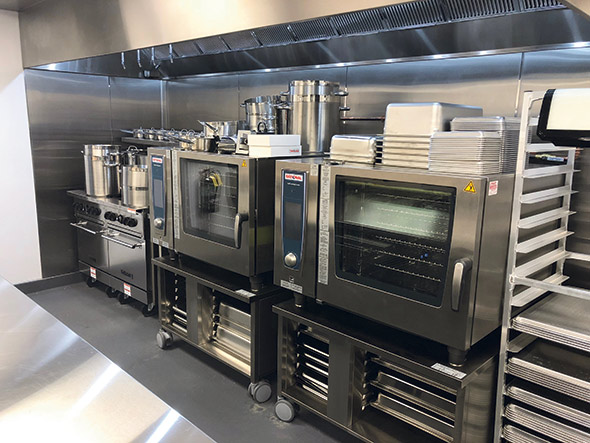 Two combi ovens and a range support menu diversity at lunch and dinner.
This prep area also contains a high-speed countertop oven for finishing menu items. "This oven positioned here frees up space on the line when the chefs get busy," Odenwaelder says.
Another cookline, which guests can see as they dine, contains a hood system that sits back-to-back with the back kitchen's cookline and shares the duct system. "The open window into the kitchen was designed not only for the diners' experience but also to give the chef interaction with the waitstaff to expedite food," Kilpatrick says.
The cookline contains four stations like a traditional galley-style kitchen: cold appetizers, hot appetizers, a pasta station and grill station. "There's about 20 feet of refrigerated worktop counter space so the staff can easily access ingredients," Strickland says.
Expo line equipment includes fryers, a range, a salamander and a plancha.
At the cold and hot appetizers stations, for instance, staff prepare thick potato skins that they place in a deep fat fryer. They fill the skins with steak tartar seasoned with mayonnaise, mustard and smoked paprika, pickled green garlic and chives, which they serve over green garlic skordalia finished with fresh dill, creme fraiche and paprika oil. Staff also use the fryer to sizzle cauliflower, Scotch olives and panisse (chickpeas fries). These stations also support staff preparation of vegetables such as castelfranco radicchio with celery, honeycrisp apples, walnuts and pecorino; marinated beets with pistachio, goat cheese and ras el hanout; roasted Brussels sprouts with bacon, crispy shallots and green harissa; and crispy hen of the woods with potato-almond skordalia, nigella seed and chives.
A pasta boiler and eight-burner range allow the culinary team to offer handmade corzetti with sea scallops, blood orange and pistachio dukkah, squid ink fusilli with sopressata, tomato, ink and olive bread crumbs; harissa cavatelli with lamb merguez, chickpeas, rapini and parmigiano; and radiatore di grano arso with barbecue rabbit, fermented pepper and ricotta salata.
Staff use the conventional ovens underneath the range to roast chicken breasts and quickly give other proteins a flash of heat before serving.
Sitting next to the pasta boiler and range, a plancha supports staff production of roasted porchetta with Brussels sprouts, pears, fried peanuts and colatura. Culinary staff also use the plancha for making spiced duck breast served with smoked almonds, grapes, jicama and mint. The duck skins are crisped in the salamander that sits above the range. "I used to saute the duck meat," daSilva says. "This is the first time I've used the flattop griddle for preparing crispy duck. It works very well."
At the grill station, staff prepare grilled Colorado lamb on the charbroiler and serve it with baby artichoke, taleggio and mint salsa verde. They also use the grill to prepare bistro filet and finish it with romanesco, taleggio and mint salsa verde. They also grill striped bass and top it with honeynut squash, apples, leeks and vadouvan.
"One of the most notable features of the kitchen's design is the location of the kitchen door entrance from the dining room that offers the waitstaff access for drop-off without entering the prep or cooking space," adds Odenwaelder.
The bar's design also includes equipment that allows staff to maximize efficiencies in a relatively small space. The bar includes two cocktail stations, a glass chiller and a rotary-style dishwasher to accommodate the large volume of glassware generated by the beer, wine and craft cocktail lineup.
Customers' response to Chickadee in its first year has exceeded expectations set by daSilva, Fitzpatrick and Fuller. Similar to many restaurant owners, they must retain qualified staff to maintain the restaurant's quality of food and service. One means of accomplishing this is the 2 percent kitchen administration fee instated to bridge the wage gap between the staff in the front of the house and back of the house. During its first year, the combination of a dedicated staff, equipment that lends itself to a creative menu, attentive service and intriguing decor make the state bird a perfect mascot for Chickadee.
About the Project
Opened: August 2018
Size: Total, 4,500 sq. ft., including back-of-the-house prep kitchen (800 sq. ft.) and display a la carte kitchen (300 sq. ft.)
Seats: 88 indoors and 24 on an outdoor patio
Average check: $55 to $60
Total annual sales: $2.7 million projected
Daily transactions/covers: Approximately 300
Scope of project: Entire restaurant, including front and back of the house Hours: Monday – Friday, lunch and dinner, 11 a.m. to 11 p.m.; Saturday, brunch and dinner, 11 a.m. to 11 p.m.; Sunday, brunch, 11 a.m. to 2:30 p.m.
Menu: Fresh fish and a seasonal menu highlighting ingredients from local farms, markets and producers
Staff: 40
Equipment investment: $400,000
Website: chickadeerestaurant.com
Key Players
Owners: John daSilva, executive chef; Ted Kilpatrick, beverage director
Developer/building owner: Jamestown, L.P., headquartered in Atlanta; Evan Fuller, vice president and food and beverage director, creative and marketing, New York City
Chef de cuisine: Stef Bui
Assistant general manager: Bianca Yeager
Guest relations manager: Danielle Almeida
Architect: IA Interior Architects, Boston
Interior design: IA Interior Architects, Boston; Charlotte Nakhoul, NCIDQ, IIDA, interior designer
Foodservice consultants: Boston Showcase Company, Newton, Mass.; Gary Strickland, vice president of engineering; and Jessica Odenwaelder, project design specialist
Equipment dealer: Boston Showcase Company, Newton, Mass.; Matt Starr, vice president, business development; Rick Nielsen, BSC director of operations and in-house manager of installation
Food equipment installation: Food Equipment Installations Inc., Whitman, Mass.; Mark and Chris Barry, owners, in conjunction with Boston Showcase Company
Construction: Trinity Building + Construction Management Co., Boston; Frank Gazzola, senior project manager
About the Players
John daSilva, chef/owner, Chickadee. After graduating from the New England
Culinary Institute, daSilva trained in kitchens including The Boarding House on Nantucket Island and Barbara Lynch's flagship No. 9 Park before opening Spoke Wine Bar. He started on the Chickadee project in 2016.
Evan Fuller, vice president and food and beverage director, creative and marketing, Jamestown L.P. Fuller joined this firm in 2010. Previously, he held management positions at The Ritz-Carlton, Atlanta.
Ted Kilpatrick, beverage director/owner, Chickadee. Before opening Chickadee, Kilpatrick worked in Boston at Radius, Sel de la Terre, L'Espalier and Barbara Lynch's flagship No. 9 Park. He opened o ya – NYC, Covina and Roof at Park South, all in New York City.
Charlotte Nakhoul, NCIDQ, IIDA, interior designer, IA Interior Architects. Nakhoul joined the firm in 2014.
Jessica Odenwaelder, project design specialist, Boston Showcase Co. Odenwaelder joined the firm in 2008. After working her way up from project coordinator to director of projects, she transitioned into her current position. Recent projects include A&B Burgers in Boston, Colette in Cambridge, Mass., and Fox & the Knife in Boston.
Gary Strickland, vice president of engineering, Boston Showcase Company. Strickland joined the firm in 1988 and, after working for a different firm in the south for six years, returned to Boston Showcase in 2004. Other projects include 10 Davio's Steakhouses and restaurants in hotel properties such as Boston's Envoy Hotel and Marriott's AC Hotels properties.
Matt Starr, vice president, business development, Boston Showcase Company. Starr began working at BSC, which is owned by his family, as a child and joined full time in 2011. Two recent projects include Fox & the Knife and Alcove, both in Boston.
Equipment Key
1. Storage shelving
1a. Wall shelf w/pot rack
1b. Dish sort wall shelf
1c. Cooler storage shelving
1d. Freezer storage shelving
1e. Wall shelf
1f. Printer shelf
2. Hand sink w/soap and towel dispenser
2a. 3-compartment sink
2b. Mop sink and enclosed cabinet
2c. Hand sink
2d. Underbar hand sink
2e. Underbar
3-compartment sink
3. Splash-mount faucet
3a. Deck-mount prerinse faucet
3b. Deck-mount prerinse faucet w/nozzle
3c. Wall-mount pot filler faucet
4. Soiled dish table w/sorting overshelf
4a. Clean dish table
4b. Prep table w/wood top
4c. Filler tables w/sinks
4d. Worktable
4e. Underbar worktop
5. Disposer
6. High-temp, ventless, door-type dishwasher
7. Walk-in cooler/freezer assembly
7a. Cooler evaporator coil
7b. Cooler condensing unit
7c. Freezer evaporator coil
7d. Freezer condensing unit
7e. Worktop refrigerator
7f. Undercounter freezer
7g. Undercounter refrigerator
7h. Refrigerated equipment stand
7i. Worktop freezer
7j. Backbar refrigerator
7k. Reach-in upright refrigerator
8. Bun/sheet pan rack
9. Prep table w/sink
10. Food slicer
11. Mobile ingredient bin
12. Food processor
13. 5-qt. mixer
13a. 40-qt. mixer
14. Trash container
15. Chef's counter
15a. Millwork back counter
16. Ice cuber w/ice bin
16a. Ice nugget machine w/ice bin
17. Floor trough
18. Water filter system
18a. Water filter for beverages
19. Exhaust hood
19a. Exhaust hoods control panel
20. Fire suppression system
21. Stainless-steel wall panels under hood
22. 8-burner range w/standard oven base
23. Combi oven
23a. Wall-mount cheese melter
24. Fryer battery
25. Pasta cooker
26. Salamander broiler
26a. Countertop charboiler
27. Countertop griddle
28. POS systems and printers
28a. POS printer
29. Millwork dish cabinet/expediting counter
30. Retractable heat lamp
31. Coffee brewer
31a. Espresso machine
31b. Coffee grinder
32. 6-tap beer tower w/drainer trough
33. Millwork front bar
34. Underbar cocktail station
35. Underbar liquor display
36. Glass chiller
37. Underbar glasswasher