Canyon Lodge, Yellowstone National Park
Nearly 4.1 million people visited Yellowstone National Park in 2018, and each day nearly 3,100 of these visitors dined at Canyon Lodge, bringing the total number of meals served from May until mid-autumn to 458,000. To please the diverse demographic that visits this national park, the menu must include everything from rotisserie chicken and vegetarian Swiss steak to customizable noodle bowls and grab-and-go flatbreads. The dining environment must also leave positive, memorable impressions unlike anything guests have seen in other parts of the vast park.
The renovated Canyon Lodge accomplished all this and more. First-time guests express great pleasure when they see the many dining options at Canyon Lodge and the architectural structure. But only returning guests fully appreciate the lodge's renovated appearance and sharp contrast to its historical past.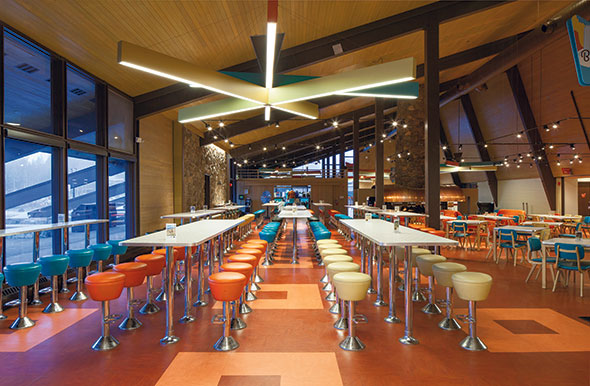 Photos by James Ray Spahn
The decision to renovate came about as a result of surveys and town hall meetings conducted by concept consultants from BrandIQ in Los Angeles. "Those participating in the surveys and meetings repeatedly asked for faster service, more diverse menu options and more customization," says Lu Harlow, director of food and beverage for Yellowstone National Park Lodges, Xanterra Travel Collection. Xanterra is a Greenwood Village, Colo.-based touring and hotel company, which is under contract with Yellowstone National Park to provide lodging, activities and foodservice.
In order to meet the menu requests and increasingly diverse population, as well as invigorate what had become a tired-looking structure, Xanterra Travel Collection brought on CTA Architects Engineers to help renovate Canyon Lodge. Work was coordinated with the National Park Service and the Wyoming State Historic Preservation Office.
"While appreciated for its modern design and foodservice when first opened, the building was altered over time to accommodate larger numbers of visitors and changing aesthetic preferences," says Lesley M. Gilmore, AIA, LEED AP-BD+C, director, Historic Preservation Services, associate, CTA Architects Engineers, Bozeman, Mont. "Incrementally, the building became a shadow of its former self."
The extensions of the 92-foot-long glulam beams terminate in concrete thrust blocks by the picnic area with the colorful umbrellas. The pergola extending from just behind the sign connects Canyon Lodge and the registration building. The component slides from exterior to interior, which is a hallmark feature of mid-century architecture.
The renovation brings foodservice and the remainder of the building back to the design developed as part of the Mission 66 initiative. The building was originally designed in 1955 by the National Park Service in response to the degradation of park units across the country. From 1956 to 1966, Mission 66 funded infrastructure improvements in national parks and protected the parks' natural resources. Canyon Village, of which Canyon Lodge is a part, was the first Mission 66 project.
"The goal was to highlight the original architectural mid-century modern character of the building while enhancing customer service," Gilmore says.
Canyon Lodge Today
The building originally featured 27-foot-high ceilings supported and accented by the warmth of 92-foot-long glulam beams — glued laminated timber. Over time, though, to address the high volume of customers and comfort concerns — it can be hard to keep a space that size heated and cooled properly — partition walls were added. In doing so, some of the space's key design attributes were lost. "We wanted to update the look and feel to be more open and inviting for this hidden gem," Gilmore explains.
The 320-foot-long serving area features a variety of new modes for serving fresh food. Foodservice options include The Eatery with Slow Food Fast and Fresh Woks, Falls Cafe, Mission 66 Bar & Grill and Ice Creamery. An original question mark-shaped bar was restored and enhanced with a facsimile of the original decorative back bar. This space also includes a lower serving portion that is ADA compliant.
Strategic placement of signage at Fresh Woks and throughout Canyon Lodge helps customers find their preferred cuisine.
"The client-facing expo kitchens are in full view of the patrons to observe. A change in service style has expedited covers and shortened wait times with paired offerings. The multiple outlets spread customers throughout the building without being isolated. The open nature of the building allows for expansive views throughout," says Michael Miles, FCSI, principal and lead design, H-C Design and Consulting in Bozeman, Mont.
This food delivery system was combined with a variety of seating area styles: cafeteria-style tables and chairs, high-top tables, high tables with stools, low benches, dining tables, chairs and booths, barstools and chairs. The large expanses of original plate glass were fitted with protective film that reduces glare and heat gain.
The placement of two restroom additions outside the structure provided the opportunity to recapture the original building volume and the design intent of the Mission 66 program while also allocating space for the serving and dining areas. "We reduced the size of the dining room and increased the serving areas' space in order to get people in and out quickly," Harlow says.
Even the dining room's decor nods back toward the project's 1950s origins. "Chandeliers are painted in their original bright colors, screen walls are again translucent and the furniture is again in the 1950s style and color," Gilmore says. "The young people are stimulated by the retro style, and the older people are comforted by its familiarity."
A fireplace and many types of seating contribute to the ambience.
The project's condensed construction schedule only halted for three months when snow prohibited travel on roads that were not plowed. "Other constraints with projects in remote locations that impact decisions include serviceability, electrical current fluctuation and water quality," Miles says.
Back-of-the-House Production
Food deliveries arrive at a warehouse on the lower level of Canyon Lodge. Staff place food into four walk-in coolers, two walk-in freezers and a dry storage area. A staff member in the warehouse issues food to the production kitchen each day.
On the main floor, the kitchen remains intact except for the addition of a small prep space to support grab-and-go item production and rotisserie chicken. The kitchen contains five walk-in coolers and a walk-in freezer.
Staff in the cold prep area make sandwiches and salads as well as proteins. They make soups, pasta and mashed potatoes in three 40-gallon steam-jacketed kettles and prepare St. Louis pork ribs, vegetarian Swiss steak and fresh-baked cookies in four stacked convection ovens. Rice and vegetables are cooked in double-stacked convection steamers. The steamers also heat large batches of marinara sauce, which then quickly cool in one of four blast chillers so it can be used as needed. Deep-fat fryers cook country-fried steaks.
Customers can view every aspect of cooking that takes place in the expo kitchen space. Undercounter storage throughout the dining facility contributes to staff efficiency and the ability to maintain high safety standards.
Staff use one six-foot flattop griddle to make eggs, French toast and pancakes at breakfast and trout at dinner as part of a la carte production for M66 Bar & Grill. They use another griddle for The Eatery's menu items. Two chargrills, each spanning 36 inches, cook hamburgers, steaks and grilled chicken. Sauces and soups are heated on two ranges with open-flame burners and a French top.
"We got to renovate a bit since the 1950s," says Mike Dean, CEC, CCA, executive chef, Yellowstone National Park Lodges, Xanterra Travel Collection. "We've updated equipment as needed. The staff added a blast chiller and a station that gives servers closer access to the dining room. We also gave up combis three years ago and replaced them with convection ovens because we needed to simplify production."
Front-of-the-House Dining
The serving area was completely redesigned and reconfigured to allow production to occur in sight of customers. "The close proximity to the kitchen allows goods to be easily restocked to allow line production to continue throughout service periods," Miles says.
The Eatery contains Slow Food Fast and Fresh Woks, two fast-casual-style serving line concepts where guests can customize their menu selections. "The serving line concepts were redesigned as quick-serve platforms with multiple-step menu sequencing to limit confusion with international tourists and the international food preparation staff," Miles says. Multiple menu formats and visual digital displays aid in clarifying the selections.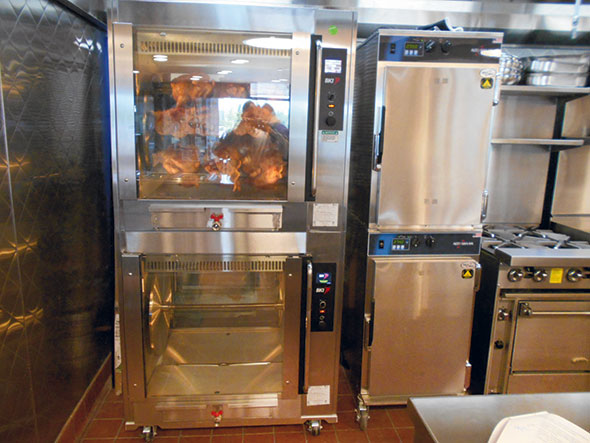 Slow Food Fast equipment includes a back-load rotisserie oven with double glass doors, cook-and-hold ovens and a range. The rotisserie oven can bake 120 chickens per day.
Slow Food Fast features plates that guests customize. Guests select their entree and complete the plate with mashed potatoes and a choice of vegetables. Staff top the plates with a selection of boldly flavored sauces and toppers. Mashed potatoes are produced in the kettles in the back kitchen and brought to this station for service. Low-temperature cook-and-hold ovens and switchable refrigerated/heated drawers hold menu items at proper temperatures for service. Staff use the heavy-duty range to cook accompaniments such as glazed carrots and sauteed sides such as garlic lemon green beans. The area contains exhaust fan systems with water-wash controls.
To cook rotisserie chicken, staff use a back-load rotisserie oven with double glass doors. Kitchen staff load the chickens and team members working in the Slow Food Fast station take the chickens out and carve them into half or quarter portions before serving them to guests. "This large rotisserie oven can bake 120 chickens a day," Dean says.
At Fresh Woks guests select rice or garlic noodles prepared in the kitchen and brought to this service station. They also select vegetables and proteins such as chicken, wild Alaska pollock, flank steak and tofu. Culinary staff cook the ingredients on a three-burner, waterless wok range and add guests' choices of sauces and toppers. Switchable drawers hold ingredients chilled or warm as necessary. The area also contains exhaust fan systems with water-wash controls.
Since the equipment is on display at Fresh Woks and all stations, staff must keep it in perfect condition.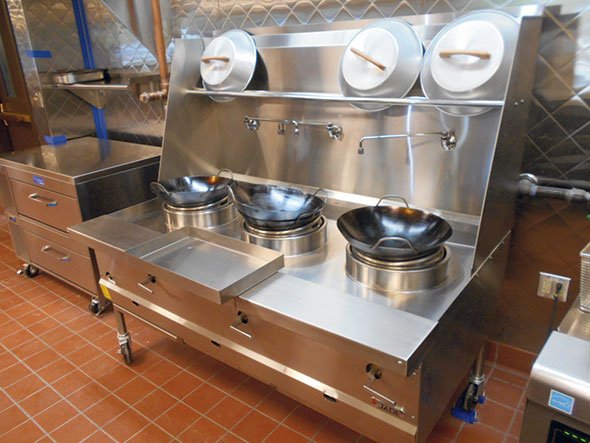 Customers can watch the action area where staff prepare colorful stir-fry menu items in woks. Photo by Michael Miles, H-C Design & Consulting
Another dining option, M66 Bar & Grill, offers full-service dining in a casual Mission 66-themed setting. This venue features house-made soups, entree salads and beef, chicken, pork, red trout and vegetarian dishes. An adjacent M66 Lounge offers guests a relaxing venue to order beverages and appetizers.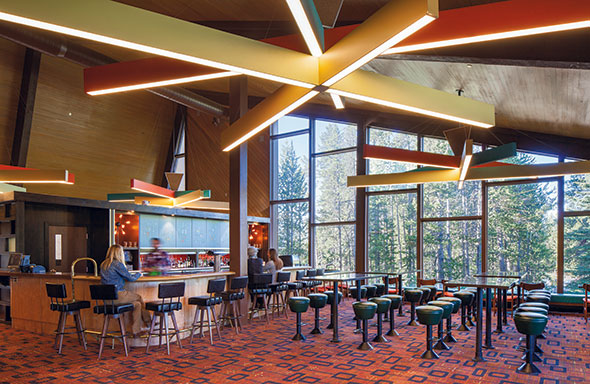 M66 Bar & Grill offers house-made soups along with entrees that include Mixed Game Bratwurst and Sauteed Red Trout.
This operation contains three two-door and one three-door backbar refrigerators, two storage cabinets with full drains, two cold-plate ice chests, a soda gun filler section, a storage bin for glassware, a glass chiller, a 24-inch rotary glasswasher, dispensers for draft beer, wine and other beverages, espresso machines and a coffee grinder.
Falls Cafe offers guests house-made grab-and go flatbreads, sandwiches, salads and snacks that staff produce in the kitchen and then send out to the cafe where team members heat and crisp them in two high-speed ovens. Other equipment supporting the cafe includes an undercounter refrigerator, a backbar refrigerator, a compact sandwich prep table with drawers beneath and two display merchandisers. In addition, the cafe contains a beverage service that includes a coffee grinder, coffee maker and espresso machine for specialty coffee drinks, plus dispensers for sustainably produced keg wines and beer.
Falls Cafe offers coffee and tea drinks, along with a small selection of breakfast sandwiches.
The Ice Creamery offers Montana-made hard-pack ice cream and house-made waffle cones. The creamery contains two dipper-well freezers and an undercounter refrigerator, as well as two waffle bakers that sit on the counter so guests can watch staff making them. Two ice cream scoop showers enable staff to keep these service tools clean continuously. Toppings and condiments sit to the side.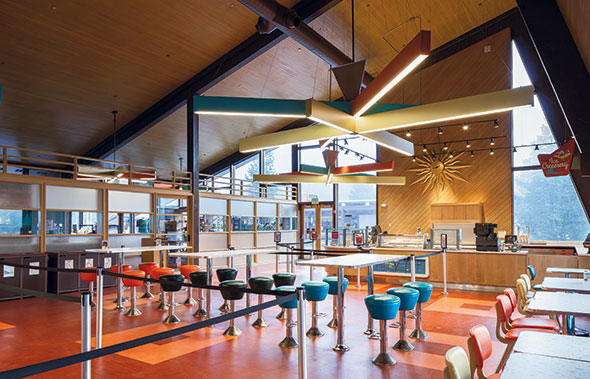 The Ice Creamery adds a sweet touch to Canyon Lodge.
As guests make their way to the cashier stations, they find soup wells, salads, desserts and fresh-baked cookies in merchandiser display units.
Challenges and Solutions
Foodservice challenges included maintaining a flexible dining room that could house tour groups along with daily patrons through different parts of the day. "The kitchen and warewashing areas were left intact, so the challenge to allow access to the customer trays from the existing space was difficult," Miles says. "A tray conveyor was not within the parameters of the project. This was alleviated by using multiple trash and recycling areas along with tray drop-off carts in visually screened areas. Distribution of cold beverages (soda and beer) from existing locations presented challenges for long runs, which were revised and calculated for optimal usage."
Looking back over the dining operation's two-year history, Harlow admits that "we had a rough first year because we served more people than we had anticipated. We increased covers by 200 each day. The front of the house works fine, but we weren't able to increase the size of the back of the house to support greater production."
The dining team's answer to serving more customers while appealing to a large international population that wants excellent but not-too-expensive food served quickly was to simplify menu production by offering fewer choices. "For example, in 2017 we offered a lot of spinach, which when serving 1,800 guests a day required us to store many, many cases in the warehouse," Harlow says. "We stopped ordering so much spinach and added more edamame to the menu items."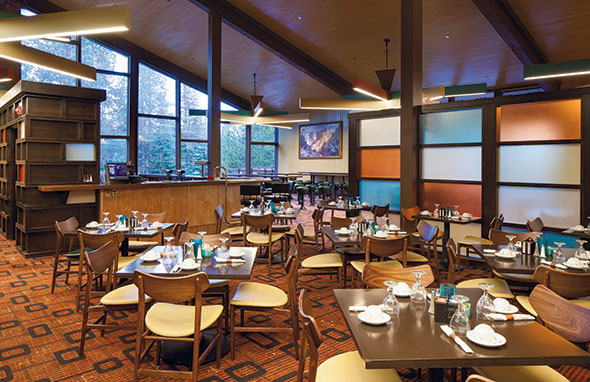 The dining room's decor nods back toward the project's 1950s origins. Chandeliers are painted in their original bright colors.
The dining staff also stopped purchasing raw chicken. "It was taking hours to fabricate the raw chicken," Dean says. "In 2018, we found heat-and-serve chicken thighs, which saves us time, and it's safer not to break down cases of raw chicken." In addition, the number of grab-and-go menu items was reduced so staff could produce them more quickly.
Training staff the first year also presented a daunting challenge. "Our staff is seasonal, and we had seven days to train them for opening in 2017," Dean says. "Also, we were given bits and pieces of the building to move into and start operating, so we couldn't open everything on time. This year was much better because we had a year of experience."
The menu choices also contribute to more effective training. "The simpler recipes and preparation methods also make it easier to use fresh and local food and simplified menu offerings have increased throughput by approximately 200 covers a day," Dean says.
As more guests come to Canyon Lodge, the dining services team will continue to find production efficiencies while keeping the quality of the food high to meet ever-growing expectations. Another challenge will be to maintain a commitment made by Harlow and Dean to support local family-owned farms and ranches and make sure 60 percent of the park's annual food purchases meet Yellowstone National Park Lodges' sustainable standards.
About the Project
Opened: In phases beginning June 2, 2017
Size: 19,750 sq. ft.
Seats: 400
Average check: $10.36
Total seasonal food sales (open 149 days): $4,768,444
Total seasonal beverage sales: $406,305
Daily transactions/covers: 3,005 in low season; 3,866 in high season
Scope of project: Full replacement of front of house, including The Eatery with Slow FoodFast and Fresh Woks; M66 Bar & Grill; Falls Cafe; The Ice Creamery; and the Washburn Lookout. The project also includes a service corridor.
Hours: 6 a.m. to 10 p.m., with service for breakfast, lunch and dinner. Canyon Lodge operates from May 17 until October 13. The Creamery is open until
mid-September; The Eatery until Oct. 13 and Falls Cafe until Labor Day.
Menu specialties: Rotisserie chicken, wok noodle/rice bowls, local and sustainable, retro menu
Total project cost: $5.7 million
Equipment investment: $1.3 million
Staff: 185 food and beverage employees
Websites: xanterra.com, yellowstonenationalparklodges.com
Key Players
Owner: National Park Service
Director of food and beverage: Lu Harlow, Yellowstone National Park Lodges, Xanterra Travel Collection
Executive chef: Mike Dean, CEC, CCA, Yellowstone National Park Lodges, Xanterra Travel Collection
Architect: CTA Architects Engineers, Bozeman, Mont.: Lesley M. Gilmore, AIA, LEED AP-BD+C, director; Historic Preservation Services associate; and Mike Tuss, AIA, LEED AP, principal
Interior design: CTA Architects
Engineers, Bozeman, Mont.: Jeff Morrison
Concept consultant: BrandIQ, Los Angeles: Chris Kennen
Foodservice design consultants: H-C Design & Consulting, Bozeman, Mont.: Michael Miles, FCSI, principal and lead design, and Austin Troth, drafter/designer
Equipment dealer: TriMark Gill Group, Hamilton, Mont.: Matt Dockter
Construction: Martel Construction Inc., Bozeman, Mont.: Travis Kabalin, project manager
More about the Players
Mike Dean, CEC, CCA, executive chef for Yellowstone National Park Lodges, Xanterra Travel Collection. Dean stepped into this position in 2016 after serving as executive sous chef for 17 years. His first job at the park in 1986 was as a dishwasher at Old Faithful Inn.
Lesley M. Gilmore, AIA, LEED AP-BD+C, director, Historic Preservation Services, associate, CTA Architects Engineers. Before joining CTA in 2006, Gilmore worked for two high-profile preservation architecture firms in Chicago and later owned an architectural firm in Oak Park, Ill., with her husband. Projects include Masonic Temple #18 Historic Rehabilitation in Bozeman, Mont., and the Old Faithful Haynes Photo Shop renovation and addition in Yellowstone National Park.
Lu Harlow, director of food and beverage for Yellowstone National Park Lodges, Xanterra Parks & Resorts. Harlow has been the director for 24 of her 30 years in the park. She oversees the park's largest department, which supports more than 30 guest-facing food and beverage outlets in Yellowstone serving more than two million meals. Harlow focuses on supporting local family-owned farms and ranches.
Michael Miles, FCSI, principal and lead design, H-C Design & Consulting. Miles joined the firm in 2005. Projects at Yellowstone National Park include renovations at Old Faithful Inn, Roosevelt Lodge, Grant Village Lodge and Lake Lodge. Other projects include the Mount Rushmore Eatery renovation in Keystone, S.D., and the central kitchen addition and renovation at the University of Wyoming Conference Center in Cheyenne, Wy.
Canyon Lodge Floorplan and Equipment Key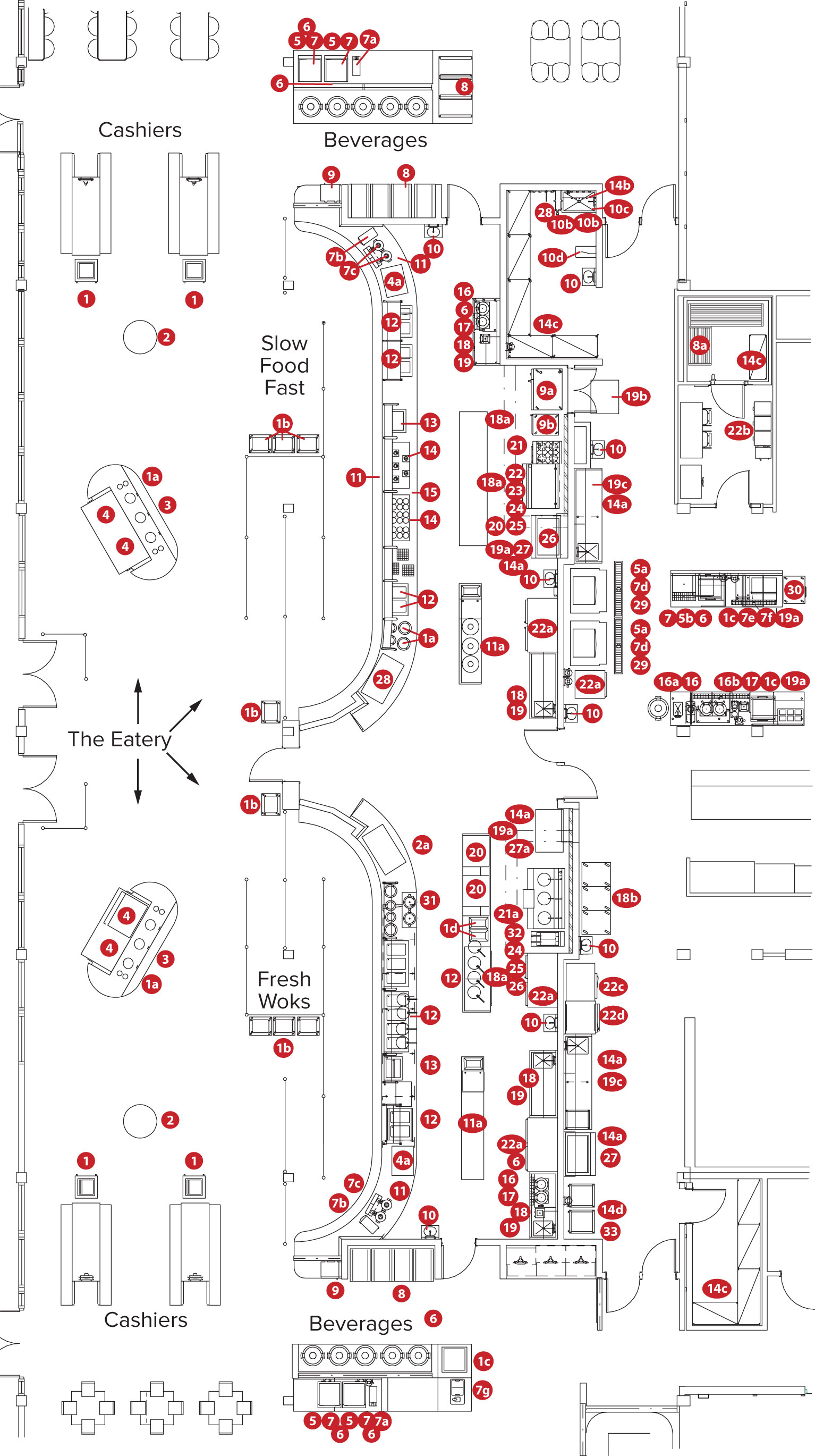 1. Rack tray dispenser
1a. Drop-in cup dispenser


1b. Enclosed tray dispenser
1c. Self-leveling tray dispenser
1d. Drop-in round plate dispenser
2. Impulse display
2a. Drop-in pass-thru display case w/glass doors on both sides
3. Built-in round food warmers
4. Refrigerated case
4a. Nonrefrigerated self-service countertop case
5. 485-pound air-cooled half-dice ice maker
5a. Ice maker w/out bin
5b. Ice machine
6. Filter system, combination applications
7. Beverage dispenser
7a. Hot water dispenser
7b. Hot powdered drink dispenser
7c. Coffee server
7d. Ice bin and dispenser
7e. Noncarbonated beverage dispenser
7f. Milk dispenser
7g. Water station
8. Bun pan rack
8a. Keg rack
9. Microwave oven
9a. Rotisserie oven
9b. Low-temp. cook-and-hold oven
10. Hand sink
10a. Gooseneck faucet
10b. Service faucet
10c. Mop basin
10d. Eye wash station
11. Serving counter
11a. Work counter
12. Drop-in dual-temp food well
13. Drop-in pan chillers
14. Built-in heated shelves
14a. Wall-mounted shelves
14b. Utility shelf
14c. Wire shelving
14d. Bread rack shelving
15. Decorative lamps and luminaries
16. Dual coffee brewer
16a. Tea brewer
16b. Single coffee brewer
17. Coffee grinder
18. Wall cabinets
18a. Food holding cabinet
18b. Noninsulated universal angle cabinets
19. Enclosed worktable w/marine edge
19a. Enclosed worktable w/open front
19b. Worktable
w/marine edge
19c. Workable w/rolled edge
20. Refrigerated drawer
21. Heavy-duty range
w/standard oven
21a. Chinese range
w/three 14-inch wok holes
22. Refrigerated base
22a. Reach-in refrigerator
22b. Remote beverage cooling system
22c. Blast chiller
22d. Roll-thru refrigerator
22e. Undercounter refrigerated drawer
23. Modular griddle
24. Gas line cover
25. S/s wall cladding
26. Exhaust hood
27. Prep tables
28. Hose reel
29. Floor trough
30. Drawer warmer
31. Rice cooker
32. High-efficiency fryer w/filtration
33. L-shaped corner guard