The University of Alabama
A contemporary makeover for Lakeside Dining Hall and an existing convenience store on The University of Alabama (UA) campus was long overdue. "Because of the proximity to the north campus residential communities, it is also the most convenient student service location to the greatest number of campus residents," says Kristina Patridge, director of University Dining Service. "With dated finishes and limitations for innovation, we wanted a renovation for this facility for years." Funding and strategic timing came together for the project's completion in 2018.
Constructed in 2006, Lakeside Dining is the largest all-you-care-to-eat dining hall on campus, which amplified the need to renovate. "The dining operation wasn't efficient," Patridge says. "Stations, in a scattered service-style arrangement, were isolated and far away from each other. We didn't have adequate refrigeration and staff members had to travel to the back of the house to get ingredients. Customers weren't seeing these staff members because they were going to the back. We put Fitbits on employees and realized the step count had to be greatly reduced. The result is a dining operation that is much better for employees and offers a much better food experience for customers."
The renovation of Lakeside Dining included completely gutting the facility's 20,258-square-foot first floor. "To accommodate the university's needs to start in October of 2017 and finish before the start of classes of the following fall with minimal downtime, the project was designed in three months and built in seven," says John Wood, LEED AP, vice president, CMH Architects in Birmingham, Ala. "In the process, every effort was made to accelerate the project including having structural drawings produced by the design engineer and expedited review of all submittals. To coordinate the numerous systems within the building, CMH worked from project initiation to completion with all parties and stakeholders to coordinate all the new and existing equipment and systems within the building."
The project team's synergy was a main contributor to meeting these challenging timeframes, says Kris Morphis, principal, Foodesign, Charlotte, N.C. "For the size and scope of the project, this was a very ambitious timeline," he adds. "We all worked around the clock in order to come in on time as requested by UA in order to finish over the summer and before students came back to session in the fall. We also came in under budget by working daily to review quality control processes and keep analyzing the cost of equipment and architectural elements."
The updated foodservice dining and support spaces create a better traffic flow for university-created concepts that function independently via their own microkitchens. An allergen-free meal station now also exists.
Crimson Fresh features a display of fresh greens and salads. University Bakery offers breads, pastries, pizzas and desserts.
"It was important to UA that staff efficiency be a big part of the design," Morphis says. "We made sure the concepts that were adjacent to one another would flow correctly so staff members could come over to help someone else in need if one concept was busier than another."
One of the key design features moved the back-of-the-house bakery to the front-of-the-house marketplace as a prominently displayed dining hall feature. The renovation also maximized seating potential by infilling the high ceiling area to extend to the mezzanine level, adding 5,400 square feet and increasing seating capacity by 200.
Modern finishes and furniture replaced tired seating in dining spaces. In addition, the university opted to transform the convenience store on the mezzanine level into a street-fusion taqueria restaurant called Sola.

The 200-seat mezzanine featuring Sola and Dunkin' Donuts overlooks the dining hall below. Photo courtesy of CHM Architects
"This project was intended to create a retail feel in a residential environment," Patridge says. "In this time of customization, the food hall is the perfect answer to diverse customer demands. With a variety of options served in an interactive environment, the open-air-style market at Lakeside Dining has enhanced the campus community and offers a new space for eating, meeting and studying. Higher customer loyalty was a major aim of this renovation."
Back of the House
A large dough mixer allows University Bakery to produce baked goods for Lakeside Dining Hall and other operations on campus.After deliveries arrive at the loading dock, staff place them into eight walk-in cooler/freezer combos. "We run the operation like a retail food court and segregate each cooler to hold menu items for each concept," says Bruce McVeagh, resident district manager for Aramark, Bama Dining. Dry storage also holds menu items.
"We provided storage that is directly adjacent to the kitchen so it is easily accessible," Morphis says.
The back-of-the-house design remains much the same as it was before the renovation with the exception of an upgraded dish room and the bakery, which was shut down in the kitchen and moved to the front of the house. "Eventually we'll use the kitchen for catered events," says Patridge.
Staff working in the back of the house prepare several ingredients for front-of-the-house concepts. They use food processors to cut vegetables, cook soups in two tilt skillets and two kettles, roast vegetables and bake turkey breasts in a combi oven, smoke meats in a large smoker, and cook grits, oatmeal, sauces and soup in two steam-jacketed kettles. A bank of fryers provides backup support for cooking menu items for large groups.
"For the dish room, the dishmachine and soiled tray accumulator were designed with the same exact specs and layout as they had been," Morphis says. "The only difference is we added load and unload vent ducts to tie into the manufacturer-required single vent duct to help eliminate the condensation as much as possible."
Front-of-the-House Food Concepts
Rotating ovens in University Bakery bake large quantities of bread and desserts.University Bakery includes all new equipment; the operation supports other campus venues in addition to Lakeside Dining Hall. Customers watch the culinary team use equipment that includes a 250-pound hydraulic tilt-over spiral mixer, a dough divider, cookie depositor, dough sheeter and a rotating single-rack oven. Bakery menu items include bananas Foster mini muffins, powdered sugar donut bites, sweet dough coffee cake, cupcakes, brownies and cookies. Staff also prepare pizzas and flatbreads in the bakery space, which they display on round heated shelves.
"The dollar savings we're realizing by having large equipment that can make large quantities of dough and divide it quickly is amazing," McVeagh says. "We wanted this area, and all the concepts, to look like all-inclusive retail concepts."
A nearby island features several concepts. "We designed the island serving to be totally self-sufficient with a walk-in cold storage unit, dry storage, reach-in refrigeration, prep equipment and a dishwasher," Morphis says. "As a result, the staff does not ever have to cross traffic during busy times to the kitchen and everything they need is convenient and accessible."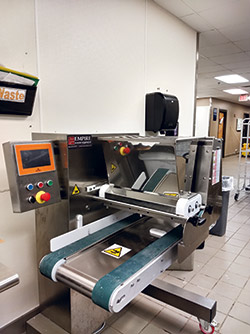 A cookie depositor can press 1,000 cookies per hour. Pastry tips allow it to pipe eclairs and butter cookies."The old layout of Lakeside Dining required the staff to continually go to the back of the house to get production items," McVeagh says. "The renovated space allows staff to walk just a few steps to perform all the tasks they need to do. Therefore, operational efficiency has resulted in greater customer satisfaction."
Also at this island, seven hoods connect to one large exhaust hood. "We worked with engineers, architects and interior designers to provide a structurally sound island while tying all the ducts into one shaft and also making it aesthetically pleasing from the mezzanine view," Morphis says.
Concept Snapshots
A 40-foot-long salad bar at Crimson Fresh features fresh vegetables and other ingredients for daily composed salads, soups and sandwiches. Large glass door, reach-in display refrigerators hold produce so staff don't have to move far to access ingredients and customers get to see the colorful, fresh ingredients. The concept offers both premade and custom options for salads, sandwiches, pitas and wraps. Two soup wells hold daily soup varieties, such as turkey with brown rice and curried tomato lentil.
Glutinvs Minimvs stands out with its bright gold letters and focus on allergen-aware menu items. Photo courtesy of CHM ArchitectsGlutinvs Minimvs features gluten-free menu items. Staff use a griddle to cook gluten-free menu items such as a steak saute with fried rice, crepes, grain bowls and black bean burgers. A sushi sheeter produces up to 100 rolls per hour. Hot and composed gluten-free salads are a hit with customers. "Chefs must keep these interesting and super fresh," McVeagh says. "We're attracting customers who must be on gluten-free diets and those who just like the taste of the menu items."
The concept 1831 Kitchen, named for the year the university was founded, contains a large convection oven, a tilt skillet, 2 fryers, 18 saute burners, a flattop, a prep table and several refrigerators. Customers frequent this concept for comfort food-style menu items including pasta and ramen bowls, chicken tenders, waffles, omelets, macaroni and cheese, biscuits and sausage gravy and egg dishes.
Churrasco grill resembles a Brazilian steakhouse. The concept features a wood-burning grill fed with hickory and oak wood that enables staff to make one muscle protein daily, which they rub with salt, pepper and garlic. "A full-height glass surround that starts at the counter and extends up to the hood keeps the grease vapors and smoke completely enclosed from escaping into dining areas," Morphis says. The cooking process starts in the back of the house, then staff finish items on the grill. Staff grill the proteins on 35-inch skewers and stand them up so they can carve pieces onto customers' plates. Customers also select vegetables and sauces, including white barbecue, apple cider barbecue, chimichurri and herb-infused oils. Staff also use a countertop griddle to cook skewered vegetables, including acorn squash and green beans, that were first parcooked in the combi oven in the back of the house.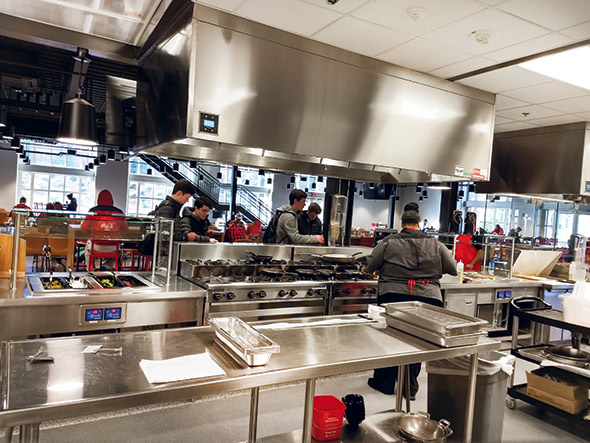 Each concept, such as 1831 Kitchen, operates from its own micro-kitchen space.
Yoshoku features Asian cuisine. Customers select from 30 choices of vegetables that stay cool in ice wells. Staff stir-fry the vegetables, rice, noodles, barley and other grains, eggs and chili peppers at a wok station with 18 burners (6 burners each sit on 3 steps). An island table containing sauces sits near the station. Customers receive menu items in cardboard to-go boxes.
BAMA Burger Bar equipment includes a broiler that sizzles four-ounce burgers. BAMA Burger Bar features a broiler that sizzles four-ounce burgers with and without cheese. "The broiler system allows us to produce large quantities of burgers," McVeagh says. "We don't need highly skilled employees to grill burgers. We wrap the burgers in paper and set them in a burger slide. We do this for sanitary purposes and it resembles the systems used in popular commercial restaurant chains." Customers dress their own burgers at the topping bar, which contains everything from blue cheese mayonnaise to hot sauces.
Beverage bars sit near the pizza station, 1831 and BAMA Burger Bar. "Customers shouldn't have to forage for service ware and beverages, so we placed beverage bars in their line of sight at three locations," McVeagh says.
An allergen-free room offers menu items free from the top eight allergens — milk, eggs, fish, shellfish, tree nuts, peanuts, wheat and soy. "This is a self-service room," McVeagh says. "Customers can assemble menu items or take them to their rooms. We don't want these customers to miss out on a dining experience, so this is a place they can meet their friends and eat safely without allergens."
"We worked with UA to give a secure entry for the students with food allergies and intolerances that they can access with their student ID card to ensure that this space will not be contaminated," Morphis says.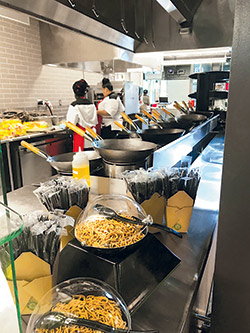 Staff prepare stir-fried Asian dishes at Yoshoku, where customers can select from 30 different vegetable options."For a student to have access, he or she must be registered with the UA registered dietitian, Holly Grof," McVeagh says. "The student tells Kristina's office to turn the meal card on for door access. Students without severe allergies can't enter this space."
The Mezzanine Level
On the second-floor mezzanine, which looks down on the first-floor dining hall, customers find the Latin-inspired street-fusion taqueria Sola and a Dunkin' Donuts, which Aramark licenses. "Adding variety to our retail options within walking distance to thousands of beds made great sense from both a business and customer service perspective," Patridge says. "The idea behind the taco concept in Lakeside is to fill the vacated market space with an innovative, fun and inviting spot for students to dine, gather and study. With the renovation of the main Lakeside Dining facility downstairs, the new taco concept provides an extra 'wow' to greet guests as they enter through the front doors upstairs."
Sola sits on the mezzanine and features tacos that customers order at kiosks.
Options at Sola include house-made flour and corn tortillas, specialty tacos and build-your-own tacos. Guests place orders on tablets at a kiosk and help themselves to chips, salsas and pork rinds while they wait for their orders. A glass bubble allows customers to watch staff prepare tortillas with a tortilla press/conveyor. "We also use a machine to make paletas [Spanish for ice pop] and display them in a counter freezer," McVeagh says. "This is something fun and a little different to watch."
Paletas — ice pops — are displayed in a counter freezer at Sola."We had to close the convenience store and extend the mezzanine with additional stairwells to accommodate code and egress requirements," Morphis says. "We had to remove the entire existing slab and provide new plumbing, gas and electric utilities for additional equipment."
The additional seating in this venue also supports high- volume summer periods when the dining facility feeds camp and summer program participants. Students and guests can use their meal plan or purchase a retail meal with cash or credit card.
Customer response to Lakeside Dining Hall and Sola has exceeded the dining team's expectations. The variety of food concepts, preparation equipment, convenient access to the concepts, as well as contemporary furnishings and seating, provide a much appreciated venue in a heavily trafficked area of campus.
Facts of Note
Bama Dining: 4 dining halls, 27 retail outlets, the law school and catering. All managed and operated by Aramark.
Lakeside Dining Opened: August 2018
Scope of Project: A renovation of foodservice dining and support spaces: a full-service bakery was moved from the back of the house to the front of the house; food concepts now operate independently with micro-kitchens; and a dedicated area now exists for students with food allergies and intolerances. A mezzanine above the existing dining space adds 200 seats. Additionally, what was formerly a convenience store became Sola, a street-fusion taqueria concept.
Size: The building, 48,746 sq. ft.; the renovated, first-floor foodservice, 20,258; the mezzanine seating area, 5,400 sq. ft.
Seats: 766, including 200 on the mezzanine
Average Check: $10
Total Annual Sales: $6.6 million
Annual Transactions: 800,000, including customers attending orientations and summer camps
Hours: Lakeside Dining, 7 a.m. to midnight; Sola, 10 a.m. to 10 p.m.
Menu Specialties: Whole muscle proteins cooked on a woodfired grill, vegetables sauteed in individual woks, burgers, tacos, allergy-free menu items, scratch-made desserts and frozen fruit bars.
Staff: 86
Total Project Cost: $7 million
Equipment Investment: $940,000
Key Players
Owner: The University of Alabama
Director of University Dining Service: Kristina Patridge
Resident District Manager, Bama Dining, Aramark: Bruce McVeagh
Director of Residential Operations, Bama Dining, Aramark: Sharon Murray
Architect: CMH Architects Inc., Birmingham, Ala.: John Wood, LEED AP, vice president
Interior Design: Foodesign, Charlotte, N.C.: Kris Morphis, principal; and University of Alabama Furnishings and Design: Mary Kathryn Holt
Foodservice Consultants: Foodesign Associates, Charlotte, N.C: Kris Morphis, principal, and Emily Arrington, project director, strategic planning
Equipment Dealer: Dixie Store Fixtures & Sales Co. Inc., Birmingham, Ala.: Sue Cole, CFSP
Electrical Engineer: Jackson, Renfro & Associates Inc., Birmingham, Ala.
Structural Engineer: MBA Engineers Inc., Birmingham, Ala.
Mechanical, Plumbing and Fire Protection Engineer: MW/Davis Dumas & Associates Inc., Birmingham, Ala.
Construction: Harrison Construction Company, Tuscaloosa, Ala.: Robby Robertson, superintendent
Meet the Players
Emily Arrington, project director, strategic planning, Foodesign. Arrington joined the firm in 2017. Previously she was assistant manager for Eagle Dining Services in the dining commons at Georgia Southern University for eight years.
Bruce McVeagh, CEC, resident district manager, Bama Dining, Aramark. McVeagh arrived at The University of Alabama in 2013 as director of operations and became resident district manager in 2015. He joined Aramark in 2005 as a district executive chef and helped design new facilities and develop staff at University of Southern Mississippi and other locations.
Kris Morphis, principal, Foodesign. Morphis joined the firm in 1999. In addition to Lakeside Dining Hall, he has provided foodservice design and consulting for projects including UNC Chapel Hill's Kenan Stadium, Clemson University's football operations facility and Bank of America's 620 N. Tyron facility in Charlotte, N.C.
Kristina Patridge, director of University Dining Services. Since July 2000, Patridge has worked in Enterprise Operations and serves as the foodservice contract administrator/liaison. During her 19 years at The University of Alabama, the department has grown from 6 to 30 locations across campus.
John Wood, LEED AP, vice president, CMH Architects Inc. Wood joined this firm in 2005. He has led the design of projects including office buildings, high-end retail centers, educational facilities, manufacturing facilities and mixed-use facilities.
University of Alabama Lakeside Dining Floorplan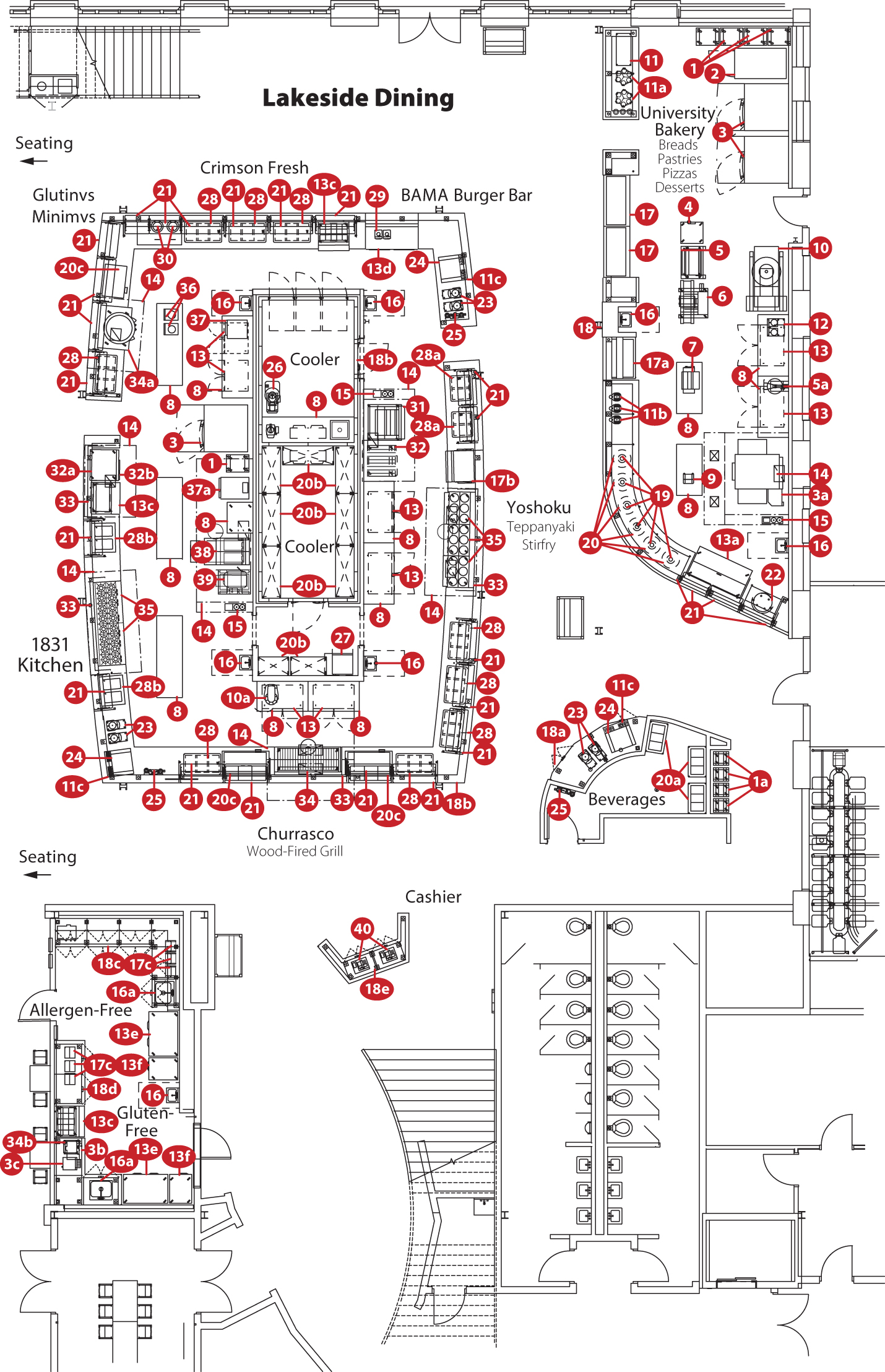 Equipment Key
1. Roll-in rack oven
1a. Bun Pan rack
2. Proof box
3. Rotating single-rack oven
3a. Conveyor oven
3b. Microwave oven
3c. Conveyor toasters
4. Grid-ready dough divider
5. Dough bread moulder
5a. Manual pizza press
6. Cookie depositor
7. Vertical dough sheeter
8. Worktable
9. Pizza pan stand
10. Mixer
10a. 12-qt. mixer
11. Milk dispenser
11a. Topping dispenser carousel
11b. Thermal dispenser
11c. Soda dispenser
12. Twin thermal brewer
13. Undercounter refrigerator
13a. Pizza prep refrigerator
13b. Walk-in prep cooler
13c. Sandwich unit refrigerator
13d. Worktop refrigerator
13e. Reach-in refrigerator
13f. Reach-in freezer
14. Exhaust hood
15. Fire suppression system
16. Hand sink
16a. Drop-in sink
17. Ambient display case
17a. Ice cream dipping/display merchandiser
17b. Heater merchandiser
17c. Countertop merchandising displays
18. Pizza and bakery counter
18a. Beverage counter
18b. Entree serving counter
18c Allergen-free counter
18d. Gluten-free counter
18e. Cash register counter
19. Decorative lamps and luminaries
20. Round heated shelves
20a. Soda system shelf
20b. Wire shelving
20c. Built-in heated shelf
21. Food shield
22. Electric crepe maker
23. Tea brewer
24. Ice machine, nugget
25. Water filter system
26. Food processor
27. Warewasher
28. Drop-in ice cold pan
28a. Ice cold pan, full depth
28b. Drop-in, hot/cold pan
29. Blender
30. Drop-in induction soup well
31. Flexible broiler
32. Countertop griddle
32a. 72-inch griddle
32b. Refrigerated griddle stand
33. Glass surround
34. Wood-burning grill
34a. Drop-in cooktop grill
34b. Ribbed-top plate/flat-bottom plate grill
35. Wok system
36. Countertop induction range
37. Countertop convection steamer
37a. Convection steamer
38. Fryer battery
39. 40-qt. braising pan
40. POS
Sola Floorplan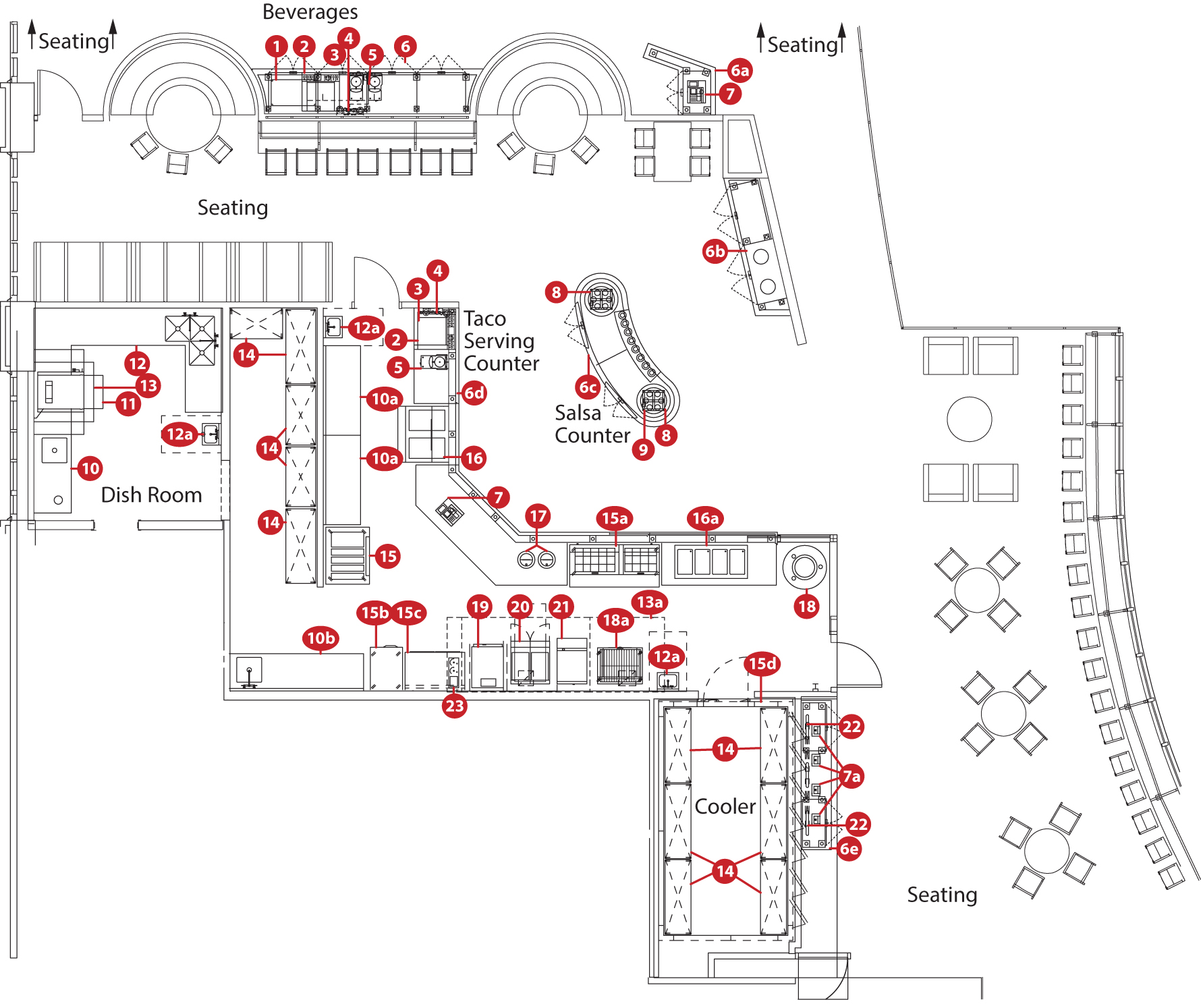 Equipment Key
1. Soda system
2. Soda dispenser
3. Ice machine, nugget
4. Water filter system
5. Tea brewer
6. Beverage counter
6a. Cash register counter
6b. Condiments/trash counter
6c. Salsa counter
6d. Taco serving counter
6e. Ordering station/counter
7. POS
7a. Digital display tablet/preorder/pay
8. Cold pan
9. Food shield
10. Soiled dish table
10a. Worktable
10b. Worktable w/sink
11. Door-type warewasher
12. Three-compartment sink
12a. Hand sink
13. Condensate hood
13a. Exhaust hood
14. Wire shelving
15. Batch freezer
15a. Refrigerated sandwich unit
15b. Reach-in freezer
15c. Worktop refrigerator
15d. Cold storage assembly
16. Gelato wells
17. Induction warmer
18. Tortilla cooking grills
18a. Wood-burning grill
19. Convection steamer
20. Fryer battery
21. Griddle
22. LCD screen
23. Fire suppression system