Impact Field, Rosemont, Ill.
Impact Field — a new ballpark in suburban Chicago and home of the Chicago Dogs, an independent minor league baseball team — brings a new dimension to the entertainment district in Rosemont, Ill. The team played its first home game at Impact Field on May 25 of last year.
"We spared no expense to build the $63 million complex," says Bradley A. Stephens, mayor of Rosemont.
Photos courtesy of Professional Sports Catering
The complex, named after Impact Networking, a Lake Forest, Ill.–based company specializing in business process optimization, contains 6,300 seats, a 360-degree open concourse and 800 stadium garage parking spaces. Professional Sports Catering, a division of Levy, manages the on-site foodservice offerings. A full-service kitchen resides on the field level with cooking taking place at the majority of the concession stands. Foodservice options include Rivers Stadium Club, seven private suites, six party terraces, six branded concessions around the perimeter of the ballpark on the concourse level and remote concession booths. Branded concession areas include two Flash Point Grill sites, Wieners Circle, Pies, Sweet and Salsa.
Under a 20-year lease agreement for the village-owned stadium, Chicago Dogs co-owners Shawn Hunter and Steven Gluckstern had to find a naming-rights sponsor and a dozen other sponsors who display ads on outfield walls. The village provided the land and floated bonds to fund the ballpark's construction and an attached parking garage. The owners and village share annual sponsorship revenues, with the owners receiving the first $1.3 million, and the remainder divided 60 percent to the owners and 40 percent to the village.
Impact Field will also host concerts, festivals and events such as weddings, meetings and banquets.
Impact Field's contemporary aesthetic features clean lines and a strong red-and-black, metal-clad ribbon element that jogs over and between the park's buildings to tie them together. Similar red, black and white components are also brought into the club and suite finishes, says Sterling B. Hershey, AIA, LEED AP, associate, AECOM, Kansas City, Mo.
Planning Foodservice
The foodservice program was already set prior to the selection of Professional Sports Catering to manage the foodservice operations. "Design required a great deal of communication between the owners, contractors and design team to define the operational goals, which included a strong POS ratio to the number of seats, upscale food offerings with cooking capabilities in the stands, a kitchen with a catering component and flexibility in the design so the operator had choices with the ability to revise the menu to meet current trends," says Kristin Sedej, FCSI, president of S20 Consultants Inc., Chicago. "The design had to have enough flexibility to meet those goals and allow the future operator to personalize and allow all to understand what was needed to accomplish the project goals along with the costs associated."
Once Professional Sports Catering was on board, a team from Impact Stadium was invited to Levy's headquarters for a tasting to decide the menu fare. "We wanted to offer a wide variety of food because we never know the exact demographic mix of the fans at any one game," says Bradley Stephens II, general manager of Impact Field. "And we wanted the dining experience to be fun and entertaining."
Professional Sports Catering made a few minor equipment changes and additions, such as a custom grill for the Wieners Circle-branded operation and a soft-serve machine for the dessert concession area.
Wieners Circle features a charbroiler with ceramic bricks that heat up like coals during usage for cooking hot dogs. Photo by Edward Marshall
Designing a flow that would minimize labor requirements and enhance efficiency presented the team with challenges. "There was only one viable option, architecturally, for the kitchen location under the parking garage, and it was not close to any direct service points," Sedej says. "It was very important that the identification and location of support spaces were included to make sense in relation to service points."
Menu items arrive on the field level at the loading dock, which has a pair of consecutive overhead doors that help control climate and pests in the summer months. Staff store food for concessions, the private club, catering and suites in the main kitchen, which includes a large walk-in cooler with sliding doors sized to accept pallets, a large walk-in freezer with a sliding door also sized to accept pallets, and a keg storage walk-in cooler. "We divide the walk-ins to separate produce, dairy and protein," says Collie Cole, director of operations, Professional Sports Catering. Staff for each operation come to the kitchen to pick up ingredients for the day's service.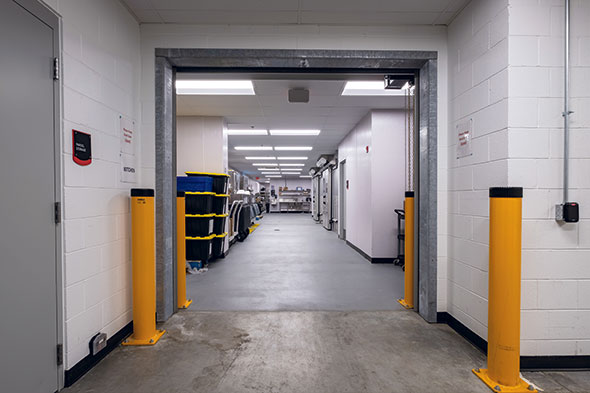 A walk-in cooler and walk-in freezer accept pallets, which expedites receipt of deliveries at the loading dock. Photo by Edward Marshall
To the left of the coolers sit the two bulk ice makers that provide ice for the bars, River Stadium Club and outdoor spaces. "We included individual ice makers in the concession stands, but these ice makers also offer backup on large demand days," Sedej says.
The first area of the main kitchen — prep — contains mobile tables in the center and electric, ceiling-mounted pendant receptacles for flexibility. "This area can be used for banquet plating, staging, loading bulk carts for concessions and hot holding prep," Sedej says.
Staff use equipment such as a griddle, charbroiler and fryers on the main kitchen's hot line to prepare food in bulk. Photos by Edward Marshall
An exhaust hood on the opposite side of the wall covers equipment typically found on a la carte cooklines.
Equipment on the line includes a three-battery fryer to make tater tots, chicken strips, french fries and potato chips, and a charbroiler to cook burgers, grilled chicken and Polish sausage. Staff use a griddle to cook onions for Wieners Circle's signature items, grill onions and peppers for Steakadelphia (a portable concession stand) and prepare taco meat for the Salsa concession stand. Two combi ovens cook menu items such as beef tenderloin, turkey, pulled pork, pulled chicken, brisket, cookies and desserts such as cheesecake and dessert bars. Staff use a four-burner range to heat pasta sauces and a tilt skillet to make pasta, potatoes, vegetables and macaroni and cheese and then finish the dishes off in the combi oven.
"While all of this equipment can still be used for bulk cooking," Sedej says, "it also allows the kitchen to be used for different types of events such as weddings and bar mitzvahs that may be conducive to a traditional delivery method."
Additional prep space and support equipment include two stainless steel tables and a two-door cooler dedicated to catering operations. In the high-volume, fast-paced kitchen environment, Cole says it is very important for the catering staff to have their own dedicated space.
The exit/entrance to the rest of the foodservice spaces sits in the east section of the kitchen. A wall with dedicated electric receptacles for hot cart parking/plug-in sits on the east wall between dry storage and the kitchen. "Because each of these carts pull amps on the high end of a 20-amp receptacle, it is important that these are each dedicated 20-amp receptacles so that it does not cause electric issues down the road or trip breakers during events," Sedej says. "This could lead to temperature issues if the operator does not realize there is no power to the box and it has been sitting."
Food transports allow staff to bring food from the main kitchen to the food concessions. Photo by Edward Marshall
The warewashing area sits at the far north end of the kitchen closest to dish return. "Though the soiled dish table landing area is not extremely large, there is a large space [approximately 12 feet by 10 feet inside of the doors] that can accommodate carts of soiled dishes to hold until they can be broken down," Sedej says. "In this environment, soiled ware is coming back in bulk, not hand-carried a few at a time. By not building a large fixed area and providing open space, we built in the flexibility to handle the fluctuation on dish demand without overbuilding the space." In addition, this positioning allows the staff to "dump" and return to their stations without having to break everything down.
Concourse-Level Foodservice
On the concourse level, six concession areas offer myriad food selections.
Each concession area contains a walk-in cooler in the back for both food on one side and a keg storage/remote draft beer system on the other.
"When changing kegs, remote systems versus direct-draw refrigerators provide a cleaner look and labor efficiencies behind the scenes," Sedej says. "Changing kegs can be done without — or with minimal — movement of the kegs, diminishing the probability of turbulence. When kegs are moved around just before being tapped, it is common to see a l as service time (staff do not have to wait for foam to dissipate — a pour without foam is faster than a pour with foam)."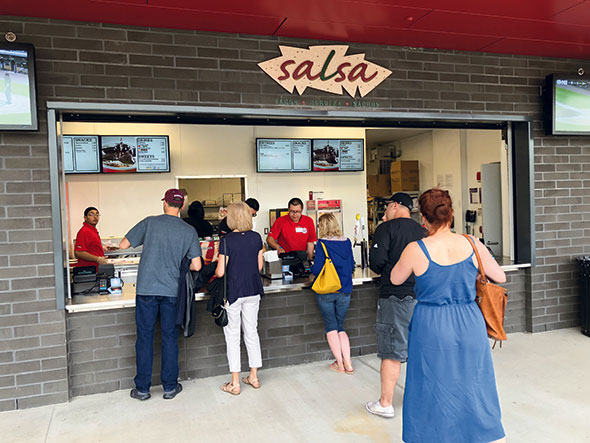 Salsa features three taco offerings — steak, chicken and carnitas — along with super nachos and cheese and salsa toppings. Staff prepare tortillas in a steamer at Salsa.
Remote systems can positively affect space usage, sales and menu variety, adds Sedej. "When a direct-draw refrigerator is used, it must be placed in the front of house which can reduce space availability for POS positions. When these are on the back counter, menu items may be reduced because there is not room for equipment. Something must go."
In addition to beer, concessions offer fountain and packaged soda, iced tea, sports drinks and bottled water.
The two Flash Point Grill locations (separated by the other concessions) contain full kitchens with a charbroiler for hamburgers and black bean burgers, a combi oven for steaming hot dogs and two fryers. "In Chicago, people expect steamed dogs with all the fixings," Cole says. Flash Point Grill and other concessions feature a popcorn popper and nacho cheese dispenser.
"With the Chicago Dogs name, it made sense for Impact Field to offer a lot of hot dogs," general manager Stephens says.
The exception to steamed hot dogs are the grilled dogs at Wieners Circle, a famous Chicago operator that expanded to its first outside-the-city location with Impact Field. Cole's team manages the operation and serves key items featured at the Lincoln Park location. Staff grill the dogs on a charbroiler with ceramic bricks that heat up like coals during usage.
Wieners Circle's claim to fame resides in its "sass" customer service. However, Cole explains, "the sass is toned down a bit for the family-friendly baseball environment."
Pies concession features three pizza varieties — cheese, sausage and pepperoni — that staff cook in a conveyor oven. The back-of-the-house (BOH) area splits in half to allocate space for both pizza service and in-seat service and catering. The operations team rezoned this BOH shortly after the season began to improve efficiency for catering and in-seat service. Prior to the change, staff had to traipse back and forth all the way from the main kitchen, a roughly 10-minute walk.
"We realized that catering staff needed a home closer to the party decks," Cole says. "So we zoned areas within the concession areas for holding catering foods. Now it takes staff members two minutes to bring what they need to the party decks." An elevator also helps expedite service and enables direct access to the pantry/storage.
The BOH areas at Pies and one Flash Point Grill location are larger than other concession stands to allow vending/hawkers and in-seat service staff to function without getting in the way of the concessions operations. Each BOH area at these two locations contains a large walk-in cooler/freezer, mobile tables for prep, electric convenience pendants, bulk ice, a three-compartment sink and hand sinks.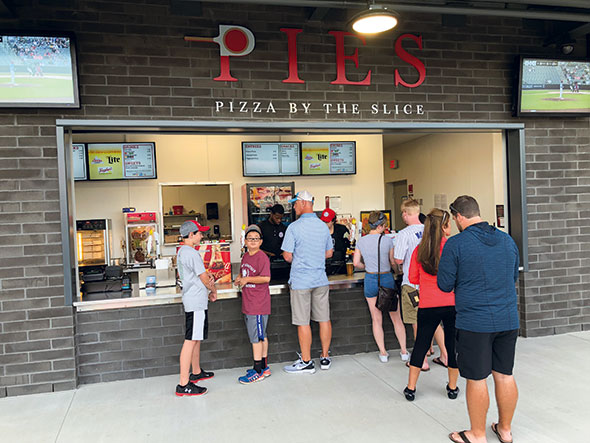 Pies serves pizza by the slice.
In-seat service order fulfillment comes from the concession stands. Only premium seat holders have the in-seat service option, which totals 600 seats in the first 10 rows behind home plate. Currently staff take orders by hand, but Cole is pondering if the facility could enable an online/mobile ordering platform in the future.
Sweet offers dispensed soft-serve ice cream in vanilla and chocolate and vanilla/chocolate twist flavors. The concession also offers sundaes such as a souvenir sundae in a small Chicago Dogs batting helmet, root beer floats and ice cream cookie sandwiches.
Salsa features three tacos offerings — steak, chicken and carnitas — along with super nachos and cheese and salsa toppings. Staff prepare tortillas in a steamer at Salsa. A tabletop steam table displays hot toppings while a deli-style rail holds cold ingredients. This concession also offers rice bowls prepared in the main kitchen and brought to the concession for service.
The Club and Suite Level
The Rivers Stadium Club and suites are open on game days and for outside events. For a set price, customers can eat, drink and watch the game from seats overlooking the field from first base. One party area sits behind home plate and another overlooks third base.
The club contains fixed bars. Adjacent to and behind the bar sits a support pantry that includes a small walk-in cooler, mobile tables, hot box space, ice maker, coffeemaker, worktable with sink, three-compartment sink and hand sink.
Kitchen staff prepare most of the club's food and bring it up to the club for service. The custom-designed portable buffet counters include one hot with undermount induction. "We change the menu items daily, so at this table we might offer creole turkey pot pie, cilantro lime grilled salmon, grilled chicken and a vegetarian option," Cole says. The cold table, with an undermount frost top, presents salads, antipasti, cheese boards, charcuterie and the chef's special pickled vegetables. The ambient table has a built-in receptacle that serves as a carving station for beef tenderloin, turkey breast, corned beef, leg of lamb, flank steak and turducken for a "Christmas in July" themed event.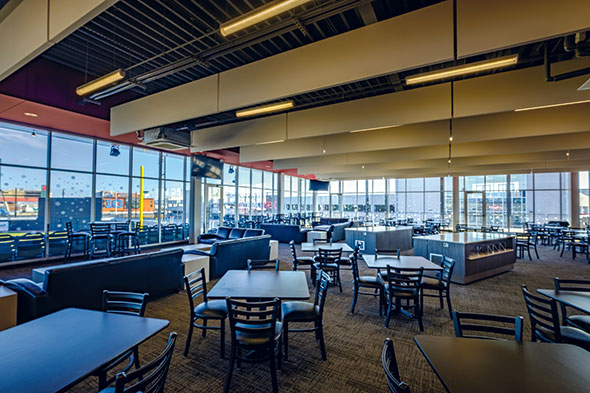 The private Rivers Stadium Club offers guests a restaurant and bar while they watch the baseball game. Photo by Edward Marshall
The hot and carving stations contain built-in plate shelves along the sides. All use portable food shields. "The utilization of undermount equipment and portable food shields allows for flexibility with these units so they don't have to be strictly for foodservice," Sedej says. "By designing them to look like pieces of furniture rather than solely foodservice buffets, they can remain in the room and be utilized for many purposes."
Buffets draw customers to Rivers Stadium Club.
Suites contain serving equipment, a refrigerator, sink, storage cabinets and a beverage refrigerator.
Challenges and the Future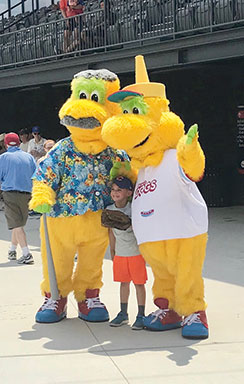 The early days of stadium foodservice at Impact Field were a bit of an unknown since there was no historical data or precedent for foodservice usage. "We didn't know where people would gravitate," Cole says. "For example, Flash Point is at third baseline, so people gravitate toward that stand, and there are lines. In the beginning, we made Chicago dogs with all the toppings, but because there are seven toppings, we had very long lines. We learned that most people want the key ingredients — onions, mustard, relish and celery salt. The wild cards, items most commonly requested to be left off, are pickles, tomatoes and sport peppers. So when a customer orders a Chicago dog, the front-of-the-house staff is adding those last three items instead of the back-of-the-house staff. This takes most of the special requests off the back-of-the-house staff and puts it on the front-of-the-house staff for increased productivity and speed of service. Of course, we accommodate all requests, but this tactic has made it much easier on the kitchen."
As season two nears, Mayor Stephens, general manager Stephens, Cole and her culinary team continue to discuss efficiencies. They are confident that as word spreads about the baseball team and the food offered at Impact Field, fans will flock to the new venue. Accommodating more customers is a challenge they welcome.
Facts of Note
Opened: May 25, 2018
Scope of Project: A minor-league baseball stadium with 3 levels and 6,300 ballpark seats. A full-service kitchen on the field level supports Rivers Stadium Club, six 12-person suites and one 24-person suite, 6 party terraces; 6 concessions around the perimeter of the ballpark on the concourse level — Flash Point Grill (2), Wieners Circle, Pies, Sweet, Salsa; an outfield party zone; children's play area; first base bar and bullpen porch.
Seats: Rivers Stadium Club, 250 seats
Average Check: Club, $100; concessions, $12
Hours: Kitchen may open as early as 6 a.m. and close at 11 p.m.
Menu Specialties: Steamed Chicago hot dogs and grilled hot dogs, pizza, tacos, sweets, carved proteins
Staff: 120, including 6 full-time managers, the executive chef and executive sous chef, and hourly supervisors working full-time in the summer and part-time in nonpeak months
Total Project Cost: $63 million
Equipment Investment: $1.9 million
Website: www.rosemont.com and www.thechicagodogs.com
Key Players
Owners: Village of Rosemont
Chicago Dogs Owners: Shawn Hunter and Steven Gluckstern
Mayor of the Village of Rosemont, Ill.: Bradley A. Stephens
General Manager, Impact Field: Bradley Stephens II
Director of Operations, Professional Sports Catering, powered by Levy: Collie Cole
Executive Chef, Professional Sports Catering, powered by Levy: Michael Blase
Assistant Director of Operations, Professional Sports Catering, powered by Levy: Kyle Lindquist
Architect: AECOM, Kansas City, Mo., in collaboration with Snow Kreilich Architects, Minneapolis.
Interior Designer: AECOM, Kansas City, Mo.
Foodservice Design Consultant: S20 Consultants Inc., Chicago: Kristin Sedej, FCSI, president, and Ryan Rongo, LEED AP BD+C, project coordinator
Equipment Dealer: Boelter, Chicago: Nick Pope, project manager, and Eric Chaplick, director of foodservice design and equipment in Boelter's Chicago office
Construction: Northern Builders Inc., Schiller Park, Ill.: Chris Maggio, senior project manager
General Contractor: DRN Rosemont LLC, Rosemont, Ill.
Meet the Players
Collie Cole, director of operations, Professional Sports Catering (PSC), powered by Levy. Cole's background includes positions with McMenamins Inc., which operates pubs and restaurants, historic hotels, breweries, distilleries and wineries in Oregon and Washington, and Real Restaurants in San Francisco. She joined Levy in 2012 and moved to PSC a year ago to open Impact Field's foodservice.
Sterling B. Hershey, AIA, LEED AP, associate, AECOM, Kansas City, Mo. During his 20-year career in architecture and design, Hershey's projects have included stadiums and arenas for major league, minor league and collegiate sports facilities. His civic architecture experience includes work studies and design contests for public schools, university research laboratories, student education facilities, and public and private medical offices and facilities.
Kristin Sedej, FCSI, president, S20 Inc., Chicago. Sedej was one of the original partners of S3 Consultants, which dissolved in 2003 and reincorporated in 2008 with Sedej and Harry Schildkraut. Sedej's projects include more than 100 sports venues, both collegiate and professional. Two are the New Orleans Superdome after Hurricane Katrina in 2005 and Northwestern Kellogg School of Management Global Hub.
Bradley A. Stephens, mayor of the Village of Rosemont, Rosemont, Ill. Stephens was appointed to the Office of Mayor by the Village of Rosemont's Board of Trustees in May 2007 following the sudden passing of his father, Donald E. Stephens, who was the founder and principal pioneer of the municipality and who served as Rosemont's mayor for more than 50 years. Prior to becoming mayor 12 years ago, he served on the Board of Trustees for 18 years.
Bradley Stephens II, general manager, Impact Field, Rosemont, Ill. After graduating from college, Stephens began working for the Village of Rosemont at Donald E. Stephens Convention Center, named after his grandfather, Rosemont's former mayor, Donald E. Stephens. In addition to his position at Impact Field, he is also property manager for Parkway Bank Park, Rosemont's Entertainment District.
Equipment Key
Equipment Key
1. Shelving unit
1a. Wall-mount shelf
1b. Keg shelving
1c. Wall-mounted,
pass-thru shelf
2. Clean dish table
2a. Soiled dish table
3. Warewasher, rack conveyor
4. Garbage disposer
5. Wall-mount prerinse faucet
5a. Back splash-mount faucet
5b. Deck-mount faucet
6. Three-compartment sink
6a. Wall-mount hand sink
7. Lever-handle drain with overflow
7a. Lever-handle drain
8. Reach-in refrigerator,
two-section
8a. Reach-in freezer
8b. Pizza prep refrigerator
8c. Keg cooler
8d. Evaporator coil
8e. Walk-in cooler/freezer
8f. Cooler compressor
8g. Bottled beverage
refrigerator
9. Automatic airpot coffee maker
10. Worktable w/sink
10a. Mobile worktable
10b. Worktable
11. Roll-in rack
12. Hot water dispenser
12a. Nacho cheese dispenser
13. Overhead food warmer
13a. Drawer-type warmer
14. POS printer
14a. Cash register/
POS system
15. Fire extinguisher system
16. Exhaust hood
17. Three-battery fryer
17a. Fryer battery
17b. Dump station
18. Countertop charbroiler
18a. Hot dog grill
19. Griddle
19a. Griddle stand,
refrigerator
20. Fried food holding station
21. Combi oven
21a. Convection oven
22. Four-burner range
23. Tilt skillet
24. Floor trough
25. Prep table w/sink
26. Counter mixer
27. Slicer
27a. Stand
28. Mobile heated cabinet
28a. Pretzel cabinet
28b. Mop sink storage cabinet
29. Ice maker
29a. Water filter assembly
30. Ice bin
31. Beer tower, two taps
and drawer
32. Beer system
33. Soda system
33a. CO2 tank
33b. Beverage conduit
34. Ice/soda station
35. Cup holder
36. Front counter
36a. Back counter
37. Utility cart, equipment stand
38. Popcorn popper
39. Heated display case