Located in a cluster of restaurants and businesses that share a courtyard, The Refuge Steakhouse & Bourbon Bar offers a casual-elegant dining experience and features wood-fired steaks, seafood and pastas. "We also feature the largest bourbon selection in North Houston and the friendliest service that you just can't find anywhere else in town," owner Mark Zientek says. In addition to the on-site restaurant operations, off-site catering constitutes nearly 30 percent of the restaurant's business.
Ever since he enrolled in college at Texas A&M, Mark Zientek dreamed of opening his own foodservice establishment. Though he majored in economics and political science, he had worked in hospitality since he was young, washing dishes, cooking and tending bar. Following graduation, he worked in corporate restaurants and hotels. In 2002, he joined The Woodlands Development Company, helping plan and managing all the hospitality locations at The Woodlands, a master planned community in The Woodlands, Texas, a northern suburb of Houston. He built a reputation for giving hands-on service, paying razor-sharp attention to detail and developing meaningful relationships with customers and suppliers.
The Refuge Steakhouse & Bourbon Bar shares a courtyard with other establishments.
Following his daughter's graduation from college, Zientek took a leap and opened The Refuge Bar & Bistro in The Woodlands in 2013. (See FE&S, "Small Space Case Study: The Refuge,") This venture's success allowed Zientek and his partners to open The Refuge Steakhouse & Bourbon Bar in February 2017, just a 20-minute drive from the original restaurant.
When guests arrive, Zientek greets them and visits with them while they dine. He applies a very hands-on approach to restaurant management, explaining, "We must set ourselves apart from other restaurants and make every person's experience here unique and special."
A rustic, elegant ambience also greets guests. The restaurant features walls made of reclaimed lumber from old churches, copper ceiling tiles, Edison lights hanging at various levels and custom-designed tables and chairs. A caged display of private whiskey and bourbon lockers sits near the entrance, holding bottles that guests can purchase cost-plus from the restaurant and receive upon request at their tables.
The dining room allows views into the kitchen. The interior's earth-tone palette contributes to the rustic elegant ambience.
"Mark had a clear direction for how he wanted the space to feel," says architect Nathan Moore, owner of NM21 Design Studio in Houston. "The use of reclaimed wood, brick and copper finishes lit by the warm glow of the suspended light fixtures above create an inviting, comfortable space that offers areas suited for a more private, intimate dining experience. These also allow guests to be more social around the bar and outdoor patio space."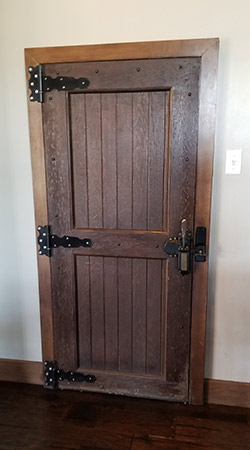 A 100-year-old reclaimed butcher-block door leads into a walk-in cooler holding beer and wine.A reclaimed butcher-block door leads into a walk-in cooler holding beer and wine. The project's foodservice designer and planner, John Egnor, principal, JME Hospitality in The Woodlands, Texas, retrofit the cooler using this door from a Chicago butcher shop that Zientek found online. For the restrooms, Zientek contracted with a small lighting company in Mississippi to transform pipes into light fixtures.
"We occupy 3,800 square feet, which is very small relative to the number of customers we serve," Zientek says. "We selected a busy location and wanted to be sure we could maximize our profit margin rather than building a huge space with a huge overhead."
Food Production
Food production takes place in 750 square feet. Just as at The Refuge Bar & Bistro, the design team maximized every inch of space. "The space is incredibly small for the amount of volume produced here," says Egnor. "The menu had to be limited, and we had to have a certain amount of space to meet health department regulations for warewashing, refrigerated storage, sinks and exhaust hoods. We had to be sure we had no cross-traffic for clean and dirty dishes. Without a doubt, this restaurant operates at maximum efficiency and produces the highest revenue per square foot as I've ever designed."
Food arrives up to 6 times a day from 7 a.m. until 1 p.m. at the restaurant's back door. "The space is so small that we must receive many orders daily," says Vincent Alexander, executive chef. "As soon as the food arrives, we immediately remove food deliveries blocking the doorway." Staff place food in a walk-in cooler or attached walk-in freezer. "One of my culinary instructors always said, 'Work does not go into the freezer; only finished work goes into the freezer.' We follow that guidance and use the freezer for specific instances like storing items such as hamburger patties for large events."
Food remains in the cooler for a short time — usually less than 24 hours — before staff prepare it for the evening meal or catered events. Staff take the ingredients either to cold or hot prep areas. Ceramic, glazed tiles surround the preparation and cooking areas. "The tiles provide cleanable surfaces and don't melt in the hot temperatures surrounding the wood-fired chargrill," Egnor says.
The equipment line includes fryers, a six-burner range, flattop, salamander with ovens beneath, upright refrigerators and a chargrill.
"I've restructured the kitchen operation so the lead cook focuses on the ingredients coming in and out of the walk-in cooler and not on the production line," Alexander says. "He prepares vegetables, processes, portions and rotates these menu items as if he was working on the line. He sets the standard for everyone working in the restaurant."
Staff prepare salads, the cheese and charcuterie boards and desserts at a small cold pantry station to the side of the hot production line. All desserts, such as red velvet cake and chocolate truffle cake, bake in a half-size combi oven that sits in the small cold pantry.
Another staff member cooks vegetables in a small combi oven. Staff also use a six-burner range and small flattop to cook additional vegetables, seafood such as shrimp for linguini scampi and bourbon ginger glazed salmon, jumbo lump crab cakes, pork belly and side dishes. A convection oven beneath toasts breads and flatbreads and roasts Brussels sprouts and cauliflower gratin.
Alexander breaks down cases of meat as they come in and begins butchering immediately after receiving deliveries. "A sous chef is in charge of the hot line and helps with butchering," he says. This enables him to spend all morning butchering and leaves him available for the restaurant's meals and catered events. He and staff use a mixer with a grinder component to grind the trim from steaks to use for burgers, sausages and salami.
Butchery Room and Grill
In October 2018 the owners installed a butcher room. "We'll have tighter controls and drive down costs by purchasing in bulk," Alexander says. "We'll be able to offer more charcuterie at the bar."
The butchery area contains three custom-designed refrigerated and humidity-controlled compartments for curing prosciutto and sausages. A small fermentation chamber, which holds salami that age up to 40 days, stands adjacent to guests who want to dine in this area of the restaurant. Egnor researched all the potential options to support this meat aging and curing case. "What the owner and chef wanted to create does not exist, so we sourced the required controls and components to create a one-of-a-kind display/aging and curing cabinet to support the special cured meats and aged steaks the chef wants to showcase in his menu,"he explains.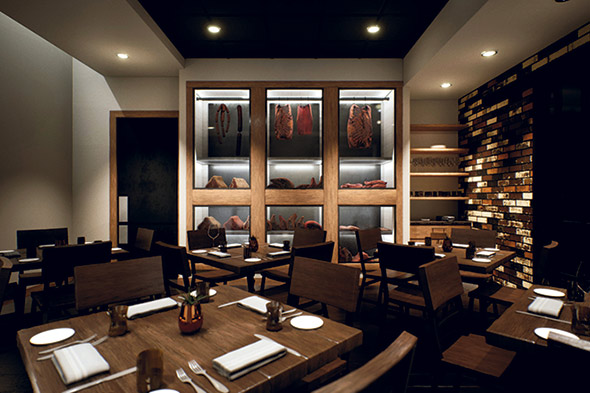 A butchery allows staff to offer greater menu variety and control costs of meat items.
The wood-fired chargrill, though, receives the most customer interest. Staff members use a wheel to raise and lower each side of the grill to cook menu items at specific temperatures. For example, they lower one side close to the hot embers for cooking the six steak options at 1,000 degrees F and above. They cook lamb and pork on this side as well. Staff members raise the other side to cook chicken and fish such as skin-on red snapper at 500 degrees F. "Each chamber has a separate fire box with its own wood, which gives the food cooked here its flavor," Egnor says.
"We must pay careful attention to the entire cooking process because we don't have a consistent flame like you have on gas charbroilers," Alexander says. "We have to watch the cooking by eye. This is definitely a craft that must be learned."
The two-basket fryers produce steak fries, Buffalo spring rolls, fried green tomatoes and calamari. "We put in a remote oil system because the restaurant doesn't have the space to store oil," Egnor says. "A company runs pipes that connect to the fryers, and once a week, in the middle of the night, their staff arrives in a truck and takes out old oil and pumps in new oil."
All the food comes together at a front counter. A glass partition separates it from the dining area. Servers come to this expediting window to pick up plates of food and deliver them to guests. "There is no room in the back of the house to pick up the plates," Egnor says.
The restaurant offers banquet events during breakfast and lunch hours. For off-site catered events, staff either take chilled food to the site and heat it in equipment there or arrive with hot food in transportable hot boxes.
The Full-Service Bar and Sustainable Practices
A full-service bar features a hammered copper countertop, four 36-bottle wine coolers and 12 beers on tap. "We installed two levels of glass storage so staff can always get to the glassware," Egnor says. The premium liquor is stored on four levels that staff access by climbing a library ladder. Staff prepare flavored bourbons by smoking the liquor in a clear glass skull. The restaurant also creates it own signature flavored bourbons (varieties include vanilla, raspberry honey, coffee, black cherry pepper), and they are always fermenting a new barrel for all to experience.
Staff climb the library ladder to access premium liquor. The bar contains 12 draft beers.
The bar also contains a backbar cooler, an underbar ice chest, an underbar blender station and an undercounter warewasher. The ice machine produces large cubes, while another ice machine for the restaurant menu produces standard cubes for water and soft drinks.
Alexander intends to remain loyal to locally produced food, such as chicken and beef. He works with distributors to piggyback deliveries with other restaurants to minimize deliveries. He sole-sources dairy so truck drivers can restock these ingredients and make sure the restaurant receives the freshest products available.
Staff climb the library ladder to access premium liquor. The bar contains 12 draft beers.
"To keep this operating efficiently and maintain the high quality, you've got to be on-site doing the work," Alexander says. "You must contribute and give staff members direction."
The future promises growth and expansion. Within a year, Zientek and his team will open a catering facility located about two hours from the restaurant, which will support their outreach further into the community.
Facts of Note
Opened: February 2017
Scope of Project: New-build restaurant with kitchen, dining room and butcher shop, opening at the end of October 2018
Size: 3,800 sq. ft., including 750 sq. ft., kitchen; 1,700 sq. ft. for dining room, including bar, lounge and offices
Seats: 146, including 20 for outside dining, 36 in lounge and 9 bar stools in bar
Average Check: $56
Total Annual Sales, Anticipated: $4.66 million
Daily Transactions/Covers: 300 to 350 on weekends; 200 to 250 on weekdays
Hours: 4 p.m. until 10 p.m. Sunday through Thursday; 4 p.m. until midnight, Friday and Saturday
Menu Specialties: Steaks, fresh fish, pork belly, sides
Staff: 7 kitchen employees; 3 bar employees; 10 waitstaff; a host/hostess; 3 managers
Total Project Cost: $1.1 million
Equipment Investment: $210,000
Website: www.refugeinthewoodlands.com
Key Players
Owners: Mark Zientek and Matt and James Kowalski, all partners of Kowaltek LLC, Spring, Texas
Managing Partner: Mark Zientek
General Manager: Luis Padilla
Executive Chef: Vincent Alexander
Architect: NM21 Design Studio, Houston; Nathan Moore, owner
Interior Designers: NM21 Design Studio, Houston, and Mark Zientek
Foodservice Designer and Planner: JME Hospitality,
The Woodlands, Texas: John Egnor, principal
Equipment Dealer: WebstaurantStore, Lancaster, Penn. and C&T Design & Equipment Co., Houston: Jackie Darma, project manager
Construction: Cornerstone Construction, The Woodlands, Texas: David Gentz
Meet the Players
Vincent Alexander, executive chef, The Woodlands Steakhouse & Bourbon Bar. Alexander joined his current position at the end of July 2017. Previously he worked at The Woodlands Resort and Conference Center, the San Luis Resort in Galveston, Texas, the Four Seasons in Houston and the Houston Country Club.

John Egnor, principal, JME Hospitality, The Woodlands, Texas. Egnor began working in hospitality design more than 35 years ago. JME Hospitality provides design for all segments of the hospitality industry. Two almost-opened projects include convention and resort hotels at The Gaylord Rockies in Denver and Gaylord Chula Vista in San Diego.
Nathan Moore, principal and architect, NM21 Design Studio, Houston. Before starting his own firm in 2011, Moore worked with a small design-build firm in the Galleria area of Houston. NM21's 200 projects include Alta Mesa Holdings LP in The Woodlands and Houston and multiple projects for Workforce Solutions, a division of the parent company Baker Ripley.
Mark Zientek, managing partner, The Refuge Steakhouse & Bourbon Bar and The Refuge Bistro & Bar. Before opening this restaurant and bar, Zientek opened The Refuge Bar & Bistro in The Woodlands in 2013. Previously he worked at Carlton Woods Country Club and The Woodlands Development Company near Houston.
Equipment Key
1. Ice bin
2. Ice maker w/out bin
3. Floor sink
3a. Hand sink
3b. Soiled dish drop
w/3 compartment sink
3c. Underbar hand sink
3d. Deck-mount faucet
3e. Wall-mount faucet with sprayer
4. Mop closet
5. Wire shelving
5a. Wall-mount shelving
5b. Shelving
5c. Adjustable cantilever shelving
6. Work counter
7. Warewasher, door-type
7a. Undercounter warewasher
8. Exhaust hood
8a. Makeup hood
9. Rack slides
9a. Wall-mount pot rack
9b. Pot and pan rack,
double bar
10. Dish table w/rack shelves
10a. Worktable
10b. Meat breaking table
10c. Worktable w/enclosed base and open shelf
11. Walk-in cooler
11a. Evaporator coil
11b. Refrigerator rail
11c. Reach-in refrigerator
11d. Worktop freezer
11e. Ice chest
11f. Backbar cooler
11g. Underbar ice chest
12. Food slicer
13. Drawers
14. Counter mixer
15. Pan slides
16. Microwave/convection oven
16a. Microwave oven
17. Wood-fired open
charbroiler
18. Range w/standard oven
18a. Range w/convection oven
19. Deep-fat fryer battery with filter
20. Drop-in hot wells w/cutting board
21. Decorative heat lamp
22. Mill work
23. Soda system
24. Espresso machine
24a. Automatic coffee brewer
25. Iced tea brewer
26. Bulk CO2
27. Bulk oil system
28. Cash register
29. Drip pan, glass rinser
30. Refrigerated wine captain storage
31. Draft beer dispensing head
32. Drink rail
32a. Underbar speed rail
33. Underbar dry waste container
34. Soda gun holder
35. Underbar blender station
36. Underbar fillers w/drain boards
37. Hutch w/storage above
38. Butcher string
39. Butcher paper