Harvard University's John F. Kennedy School of Government, also called the Harvard Kennedy School (HKS), embarked on a major construction project to enclose its assorted buildings and bring them into a connected network. Its foodservice facility, designed more than 40 years earlier, had long outgrown its kitchen facilities. "The mission in creating a new cafe and kitchen space was to make a more robust cafe, with a kitchen and all relevant storage immediately connected, that could support a healthy, sustainable community with growth," says David Davidson, managing director for Harvard University Dining Services (HUDS).
The project started in 2015. In July 2017, HUDS moved into a new cafe and kitchen space that for the first time brought all staff, equipment and storage together on one floor within one contained area. The facility opened officially in September 2017. "During the two-year construction span, the team navigated multiple closures or reductions in available spaces and services, so when the new dining facility and building were fully occupied and operational in early winter 2018, it was cause for a grand celebration, for which the HKS team set the table," says Robert (Bob) Leandro, director for operations and facilities for HUDS.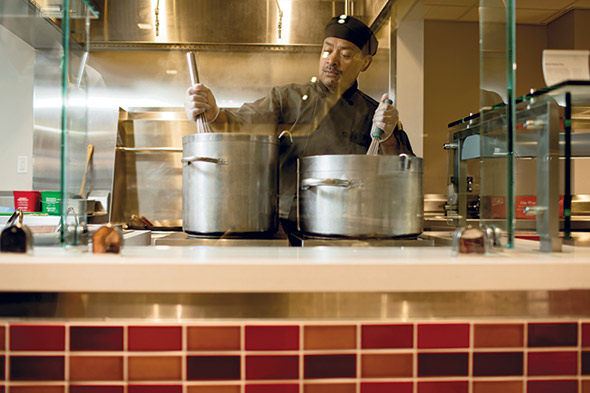 Photos courtesy of Harvard University Dining Services
During the year, cafe sales constitute about 20 percent of total sales, while catering contributes 80 percent. "Both operations are supported by the kitchen, so we had to provide enough staging space for hot and cold carts and give easy access to trucks that drive up and down the loading dock," says Leonard D. Condenzio, FCSI, CEO of Ricca Design Studios in Greenwood Village, Colo.
Food deliveries arrive at an underground loading dock entrance. "Before the new building, we didn't have a designated loading dock," Leandro says. "We had to wheel food and supplies across a courtyard. Now, we have a well-secured, indoor loading area that also contains an area for trash. It's beautiful and functional."
A receiver checks in deliveries before staff bring items up a ramp to the main kitchen. Staff place food and supplies into storage, including two walk-in coolers, a walk-in freezer, upright refrigerators and dry storage. Chefs and other culinary staff visit this storage area to pick up what they need for the day's preparation.
Equipment in the cold prep area includes a food processor, a slicer and a small immersion blender for salad dressings, juices, sauces and soups. Staff use a larger, 60-quart mixer for making mashed potatoes, whipped creams and meringues. "We can place the ingredients on racks, refrigerate them and deliver them to the salad bar, which is very efficient," says Laurie Torf, retail area general manager for HUDS.
In the hot prep area, staff use two 60-gallon kettles to make soups, sauces and pasta and to rethermalize soups from the Culinary Support Group, a campus cook-chill operation. In the tilting skillet, staff prepare stir-fries, braised corned beef, shallot-simmered turkey tenderloins cut into smaller pieces (tips), other hot entrees, such as chicken piccata, and vegetables.
A six-burner range, tilting skillet and steam-jacketed kettle support production of menu items for the cafe and catering.
Combi ovens and convection ovens allow staff to cook meats, vegetables and casseroles for the cafe and catered functions.
Three combi ovens roast and steam menu items such as green curry salmon, mesquite chicken, beef short ribs and whole grains like millet with mushrooms and dried cherries. Double-stacked convection ovens bake muffins and roast potatoes and meats.
Staff use the fryers to make french fries, locally caught beer-battered fish, and chicken fingers. They use the range to prepare demi-glaze and small-batch sauces, and a the flattop griddle and charbroiler to prepare eggs and burgers.
The dishwashing area contains a three-bay pot-wash sink for scullery staff use in the kitchen and a conveyor dishwasher to clean catering tabletop items that include china plates, serviceware and glasses. The cafe does not require dishwashing for tabletop items because it uses only compostable serviceware.
"There is a clean path between the clear and dirty dishes," Leandro says, "so there is no cross-contamination."
The Cafe
The colorful salad bar greets customers when they enter the HKS cafe.
The first station customers see when they arrive in the cafe is the salad area. "The salad bar's oval shape allows appropriate, fluid circulation because people aren't bumping into corners," Condenzio says. Nearly 40 rotating selections sit in cold wells for customers to help themselves. The salad bar also features composed salads such as Caesar and panzanella, as well as composed salads made with quinoa and other whole grains. The cafe offers two soups daily, such as New England clam chowder and Caribbean chicken and coconut, plus a chili, such as Rocky Mountain or five bean. An undercounter refrigerator sitting beneath the salad bar holds backup ingredients.
All menu items in the HKS cafe are selected from a baseline of nutrition provided by the Harvard T.H. Chan School of Public Health Department of Nutritiond T.H. Chan School of Public Health Department of Nutrition's Healthy Eating plate and its parallel Menus of Change initiative with the Culinary Institute of America, focused on both nutritional and environmental sustainability. Menu items reflect seasonal availability of ingredients.
Pizzeria offers entertainment as culinary staff hand-stretch pizza dough and flatbread and bake these menu items in a pizza oven in full view behind the counter. Staff prepare four traditional 16-inch pizzas cut into slices and offered whole in addition to two flatbreads daily. Varieties include buffalo chicken spinach, eggplant and ricotta, ranch potato and bacon, and classics like margherita. Heated decks display these menu items. Garlic knots remain a customer favorite here.
Staff prepare and bake pizzas before displaying them on hot decks.
Fresh Pressed Deli features made-to-order sandwiches such as a braised beef short rib panini, falafel stroller, grilled eggplant and beet panini, turkey club and Vietnamese chicken banh mi. Customers select from several proteins, cheeses, toppings, condiments and breads. "To be sure speed of service isn't an issue, we premake and present several upscale sandwiches in a glass display unit," Torf says. Staff heat sandwiches in one of two high-speed panini grills upon request.
Display cases showcase ingredients and sandwiches at Fresh Pressed Deli, which staff heat in one of two panini grills upon request.
Cultural Comforts features recipes from staff and HKS employees and visitors such as Guyanese stew chicken; old fashioned meatloaf, mashed potatoes, steamed corn and broccoli; jerk chicken, red peas and coconut rice, fried plantain and sauteed cabbage and carrots; and Asian braised salmon with scented Jasmine rice, steamed bok choy, and edamame and kale pot stickers. Friday menus also include fish and chips. Heated decks hold these menu items. The station also receives support from two waffle bakers, hot and cold wells and a toaster.
Healthy Flavors features vegetables like sauteed kale, collard greens, broccoli rabe, bok choy and Asian pear sauce, Thai red curry and chia seed tofu, as well as whole grains, lean proteins and healthy fats. At Cultural Cuisines and Healthy Flavors, guests help themselves to create their own ideal combinations.
Customers rank the international area with pho and pad thai as one of their favorite stations, according to Torf. At the pho area, customers select from proteins that include roasted boneless chicken thighs, marinated tofu, shrimp, roasted pork, calamari, beef and salmon, a chicken or vegetable broth, and toppings such as julienned pea pods, bean sprouts, shredded carrots, sliced red onion hoisin, diced scallion, fresh cilantro, lime and sriracha. For pho, cooks warm noodles in warm water baths/baskets, assemble ingredients held in a refrigerated rail into a bowl and then ladle hot broth over them. The culinary staff finish pad thai in two large woks.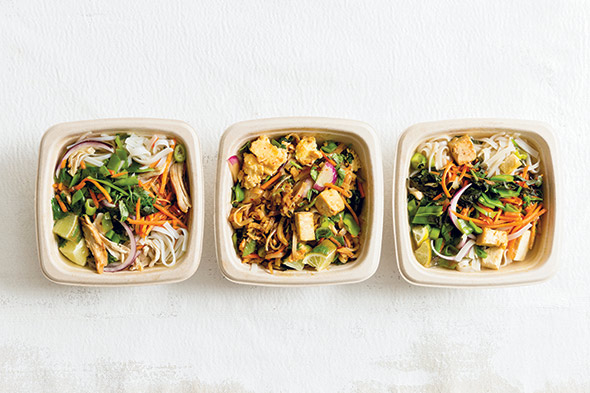 Pad thai bowls are among the cafe's most popular menu items. Photo courtesy of Kristin Teig
At the Action station chef Dee Thomas hosts periodic pop-ups, featuring, for example, made-to-order poke, the popular Hawaiian dish.
Another popular station, American Grill, contains hot and cold wells for sauces and condiments. Heated decks display hamburgers, cheeseburgers, turkey burgers, halal burgers, chicken tenders, quinoa vegetable burgers, french fries, sweet potato fries and onion rings. "We present the burgers fresh off the grill, three at a time," says Torf. "As they start to sell, we replenish them. We don't want anything sitting more than 10 minutes." The breakfast offering includes a hot breakfast buffet with scrambled cage-free eggs, shredded hash browns, bacon and pork sausage links, as well as breakfast sandwiches, omelets and oatmeal and cold items such as fresh fruit, yogurt, granola and dried fruits and nuts.
A display of desserts such as cookies, tea breads, pound cakes and brownies sits near the coffee area. Beverages include a full range of drinks. Another beverage area holds two beverage coolers with bottled drinks.
Catering constitutes nearly 75 percent of the Harvard Kennedy School's foodservice business. Since catering constitutes three-quarters of the foodservice sales here, staff give attention to functions that may be as small as coffee and pastries for 10 and as large as high-end events for 400 people. Catering venues include classrooms, conference rooms and the Winter Garden, a glass-roofed atrium space. Staff prepare food in the kitchen and transport it to the catering rooms in wheeled push carts. The culinary team carefully review menus for allergies and dietary restrictions. "Dignitaries sometimes bring in their own chefs and work alongside our chefs in the kitchen," Leandro says.
All cafe and catering menus are available online so customers can see nutritional analysis for each item served.
Before the cafe opened, HUDS conducted many training programs for staff. Manufacturers also held training sessions. "As a result, staff take a lot of pride in maintaining the equipment," Torf says. "It looks brand new a year and half after it was installed."
"Streamlining the kitchen into one space significantly improved efficiency," Martin says.
"The cafe and its catering have grown enough to make the operation self-sustaining," says Davidson. "That allowed them to achieve a food cost of 24.5 percent, almost 4 percentage points under budget." In the 2018 fiscal year, the cafe's revenue increased by nearly $2 million, cafe transactions by nearly 42,000 and events by nearly 600.
---
Insights from the Architect
The dramatic change in the buildings was a main highlight of the Harvard Kennedy School project for architect George de Brigard, AIA, LEED AP, BD+C. He is an associate partner at Robert A.M. Stern Architects LLC in New York.
"The previous buildings at HKS were all opaque and fragmented. It was hard to see in and appreciate how active the school was from the outside, and on the inside everyone seemed to be hidden behind closed doors," de Brigard says.
"In the new spaces, we focused on creating visual connections between spaces — connecting the inside the outside as well as creating clear lines of site between important functions," de Brigard says. "We reinforced this with a consistent palette of stained American oak, from the fins of the brise soleil on the exterior to the wood slat ceiling that carries throughout the entire open plan of the first floor. The result is a whole new sense of community, built from materials of clarity and warmth, that has brought the school together in a new way," de Brigard points out three additional key features of the project:
1. The unified environment. From the start, HKS project team members knew they wanted the project to create a real campus out of their collection of buildings — a campus that was a unified environment that invited engagement and discussion. Creating spaces and facilities that kept students and faculty on campus was a big part of the solution, and we knew that upgrading and expanding the cafe and dining spaces was key.
2. The double-height dining area. The heart of the new building is a double-height dining area, adjacent on one side to the new four-story Wexner Atrium and overlooked on the other by a large lounge. These spaces bring the whole campus together several times a day for meals, but also create a see-and-be-seen location to study, work in small groups, or just hang out.
3. The newloading dock. Before the campus transformation, the materials management at HKS, including food delivery, was in near crisis state. We inserted a loading dock in the midst of the existing buildings, covered by 23,000 square feet of extensive green roof, accessible by pedestrians and cyclists from two sides of the campus. This new loading dock solved many service and security problems for HKS while also untangling the vehicle and pedestrian circulation that had been creating headaches for decades.
Facts of Note
Opened: September 2017
Scope of Project: A new, 91,000-sq.-ft. building with 6 new classrooms, offices and meeting spaces, a redesigned central courtyard and a cafe and kitchen
Dining Project Size: Total, 7,493 sq. ft., including 630 sq. ft. for the kitchen cooking area, 4,167 sq. ft. for the back of the house and 2,696 sq. ft. for the servery.
Seats: 180
Average Check: $5.75
Total Annual Sales: Retail sales, $765,384; catering sales, $4.04 million
Daily Transactions/Covers in Fiscal 2018 (July 1, 2017 through June 30, 2018): 175,853 cafe transactions and 5,007 catered events
Hours: 7 a.m. to 3:30 p.m., Monday through Thursday; 7 a.m. to 2:45 p.m. Friday
Menu Specialties: Cultural comfort foods, pizza, pad thai and pho, healthy flavors, deli, salad bar, soups
Staff: 19 full-time and 11 part-time employees
Total Project Cost: $500 million (includes building construction costs, as well as the cafe)
Equipment Investment: $1.5 million
Website: www.dining.harvard.edu
Key Players
Owner: Harvard Kennedy School (HKS) Director, Facilities & Services for HKS: Arthi Kasetty
Harvard University Dining Services (HUDS) Managing Director: David Davidson
HUDS Director for Operations and Facilities: Robert (Bob) Leandro
HUDS Retail Area General Manager: Laurie Torf
HKS General Manager: Serie Demelo
HKS Executive Chef: Ernie Quinones
Architect: Robert A.M. Stern Architects LLP, New York: Graham S. Wyatt, FAIA, senior partner; Kevin M. Smith, AIA, partner; George de Brigard, AIA, associate partner, LEED AP, BD+C; Will Gridley, senior associate; Gabriella Aguirre, associate
Interior Designer: Robert A.M. Stern Architects LLP, New York; Philip Chan, associate
Foodservice Consultants: Ricca Design Studios, Greenwood Village, Colo.: Leonard D. Condenzio, FCSI, CEO; Phillip Landgraf, principal; Greg Boguniewicz, project manager; and Kerri Ingraham, project director
Equipment Dealer: May Foodservice, Cranston, R.I.; James Maintanis
Construction: Lee Kennedy Co. Inc., Boston
Meet the Players
Leonard Condenzio, FCSI, CEO, Ricca Design Studios. Condenzio brings 45 years of experience in all facets of dining services. He is involved in ideation, planning, concept and schematic design, and he oversees the design process. He creates and drives the project vision, adheres to programming and provides strategic planning.
David Davidson, HUDS Managing Director. Davidson started his two-decade affiliation with HUDS as a retail cafe manager in the 1990s and worked his way up. He now directs the overall program providing residential, retail and catering services on campus, representing $69.5 million in annual revenues and serving 5 million meals annually.

George de Brigard, AIA, LEED AP, BD+C, associate partner, Robert A.M. Stern Architects LLP. de Brigard joined the firm in 2006. His projects include Wasserstein Hall, Caspersen Student Center and Clinical Wing at Harvard Law School in Cambridge, Mass.; the Kenan Stadium Expansion at the University of North Carolina at Chapel Hill in Chapel Hill, N.C.; Pauli Murray and Benjamin Franklin Colleges at Yale University in New Haven, Conn.; and Stephen A. Schwarzman College at Tsinghua University in Beijing.
Serie Demelo, HKS general manager. Demelo joined Harvard 30 years ago. She took on the leadership of Harvard Kennedy School operations when Harvard assumed operation of the space from a contract vendor in 2013 and has led the team through year-over-year growth ever since.
Kerri Ingraham, project director, Ricca Design Studios. Ingraham joined Ricca Design Studios in 2014. Prior to that she spent an additional four years at another foodservice design/build firm.
Phil Landgraf, principal, Ricca Design Studios. With nearly 11 years of experience managing public assembly, business and industry and education projects, Landgraf joined Ricca Design Studios in 2014. Prior to his career in culinary design, he held a position as a teaching assistant/fellow at Johnson & Wales University in Denver.
Robert (Bob) Leandro, HUDS director for operations and facilities. Leandro's 45-year employment with HUDS started in the kitchen. He has held a variety of positions, including general manager and assistant director for residential dining. Promoted to his current position in 2005, Leandro oversees maintenance and renovations and is the environmental safety and compliance manager. He was integral in the LEED Silver Certification awarded to the Dunster and Mather dining hall renovations.
Ernie Quinones, HKS executive chef. Quinones joined Harvard in 2016 as executive chef at Harvard Kennedy School, where he leads the culinary team of a full-service cafe and a catering department whose guests include heads of state, leaders of government, and members of the armed forces.
Laurie Torf, HUDS retail area general manager. Torf oversees roughly half of HUDS' retail operations. She has worked in both the residential and retail divisions for more than 18 years. She has extensive experience in all areas of operations, with a special focus on large, complex facilities.
Harvard Kennedy School Floorplan
Equipment Key
1. Walk-in cooler
1a. Cooler evaporation coil
1b. Roll-in blast chiller
1c. Refrigerated base
1d. Undercounter refrigerator
1e. Reach-in refrigerator
2. Hand sink
2a. Pot sink
2b. Drop-in hand sink
3. Soap and towel dispenser
3a. Condiment dispenser
4. Corner guard
5. Wall flashing
6. Wall shelf and pot hooks
6a. Pot and pan shelving
6b. Dry storage shelving
6c. Drop-in heated shelf
7. Prep table w/sinks
7a. Worktable
7b. Mobile worktable
7c. Refrigerated pizza table
8. Food mixer
9. Exhaust hood
10. Double convection oven
10a. Double combi oven
10b. Waffle baker
10c. Toaster
10d. Double-stacked conveyor oven
10e. Undercounter warmer
11. Water filter assembly
12. Tilting kettle
13. Floor trough
14. Slicer
15. Tilting skillet
16. 6-burner range w/oven
16a. Wok range
16b. Induction range
17. Food processor
18. Work counter w/sink
18a. Work counter
18b. Serving counter
18c. Wood countertop
18d. Condiment counter
18e. Cashier counter
18f. Beverage counter
19. Heated cabinet
19a. Heated holding cabinet
20. Steamer w/filter
21. Fryer w/filter and dump station
22. Spreader
23. Charbroiler
24. Griddle
24a. High-speed panini grill
25. Air curtain
26. Fire suppression system
27. Ambient transport cart
28. Drop-in hot well
28a. Soup well
29. Food shield w/lights and warmer
29a. Food shield w/lights
29b. Vertical food shield
29c. Bonded glass food shield
30. Drop-in cold food pan
31. Heated deck
32. Refrigerated display case
32a. Ambient pastry case
32b. Air screen merchandiser
33. Dough sheeter
34. Bread display
35. Portion scale
36. Salad bar
37. Coffee brewer
37a. Tea brewer
38. Cup dispenser
38a. Soda/ice dispenser w/filter
39. POS equipment
40. Fill faucet
41. Hydration station
42. Undercounter ice maker