Ohio University transforms an all-you-care-to-eat dining facility into a retail and grocery venue.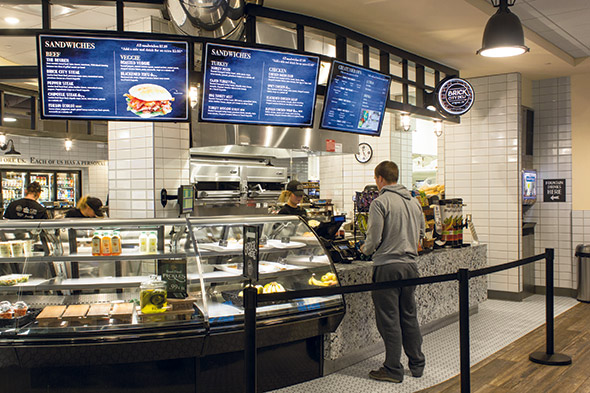 Photo by John Jurgens, John Jurgens PhotographyOhio University's outdated Jefferson Hall had not been renovated since its opening in 1958. "The vision of the $39 million, full rehabilitation of this iconic residence hall was to maintain the successful traditional-style layout that has worked so well for Ohio University with their first-year students, but also to focus on modernizing the design," says Chris Shrodes, AIA, senior project manager, portfolio delivery leader buildings + places, AECOM. "What happens as part of the residence life experience within the fabric of the campus is as important as what happens in the classroom."
As part of Jefferson Hall's renovation, the 16,000-square-foot, all-you-care-to-eat dining hall was transformed into a multifaceted retail and grocery operation named Jefferson Marketplace. "We wanted to engage the northeast corner of our beautiful campus as well as the nearby off-campus community in this area," says Rich Neumann, MS, FMP, director, Culinary Services, and assistant professor at Ohio University in Athens, Ohio. "We also wanted to increase our fresh and locally sourced items and improve our international retail offerings for our growing international student population."
The Jefferson Hall project began in May 2016 with the closing of the original, very small — 1,500 square feet — Jefferson Market, which only offered retail convenience items. Jefferson Marketplace now features retail concepts including The Brick City Deli with hot and cold sandwiches; The Ohio Café with coffee, tea, other beverages and pastries; and Steeped & Stirred, a coffee and tea venue with self-service hot and cold beverages and pastries. The Market, which includes groceries, packaged and bulk foods and convenience items, also features Juiced, which offers fresh-squeezed juices, and Veggie Butcher, where fresh-cut fruits and vegetables are available. In addition, the marketplace's Culinary Studio offers an educational food experience. "In order to fit everything in the space, Jefferson Marketplace contains a very small back-of-the-house storage area," says Kent Scott, FMP, associate director, Auxiliaries Operations, Culinary Services.
Jefferson Marketplace is part of the $39 million Jefferson Hall renovation. Photo by John Jurgens, John Jurgens Photography
"The infrastructure within Jefferson Hall located above the marketplace presented several challenges related to structural conflicts concerning HVAC duct routing and plumbing penetrations," says Phillip Landgraf, principal at Ricca Design Studios' Denver office. "Our detailed 3-D modeling and coordination with the MEP engineers was crucial toward recognizing and addressing these concerns early in the design, allowing us to quickly come up with design solutions."
Food Deliveries, Storage and Production
After food arrives at the loading dock, staff check it in and place it in one of two walk-in coolers, a walk-in freezer or dry storage in the back of the house. Staff also bring deliveries to walk-in coolers at The Brick City Deli, Juiced and Veggie Butcher. The back of the house also contains a pot-washing area.
"We basically eliminated the entire back-of-the-house kitchen and made the decision early that all services were going to be provided out front," Scott says.
"We looked at the flow in each of our service areas and allowed enough spacing for our employees and customers to move around comfortably," Scott says.
Strategic concept locations were crucial to the marketplace design. "We used a glass storefront and located both The Ohio Café and Brick City Deli concepts on the perimeter of the marketplace space so people walking in this area of campus can see the busy activity inside," Scott says.
The Ohio Café offers beverages and pastries to take out or consume inside the marketplace. Photo by John Jurgens, John Jurgens PhotographyAt The Ohio Café, customers can purchase a quick cup of coffee to enjoy before heading to class or the office or while shopping within the venue. The Ohio Café features nationally branded coffee and baked goods from Ohio University's on-campus bakery. It contains an espresso machine, a blender and an ice machine for frappes and iced coffee drinks. A small separate storage and prep area sits behind the space.
Customers visiting Jefferson Marketplace's New York–style The Brick City Deli may access the deli's selection of manufacturer-branded meats and cheeses at three points. Set up in semi-circular shape, one side of the deli provides custom-made sandwiches, including 17 signature options, while the other side offers sliced-to-order meats and cheeses that may be purchased by the pound. The concept also features a Kosher component. Equipment includes three slicers, two griddles and a salamander broiler. Staff do not use deep-fat fryers in an effort to focus on healthier eating and safety. Menu ingredients sit in display cases.
"We cross-train all of our cooks and student workers to effectively work both sides of the venue," Scott says. "The manufacturer whose products we feature provided ample training with our entire staff and continues to come to campus for training two weeks at the beginning of every semester."
Steeped & Stirred also sits on the edge of the marketplace and adjacent to the Jefferson Hall lobby. "We located this unique, tranquil space to appeal to those on campus who want to enjoy a beverage and relax from a busy day," Scott says. This concept contains refrigerated and ambient display cases with fresh baked goods from the central bakery on campus and bottled beverages. Beverage equipment includes an espresso machine, a drip coffee machine, four hot water dispensers for loose-leaf tea and hot chocolate assembly and an undercounter refrigerator. Calming music, a water feature and plants contribute to the peaceful environment.
The Ohio Café, The Brick City Deli and Steeped & Stirred operate as independent retail venues and accept cash, credit, Bobcat Cash (which functions like a prepaid debit card) and Flex Points for a la carte menu items. The Brick City Deli uses Culinary Services' inaugural electronic point of sale system, enabling customers to place sandwich orders, designate a pickup time and pay for their purchases online. The system operates via the Culinary Services' website, which customers can access via any desktop or mobile device. Customers pay for their orders using credit cards, Bobcat Cash and Flex Points.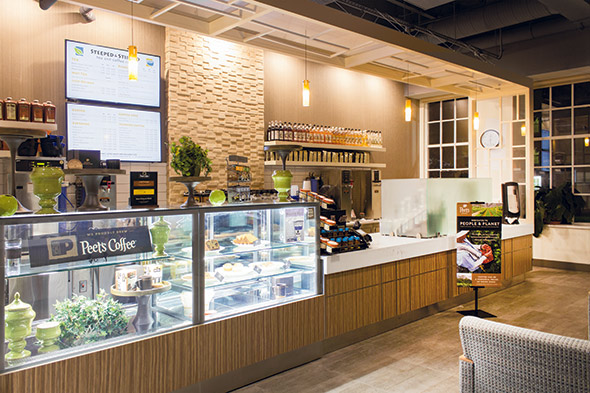 Steeped & Stirred offers a wide selection of coffee and tea beverages as well as pastries.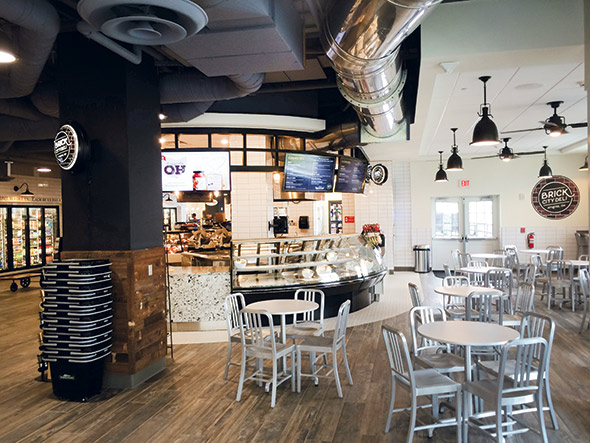 Customers at The Brick City Deli may access the deli's selection of meats and cheeses at three points within the marketplace — by placing a sandwich order at the deli, by ordering sliced-to-order meats and cheeses or by selecting a premade sandwich. Photo courtesy of Ohio University
The Grocery Market
The Market features 14 aisles of food and products. Photo by John Jurgens, John Jurgens Photography
A gate separates the front of the Jefferson Marketplace, which contains the restaurant concepts, from The Market. "We did this so that eventually we could open later hours in the front area if we had significant request for these services to be open later hours," Scott says.
Small shopping carts and a four-screen video wall greet customers when they enter the grocery area. The grocery includes 14 aisles of food and products. A produce section features many colorful, mostly locally sourced fresh fruits and vegetables. Reach-in display coolers contain grab-and-go Brick City Deli sandwiches and take-and-bake pizzas; frozen foods, including new international product lines; and a specially designated area for frozen meats, including hamburger patties and pork chops. Ambient cases feature baked items from Ohio University's bakery.
A quote from the university's recently retired president, Dr. Roderick McDavis, connects the store with the university.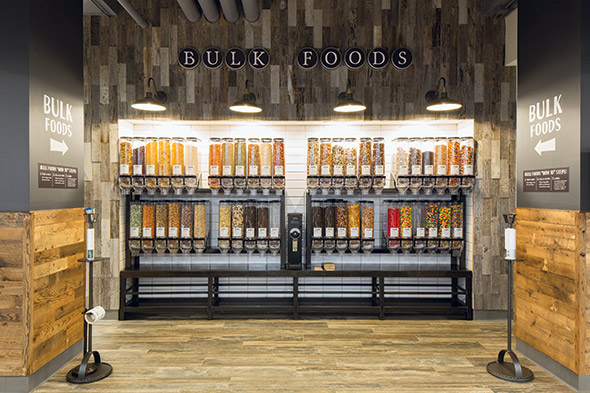 The bulk foods section offers a variety of items priced by weight.
Staff use a juicer to process displayed fresh fruits and raw vegetables into made-to-order juices at Juiced. The Market also features Veggie Butcher, modeled after this popular feature at the university's The District on West Green, where customers select whole fruits and vegetables, which they then take to a counter to be washed, processed to their specifications into cubes or slices, weighed and tagged for purchase. Staff also process ready-to-go retail cups of veggies and fresh fruit here.
At both Juiced and Veggie Butcher, "we do all of our own labeling, bar coding and PLU [price look-up code] coordination," Scott says. "At Veggie Butcher, for fresh fruit and vegetable retail items, labels include branding, nutritional information, UPC [universal product codes], retail price, expiration date and food handling information."
Jefferson Marketplace's Juiced offers customers healthy refreshments.
Customers select whole fruits and vegetables, which they take to the Veggie Butcher counter to be washed, processed to their specifications, weighed and tagged for purchase.
The Market also includes two salad bars with myriad fresh greens, veggies, toppings and dressings; a hot food bar featuring American and international cuisine; a bulk foods area, featuring chocolates and candies, dried fruit, nuts, seeds, trail mixes, pastas and a brand of locally sourced coffee; and a floral area offering individual flowers, bouquets and potted plants. Additional items include greeting cards, other special occasion-related products, beauty products, dog and cat food and automotive accessories.
"The Jefferson Marketplace features everything we've been carrying in our other markets on campus, plus a whole lot more," Scott says. "And it makes our Flex Meal Plan even a better value because customers on that plan can use it to purchase household items as well."
The Culinary Studio
Developed and operated in partnership with the Scripps College of Communication, the Patton College of Education and WOUB Public Media, The Culinary Studio serves as Culinary Services' first demonstration kitchen. "The studio was developed with the mission of Ohio University in mind," Scott explains. This is reflected in the venue's tagline: "It's an educational food experience."
A highlight of Jefferson Marketplace is The Culinary Studio, a state-of-the-art demonstration kitchen designated for culinary arts education. Photo by John Jurgens, John Jurgens Photography
Set up with special lighting and video equipment, the studio provides a venue for live cooking demonstrations and serves as a learning lab for Ohio University students. Guest chefs have included the culinary director of an international retail line of convenience products that feature Indian cuisine. Equipment supporting demonstrations include an island demonstration counter, a six-burner range with a conventional oven beneath, reach-in refrigerators, a microwave oven, a double convection oven and sinks.
The Culinary Studio includes events such as guest chefs and chef tables featuring Culinary Services' executive and sous chefs who teach guests how to prepare specific meals. Guests are invited to eat the meals at the end of demonstrations. In addition, culinary staff create YouTube videos to show students how to prepare simple recipes in their residence hall rooms using ingredients available at Jefferson Market. "Culinary Services' dietitian, Angela Bohyer, prepares numerous healthy food demonstrations for guests," Scott says. "And we're in discussions with the College of Arts and Sciences on campus to work out details for children's cooking lessons."
Interior Design Features
The interior of Jefferson Marketplace features lower, open, exposed ceilings with all mechanicals painted battleship gray. "We had to pick the right color of battleship gray–colored paint so that it doesn't show dust and make all mechanical operate effectively and look somewhat organized," Scott says. "We also used cable trays for all of the OIT cables and double-walled the extended run of the HVAC line so that it doesn't drip condensate on the customers."
Barn siding–style porcelain tile floors in gray with a touch of blue also contribute to the marketplace ambience. "We needed flooring that was durable and looked clean even if it wasn't, as well as have the high-end look of the adjacent finishes we were trying to fit together," Scott says.
White subway tile on some of the walls, gooseneck lighting, and various concentrations of reclaimed wood around the bottom of the pillars at a few of the concepts also add to the marketplace environment.
A custom-designed, centrally controlled A/V system engages customers throughout the entire space. A control center allows staff to stream audio and video from various sources including an electronic advertising system, cable tuners and AM/FM tuner, internet radio, and live stream from the Culinary Studio demonstration kitchen. Pendant speakers hang from the ceiling to project sound in four zones that staff can control independently. "We wanted to make a visual impact and improve connection with our core customers," Scott says. A large, four-screen video wall near the front registers advertises and broadcasts Culinary Studio activities. In addition to the video wall, four additional displays help engage customers throughout the marketplace.
Digital menus showcase items on 55-inch displays at The Brick City Deli, Steeped & Stirred and The Ohio Café. The Culinary Studio features two 4k high-definition cameras, LED studio lighting and a mini studio production unit to capture and live stream content.
"We wanted to make a visual impact and improve connection with our core customers, so we put four widescreen smart televisions together to create a very large video wall to transmit advertising and broadcasting of Culinary Studio happenings," Scott says.
Performance Evaluation and Anticipation
"The culinary overall budget for this project was $8.8 million, and we anticipate the expenditures will not only strengthen the project's success but increase our revenues department-wide and improve our overall student retention rates," Neumann says. "This is another cutting-edge culinary facility that will assist in drawing future students, retaining current ones and provide the student experience our customers have come to expect."
With the off-campus student population in the direct vicinity, Culinary Services hopes to increase new cash numbers from the current 3 percent to 4 percent in other markets up to 15 percent within Jefferson Marketplace, Neumann says.
"We wanted to make this an all-inclusive, destination shopping experience where all walks of customers could find items they wanted or needed," Scott says. "With the new technologies such as the electronic POS, video wall, and the filming connection with The Culinary Studio, we are reaching out in different ways to be able to service our customers. We spent roughly $145,000 on audio/video features alone, and so far they are well worth the money spent for the wow factor. The high-end finishes make the venue a fun and exciting place where our customers want to come."
Sustainable and Energy-saving Features
This project is on target to receive LEED Silver Certification from the U.S. Green Building Council.
A rack compressor system enhances refrigerant management.
A centralized CO2 tank supports efficiencies and safety.
Collaborations with the university's Office of Sustainability led to practices such as self-serve meals and smaller plates and bowls for portion sizes, which help to reduce food waste.
The central product kitchen, vegetable preparation, and bakery at Central Food Facility (CFF) contribute to reductions in food costs, food waste and food production costs, and labor efficiencies.
All campus locations use compostable napkins, take-out containers and other disposable ware to help maximize the use of the campus composting vessels and to further campus sustainability efforts.
Jefferson Marketplace contributes to the building's energy-saving features. According to Shrodes, energy efficiency of the building is estimated to be optimized by 26 percent, and approximately 94 percent of the waste generated during the renovation, or roughly 1,800 tons of recycled materials, was diverted from local landfills. Energy-efficiency measures incorporated into the building include the addition of more natural lighting, LED lighting and water-efficient fixtures that are estimated to improve water efficiency by more than 33 percent.
Facts of Note
Jefferson Marketplace Opened: Jan. 27, 2017
Jefferson Hall Re-Opened: Aug. 18, 2017
Scope of Project: Complete renovation of outdated Jefferson dining hall into a new multi-concept marketplace in the East Green building featuring The Brick City Deli, The Ohio Café, Steeped & Stirred, Marketplace, Juiced, Veggie Butcher and the Culinary Studio
Size: 16,000 sq. ft.
Seats: 51 in Brick City Deli; 12 in Steeped & Stirred; 36 in Culinary Studio
Average Check: $9.15 in Brick City Deli; $15.33 in Marketplace; $3.95 in Ohio Café; and $4.15 in Steeped & Stirred
Total Annual Sales: $11 million
Daily Transactions/Covers: 1,025
Hours: 7 a.m. to 10 p.m., Monday through Thursday; 7 a.m. to 8 p.m., Friday and Saturday; 11 a.m. to 10 p.m., Sunday
Menu Specialties: Fresh-baked goods from the Culinary Support Kitchen bakery; CSK "Fresh Take" retail items; fresh-made deli sandwiches featuring branded meats and cheeses; fresh-squeezed fruit and vegetable juices; a large variety of produce, bulk foods, flowers/greeting cards, as well as an extended line of grocery and retail items
Staff: 3 managers, 6 full-time employees and 175 student employees
Total Jefferson Hall Project Cost: $39 million
Total Jefferson Marketplace Project Cost: $8.8 million
Equipment Investment: $1.5 million
Website: www.ohio.edu/food
Key Players
Owner: Ohio University Culinary Services
Associate Vice President Auxiliaries: Gwyn Scott
Director of Culinary Services/Assistant Professor: Rich Neumann, MS, FMP
Associate Director, Auxiliaries Operations, Culinary Services: Kent Scott, FMP
General Manager, Jefferson Marketplace: Don Jackson
Production Manager: Sally Smathers
Assistant Director Auxiliaries Marketing and Communications: Mark Brunton
Architect: AECOM, Columbus, Ohio; Mike Russell, AIA, LEED AP, vice president, architecture; and Chris Shrodes, AIA, senior project manager, portfolio delivery leader buildings + places, AECOM
Interior Designer: Hanbury Evan Wright Vlattas + Company, Norfolk, Va., Matthew Lee; and Ohio University Auxiliaries Marketing and Communications team (branding and marketing); and Ricca Design Studios Interior Design, Chelle Maestas
Foodservice Consultants: Ricca Design Studios, Greenwood Village, Colo.; Leonard D. Condenzio, FCSI, CEO; Phillip Landgraf, principal, Charlotte, N.C.; and Kerri Ingraham, project director, Boston
Equipment Dealer: TriMark SS Kemp, Cleveland; Thomas Brannon and Roland Loney Jr.
Construction: Corna Kokosing Construction Co. and Elford Inc. (CKE), Columbus, Ohio
Meet the Players
Leonard Condenzio, FCSI, CEO, Ricca Design Studios. Condenzio brings 45 years of experience in all facets of dining services. He is involved in ideation, planning, concept and schematic design, and oversees the design process. He creates and drives the project vision, adheres to programming and provides strategic planning.
Phil Landgraf, principal, Ricca Design Studios. With nearly 11 years of experience managing public assembly, business and industry and education projects, Landgraf joined Ricca Design Studios in 2014. Prior to his career in culinary design, he held a position as a teaching assistant/fellow at Johnson & Wales University in Denver.
Rich Neumann, MS, FMP, director of Ohio University Culinary Services. Neumann has been at Ohio University for nearly 29 years and has been part-time adjunct professor in the Hospitality Management program during these years. He has served as director of Culinary Services for the past 13 years. Prior to Ohio, he worked at University of Wisconsin-Stevens Point. For NACUFS, he served as national treasurer for 10 years, regional president for 4 years and in 2017 received the Theodore W. Minah Distinguished Service Award.

Kent Scott, FMP, associate director, Auxiliaries Operations, Ohio University Culinary Services. Scott joined Culinary Services 25 years ago as a service manager in catering. He later became an assistant manager on the residential side and, after that, general manager of most of the residential culinary halls. He took on his current position five years ago.
Chris Shrodes, AIA, senior project manager, portfolio delivery leader buildings + places, AECOM. With 24 years of professional experience, Shrodes' focus is primarily in the management, planning and design of student housing facilities for colleges and universities in the Midwest.
Floorplan
1. Coffee counter
1a. Work counter
1b. Deli serving counter
1c. Prepaid pickup counter
1d. Serving counter
1e. Work counter w/sink
1f. Deli island counter
2. Ambient showcase
2a. Ambient pastry display case
2b. Refrigerated deli display case
2c. Refrigerated sides display case
2d. Kosher deli display case
2e. Corner deli display case
2f. Deli display case
2g. Self-service refrigerated
merchandiser
2h. Slat wall displays
2i. Self-service deli case
2j. Vacuum-packed meat display case
3. POS
3a. Cashier stations
3b. POS printer
4. Mobile ice bin
4a. Mobile ice cart
5. Undercounter refrigerator
5a. Reach-in refrigerator
5b. Refrigerated base
5c. Walk-in cooler
5d. Cooler evaporator coil
5e. Walk-in freezer
5f. Freezer evaporator coil
6. Blender
7. Vertical food shield
7a. Food shield w/lights
8. Espresso machine
8a. Coffee brewer
9. Water filter assembly
9a. Water filter
10. Trash receptacle
11. Trash chute
12. Condiment drop-in
13. Soap and towel dispenser
14. Hand sink
15. Undercounter dishmachine
16. Modular shelving
16a. Wall shelf w/pot hooks
16b. Cooler shelving
16c. Freezer shelving
16d. Display shelving
17. Ice machine
18. Soda/ice dispenser
18a. Coffee dispensers
19. Menu boards
20. Scale
21. Drop-in hot wells
22. Cook-hold unit
23. Cutting board
24. Slicer
25. Fire suppression system
26. Drop-in cold pan
27. Modular griddle
28. Salamander broiler
29. Wall flashing
30. Exhaust hood
31. Corner guard
32. Display door
33. Juicer