Adaptive reuse of two historic brick warehouses in Oklahoma City transformed this space into a two-story dining space and concert area, a mezzanine bar and an open-air lounge.
In July 2017 downtown Oklahoma City's West End district welcomed the opening of The Jones Assembly. An invention of The Social Order Dining Collective restaurant company, this 20,000-square-foot venue features a unique dining and entertainment destination containing a 225-seat restaurant, separate downstairs and mezzanine bars and a 1,600-person capacity concert space for live events.
The Jones Assembly project revitalizes two century-old historic buildings that were formerly part of the Fred Jones Manufacturing Co. complex, once the nation's largest authorized reconditioner of Ford Motor Company automotive products. The warehouses sit in the West End district, which had been rundown for about 15 years before the beginning of new development. "We wanted to embrace the renaissance in Oklahoma City and bring a restaurant and nightlife scene no one had ever seen," says Graham Colton, a partner of The Jones Assembly.
In 2014, Colton and his partner Brian Bogert teamed up with Fred Jones' grandsons Kirk and Fred Hall of Hall Capital, an investment firm and owners of the Fred Jones Manufacturing Co. The Hall family also owns the boutique 21c Museum Hotel, near the historic buildings. Together they created The Jones Assembly.
In 2015 they invited Brittany Sanger to join them as a partner and executive chef. Colton, Bogert and Sanger grew up in Oklahoma City, left the area early in their careers and returned to pursue entrepreneurial paths. Their collective experience makes this project possible. Colton is an acclaimed singer-songwriter; Bogert is a marketing talent and self-proclaimed foodie; and Sanger is a Le Cordon Bleu, Paris-trained chef who worked in fine-dining restaurants in Paris and Boston.
Chefs Brittany and Andrew plate menu items; the kitchen serves up to 500 covers on any given day. Photo by Madison Rae Photos
"We realized that to be a game-changer here we had to commit to an elevated dining and entertainment experience and offer something that speaks a new language for the city," Colton says.
"The project began as a music venue with limited food offered from a food truck and evolved to a full-service fine-casual restaurant and concert venue," says James P. Boswell, AIA, owner of James Boswell Architect in Tulsa, Okla. "Two distinctly different concepts — one a restaurant and the other a concert venue — define the flexible space that can accommodate both but not feel like one or the other when in restaurant mode or concert use. We created a flexible stage for a range of concert styles so guests don't feel they are dining in an auditorium."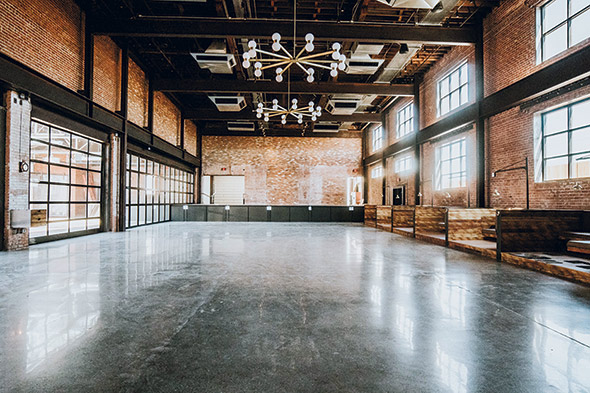 Massive floor-to-ceiling garage doors open the space to the beer garden on concert nights to create one large venue.
The design team wanted to create a feeling of intimacy in a 20,000-square-foot warehouse space and commit to the historic nature of the buildings. The roof of the 1930s bow-string truss building was removed to create an outdoor space adjacent and open to the dining/concert space. The courtyard space nearly equals that of the interior and gives way to views of the 21c Museum Hotel. High-end speakers and industrial misting systems keep guests comfortable during Oklahoma's hot summers. The second floor of the original 1923 building was removed to create a large interior space, while a third of the second floor was retained to create a private, intimate cocktail/bar area overlooking the dining/concert area.
The bar area includes several unique features, including a chandelier created by a local artisan and an all-glass cooler that houses multiple levels of kegs. Photo by Madison Rae Photos
The front of the house features an exposed brick and wood structure with a casual yet elegant design. Interior highlights include fine finishes, a white carrara marble bar top and reclaimed wood from the second-floor decking for the bar skirt, booths and tables. Brick reclaimed from the building's new openings were used to create the herringbone pathways in the courtyard. Brass accents and custom light fixtures contribute to the warm ambiance. The upstairs mezzanine features a refurbished turntable and large selection of vinyl records for guests to peruse. An entire wall across the downstairs bar displays more than 1,000 vintage 8-track tapes.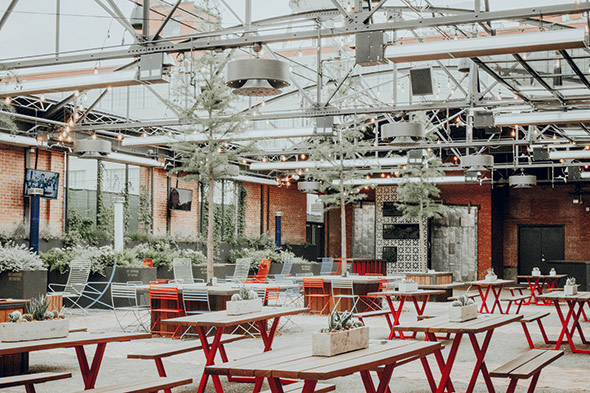 Left: An outdoor courtyard offers seating and casual fare during concerts. Photos by Madison Rae Photos
"It's one thing to think of all we have in this huge space," Colton says. "But we're also very proud of the small things including the wallpaper on the mezzanine and the coat hooks at the bar. Maybe one day guests will see the vinyl records and another the wall paper, but they always feel they can have a different experience each time they come here."
As one might expect, a project of this size and scope brings challenges. "The site was an old manufacturing facility with a large barrel roof, so needless to say, mechanical units had to be mindfully positioned," says Zena Dater, vice president and sales, Market Source in Oklahoma City. "Large landing curbs with mechanical rails had to be constructed, and exhaust and supply venting was creative as well. Getting equipment such as the walk-ins, exhaust hood and a 3,000-pound pizza oven into the building had to be strategically executed."
The Bar and the Kitchen
Guests entering the south side of the building see a 16-foot-tall beer cooler. The nearly all-glass cooler contains five
levels of kegs towering high above the floor. Directly in front of the beer cooler sits the bustling 710-square-foot peninsula bar where at least 10 bartenders fill orders.
In addition, the 36-tap beer and liquor system had to be distributed to three separate locations, including the mezzanine bar area. "Coordinating this was not overly complicated, but we had to select the right method to engineer this system efficiently and be mindful that the glass beer cooler had limited space for beer panels," Dater says.
Multilevel shelving enables culinary staff to remain organized and efficient in the back of the house. Photos courtesy of The Jones Assembly
Guests walk past the bar and enter into the 3,500-square-foot open dining and casual seating area. "On concert days all of the furniture package in the center of this room is removed for standing room only," Dater notes. The east wall booth package contains VIP seating on the perimeter. The west wall features almost 90 feet of operable glass walls. The beer garden sits beyond this glass construct and, during concerts, opens up to create an almost 10,000-square-foot concert hall. The entire kitchen on the south side is open, with a 12-foot-high glass wall.
"The kitchen placement was driven by the site and buildings and the need to service both the dining area and outdoor space without interfering with the stage or a concert," Boswell says. "One primary kitchen design goal was to keep the servers out of the kitchen. So the dishwashing area, although not necessarily ideal, is in the front of the kitchen. Servers drop off dishes as they enter the kitchen without interfering with the chefs and staff, and pickup is directly in front of them at expo."
The kitchen serves up to 500 covers on any given day. Colton describes Sanger's ambitious menu as elevated but approachable. "We could have crafted a menu that is easier for our volume, but we want to be forward thinking and want people to visit us morning, noon and night. We didn't take the easy way with our bread, coffee and pastry program. We don't have anything coming from the kitchen that is ordinary."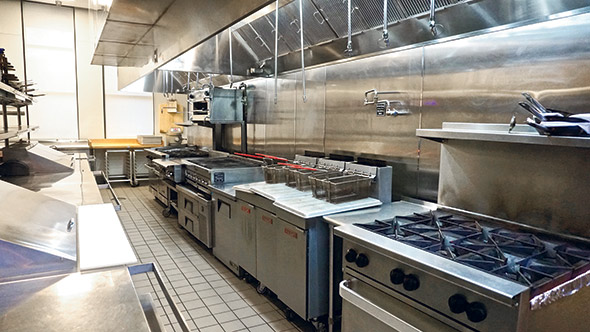 The hot line contains a 6-burner range, fry station, 36-inch French-top with an oven base and 60-inch griddle.
"I want to bring some of my French training to the restaurant, but we have to be more casual here," Sanger adds. "For example, we purchase high-end ingredients such as seafood, which isn't easy to get in fresh every day in the Midwest, and we use French techniques to cut vegetables and sear fish and seafood."
When deliveries arrive at the loading dock, team members take them to the kitchen's large walk-in cooler that holds products used only in the kitchen or for the Jones' menus. The walk-in also contains a freezer to hold pastry items such as canisters containing spun ice creams and sorbets. Staff route all citrus and other fruits to the bar's walk-in, which stores all bar ingredients and beer kegs.
Prep staff begin work at 8 a.m., cleaning, spinning and drying lettuce. They use a slicer to cut meats and cheese, a meat grinder, high-speed blenders to make salad dressings and high-speed food processors to prepare pimiento cheese and other spreads, as well as house-made hummus.
Sanger and the culinary crew remain enamored with a high-powered blender with steel blades that rotate at a high speed to turn cylinders of cream, nuts, fruit, meat and vegetables into ultra-light mousses, fresh ice creams, sauces, silky gelato, sorbets and soup. The culinary team currently uses the equipment to make ice cream, gelato and sorbets, in addition to bases for specialty smoothies on the brunch menu.
Culinary crew also work at a long prep table to make garde manger and charcuterie with country ham, prosciutto, pepperoni, gruyere cheese, crumbled goat cheese, pimento cheese and other accoutrements.
The bakery area contains ingredient bins, baker's tables, a 40-quart floor mixer and a double-stack convection oven. The Jones Assembly crew makes all of the bread served in-house, including sourdough for avocado toast; burrata with seasonal fruit, fennel vinaigrette, honey and micro basil; regular and gluten-free pizza dough; biscuits; pullman loaves; and brioche and gluten-free hamburger buns. House-made desserts include flourless chocolate cake, pumpkin and persimmon pie, and caramelized banana ice cream with a cookie wafer crumble, pudding, torched marshmallow, candied pecans and a house-made cookie.
The hot line contains a six-burner range for making soups and sauces. A 36-inch French-top with an oven base cooks seafood dishes and pasta that the culinary crew rolls out daily. The crew uses the French-top to sear proteins such as hanger steaks before grilling them on the 60-inch griddle, which has an oven underneath. "I like the French-top because we get even heat, which is good for searing," Sanger says.
At lunch, staff use the griddle to sear the sliced meat for the house-made braised and sliced pork shoulder sandwich, which is cooked in its own braising juice on the flattop to give it an extra crisp and fatty finish. Throughout the day, staff use the grill to cook house-cured chicken for salads. Culinary staff also grill burgers such as the J Burger served with Tillamook cheddar, tomato confit, crispy shallots, dill pickle relish, butter lettuce and dijonnaise on a house-made brioche bun. An overhead salamander finishes off menu items, melts cheese for soups and toasts some of the breads.
Also on the hot line, culinary crew prepare herb frites, a restaurant favorite. "We clean Kennebec potatoes and punch fries by putting the potatoes through a cutter attached to a wall," Sanger says. "We soak the potatoes overnight in a refrigerator to pull out the starch and rinse them in the morning. Next, we blanch them to tenderize the middle of the fry, and later fry them to order, which results in a crispy texture." Staff toss fries in salt, garlic powder and a mixture of tarragon, dill, parsley and celery leaf. The fry station also produces fried okra, octopus and cacio e pepe (pecorino cheese and freshly ground pepper) with dried spaghetti.
Stations in View
The pizza station attracts attention at the front of the building with its gas-assist, wood-fired oven. A large refrigerator and undercounter drawers hold ingredients for dips and spreads, lettuce for salads and pizza with myriad cheeses, sauces, vegetables and toppings. Flat tire pizza on the brunch menu features what Sanger calls "breakfast on a plate" with eggs, sausage, gruyere and fontina cheeses, sausages and chopped bacon. In the oven, culinary crew also bake menu items such as some of the house-made breads, sweet and savory Dutch baby cakes and frittata.
A staff member preps house-made pizza dough for the wood-fired pizza oven that sits in the kitchen prep area. Photo courtesy of The Jones Assembly
"We also use the pizza oven to make a well-received flatbread that looks like puffed pita bread," Sanger says. "We use our house-made pizza dough by cutting a portion in half, hardly stretching it and popping it into the wood oven. The intense heat 'puffs' the bread. Out of the oven, we top it with a drizzle of olive oil and a sprinkling of crystal sea salt and serve it with three dips," Sanger says.
The Jones Assembly also supports a strong beverage program with specialty espresso, coffees and teas. A mezzanine bar features wine, beer and cocktails.
"There are always challenges when dealing with such a highly transparent kitchen," Dater says. "The space had very few hiding spaces. Nearly all corners are open to the public's scrutinizing eye, so the less attractive functions of foodservice had to be dealt with carefully." For example, trash containers are recessed into stainless steel cabinets and chemicals are concealed under counters or mounted away from guests' view.
Emphasizing Sustainability and the Future
The adaptive reuse of the 95-year-old buildings and the reclaiming and repurposing of wood from the removed second floor contribute to the project's sustainable highlights. Local artisans created two chandeliers, unique furniture and lighting.
"It would have been easier and cheaper to knock the building down," Boswell says. "But there is such significance to the structure. Our commitment to honoring the building and bringing it back to life ... that is the biggest statement. We're in the center and heartbeat of an emerging area that will soon be more energetic in the city. We needed the historical connection."
Making a contribution to the emerging area also requires "building relationships with people in the neighborhood and creating a community environment where people want to come for not only special events and concerts but meals at any time," says Colton. A large community table in the dining room, for example, encourages guests to come in, socialize and relax. Food will remain a central anchor as The Jones Assembly establishes strong roots in the future.
Taste of The Jones Assembly
Partner Graham Colton describes the menu at The Jones Assembly as elevated but approachable. Executive chef and partner Brittany Sanger brings her French training at Le Cordon Bleu to menu items such as brioche French toast, while at the same time maintaining a casual approach to items such as Parma pizza and sugo, a traditional Italian pasta sauce.
Photos by Freely Wander Photography
The Jones Brioche French Toast
Facts of Note:
Opened: July 2017
Scope of Project: Repurposing two adjacent, abandoned warehouses into a state-of-the-art restaurant, bar and music/entertainment venue
Size: 20,000 sq. ft.
Seats: 275
Average Check: $25
Total Annual Sales: $8 million
Daily Transactions/Covers: 500+
Hours: 11 a.m. to midnight, Tuesday to Sunday
Menu Specialties: Octopus, okra, J Burger, sugo, scallops, Nashville hot chicken
Staff: 150 employees
Total Project Cost: $7.5 million
Equipment Investment: $1 million
Website: www.thejonesassembly.com
Key Players
Partners in The Jones Assembly: Brian Bogert; Graham Colton; Brittany Sanger, executive chef; Hall Capital, including Fred Hall, chairman and CEO, Kirkland Hall, vice chairman and CFO, and Clayton Moss, managing partner and COO real estate
Directors, The Social Order Dining Collective: Courtney Mankin, president; Cole Lipscomb, director of BOH operations; Hunter Mankin, director of FOH operations; Annie Tucker, marketing manager
Managers, The Jones Assembly: Scott Marsh, director of operations; Graham King, general manager; Katherine Molloy, dining and events manager; Carlos Alvarado, associate manager; Charles Friedrichs, beverage director; Andrew Eskridge, chef de cuisine; Corey Orsburn, sous chef; Kyle Toland, sous chef; John Conway, head baker; Angela Chase, pastry chef
Architect/Interior Design: James Boswell Architect, Tulsa, Okla.; James P. Boswell, AIA, owner/architect; Darly Lyn Round-Tannehill, architect, designer
Interior Design: The Social Order Dining Collective, Brian Bogert and Graham Colton, partners
Foodservice Consultants: Market Source, Oklahoma City; Zena Dater, vice president and sales ; and John Imes,
foodservice design
Equipment Dealer: Market Source, Oklahoma City
Construction: LINGO Construction, Oklahoma City
Meet the Players
Brian Bogert, co-founder and partner, The Social Order Dining Collective. Before starting his restaurant group with Manny Leclercq in 2002, Bogert worked as a consultant for a large, global management consulting firm with Fortune 500 company clients. Skilled in logistical planning, with extensive experience in architectural and conceptual design, Bogert has more than 15 years of restaurant and bar experience. The Social Order Dining Collective owns 8 restaurants and employs 400 people.

James P. Boswell, architect and owner, James Boswell Architect. Boswell founded his firm in 1996. Oklahoma restaurant and entertainment projects include In the Raw: Sushi Bar, Fuzzy's Taco Shop, Laffa Medi-Eastern Restaurant & Bar, Cosmo Café, The Cain's Ballroom and Wolfgang Puck Bistro. His projects also include commercial and residential spaces.

Graham Colton, partner, The Jones Assembly. Colton became a partner in 2014. He is an acclaimed singer-songwriter and Oklahoma City entrepreneur who released two albums for Universal Records and toured with John Mayer, Maroon 5 and The Dave Matthews Band before embarking on a successful career as an independent artist.

Zena Dater, vice president and sales, Market Source. Before joining Market Source in 2015, Dater worked in restaurant operations for 20 years and in the restaurant supply side for 20 years. Active in the Oklahoma Restaurant Association, she founded the association's culinary competition 20 years ago in which local chefs pair with Oklahoma culinary students. She was FE&S' DSR of the Year in 2008.
Brittany Sanger, partner and executive chef, The Jones Assembly. Sanger joined The Jones Assembly in 2015. Previously, she worked at Animal and Son of a Gun restaurants in Los Angeles before training at Le Cordon Bleu in Paris. Her experience since includes working at Le Meurice in the heart of Paris and the Liquid Art House in downtown Boston.
---
The Floorplan
Equipment Key
1. Trash container
2. Underbar hand sink
2a. Underbar dump sink w/glass rinser
2b. Hand sink
2c. Three-compartment sink
2d. Two-compartment work sink
2e. Mop sink
3. Glass rack storage cabinet
4. 48-in. ice bin, w/dual-speed rail
4a. 36-in. ice bin, w/dual-speed rail
4b. Ingredient bin
4c. Drop-in ice bin
5. Glass/mug chiller
6. POS
6a. Printer
6b. Underbar POS cabinet
7. Frozen drink dispenser
7a. Ice and beverage dispenser
7b. Hot water dispenser
8. Underbar drain board
9. Underbar glass washer
9a. Detergent snap-pack for glass washer
10. Ripple maker
11. Wet rinse/water spicket
12. Knock chute
13. Coffee grinder
14. Espresso machine
15. Draft beer towers w/glass rinser
16. Stair-step liquor tiers
17. 3-sec. back bar cooler, pass-thru
17a. Display walk-in
17b. 2-sec. work-top freezer
17c. Undercounter reach-in freezer
17d. Walk-in cooler/freezer
17e. 3-sec. back bar cooler
18. Keg rack system
18a. Bag-in-box vertical rack
18b. Undercounter pan rack
18c. Bun pan rack, mobile
19. Glycol pump
20. Ice maker w/bin and remote refrigerator
21. Dishtable sorting shelf
21a. Dish shelving
21b. Shelving
22. Clean dishtable
22a. Soiled dishtable
22b. 36-in. worktable
22c. 120-in. worktable
22d. 24-in. worktable
22e. 96-in. wood-top baker's table
22f. 60-in. wood-top baker's table
22g. Pizza prep table
22h. Chef's prep table
22i. Expo table
23. Dishmachine
24. Prerinse faucet
24a. Pot filler faucet and worktable
25. Exhaust hood system
26. Pizza oven
26a. Hydro-vection double-stack oven
26b. Wall-mounted salamander
27. 60-in. range w/griddle and oven
27a. 36-in. range and oven
27b. 36-in. French top w/oven base
28. 40-qt. floor mixer
29. Food processor
30. Food slicer
31. Decorative heat lamp
32. 48-in. mega-top sandwich unit
32a. 64-in. mega-top sandwich unit
33. Fryer
34. Countertop charbroiler
35. Water filtration system
35a. Instant water w/circulation system
36. Air curtain
37. Tea brewer
37a. Coffee brewer
38. Water station/bottle filler