Zurich Café offers contemporary dining, display cooking and a from-scratch, locally sourced menu.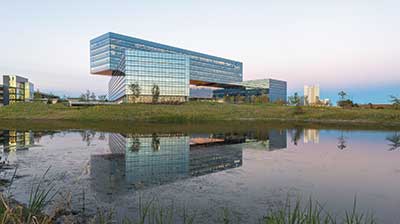 The headquarters of Zurich North America in Schaumburg, Ill., (a northwest suburb of Chicago) serves as home base to approximately 3,000 employees and contractors. Zurich North America provides business insurance, including workers' compensation, liability and property insurance for construction companies, auto dealers and technology firms, among others. The 783,800-square-foot building earned LEED Platinum certification from the U.S. Green Building Council. The project began in April 2014, and the building opened in October 2016.
Zurich Café and the dining atrium contribute significantly to Zurich North America's 83 percent employee satisfaction rate with the new facility. "We're extremely pleased with participation, which is more than 30 percent of the population on a daily basis," says David Yanda, general manager. "Every day, each station offers a new daily special so customers always find something new in the cafe."
"We conducted a series of employee focus groups to identify the types of foodservices employees patronize when they aren't at the Zurich facility," says Theodore Farrand, FCSI, FMP, director of MAS and project executive for Washington, D.C.-based Cini-Little Foodservice Design Consultants. "Perceived value was at the top of the list, followed by a high level of interest in quality food offerings. We determined that if the new facility/operation concentrated on these factors, our design could achieve the project goal of the client's anticipated participation rate of 40 percent to 50 percent."
Low Ceiling in the Serving Area
Hearth contains pizza, stromboli and calzones; Local features food from local restaurateurs, and Bistro offers burgers and grilled menu items.Farrand and his colleagues, including Armand Iaia, FCSI, regional manager and project manager, used Building Information Modeling (BIM) to coordinate between foodservice design and other members of the design team. Due to the grading of the property, the dining area, kitchen and servery are below grade, with the dining area situated so its windows and doors open to a prominent walk-out patio. The dining area also opens to the lobby above.
As a result, the ceiling height in the serving area was lower than is typically desirable, which put limits on the placement of hoods and ductwork.
"This required careful coordination with the mechanical, electrical and plumbing [MEP] trades as well as with the architectural team to get these items fitted in as we required," Iaia says. "The lower ceiling height in the servery and kitchen resulted in conflicts between foodservice and mechanical installations such as plumbing and HVAC ducts. A number of walk-ins and exhaust hoods ended up being designed with custom heights atypical of normal construction to allow space for these utilities. Had these conflicts been discovered in the field during construction instead of preemptively, costs to field-modify or replace large equipment could have caused severe budgetary overruns."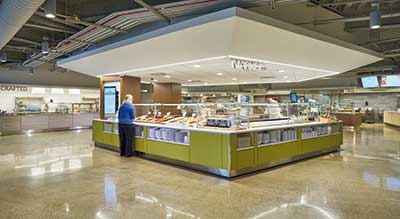 Market, the salad and breakfast bar, provides a make-your-own menu item experience. The station also features soup and sushi.The exhaust duct size that the building could accommodate also placed a limit on cubic feet per minute (CFM). "This required the use of a ventilation system with computerized dampers that would close exhaust hood ducts and reduce exhaust when it determined that there was no cooking going on under a hood," Iaia says.
The project team also faced budgetary constraints. The Zurich team wanted to enhance the participation rate by providing a place for staff to sit down and eat while collaborating with colleagues. "Since there are very few restaurants in the area, it was important to Zurich to provide attractive foodservices that the staff would perceive as an amenity," Iaia says. "The budgetary constraints meant that we needed to develop a classic servery design that would stand the test of time. We needed to make sure that it accommodated the current foodservice demands, and also future demands and differing food trends, without costing Zurich additional money. We needed to specify equipment that could be of high quality and be flexible while at the same time fit within the foodservice design budget."
The initial estimate of foodservice equipment expenditures was considerably more than the project budget. "However, after rethinking and revising our designs, we were able to reduce it considerably, and provide a design that would successfully accommodate the future growth that the client projected," Iaia says.
Storage, Food Prep and Dishwashing
Staff move deliveries from the loading dock into two walk-in coolers, a walk-in freezer and dry storage. The back of the house also contains a cook's cooler, paper goods storage and bottled beverage and soda storage. A designated catering area contains refrigerated and dry storage. "We had to be sure there was ample refrigeration and ambient storage space to accommodate deliveries by local farmers," Farrand adds.
In the cold prep area, staff use a slicer, 20-quart mixer, vegetable dryer, food processor and blender to prepare vegetables and other ingredients for mise en place.
The kitchen's hot cooking line contains a fryer battery, 12-gallon tabletop kettle, 60-gallon tilting kettle, convection steamer, 4-burner open range and charbroiler, as well as 2 tilting skillets and 2 double-deck convection ovens. Here staff prepare soups, sauces, and other basic ingredients for the serving stations.
This back-of-the-house kitchen not only supports the servery, it also provides food for grab-and-go service and catering services.
Pot washing takes place in the kitchen area. The dishwashing area, however, sits at the end of the seating area. "The architects decided where dishwashing would be located," Farrand says. "When we saw where the servery was positioned and where the two entrances and exits were located, we decided to place the dishroom where most of the people exit so they can easily take their trays and drop them off on their way out. People who are sitting farther away from the dishroom are very considerate and just walk a little further to deposit their trays."
The Servery and Display Cooking
The cooking suite includes a charbroiler, griddle, range, soup wells, sink and refrigerated drawers beneath. The cooking area also contains freestanding fryers, a pasta cooker, and a pizza oven, which sit along the back wall.The servery's design incorporates equipment flexibility and positioning so the Sodexo culinary team can provide menu variety both now and in the future. In addition, station design allows for staffing adjustments to match the levels of customer demand. "Equipment is on casters so staff can roll equipment in and out as needed," Iaia says. "The mobile equipment contains a quick disconnect hose that facilitates this."
In addition to providing daily fare, the servery allows staff to hold special catered events after normal cafe hours.
Much of the fresh food production at the cafe takes place at the servery stations. Though staff prepare a large volume of food during the peak times, their ability to cook in smaller batches in front of customers offers a more customized — and therefore popular — service approach.
Crafted, a deli-style operation, contains refrigerated rails, ambient wells, a microwave oven and a panini grill so staff can prepare create-your-own sandwiches along with panini sandwiches and specialty precrafted sandwiches that change weekly.
Artisan contains a charbroiler and two flattops that culinary staff use to make street-style tacos, ribs, chicken, burritos and authentic Spanish cuisine.
Bistro, a grill-style station, contains a chargrill, flattop and fryers. Chefs here prepare hamburgers, turkey burgers, black bean burgers, grilled fish such as salmon burgers with cucumber relish and sriracha, grain salads such as barley and lentil salad, and avocado breakfast sandwiches, all displayed in attractive crockery dishes on a heated shelf.
One of the most popular areas is Local station, where area restaurants feature their specialties on a rotating basis. For example, Thursdays may feature an Indian restaurant, and Fridays may feature Mexican menu items. "Sodexo arranges for small, local restaurants that are popular with employees to come in and prepare the food, which adds a high level of interest to the operation," Yanda says. Culinary staff also prepare made-to-order pasta dishes and other Italian menu items.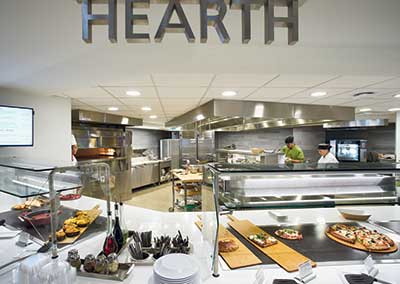 Displays of pizza slices, casseroles and bread accentuate Hearth's fresh, made-to-order theme."We also prepare comfort foods here," says J. Scott Wachel, ACF-registered chef, general manager, Sodexo, for Zurich North American Headquarters. "Here, and at all stations, we're always changing out the menu items to keep customers interested and avoid menu fatigue."
"This station is designed for display equipment and flexibility," Iaia says. The area contains a charboiler, fryers, soup wells and drop-in hot and cold wells. "Equipment can be rolled in and out as needed," Iaia says. "For example, woks can replace broilers or a range. An adjacent storeroom holds equipment when it is not in use. We had to figure out how to get the drain from the woks to fit into a floor sink so they drain properly when they are in use."
Staff use Hearth's deck oven to bake pizza, strombolis and calzones. Staff display pizza slices on wooden pizza peels on the counter. Hearth also contains a cooking suite with a six-burner open range, griddle, charbroiler, soup wells and undercounter refrigeration. A freestanding fryer and a pasta cooker also support staff here. "With this equipment, staff prepare food in small batches so it is always fresh," Iaia says.
The Market is an irregular pentagon shape, and the station features 37 ingredients and 10 salad dressings for self-service salads. Chili and soups, one with meat and the other vegetarian, are also featured here. The center island area contains refrigerated and ambient storage to hold backup ingredients. "We've recently rolled out sushi made to order in an area that is situated next to the salad bar," Yanda says.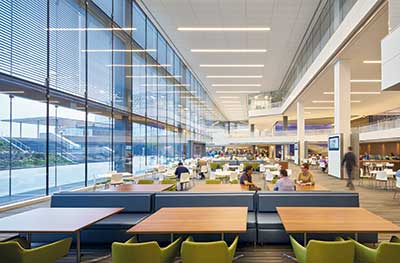 Natural light streams into the dining area. Automated shades regulate the amount of sunlight in the largely glass building throughout the day.The servery also features Simply to Go, a grab-and-go station offering premade salads, sandwiches and snacks. Cold items and bottled beverages sit in a refrigerated display unit with an air screen.
A large beverage island contains two large fountain drink dispensers on one side and coffee and tea brewers on the other side.
Sustainable Highlights
The ventilation system automatically balances the volume of air with the amount of cooking performed underneath the hood, thereby reducing exhaust volumes. "This was a key priority for this particular project because of the CFM limits," Iaia says. The designers also specified Energy Star equipment when available to satisfy LEED requirements and create a sustainable environment.
A few of the LEED Platinum certification highlights include:
62 percent energy cost reduction through the use of efficient MEP systems and a cogeneration facility that uses a natural gas-fueled engine to generate electricity, as well as produce waste heat for other uses in the building
39 percent reduction in domestic water use through water-efficient fixtures (low-flow toilets and sinks) and rainwater harvesting and reuse
High-performance enclosure, including exterior shading and interior automated shades with daylight sensors
Great access to daylight
99 percent of construction and demolition waste diverted from landfill
99 percent Forest Stewardship Council-certified wood used
Eight charging stations for electric vehicles and additional prioritized parking for low-emitting and carpool vehicles
Integrated transportation with stops for two public bus routes and consolidated, multilevel parking on-site
Open space and native landscaping on the nearly 40-acre site with more than 70 percent open/softscape
Use of low-volatile organic compounds, including interior paints, flooring, wood, and adhesives and sealants.
After 13 months in operation, Yanda says, "We're very proud of the amount of business we're doing and how all three businesses — the cafe, grab-and-go and catering — stream out of one kitchen."
Facts of Note:
Company: Zurich Insurance North American Headquarters in Schaumburg, Ill.
Approximately 3,000 employees in 2017
Opened: October 2016
Scope of Project: Focus group sessions, extensive programming, concept development, master planning, space allocation, preliminary design, specification writing, site inspections and construction management. Project includes a kitchen, servery and dining spaces.
Size: Total, 12,035 sq. ft. This includes servery, 7,505 sq. ft.; kitchen, 4,813 sq. ft.; cooking and pot wash, 985 sq. ft.; storage rooms, 727 sq. ft.; dishwashing room, 1,215 sq. ft.; Zurich catering, 521 sq. ft.; and cold storage, 1,082 sq. ft.
Seats: 496 with outdoor seating for approximately 30 and a private dining room with 20-person seating capacity
Average Check: $7.25
Daily Transactions/Covers: 920; approximately 825 of these are for lunch
Hours: 7 a.m. to 1:30 p.m.
Menu Specialties: Artisan with tacos, authentic ethnic cuisines and Asian from local restaurateur; Bistro with grilled foods and grains; Local with comfort food and dishes from local restaurateurs; Hearth with Roman pizza, stromboli, calzones, pasta and salads; Market with salad and soup, chili and sushi; Crafted with deli-style sandwiches; and Simply to Go grab-and-go selections
Staff: 24, including full-time and part-time employees
Total Project Cost: $350 million
Website: www.zurichna.com/hq
Key Players
Company: Zurich Insurance North American Headquarters, Schaumburg, Ill.
General Manager, Zurich Insurance North American Headquarters: David Yanda
Project Manager, Zurich Insurance North American Headquarters: Jake Wattenberger
VP of Foodservice, Sodexo, Zurich Insurance North American Headquarters: Shane Cravens
General Manager, Sodexo, Zurich Insurance North American Headquarters: J. Scott Wachel, ACF-registered chef
Executive Chef, Sodexo, Zurich Insurance North American Headquarters: Duane Boslet
Retail Manager, Sodexo, Zurich Insurance North American Headquarters: Sheila Berry
Broker: Jones Lang LaSalle Americas Inc., Chicago; Jerry Riordan, senior vice president
Base Building Architect: Goettsch Partners, Chicago
Developer and Design-Builder: Clayco, Chicago
Interior Architect: CannonDesign, Chicago; Mark Hirons, design principal; Kay Maines, project manager/senior associate, interiors
Foodservice Consultants: Cini-Little International Inc., Chicago; Armand Iaia, FCSI, regional manager and project manager; Kevin Banas, associate, project coordinator; Donna Pacione, senior associate, project coordinator/estimator; Theodore Farrand, FCSI, FMP, director of MAS and project executive
Equipment Dealer: The Boelter Companies, Chicago; Nick Pope, project manager
Interior General Contractor: Executive Construction Inc., Chicago
Meet the Players

Duane BosletDuane Boslet, executive chef, Sodexo, Zurich North American Headquarters. Prior to joining the Zurich team, Boslet's 20-year career experience included working at Takeda Pharmaceutical as well as country clubs, freestanding restaurants and corporate headquarters in the Midwest.
Theodore E. FarrandTheodore E. Farrand, FCSI, FMP, director of Management Advisory Services, Cini-Little. Farrand joined Cini-Little in 1981. His foodservice projects include the United Nations New York City; Vita Nova Restaurant at the University of Delaware in Newark, Del.; Blue Cross Blue Shield in Chicago and Dallas; and Boston Public Library.

Armand D. IaiaArmand D. Iaia, regional manager, Cini-Little. Iaia joined the firm in 1985. His foodservice projects include Damen Student Center at Loyola University in Chicago; Barilla America Test Kitchen in Northbrook, Ill.; Soho House in Chicago; and Marriott Marquis Chicago.
David YandaDavid Yanda, general manager for Zurich North American Headquarters. Yanda joined the company in 2016. Previous to this position, he was the director for Millennium Park Joint Venture in Chicago.

J. Scott WachelJ. Scott Wachel, ACF-registered chef, general manager, Sodexo, Zurich North American Headquarters. During his 25-year career with Sodexo, Wachel's positions included general manager at Bank of America's LaSalle street location in Chicago, American Nation Bar, and other locations where he managed all dining services including cafes, executive dining, private dining rooms and catering services.
Zurich Café Floorplan
Equipment Key
1. Plastic shelving unit
1a. Two-tier wall shelf
1b. Overshelf
1c. Wall-mounted overshelf rack
1d. Drop-in heated shelf
2. Walk-in cooler
2a. Evaporator coil
2b. Cook's cooler
2c. Blast chiller/freezer
2d. Reach-in refrigerator
2e. Worktop freezer
2f. Reach-in freezer
2g. Undercounter refrigerator
2h. Undercounter freezer
2i. Beverage walk-in cooler
2j. Air-cooled condenser unit
3. Air curtain
4. Mobile utility rack
4a. Dunnage rack
4b. Pot rack
4c. Pot and utensil rack
4d. Oven tool hanger
4e. Flatware container rack
4f. Wall-mounted bread rack
5. Corner guard
6. Bag-in-box concentrate system
7. Mop sink
7a. Hand sink
7b. Three-compartment sink
7c. Prerinse sink
8. Janitor's sink faucet and air gap
9. Worktable w/sink
9a. Worktable
9b. Mobile worktable
9c. Refrigerated pizza table
9d. Mobile utility table
10. Trash receptacle
11. Slicer
11a. Equipment stand for slicer
11b. Meat slicer
12. Planetary 20-qt. mixer
12a. Equipment stand for mixer
13. Floor trough
13a. Anti-splash drain trough
14. Ice bin for ice machines
15. Ice cuber
15a. Ice machine, nugget type
16. Water filter assembly
16a. Water filter
17. Vegetable dryer
18. Ingredient bin
19. Refrigerated worktop
19a. Refrigerated sandwich unit
20. Food processor
21. Blender
22. Back counter w/sink
22a. Back counter
22b. Artisan serving counter
22c. Grill counter
22d. Local counter
22e. Hand-crafted deli counter
22f. Salad bar counter
22g. Island counter w/sink and bain marie
22h. Beverage counter
22i. Cashier counter
23. Coffee brewer
23a. Tea brewer
24. Exhaust hood
24a. Ventilation system
24b. Condensate hood
25. Convection steamer
26. Spreader plate
26a. Spreader cabinet
27. 36-inch, four-open-burner range
27a. Wok range
27b. 30-inch plancha
28. Charbroiler
28a. Equipment stand,
refrigerated base
29. Double-deck convection oven
29a. Fire-deck oven
29b. Combi oven
29c. Microwave convection oven
30. Security unit
31. Fryer battery
31a. Fryer
32. Dump station
33. 12-gallon tabletop kettle
33a. Equipment stand for kettle
33b. 60-gallon tilting kettle
34. Tilting skillet
35. Fire suppression system
36. Soiled dish table
36a. Dish table
37. Disposer
38. Open hose reel
39. Dishwasher
39a. Booster heater
40. Mobile enclosed cabinet
40a. Heated cabinet, half-height
41. Pasta cooker
42. Cooking suite
43. Heat lamp
44. Food shield
45. Hot/cold drop-in well
45a. Cold food well unit, drop-in, refrigerated
45b. Drop-in cold food pan
45c. Crop-in hot well
46. Countertop griddle
47. Rice cooker
48. Panini grill
49. Mobile dish dispenser
50. Cutting board
51. Air-screen merchandiser
51a. Drop-in refrigerated merchandiser
51b. Drop-in nonrefrigerated merchandiser
52. Bain marie heater
53. Dish cart
54. Soda, ice and beverage dispenser
55. Disposable cup dispenser
56. Tea dispenser
56a. Coffee dispenser
57. POS scale
57a. POS/cash register