Renovations brought Fresh2Go and The Marketplace, adding a bright, contemporary ambience and incorporating new menu offerings that encourage students to eat more healthfully.
Pendleton Heights High School's foodservice operation needed a robust enhancement to meet the needs of its sophisticated Gen Z student population. A two-phase project at this Indiana high school introduced Fresh2Go cafe, upgraded kitchen storage and remodeled the servery, dining room and dish room.
In phase one, during the summer of 2015, the design team remodeled a teacher's lounge between the high school's main hallway and kitchen. The lounge was reconfigured to make it more functional for teachers, and 543 square feet of the lounge space was converted into a versatile operation, Fresh2Go, with the look and ambience of a commercial coffee shop. Open during breakfast, lunch and after-school hours, the menu includes coffee drinks, made-on-premise baked goods and reimbursable, grab-and-go meals and smoothies. School groups also use the space to sell concessions during school and sports events.
Made-2-Order ingredients sit in refrigerators behind the station for easy staff access.Phase two focused on Pendleton Heights High School's main foodservice operation, which had aged beyond usefulness from its 1960s origins. "We had too many students to serve effectively in a limited time," says Lindsey Hill, RD, director of Nutrition Services for South Madison Community School Corporation.
"The school approached their renovation project with a clear mission — to provide a space that was warm and inviting, supported an organic flow of students, felt like a contemporary market and would highlight and promote 'feel-good food,' " says interior designer Lacey E. Causseaux. "We worked through menu offerings at the start of the project and let those offerings inspire materials, graphics and furniture solutions throughout."
"The project's overall philosophy is [that] the experience Gen Zs get away from school should be felt here at this school," says Scott Reitano, FCSI, principal of Indianapolis-based Reitano Design Group. "They want fresh food and to see cooks preparing their food in a great atmosphere. Of course, there's the logistical piece of a 30-minute lunch period with students going through the line three times in a row each day."
Little Italy's conveyor ovens heat pizza and submarine sandwiches. A merchandiser holds beverages, yogurt and desserts.Embracing such a philosophy required some significant operational and design changes. For example, the old cafeteria used traditional serving lines that did not allow for any customization of students' orders, Reitano points out. Having the cashiers at the end of the lines also slowed service. Plus, there was little space for equipment to serve fresh fruit and vegetables. And the appearance of the seating area would benefit from some updating to make it a more desirable location.
"This project was an investment in our students and their health," Hill says. "More students are eating, which increases revenue, and it also ensures us that students are consuming healthy meals."
To provide a better experience for students, the project design team created The Marketplace at Pendleton Heights, a space that offers more food variety, shorter wait times for orders and a more inviting atmosphere for dining and socializing.
The project had its share of challenges. "The construction timeline was so tight," Hill says. "Construction started on May 27 — the last day of school — and finished the day before students came back on August 9. "Everyone was working nights and weekends. We had to have a lot of coordination between all members of the team for everything from selecting equipment and digital signage to marketing."
The renovation included gutting the servery space. "The servery was expanded to the dish room, which was right-sized and expanded slightly into the dining room. The dining room was expanded into two underutilized storage spaces," Reitano says.
From the Loading Dock to the Dining Room
I
Designers upgraded storage by adding a secondary walk-in cooler to support increased fruit and vegetable production.n the back of the house, after food arrives at a loading dock, staff place ingredients in two walk-in coolers, a walk-in freezer and dry storage. "We upgraded storage by adding a secondary walk-in cooler to support increased fruit and vegetable production for the servery's enhanced post-renovation menu," Reitano says. The cooler and dry storage now contains high-density shelving. "This gives us about 50 percent more shelving space than we would have with traditional shelving."
Also in the back of the house, the dish room was downsized, and some of that space was reallocated to the servery. "The decades-old, flight-type dishwasher was a burden to the operation with high energy and repair costs," Reitano says. "The new, smaller dish room contains a 44-inch conveyor machine, which is much more appropriate for the operation's needs." A three-compartment sink was also added to the equipment mix.
The kitchen contains a prep area that includes food processors and a 40-gallon mixer. Hot equipment includes 2 double-stacked combi ovens and 2 rotating rack combi ovens, as well as a 60-gallon and 40-gallon kettle and a tilt skillet.
"The previous kitchen size was adequate," Hills says. "But we've had to reconfigure production to add more menu items that are possible to offer now in the front of the house."
Staff place menu items on hot and cold pass-through shelves for transport to the servery.
Front-of-the-House Activity
Fresh Fare station, which sits at the entrance and exit, encourages students to select fruits and vegetables when they first walk into the servery and when they leave.Flexibility and bringing cooking out front became a priority when designing the servery. "We wanted to offer much more variety than we had when we had just three lines," Hill says. "Now, as long as a food item meets our budget and nutrition guidelines, we have the ability to serve it. Also, because we have more lines, we're not so pressed to get students through the lines as quickly, so we can offer more customizable options."
Fresh Fare — two 12-foot fruit and vegetable bars — greet students as they enter and exit the servery. "We have always offered fruits and vegetables, but we never had shelving to display and merchandise so much produce," Hill says. "This configuration encourages students to consume these healthy foods. We've vastly increased the sales of these foods."
The servery contains five stations. Grill Zone holds a sandwich slide, panini presses and a hot/cold shelf that holds fries and coleslaw. Staff prepare protein a few steps from the front of the station where other staff assemble orders.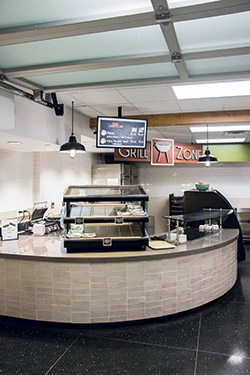 Students find menu items such as paninis and spicy cheddar beef sandwiches at Grill Zone. Taste of Home's menu features students' favorites such as chicken nuggets and chicken and noodles with mashed potatoes. The school showcases these comfort foods in hot/cold wells. "A quick-switch food well can be hot or cold as desired," Reitano says. "We also incorporated the slim line hot food wells so staff and students can more easily interact. These lessen the distance between the point of service and the customer."
Made-2-Order also contains hot/cold wells that hold ingredients for a burrito bar, noodle bar and salad bar. At this station, a staff member cooks the ingredients on three induction woks or two induction cookers or two waffle makers. They next place the food in the food wells for students to make their customized selections.
Students can similarly customize their dishes at the salad bar, where toppings are held in wells.
Global Eats features rotating menus that may include pasta, Mexican and Asian on alternating days. Staff dish up food items from the hot/cold wells and hand them to students.
Little Italy's double-deck conveyor oven allows staff to bake pizzas made from par-baked dough. Staff prepare whole pies while students watch. Once these are cooked, staff place them on a heated shelf where students can help themselves to a slice or two.
The placement of cashiers — now separate from the serving lines — also helps students get through the lines and to the dining room more quickly. "We had 4 serving stations and 4 cashiers and now we have 6 stations and 7 cashiers, so we're serving 500 students in less than 6 minutes from when they receive their meals to paying and being seated," Hill says.
A Contemporary, Comfortable Dining Room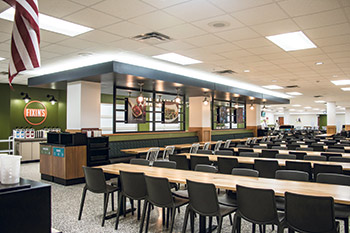 Many different styles of seating encourage students to use The Marketplace for dining and relaxing.In the dining room, an attractive and practical seating layout offers many types of seating arrangements. High-top tables and seating, banquettes, booths and standard seating provide comfortable options for students who want to eat alone or with others. "Although the dining space was expanded, it is still a tight area for so many students," Hill says. "But it's an enjoyable functional space, so students like to come here to eat, study and socialize. After regular school hours, students who want something to eat can buy from Fresh2Go."
The biggest design challenge, Causseaux says, was achieving the same seating capacity previously provided in this space. "By blurring the boundary of the cafeteria space to extend into the adjacent oversized lobby and hallway, we were able to provide the capacity required and create multifunctional spaces that extend the student experience."
The dining room's furniture was purchased from a nonprofit organization established in 2013 that specializes in rough-cut Indiana hard woods. The organization hires employees who have had serious challenges such as addictions or felony arrests. "The organization helps people change their lives and has an impact on the community by creating jobs and making an investment in the employees and their families," Reitano says.
Sustainable features include reusable silverware as well as melamine and disposable dishware. The school recycles disposables in addition to plastic and aluminum beverage containers and napkins. Noninstitutional trays and pans contribute to a commercial ambiance throughout The Marketplace. Digital signage communicates messages about the Marketplace brand. Menus include nutritional information.
Thinking back on her many years of experience overseeing project design, including supervising 5 renovations in the past 10 years, Hill advises others pursuing a renovation to "make sure you take time in the planning stages and think through every detail with marketing, communication, signage and waste and focus on the end result. Little details add up." She also insists on staff looking at pictures to see how every item must be plated and packaged to ensure consistency.
Hill also says that if "an item doesn't exist, don't be afraid to have someone custom design it." For example, she requested custom-designed tray and cashier stands because she did not find products that met her functional requirements.
Many factors contributed to the project's success, including the focus groups and private conversations Hill and Reitano had with students about their dining preferences before the project began. The project team expresses great satisfaction and pride about the end result. "By meeting the project goals, we solved a lot of problems and made the students and administration very happy," Reitano says.
Facts of Note
Ownership: South Madison Community School Corporation/ Pendleton Heights High School in Pendleton, Ind., a suburb of Indianapolis
School District: 6 schools, 4,600 students
Pendleton Heights High School: 1,500 student enrollment; 60 percent meal participation (30 percent free and reduced-price meals); 90 percent of students purchase something, whether meals or a la carte food items.
Fresh2Go Opened: October 2015
Remodeled Cafeteria Opened: August 2016
Scope of Project: Converted existing space to a Fresh2Go retail area, remodeled servery, dining room and dish room; upgraded kitchen storage
Size: Kitchen, 3,230 sq. ft.; servery, 2,760 sq. ft.; dish room, 435 sq. ft.; Fresh2Go, 543 sq. ft.
Seats: 500
Average Check for Paid Meal: $5
Total Annual Sales: $825,000
Transactions/Day: 1,500
Menu Specialties: Grill Zone, Taste of Home, Made-2-Order, Fresh Fare, Global Eats, Little Italy, Fresh2Go @ The Marketplace
Hours: Breakfast, 7 a.m. to 7:20 a.m.; lunch, 11 a.m. to 12:30 p.m.; after-school meals at Fresh2Go, 2:15 p.m. to 3 p.m.
Staff: 1 full-time manager, 3 part-time assistant managers, 13 part-time employees
Total Project Cost: $2 million for phase one Fresh2Go and phase two servery, kitchen and dining room
Equipment Investment: $150,000 for Fresh2Go; $550,000 for the main servery renovation, dish room redesign and kitchen upgrade
Website: www.smadison.k12.in.us/nutrition
Key Players
Owner: South Madison Community School Corporation
Superintendent: Joseph Buck
Director of Nutrition Services: Lindsey Hill, RD
Cafeteria Manager: Varonda Hetrick
Business Manager: Ken McCarty
Engineer/Architect: Stair Associates, Carmel, Ind.; Martin Truesdell, architect
Interior Design: Lacey E. Causseaux, principal of Causseaux ARC at the time of the project. Currently associate and the director of interior design at Browning Day Mullins Dierdorf, Indianapolis.
Foodservice Design: Reitano Design Group, Indianapolis; Scott Reitano, FCSI, principal; Jim Kessenich, FCSI, project manager
Equipment Dealer: Lancaster Schert Foodservice Equipment, Indianapolis; Adam Schut, president
Construction: Mattcon General Contractors, Indianapolis
Meet the Players
Lacey E. Causseaux, principal of Causseaux ARC at the time of the project. Currently, Lacey is director of interior design at Browning Day Mullins Dierdorf. Lacey brings interior design experience rooted in corporate, hospitality, academic and healthcare projects. She has been involved in projects including the Global and International Studies Building and the Bookmarket Eatery at Indiana University in Bloomington, the IU Natatorium and Lucas Oil Stadium renovations in Indianapolis, and the Cedars-Sinai Medical Center in Los Angeles.
Lindsey A. Hill, RD, director of Nutrition Services, South Madison Community School Corporation. Hill joined the district in 2006. An active leader in school nutrition on a national level, she has served in various leadership roles and is a past president of the Indiana School Nutrition Association. She believes in constantly improving processes and promoting a positive image of school nutrition.
Scott Reitano, principal, Reitano Design Group. Reitano heads a six-member team that serves foodservice operators across a variety of markets. He started his career in the foodservice industry more than 31 years ago. Other recent projects include Shawnee Mission Medical Center in Kansas and New Trier High School in the Chicago suburb of Winnetka, Ill., as well as Eli Lilly and Co., Carmel High School and Marian University, all in Indianapolis.
Jim Kessenich, CSI, project manager, Reitano Design Group. Kessenich joined Reitano Design Group in 2004. During his 12 years in foodservice design, he has participated in the design of primary and secondary education (K-12) projects including Carmel High School, Stevenson High School in the Chicago suburb of Linconshire, Ill., Salina Central High School and Salina South High School in Kansas, Maple Crest Middle School and Central Middle School in Kokomo, Ind.
Pendleton Heights Floorplan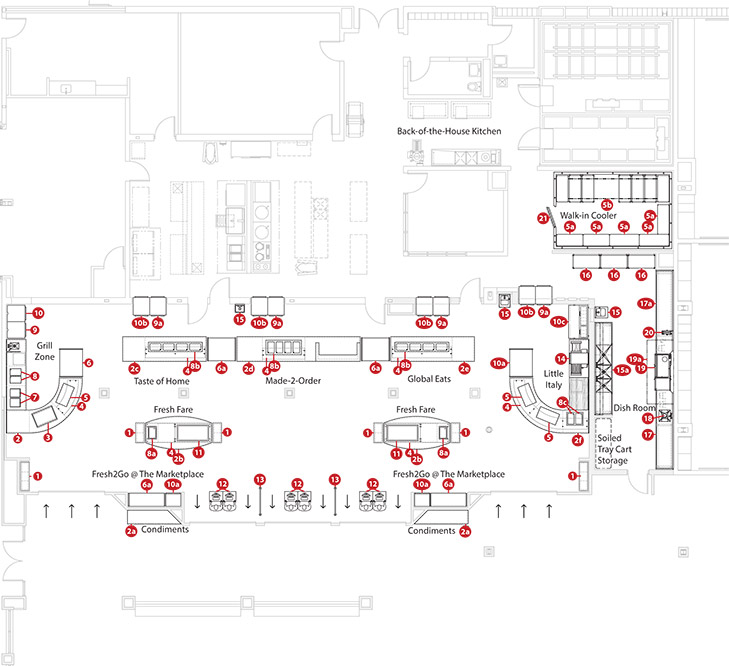 Equipment Key
1. Tray pickup station
2. Grill Zone serving counter
2a. Condiment serving counter
2b. Fresh Fare serving counter
2c. Taste of Home serving counter
2d. Made-2-Order statio
serving counter
2e. Global Eats serving counter
2f. Little Italy serving counter
3. 39-inch countertop sandwich slide
4. Food shield
5. 36-inch drop-in heated shelf
5a. Cooler shelving unit
5b. High-density cooler shelving
6. Refrigerated air merchandiser
6a. Refrigerated open-air
merchandiser
7. Countertop sandwich/
panini press
8. Bottom-mount, single-pan hot well
8a. Drop-in, single-pan hot well
8b. Drop-in, four-pan hot/cold well
8c. Drop-in, two-pan hot well
9. Single-door, reach-in heated cabinet
9a. Single-door, pass-thru heated cabinet
10. Single-door, reach-in refrigerator
10a. Glass-door freezer
10b. Single-door, pass-thru refrigerator
10c. 60-inch pizza prep refrigerator
11. Drop-in, three-pan frost top
12. Point-of-sale station
13. Traffic-control divider wall
14.Countertop stacked
pizza oven
15. Wall-mounted hand sink
15a. Three-compartment sink
16. Pot and pan drying rack
17. Soiled dish table
17a. Clean dish table
18. Garbage disposal system
19. Dishmachine w/booster heater
19a. Dishmachine exhaust ventilation
20. Wall-mounted hose reel
21. Walk-in cooler