Curlers and neighborhood residents receive dining experiences far beyond the ordinary in three venues — a restaurant and bar, special event rooms and catering spaces — at the Crooked Pint Ale House and Event Center in Chaska, Minn.
The Chaska Curling Center brings new intrigue to the Minneapolis suburb of Chaska. Open since December 2015 and home to more than 1,240 curlers, the facility represents the largest curler membership in the country. Being nestled within a larger community center and park redevelopment adds to the unique setup of the operation. Spectators watch live curling matches from the Crooked Pint Ale House, which overlooks the arena and the surrounding park.
"Our vision was to be a part of the entire complex and bring an upscale urban pub and quality catering to this new venture," says Paul Dzubnar, who leads the group of joint owners of Crooked Pint LLC. Two of his partners are Mary Jule Erickson and John Hinz. "We want to be a destination spot for this area and surrounding communities."
Gaining the interest and loyalty of curlers and the neighborhood community, Crooked Pint Ale House features a chef-driven menu with upscale Midwestern-themed food that includes homemade tater tots, burgers and other fare not normally found at such event sites. The menu also offers 32 craft beers on tap — mostly from local breweries — as well as high-end spirits focused on bourbons and scotches, plus 20 varietals of wine.
"We did a lot of research and came up with an environment to reflect our brand," Dzubnar says. An urban pub geared toward the neighborhood and community it serves, this is the largest site in the Crooked Pint Ale House lineup. A large island bar serves as one differentiator, which divides the restaurant into two spaces — one oriented to the curling activity inside and the other oriented to the park and Clayhole Lake. Bars at other Crooked Pint locations are more traditional, sitting against the wall.
Crooked Pint's seating design offers a spot to view the curling action.A 100-foot glass wall allows restaurant guests in theater-style seating to overlook the curling center and the newly rebuilt Firemen's Park. An outdoor terrace faces the lake, and guests can access the restaurant through the park's performance pavilion. A peaked ceiling in the lakeside portion sets it off from the curling side. "The patio furniture here is much different than we use in other restaurants," Dzubnar says.
The restaurant interior carries through the theme of the earlier Crooked Pint Ale Houses, says project architect Mark Wentzell, AIA, at 292 Design Group. "A dark stained wood floor and wainscot, which is repurposed wood from 19th-century warehouses, and a white oak bar give the space a very warm feel." Old-world antique fixtures, pendant lights and chandeliers also contribute to the ambiance. Tables feature antique cast iron decorative bases.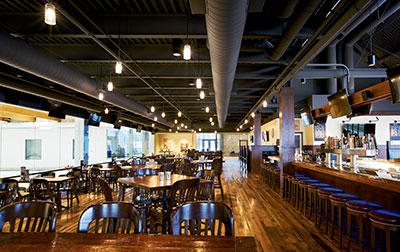 Crooked Pint features an island bar and casual-style seating positioned next to the curling lanes. Photo by Corey Gaffer/Corey Gaffer PhotographyThe restaurant had to be at least 100 feet long to ensure viewing areas along the glass wall that face the six curling sheets. "That meant the restaurant had to be narrow, so the challenge became how to make the space feel comfortable," Wentzell says. Seating was developed with different floor levels and table seat heights to ensure good viewing to the recessed curling rink.
The Kitchen, Production and Service
The restaurant's kitchen serves not only the restaurant guests but also the curlers who order food and beverages while they play. Crooked Pint's team also serves curling team skippers (team captains) and their guests in a private dining space that can handle small groups or can open up to serve large groups. Crooked Pint also serves the 320-seat event space across the Welcome Hall.
"Our biggest challenge is making sure we provide excellent service in all three areas — the restaurant, curling rink and event center — especially when activity is taking place in all three areas simultaneously," Dzubnar says. "The team must coordinate everything from ticket times to service."
A large reach-in refrigerator enables team members to access ingredients during prep and production. Photo by Corey Gaffer/Corey Gaffer Photography"With no public access from the highway on the east, the lake and park to the north, the only access point was from the west, which included the main entrance to the building," Wentzell says. "A loading and receiving area screened from the public was constructed at the south end of the building and includes remote CO2 and cooking oil systems. In addition, procedures were developed to keep the public areas clean and well maintained."
After team members receive deliveries, they transfer products to the walk-in cooler, small walk-in freezer and dry storage. A large keg room holds the craft beer. "Installing oversized walk-ins was crucial so the team has enough space for holding products for the restaurant and catering," says Brian Cepek, CFSP, director of sales at Boelter Premier Restaurant Equipment.
After prepping vegetables and other ingredients, team members bring ingredients to work stations and store them in refrigerated units. Ample refrigerators sit at the various stations so team members can easily access ingredients during preparation. "All the equipment is mid- to upper-level, so it will withstand heavy usage," Cepek says.
"When guests' orders are received, they are printed and zipped via a sliding rail to each station," says Jarrod Byers, regional manager for Crooked Pint LLC. Two cooklines handle the large volume when team members prep for the restaurant, private dining rooms and event center.
Equipment at Work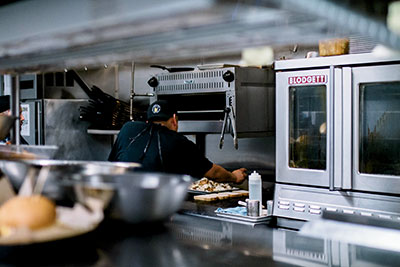 Ovens support menu fare for the restaurants and catering.In the part of the kitchen closest to the coolers, often used to cook food for catered events, team members use a combi oven for preparing prime rib and roasted turkey; a double-deck convection oven to bake giant pretzels and flatbread pizzas; a six-burner range to heat sauces; and an underfired broiler to cook and crosshatch chicken, steak and other proteins for banquet service. An oven finishes off the proteins before service. Team members also use the broiler to grill vegetables.
"The flattop griddle gives team members the flexibility to prepare steaks for guests who prefer the flavor of a steak cooked on the flattop versus on the grill/broiler," Byers says. Team members also use the flattop to cook pancakes and other breakfast items, as well as additional menu items for lunch and dinner.
At the other side of the L-shaped kitchen, the saute station features a six-burner range where team members warm gravy to place on pot roast served on sourdough bread. They heat soup here and also produce triple-decker club sandwiches and tacos for Tuesday Taco Madness days. Tater tot hot dish, shepherd's pie, chicken pot pie and mac and cheese skillet also come from this area.
The saute station doubles as a prep area to assemble desserts such as apple cobbler and chocolate chip Lucy, a specialty dessert comprised of cream cheese–filled chocolate chip cookies.
Tortillas are grilled on the flattop griddle, with filling ingredients heated on the range. Photographs by Sam ZieglerA six-foot-long flattop griddle sits adjacent to the saute area. Here the grill station team produces Crooked Pint's renowned Juicy Lucy burgers, made with all-natural beef, and then tops them with everything from house-made beer cheese sauce to peanut butter and bacon. Additional grilled items include specialty burgers; grilled salmon; "drunkin'" sirloin — a 7-ounce grilled sirloin topped with the Crooked Pint's
signature house-made whiskey onion sauce; lobster grilled cheese; grilled Cubano; and buffalo chicken sandwiches.
The adjacent fry station contains three fryers to accommodate the large volume of menu items, including tater tots, french fries, sweet potato fries, cheese curds, chicken fingers, beer batter walleye and seven types of bone-in and boneless chicken and buffalo wings. Friday night's fish fry features Alaskan cod.
Opposite the fry station, team members prepare flatbreads and assemble salads featuring Thai steak, salmon and bourbon cranberries with spinach. "Prep for fried foods is also done here," says the operation's chef, Mario Robles.
To facilitate team movement, several entries and exits were built into the prep area design. The expeditor stands on the service side of the kitchen line, where team members assemble plates and trays for serving. Heat lamps keep menu items hot before servers collect orders and walk to the restaurant. "It is indeed a long walk to the restaurant, so we have to make sure there is a lot of good communication between the cooks and expeditors so food can be delivered quickly after it is prepared," Robles says. "We do a lot of planning to be sure we're prepared."
"Being prepared" requires Robles to hire people who
believe they can keep up with the pace. "We prequalify potential hires and tell them what they are expected to do to keep up with the volume," he says. "We give them a two-week trial period to see if they are well-suited for the job. About 80 percent to 90 percent of the people make it through."
Dishwashing sits in the center between restaurant production and catering production. "This area is centralized and positioned so team members don't have to cross over between work spaces," Cepek says.
The event kitchen, which supports catered affairs, houses a six-burner, 24-inch griddle range, as well as a double-deck convection oven, two proofing cabinets, worktables and refrigerators. A double pass-through cocktail station sits nearby. "We're the only company that is certified and authorized to serve liquor at Chaska center banquets," Dzubnar says.
Sustainable Features and Future
The building uses ultra-high-efficiency mechanical and lighting systems. Energy Star–rated equipment is used when appropriate. "Exhaust hoods throughout the main kitchen and catering kitchen feature energy management systems that oscillate based on demand," Cepek says. "The kitchens are air-conditioned because it's very important that hot air doesn't make its way to the iced curling area."
The future looks bright for Chaska and Crooked Pint Ale House. "This city was yearning for this type of recreation and dining facility," Dzubnar says. "We thought we'd be busy, but had no idea we'd be doing the volume we're doing. Sales continue to grow. We've been able to step up to the daily challenge of providing excellent food and service to all our guests."
Facts of Note
Opened: Dec. 2, 2015
Scope of Project: Ground-up new build of front- and back-of-the-house restaurant, bar, catered event kitchen and bar, plus indoor and outdoor seating
Restaurant Size: 6,000 sq. ft. (restaurant)
Seats: 304, including 256 inside and 48 outside
Average Check: $17
Total Annual Sales: $4.5 million, including the restaurant and private events
Daily Transactions/Covers: 617 on average; weekends higher than weekdays; on a busy night, 1,000
Hours: Monday through Wednesday, 11 a.m. until midnight; Thursday and Friday, 11 a.m. until 1 a.m.; Saturday, 10 a.m. until 1 a.m.; Sunday, 10 a.m. until midnight
Menu Specialties: Lucy burgers, tater tots, pot pies, tacos, 32 craft beers on tap, high-end spirits focused on bourbons and scotches, and 20 varietals of wine
Staff: 80, includes full- and part-time
Total Project Cost: $2 million, including equipment investment but not including real estate
Equipment Investment: $700,000
Website: www.crookedpint.com/chaska
Key Players
Owner: Chaska Curling Center is owned by the city of Chaska and managed by the Parks and Recreation Department as part of the Firemen's Park renovation project. Chaska is a franchisee of Crooked Pint Ale House, owned by Crooked Pint LLC, a concept of Hightop Hospitality; Crooked Pint LLC operates and manages the business for Chaska.
Owners, Crooked Pint LLC: Paul Dzubnar, Mary Jule Erickson and John Hinz
Owner of the Franchise, Crooked Pint Ale House: Jeremy Brown
Vice President of Operations for Crooked Pint LLC: Tim Kreiser
Regional Manager for Crooked Pint LLC.: Jarrod Byers
Executive Chef, Crooked Pint LLC: Pete Waldon
Chef, Crooked Pint Ale House, Chaska: Mario Robles
Architect: 292 Design Group, Minneapolis; Mark Wentzell, AIA, founding partner and design director; Erik Olson, project manager
Interior Design: 292 Design Group
Foodservice Consultants: Boelter Premier Restaurant Equipment, Minneapolis; Brian Cepek, CFSP, director of sales
Equipment Dealer: Boelter Premier Restaurant Equipment, Minneapolis
Meet the Players
Jarrod Byers, regional manager for Crooked Pint LLC. Byers has more than 20 years of experience in the restaurant business. He worked his way up the ranks in various concepts, including 11 years with Champps restaurants, and now oversees operations of the Crooked Pint branch of Hightop Hospitality, which also includes Harriet's Inn and Sweet Pea's Public House, two neighborhood establishments in Minneapolis and St. Paul, respectively.

Brian Cepek, CFSP, director of sales, Boelter Premier Restaurant Equipment, Minneapolis. Cepek started in the foodservice industry waiting tables in the late 1980s while attending the University of Minnesota. After earning a degree in economics in 1990, he worked at Palm Brothers, a local equipment dealer. He joined Premier (now Boelter Premier) Restaurant Equipment in 2007.

Paul Dzubnar, owner and partner, Crooked Pint LLC. His start in the industry began on a sailing trip with the founder of St. Paul–based Green Mill restaurants, who offered him a job as a district manager. He learned the business during a new store opening by serving as a bartender, pizza cook, and delivery dispatcher, among other roles.
Mark Wentzell, AIA, founding partner and design director for 292 Design Group. A practicing architect for 30 years, Wentzell is a leading designer of community facilities such as recreation centers, city halls and community centers — and has guided numerous organizations through the planning and design of these community assets.
The Back Story
Built as part of the $26 million Firemen's Park renovation project to revitalize the downtown area and the timeworn Fireman's and Schimelpfenig Parks, the Curling Center is a City of Chaska/Parks and Recreation facility. "The city searched for a project that could stimulate economic development, provide a new recreational opportunity for the area, celebrate its traditions and history and create an engaging community gathering space," says the project's architect Mark Wentzell, AIA, at 292 Design Group.
In addition to the curling center and the 304-seat restaurant and bar, the project includes a 320-seat event center for weddings and other celebrations. The $7 million renovation of Firemen's and Schimelpfenig Parks includes a performance stage, swimming beach, walking trails, historic walk and firemen's walk.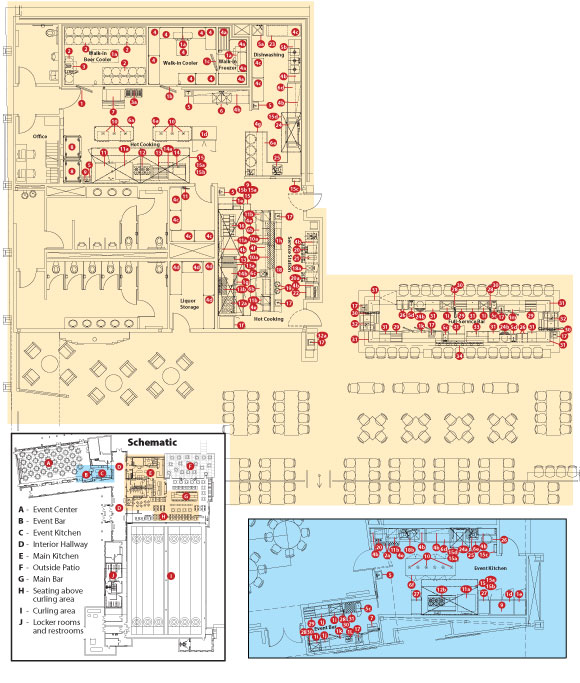 Equipment Key
1. Walk-in keg cooler
1a. Walk-in cooler evaporator coil
1b. Walk-in food cooler
1c. Walk-in freezer
1d. Reach-in refrigerator, 2-sec.
1e. Reach-in freezer, 1-sec.
1f. Reach in refrigerator, 1-sec.
1g. Shorty refrigerator equipment stand
1h. Refrigerated rail
1i. Underbar ice chest
1j. Underbar drainboard
1k. Back bar cooler, 3-sec.
1l. Beer tower w/ drainer
1m. Back bar cooler, 2-sec.
2. Keg rack
2a. Glass racks
3. Beer system
3a. Soda system
4. Food cooler shelving
4a. Freezer shelving, wire
4b. Wall shelves
4c. Storage shelving
4d. Wire shelving
4e. Microwave shelf
4f. S/s pass-thru
4g. Slant shelf
4h. Dishtable sorting shelf
5. Hand sink
5a. Mop sink
5b. Three-compartment sink
5c. Underbar handsink
5d. Underbar dump sink
6. Prep table
6a. Mobile worktable
6b. Refrigerated pizza prep table
6c. Worktable w/ hand sink
6d. Clean dishtable
6e. Soiled dishtable
6f. Island table
7. Ice maker w/ bin
8. Banquet service cart
9. Fire protection system
10. Decorative heat lamp
10a. Infrared dual heat lamp
11. Combi oven
11a. Double-deck convection oven
11b. Microwave oven
12. Six-burner range
12a. Hot plate
12b. Six-burner range/12-inch griddle range
13. Underfired broiler
13a. Equipment stand
13b. Salamander broiler
14. Griddle
14a. Griddle stand, refrigerator
14b. Counter unit griddle
15. Exhaust hood w/ makeup plenum
15a. Exhaust fan
15b. Makeup air unit
15c. Exhaust system control panel
15d. Condensate hood
16. Deep fat fryer
17. POS machine
18. Expo counter
18a. Beverage counter w/ hand sink
18b. Beverage counter w/ dump sink
19. Drop-in hot wells, 11-qt.
20. Coffee brewer
20a. Iced tea brewer
21. Coffee grinder
22. Soda & ice dispenser
23. Grease trap
24. Warewasher, rack conveyor
24a. Warewasher, door-type
24b. Glasswasher
25. Garbage disposer
26. Trash receptacle
27. Proofing cabinet
28. Soda chase & gun rack
29. Underbar liquor board/display
30. Soda gun
31. Drainboard
32. Underbar pass-thru service station
33. Glass/mug froster
34. Beer taps w/ drainer