A culinary support center and contemporary food-themed platforms transform the dining experience in Wilkerson Commons at the University of North Dakota, Grand Forks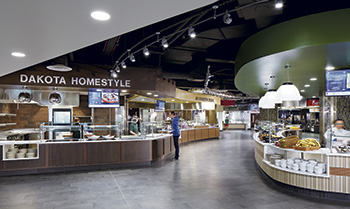 Determination and patience have paid off well for the University of North Dakota's dining services team.
When parents who had attended the University of North Dakota (UND) in the late 1960s and early 1970s visited their children who were attending 20 or 30 years later, they complained about the antiquated cafeteria's straight-line servery and traditional seating. The students were dissatisfied with the facilities and limited menu offerings and were eating at the other two all-you-care-to-eat (AYCTE) dining facilities on campus. As a result, UND knew an update was necessary.
"This was our largest dining center but had the lowest participation," says Orlynn Rosaasen, director of dining services. The center serves 5 surrounding residence halls housing 1,300 students.
The North Dakota state legislature approved funding for a UND plan to renovate Wilkerson Dining Center, but after an architect produced space plans, the allocation was short by about $5 million. "We could have accepted the original allocation, but we decided to wait until the next legislative session and request a more realistic allocation," Rosaasen says. The second request worked; $30 million was granted, and the project kicked into gear.
Chef's Table features tiered seating that offers expanded views of the cooking. Photograph by Corey Gaffer Photography; Corey GafferArchitects from JLG Architects and Solomon Cordwell Buenz (SCB) produced another space plan. "From the beginning we brought in students to express their desires and expectations," Rosaasen says. "They drove the bus. They were clear about the services, menu options and functions the space should contain."
In response to requests, the architects set forth seven major goals, says Randy Lieberg, project architect at JLG Architects. These included: improving circulation, expanding the kitchen and dining services, increasing natural light, adding amenities that support community and research, enhancing University Avenue, improving the loading dock and improving food presentation. Three program enhancements included expanding the kitchen and servery with storage and support spaces all on the same level, creating a new study/lounge and recreation space, and expanding and redefining student services.
"Given the harshness of the climate during the majority of the school year at UND, the SCB architectural and interior team wanted to create a dining hall with lots of light and transparency to the outdoors, maximizing views to campus," says Gail Wozniak, LEED AP, design coordinator at Solomon Cordwell Buenz. "We also wanted to create inviting spaces that students would want to gather and linger in during the colder months. This was accomplished by expanding the original building with a new glass addition, allowing light to penetrate deep into the existing structure."
All of these changes, including adding a culinary support kitchen, required a 20,900-square-foot addition to the east and south, which expanded the footprint and allowed for the kitchen and serving areas to be updated.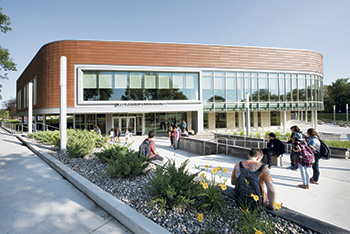 Above: An inviting entry plaza and outdoor spaces at Wilkerson Commons encourage students, staff and visitors to enter. Photography courtesy of JLG Architects; photograph by Lonnie LaffenThe new exterior has a much more modern appearance than before, and it offers a much more open experience. The interior design focuses on layered materials to create visual depth within the new bright spaces. Natural materials include wood and stone, which, along with a neutral color palette, create warm and welcoming spaces. The exterior stone from the addition was brought indoors to both lobbies, and the warmth of wood is used throughout the building in various forms, from wood veneer wall coverings to wood-look laminate and porcelain tile. Working with the overall design goal of maximizing light throughout the building, designers left some key spaces exposed and painted white, such as the underground corridors from the neighboring residence halls to the dining facility.
The project team also wanted to increase the circulation in the building, which serves as the hub for students. A series of underground tunnels connect the residence halls.
Flexibility was another major focus of the design. "This project was a major investment for the university, and we wanted to give a building that could serve a variety of functions beyond dining," Wozniak says. "We wanted students to be able to eat here, study here, meet here, hang out here. One of the ways we accomplished this was by laying out both floors to allow for parts of the building, like the kitchen and servery, to be shut down at certain times while other spaces, like the seating areas, could stay open for extended hours."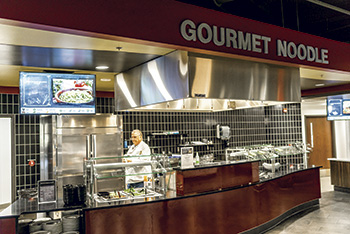 Customized pasta dishes attract customers at Gourmet Noodle. Digital displays show menu items. Photographs by Tyler Ingham, graphic/Interactive media designer UNDAs a result, the lower level now acts as circulation to and from residence halls. It contains a large open gaming/gathering space, study area, coffee bar, performance space, meeting rooms, residence life services, mail and package delivery, computer labs and a convenience store.
Wilkerson Commons' upper level contains Wilkerson Dining Center, which includes a culinary support kitchen with cold and hot food production as well as a cook-chill component. This level features a serving area with nine platforms or pods featuring different food types and cooking styles visible from all points in the dining space. This space also features a 420-seat primary dining room, 125-seat secondary dining room and 40-seat patio with a fire pit.
The designers created diverse seating zones that include not only different seating types but also different seating heights to support a variety of gathering needs, including studying alone or eating with friends.
Panini Grille's specialty sandwiches attract customers looking for a contemporary spin on these popular menu items. Among the challenges the design team faced was a compressed schedule for construction. The team was also challenged with a limited footprint availability for the addition and the need to remain open for service during the majority of the project. In addition, students had to be able to use parts of the building for residence hall access and services during construction. "Because the design was shown to the public, students and faculty, it had to remain unchanged from beginning to the end, and the team had to deliver what was promised," Lieberg says.
"Renovation projects always come with a unique set of challenges, and this project was no exception," Wozniak says. "The construction market in North Dakota was particularly hot during the time bids were being released, so getting the project delivered on time and within budget was challenging. SCB had to work very hard with our project partners at the university, local architect JLG, Rippe Associates for foodservice and contractor JE Dunn to develop creative solutions that would still meet the design intent and project goals."
Another interesting challenge posed to the design team was to enhance the perception of the food at Wilkerson. "Going into the project we were informed by the university that there was a perception among the students that the food at the old Wilkerson dining hall wasn't equal to that of the new facilities on campus, despite the fact that all the food came from the same recipes," Wozniak says. "We knew our design had to be impactful enough to change the students' perception of the food. One of the ways we achieved this was by giving each individual food station its own identity based on the menu items being served, which was a stark contrast to the existing servery."
Global Cuisine features a rotating ethnic foods menu and rotisserie while Sweet Endings offers desserts.When designing for dining and students, material durability becomes paramount, Wozniak says. For the servery, the team selected quartz counters, porcelain tile and laminate casework, with glass mosaic accents.
The building's addition features one stairwell for people to walk up and down. The elevator sits near the stairwell (the old elevator was far away from the stairwell), and now the circulation allows students to move from corridor to corridor easily. And, Rosaasen says, "there's enhanced security now."
A New Age of Production
Before the renovation, the loading dock stood on the building's exterior facing the campus' main thoroughfare and a new alumni center across the street. Because the loading dock was in the parking lot it could not accept tractor trailers.
All menu items here are free of common-day allergens. This platform contains cold and hot cooking equipment and an undercounter dishmachine. Photography by Tyler Ingham, graphic/Interactive media designer UND"We had to improve the loading dock, which now has three bays in contrast to the one bay before the renovation," Rosaasen says. "Now three of our prime vendors' tractor trailers can back up into the dock, which allows us to accept larger and less frequent deliveries. We put up a screen wall so people visiting and working at the alumni center don't see it."
"This change allows us to operate with much greater efficiency," says Greg Gefroh, executive chef. "Large pallets can be wheeled in, and staff can come in and put things away when they have time."
Storage space was greatly enhanced by the renovation too. The operation contains seven walk-in coolers, five of which sit in the back of the kitchen (one is at Garden Greens and another adjacent to The Grille near the milk dispensers and closer to the front of the house). Each cooler holds specific ingredients, such as raw produce, finished produce, frozen products that need tempering, and cook's table ingredients. Another cooler stages items as part of the cook-chill operation. A freezer and dry storage also sit in the back of the house near the loading dock.
"Because there is a basement below the kitchen, all the walk-ins had to have raised floors," says Terry Pellegrino, principal, Rippe Associates Inc. "With panelized floors liquid can seep into the panels. We wanted a monolithic material on top of panels to seal them. The best we've seen is what is used in trucks as bed liner. It is a spray-on finish and is very durable. The material is designed to adhere to metal and is very durable. I talked to the liner manufacturers, and they agreed to do this. We tried it first at a correctional facility, and it worked well so we suggested it for all the walk-ins at Wilkerson."
A staff member places ingredients into a kettle for cook-chill production. Cook-chill production enhances efficiency and consistency. Though the material isn't NSF approved, some health departments have allowed it because it does create a cleanable, nonslip surface, Pellegrino adds. A thick coat must be used to adequately cover the floor seams and create a coved base at the walls.
The large refrigerated storage areas support the new culinary support center, which includes cold prep, packaging and hot food production. "We realized we would achieve labor efficiencies, but that wasn't the primary goal when we decided to install this center," Rosaasen says. "We needed to better control ingredient production and labeling as well as improve production efficiencies and consistency. For example, we were making soups and sauces in dining centers and for satellite locations, which became labor intensive. In order to accomplish nutrition and health initiatives, we needed to get away from as many convenience products as possible and cook from scratch. There's been an extensive health and wellness initiative on this campus for many years, and we needed to clean up our offerings to be in line with that initiative's objectives."
Staff members check ingredients and cooking temperatures for hot food production.Establishing an efficient flow and considering traffic patterns through the facility for food items served in Wilkerson versus those to be transported out to campus challenged the design team. "The octagonal shape of the space was a bit unique, but we were able to create separate pathways through the kitchen between storage and production that accommodates traffic patterns both in and out," Pellegrino says. "We placed a distribution refrigerator that opens up to the area adjacent to the back dock receiving area. At the same time, cold food follows a path that leads from the area where staff cut and clean produce to a refrigerator that goes to the packaging center and flows back to the distribution refrigerator so it is easily accessible. We also had to be sure we conveniently positioned areas such as ingredient assembly, which is necessary for the cook-chill operation. It lies between dry storage and hot food production and adjacent to the cold prep refrigerator."
In the cold food prep area, staff use food processors and cutters to prepare vegetables. "We have a vegetable washer that can be programmed for each vegetable, so each comes out with the proper PH level," says Gefroh. "We get a printout telling us how long the vegetables were washed, the temperature and PH levels, which we place on the bags holding the vegetables." Staff place vegetables into a cooler before running them through a food processor if needed. They are returned to a cooler until taken into Wilkerson Dining Center or shipped to remote dining sites on campus.
Also in the cold prep area, staff use a large automated slicer to cut deli meats and cheeses for Wilkerson's delicatessen platform and remote sites.
The culinary support center also features cook-chill production. Staff cook soup, sauces, taco meat, sloppy Joe meat, mac and cheese, chili and other products in 60-gallon and 100-gallon steam-jacketed kettles. These kettles connect to a pump that transfers product into gallon bags. Staff place the sealed bags into a chilling tank that brings products from 165 degrees F to 40 degrees F in 90 minutes or less. Each bag is labeled with the production date, placed on carts and stored in a specific cooler at 28 degrees F for up to 30 days.
"Cleaning the tanks is incredibly simple," Gefroh says. "Staff fill the tanks half full with water and set the temperature to rise to 180 degrees F. The hot water sanitizes the equipment without using chemicals as it runs through a pump down the drain."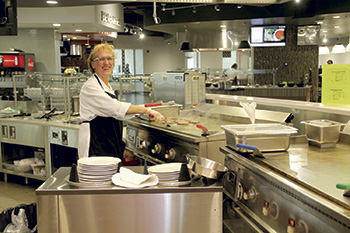 A staff member grills burgers at The Grille. Photography by Charles CrummyA 50-gallon steam kettle at the end of the line cooks pasta and has its own pasta-draining basket and dolly. A hoist lifts the pasta basket from the kettle to quickly drain and then cool the product in a cold water bath.
The culinary staff also employ sous-vide practices to prepare and safely store menu items without compromising product quality. For example, staff place raw protein such as eye of round and seasonings into a large bag and then into a sous-vide cook tank that can hold up to 400 pounds of meat. The meat cooks in the tank at a predetermined temperature for six to eight hours. The tank shuts off, drains and refills itself with cold water to bring the proteins' temperature to less than 40 degrees F in 90 minutes. Staff label the bags before carts to take them to a refrigerated food bank. Staff eventually transport the bagged menu items to a platform in the Wilkerson servery or to remote locations where rethermalization and cooking take place in combi ovens.
"The advantage of sous-vide for us is greater product yield," Gefroh says. "In addition, products are more tender and consistently cooked."
Pellegrino is also a proponent of sous-vide cooking because it offers culinary staff so much versatility in selecting menu items and keeps the products at top quality.
"With this whole process of converting to cook-chill and sous vide, I've worked with our dietitian Dustin Frize to control all the ingredients going into our recipes so we have clean labels," Gefroh says. "We write HACCP plans and make sure cooking time and temperature is well documented for everything we produce. This is all critical if we were to have a foodborne illness outbreak."
A small hot line in the back of the house helps back up front-of-house platforms. The line contains combi ovens, grills, fryers, steam-jacketed kettles and tilt skillets. "A blast chiller is used for items that would be prepared in the combi ovens rather than the kettles," Pellegrino says. "An example is layered casseroles such as lasagna."
Before production begins at the front-of-house platforms, staff pass most menu ingredients to designated platforms through warmers and coolers.
Front-of-the-House Platforms, Production and Service
As customers enter the serving area they pass through a cashier/checker stand and come to Garden Greens. The self-service component of this platform features about 100 ingredients set in cold wells on a bar. Open throughout service hours, this area includes a parfait bar. Garden Greens also contains a built-in saute station with a ventilation hood so staff can prepare sizzling salads by cooking proteins to add to customers' selected ingredients. Two soup wells sit at one end.
At Dakota Homestyle, a two-level rotisserie captures customers' attention as it cooks chicken, turkey, pork, beef and roasted potatoes. Culinary staff carve meats on a wood cutting board with heat lamps above. The platform also contains a flattop grill, which staff use for cooking hot sandwiches. The pans holding ingredients can keep the food hot or cold, giving menu planners maximum flexibility in selecting ingredients and food concept themes.
Further down the line, Allergen Free contains a flattop grill, roasting oven, fryer and a four-burner range. "Everything served here is free from common-day allergens," Gefroh says. This area also holds an undercounter dishwasher to eliminate the possibility of contamination by allergens.
"By placing all the equipment needed in one station, students who need this type of food and cooking are treated the same as everyone else," Pellegrino says.
The next platform, Gourmet Noodle, features a refrigerated top with a four-burner saute station and two cooler drawers beneath for backup production. Steamers also sit in the station so pasta can be prepared to order. Customers select ingredients displayed on the cold rail into a bowl and hand them to a cook who completes the dishes.
Global Cuisine, the international and one of the most popular platforms, features gas-powered woks and offers a rotating menu. "On Mondays, Wednesdays, Fridays and Sundays, we offer Mongolian grill-style menu items," Gefroh says. "On Tuesdays, Thursdays and Saturdays we feature Indian, Korean, Somalian, Persian, Angolan and other ethnic cuisines. Students select their ingredients and, similar to Gourmet Noodle, put them in a bowl and hand them to a cook who completes the dishes."
This platform also features a churrasco rotisserie grill. Staff use this equipment to cook pork tenderloin, steak, chicken, pork, shrimp and sausage and carve these to order. "In this platform and others, staff can roll equipment in and out as needed for their menu selections. This university probably won't be renovating again for a very long time, so the dining staff must have flexibility to adapt the menu to their customers' changing tastes," Pellegrino says. "The demand-control ventilation hoods and utilities positioned in front of counters in recessed areas can accommodate the highest-demand equipment."
Delicatessen features build-your-own sandwiches with a selection of ingredients such as meats and cheeses cut in the culinary support kitchen. On the opposite side, Panini Grille offers sandwiches that can be served cold or hot when warmed on the two panini grills.
At The Grille, staff cook traditional burgers, grilled cheese sandwiches and chicken sandwiches on three flattop grills and a charbroiler. The station also contains a fryer for french fries and a smoker for pork butt and beef brisket. Made-to-order breakfast is also offered at The Grille.
Another very popular station is Chef's Table, containing a combi oven, saute station with cold rail, burners and storage and hot/cold wells. "It was built more for educational purposes than a service platform," Rosaasen says. This station faces the dining center and protrudes in. It is wired with cameras, mics and video cameras.
This station provides an ideal platform for Gefroh and the sous chefs to show students how to cook with simple, clean ingredients. Students can sit directly in front of the platform in tiered seating and watch the culinary program, which often includes a five-course meal. "We'll talk about recipe preparation and also local, sustainable dining and healthful meals," Gefroh says. "I'd do this every day if I could. I find the students are becoming very knowledgeable about food, and they are certainly interested. The beautiful part of this is we can do culinary demonstrations here and get immediate feedback from students. We can also bring in vendors' products and provide them with immediate feedback."
The demonstrations take place mainly at the evening meal because that is typically when students have the most time. They must sign up in advance to reserve a spot at this popular venue. On days when demonstrations aren't offered, the platform is used to feature tacos, burritos and other menu items that aren't available at the other platforms.
At Wood-Fired Italiano, a hearth oven cooks pizzas to order using dough made from scratch in the centralized bakery operation. "We're working on developing a sweet crust for dessert pizza, Italian urban grain crust and others," Gefroh says. The oven also bakes calzones and stromboli.
Last but certainly not least is Sweet Endings, which showcases pastries, cakes and cookies and serves as a station for cereal, frozen yogurt, ice cream, waffles and waffle toppings.
Sustainability and Future Success
"We originally spoke about pursuing a LEED certification, but we opted out due to cost," Rosaasen says. "However, most facets of the project, including materials used, meet certification criteria."
In addition to the natural light brought in to most areas of the new building, sustainable features include reuse of the existing building, a minimized footprint for the addition to the building and new construction, efficient use of kitchen space, energy-efficient equipment such as pulpers for waste disposal, energy-efficient fixtures, occupancy sensors and other energy-reduction devices in most spaces and ultra energy-efficient building envelope and roofing. Wilkerson is the first completely trayless facility on campus, which contributes to water savings.
Efforts also are being made to bring more sustainable practices into food purchasing. "We're buying about 15 percent of our total purchases from local manufacturers," Rosaasen says.
In its first year of operation, the team is proud of the success. "Participation is back up to where we thought it would be," Rosaasen says. "The key measure of success is that it isn't the most centralized location for lunch, but we're serving as many here as another dining hall that is more centrally located. And we serve more for dinner."
Rosaasen and Gefroh admit that the new 10-years-in-the-planning facility is a dream come true and a "work in progress" as staff become accustomed to the new equipment and production methods. "We encourage our production staff to suggest recipes, and they are contributing," Gefroh says. "Just recently women with Persian and Indian background have contributed recipes, and we're developing them for the Global Cuisine platform."
Wilkerson Dining Commons may always be a place for experimentation and discovery. The team believes a culinary operation must be responsive to its customers' desires, while also providing a learning environment that encourages team members to continuously set the bar of excellence higher than customers expect.
Equipment Key
1. Walk-in rough produce/clean produce refrigerator
1a. Reach-in refrigerator, 1-sec.
1b. Walk-in cook's issue/meat & dairy refrigerator
1c. Walk-in distribution/food bank refrigerator
1d. Roll-in blast chiller
1e. Walk-in refrigerator-freezer complex
1f. Reach-in refrigerator-freezer, 2-sec.
1g. Refrigerated base
1h. Countertop display refrigerator
1i. Tempering freezer, 2-sec.
1j. Reach-in freezer, 1-sec.
1k. Worktop freezer, 1-sec.
1l. Pass-thru refrigerator, 1-sec.
1m. Walk-in salad bar refrigerator
1n. Roll-in refrigerator, 1-sec.
1o. Undercounter refrigerator, 2-sec.
1p. Refrigeration system
2. Dunnage shelf
2a. Refrigerator/freezer shelving
2b. Pan storage shelving
2c. Wall shelf
2d. Paper storage shelving
2e. Detergent shelving
2f. Utility shelf w/mop hanger
2g. Staging shelving
2h. Heated display shelf
3. Refrigerator w/manual sliding door
4. Air curtain
5. Racked parallel refrigeration system
6. Mobile rack
6a. Dunnage rack
6b. Combi oven rack
6c. Hose wall rack
6d. Utensil rack
7. Hand sink
7a. Mop sink
7b. Pot & pan sink w/agitator
7c. Mobile soak sink
7d. Eye/face wash station
7e. Undermount hand sink
7f. Undermount utility sink
8. Utility cart
8a. Soiled pan cart
9. Trash bin
9a. Mini-waste express system
10. Cold food mixing & packaging work counter
10a. Produce cleaning counter w/sinks
10b. Cold food prep counter
w/sinks
10c. Ingredient assembly work counter w/oven
10d. Ingredient work counter w/sink
10e. Cook's prep work counter w/sinks
10f. Work counter w/sink
10g. Work counter
11. 30-qt. mobile mixing bowl
11a. 80-qt. mobile mixing bowl
12. Electric can opener
13. 60-qt. mixer
13a. Horizontal cutter/mixer
13b. 20-qt. mixer
13c. 40-qt. mixer
14. Spray rinse
15. Floor grate & frame
16. Vacuum clipper machine, air-powered
17. Hose reel
18. Mobile worktable
18a. Cold food worktable
18b. Cold prep worktable
w/overshelf
18c. Refrigerated cold food assembly table
18d. Pasta bagging table
18e. Mobile work platform
18f. Soiled dishtable w/dishware accumulator
18g. Mobile worktable w/shelf
18h. Refrigerated prep table
18i. Mobile wood-top worktable
19. Sheet pan dolly
19a. Chilled food storage dolly w/crates
19b. Pasta basket & dolly
19c. Mobile dish dolly
19d. Soiled dishtable w/dishware accumulator
19e. Mobile rack dolly
20. Label printer
20a. Printer
21. Automatic slicer
21a. Mobile equipment stand
21b. Multi-slicer
22. Food processor
23. Lettuce dryer
24. Sushi roller
25. Drop-in cold pan, 2-well
25a. Hot/cold pan, 2-well
25b. Hot/cold pan, 3-well
25c. Drop-in cold pan, 1-well
25d. Drop-in cold pan, 3-well
25e. Drop-in cold pan, 4-well
25f. Drop-in sloped cold pan, 4-well
25g. Drop-in sloped cold pan, 3-well
25h. Soup/sauce well
26. Packaging machine
26a. Manual packaging machine
27. Packaging tray accumulator
28. Mobile ingredient bin
29. Digital bench scale
29a. Ingredient scale
30. Mobile cabinet
30a. Mobile warming cabinet
30b. Reach-in refrigerated/heated cabinet, 1-sec.
30c. Reach-in warming cabinet, 1-sec.
30d. Pass-thru refrigerated/heated cabinet, 2-sec.
31. Pump fill station
32. Combination cook tank, chiller & sous vide
33. Exhaust hood
33a. Demand-control ventilation system
34. Hot water heater
34a. Booster heater
35. S/s wall panel
36. 100-gal. mixer kettle
36a. Kettle control panel
36b. 60-gal. tilting mixer kettle
36c. 60-gal. kettle
36d. 60-gal. short kettle
36e. 3 kettles w/ stand
37. Hoist and rail
38. Fire protection system
39. Water filtration system
40. Soda system
41. Ice bin
42. Ice maker
43. Floor scrubber
43a. Carpet scrubber
44. Detergent dispensing system
45. Automatic circular warewashing system
45a. U/c dishmachine
46. Pulper w/ extractor
46a. Extractor
47. 40-gal. tilting fry pan
48. Hot water dispenser
48a. Condiment dispenser
48b. Cereal dispenser
48c. Milk dispenser
48d. Soft-serve machine
48e. Ice cream dispenser
48f. Cone dispenser
48g. Hot topping dispenser
48h. Topping dispenser
48i. Bread & bagel basket
48j. Syrup dispenser
48k. Soap dispenser
48l. Towel dispenser
48m. Water dispenser
48n. Ice dispenser
48o. Juice dispenser
48p. Flavored water dispenser
48q. Chai tea, hot chocolate,
cappuccino dispenser
48r. Flatware dispenser
48s. Napkin dispenser
49. Churrasco, 4-ft. w/stand
49a. Grill
49b. Grill w/stand
49c. Panini grill
50. Carving station
Serving Counters:
50a. Chef's Table
50b. Grille
50c. Cereal
50d. Ice cream toppings
50e. Desserts (Sweet Endings)
50f. Global Cuisine
50g. Gourmet Noodle
50h. Allergen Free
50i. Coffee brewing counter
w/sink
50j. Work counter w/sink
50k. Dakota Homestyle
50l. Work counter
50m. Deli/Soup/Sizzling Salads
50n. Wood-Fired Italiano
50o. To-go/after-hours pickup
50p. Beverages
50q. Water fill station
50r. Condiments
50s. To-go/after-hours beverage
50t. Checker/cashier counter
51. Heated plate dispenser
52. Smoker, 2-sec.
53. Combi oven, 2-sec., w/stand
53a. Roll-in combi oven
53b. Combi oven, 2-sec.
53c. Rotisserie oven
53d. Stone-hearth pizza oven
53e. Microwave oven
54. Saute range w/refrigerated base & rail
54a. Wok range
54b. Range & grill w/oven
55. Protective shelf system
w/heat lamp
56. Charbroiler
57. Fryer w/filter, 2-sec. w/dump station
57a. Fryer w/filter, 3-sec. & dump station
58. Conveyor toaster
58a. 4-slot toaster
59. Waffle iron, single
60. Rice cooker
61. Countertop steamer
62. Coffee brewer
62a. Airpot brewer
63. Flatware cylinder
64. Pizza cutting board
65. Dough press w/stand
66. Pizza display warmer
67. Soda carbonator
68. POS system
FACTS of Note
UND: Enrollment, 15,000; dining includes residential dining, retail, snacks, vending, catering and conference services; food purchases in excess of $4 million; total dining revenue, $20 million; 13 residence halls housing 2,600 students; 3 AYCTE dining centers (Wilkerson remodel opened in fall 2015, Squires remodeled in 2007, and Terrace located in Memorial Union supports campus catering); 2 snack bars
in Wings Café (located in the Aerospace Administrative Building) and Café 19010 (located in the School of Medicine and Health Sciences); 3 convenience stores located in Walsh Hall Wilkerson Commons and Memorial Union; 3 coffee shops (UP Stomping Grounds, Stomping Grounds
Memorial Union, Wilkerson Commons Stomping Grounds); OMM Food Court with A&W, Marco's, Dakota Deli and
Sizzling Salads; a central bakery; central foods warehouse.
Wilkerson Commons and Dining Center Opened:
September 20, 2015
Scope of Project: Complete renovation of and addition to a 1960s building, including a central support kitchen, seating redesign and serving area with contemporary food-themed platforms. The lower level contains a large open gaming/gathering/studying area, performance space, meeting rooms, residence life service, mail and package delivery, computer labs and a convenience store.
Size: Kitchen, 13,760 sq. ft.; serving area, 8,000 sq. ft.; main
dining room, 7,300 sq. ft.; secondary dining room, 2,075 sq. ft.
Seats: 420 in the primary dining room; 125 in secondary dining room; 40 on patio
Daily Customer Count: 3,500
Average Check: AYCTE, but $11 if guest pays for one meal
Payment Options: Credit cards, cash, meal plan
Total Annual Sales: $6.5 million
Hours: 7 a.m. until 11 p.m.
Menu Specialties: Featured menu items at the 9 main floor platforms, including Global Cuisine, Dakota Homestyle, Gourmet Noodle, Wood-Fired Italiano, The Grille, Garden Greens, Delicatessen with adjacent Panini Grill, Sizzling Salads, Allergen Free, Sweet Endings, Chef's Table, Beverages, Grab and Go Café
Staff: 5 managers; 35 FTEs; 20 temporary staff (non-benefitted); 150 students
Total Project Cost: $27 million; $10 million for construction
Equipment Cost: $4.2 million
Website: www.dining.und.edu
Key Players
Owner: University of North Dakota, Grand Forks
Vice President of Student Affairs (during project): Dr. Lori Reesor
Interim Vice President of Student Affairs: Dr. Laurie Betting
Executive Director of Housing and Dining: Connie Frazier
Director of Dining Services: Orlynn Rosaasen
Assistant Director for Residential Dining: Jason Gallagher
Executive Chef: Greg Gefroh
Dietitian: Dustin Frize, RD
Architect: JLG Architects, Grand Forks, N.D.; Jim Galloway, principal; Randy Lieberg, project architect; Tracy Jordre, project manager
Associate Architect: Solomon Cordwell Buenz, Chicago; Jim Curtin, senior vice president; Steve Olson, associate principal
Interior Design: Solomon Cordwell Buenz, Chicago;
Gail Wozniak, LEED AP, design coordinator
Foodservice Design Consultants: Rippe Associates, Minneapolis, Minn.; Terry Pellegrino, principal; John Dunne, senior project manager; Ryan Braudt, project manager; Monica Thesing, senior equipment specialist
Equipment Dealer: TriMark Gill Group, Hamilton, Mont., branch; Spencer Swanson
Construction: JE Dunn, Minneapolis branch
Meet The Players
Ryan Braudt, project manager, Rippe Associates. Since joining Rippe Associates in 2008, Braudt has been involved with a variety of projects in the college and university, business and industry, healthcare and corrections foodservice segments. His role is to coordinate work with the architects and engineers, manage the project schedule and oversee preparation of the drawings. Prior to joining Rippe Associates, he spent seven years drafting and coordinating projects in commercial and residential architecture.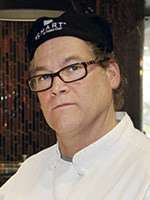 Greg Gefroh, executive chef at UND. Responsible for all culinary units at UND, including board and retail operations, he also performs demonstration cooking at Chef's Table in Wilkerson and plans themed dinner menus. Gefroh is proficient in ice carving and garde manger.
Randy Lieberg, project architect, JLG Architects. Lieberg is a registered architect who was named the Young Architect of the Year in 2008 by the North Dakota Chapter of the American Institute of Architects. He was also named the Intern Architect of the Year by the same organization prior to completing his registration. He joined JLG Architects in 1997.
Terry Pellegrino, principal, Rippe Associates. After several years in clinical dietetics and college foodservice management, Terry joined the Rippe Associates team 31 years ago and started working with healthcare design. She branched out to K-12 and local college projects before expanding into campus projects nationwide. Her work also extends to correctional facilities and community projects.
Orlynn Rosaasen, director of Dining Services at UND. During his 32 years in the foodservice industry, he has held his current position for 17 years. Previously he held positions including assistant director of retail dining at UND, unit manager at the University of South Dakota and general manager/manager/crew member at a fast-food/fast-casual restaurant.
Gail Wozniak, LEED AP, design coordinator, at Solomon Cordwell Buenz. With six years of experience, Gail brings a broad base of knowledge to a project from conceptual design through fixtures and equipment specification. Her expertise includes space planning, construction documents and the selection of design products, materials and finishes.
Photograph by Corey Gaffer Photography; Corey Gaffer